MRV for Transport in Asia – Technical Training by UNFCCC secretariat and GIZ
26 participants, 10 countries and one goal: Enhancing Transparency for NDCs in Asia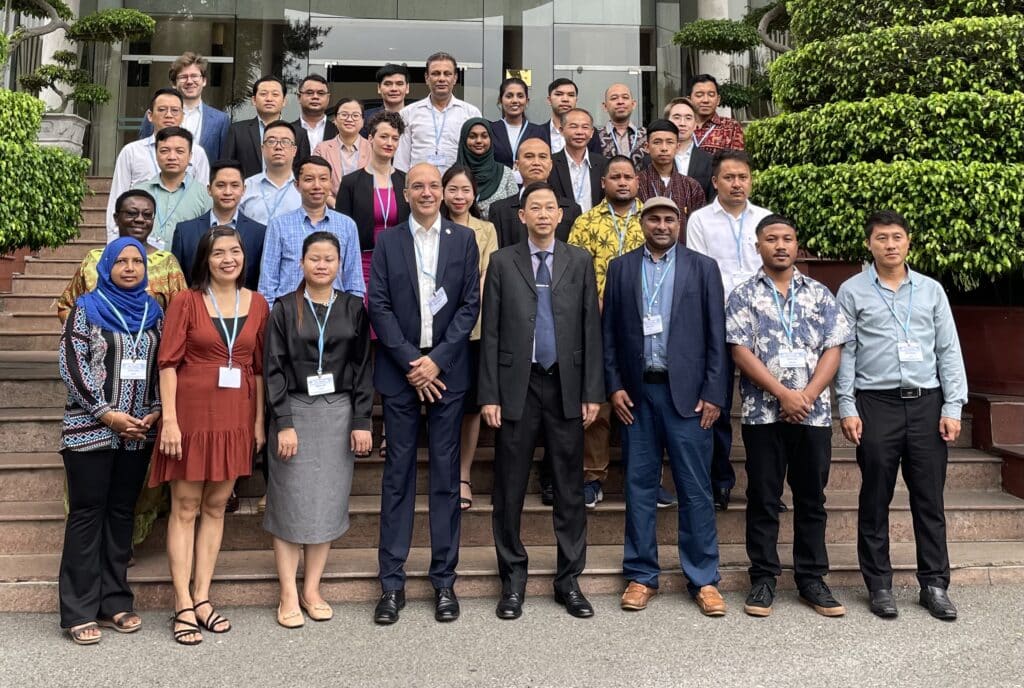 Globally, transport contributes one quarter of Greenhouse Gas emissions. For effective implementation of emission mitigation in the sector, it is crucial to establish consistent MRV systems for the transport sector. At a 3-day training workshop from 9th to 11th May 2023 in Ha Long, Viet Nam, the 26 participants of ministries of transport and ministries of environment from Bhutan, Cambodia, Indonesia, Lao PDR, Republic of Maldives, the Philippines, Republic of the Marshall Islands, Sri Lanka, Thailand and Viet Nam working on emission accounting and scenario design exchanged interactively on:
Greenhouse Gas emission estimations in the transport sector, looking a the benefits and challenges of different approaches in view of data availability and consistency and technical implementation.
Data acquisition, data collection and data management, which often constitute the greatest challenges when estimating emission of the transport sector, due to the fragmentation of the transport sector.
Prioritisation of climate actions, considering multiple criteria as well as the calculation of scenarios and GHG projections using different approaches.
Tools for GHG emission quantification and standards, such as the ISO 14083 as well as capacity building opportunities.
In his opening speech, Mr. Tran Anh Duong, Deputy Director General, Department of Science, Technology and Environment, Viet Nam Ministry of Transport explained "This is a crucial opportunity for Viet Nam and our fellow countries in the Asia-Pacific region to learn and exchange on the technicalities of a consistent MRV system for the transport sector. We recognise the importance of the MRV system for ensuring the transparency and integrity of our collective efforts to combat climate change". "There is so much to learn and much to share among trainers and participants during this training workshop", Marlan Pillay, Secretariat UNFCCC's representative added.
I really like the fact that we can see the real-world scenarios in practice, and we can see the knowledge and experience from our fellow colleagues especially when it comes to the new ideas. We had very interactive sessions which were super helpful.

Valentino Keimbar, representative from Marshall Islands
In his remarks, Daniel Bongardt, Programme Director Transport and Climate Change, GIZ talked about the challenges of transport data collection and developing a robust Measurement, Reporting and Verification (MRV) system. He also emphasised its importance: "if we understand where the emissions come from, we can address the problem using evidence".
Throughout the training, the participants actively exchanged practical experiences, knowledge and national status through exercises, case studies and group discussions during the training. Various presentations covered topics ranging from questions on data collection and verification, case studies on country's NDC and long-term low-emission development strategies (LT-LEDS) to concrete actions such as the public utility vehicle modernisation programme of the Philippines or the introduction of electric vehicles in Viet Nam.
I like that it was easy to understand because the presentations are very clear, they interacted with us in a very friendly manner. The activities were very joyful and not boring.

Dilini Liyanage, representative from Sri Lanka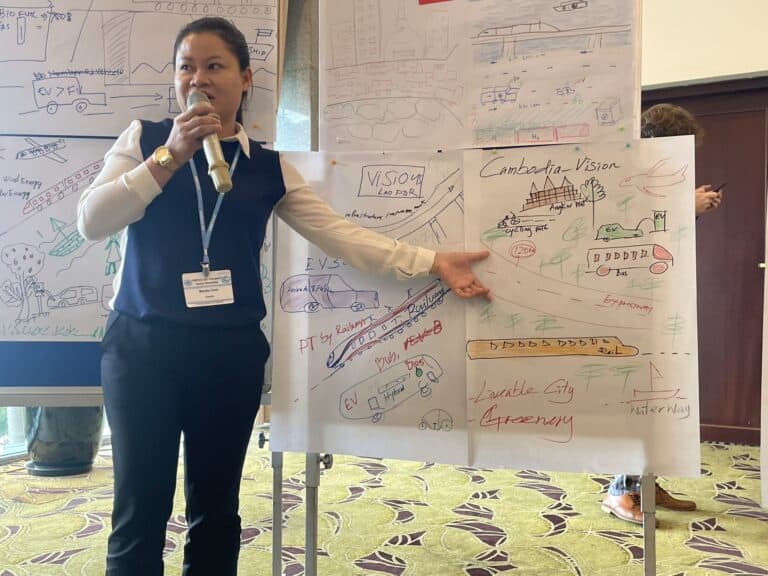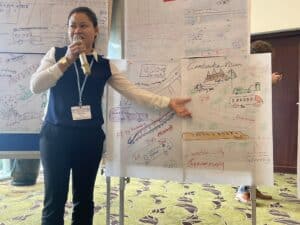 The 3-day technical training workshop on "GHG emissions quantification and prioritising policies, actions and measures in the transport sector for Asia-Pacific", was co-organised by Ministry of Transport of Viet Nam in collaboration with the United Nations Framework Climate Change Secretariat (UNFCCC) and Deutsche Gesellschaft für Internationale Zusammenarbeit (GIZ).
I am very interested to learn from the other countries because countries like Indonesia or Lao or Cambodia we have the same condition, same geography so we can share and learn from each other.

Viet Hung Ly, representative from Viet Nam
NDC Transport Initiative for Asia (NDC-TIA) is part of the International Climate Initiative (IKI). The German Federal Ministry for Economic Affairs and Climate Action (BMWK) supports this initiative on the basis of a decision adopted by the German Bundestag. It supports China, India, and Viet Nam as well as regional and global decarbonisation strategies to increase the ambition around low-carbon transport.
In Viet Nam, the project's implementing organisation is the Deutsche Gesellschaft für Internationale Zusammenarbeit (GIZ) GmbH and partner institutions include World Resources Institute (WRI) and International Council on Clean Transportation (ICCT). Viet Nam Ministry of Transport (MOT) is the Lead executive organisation and the Department of Science, Technology and Environment (DOSTE) is the project owner. For more information on the project, please visit: https://www.ndctransportinitiativeforasia.org/.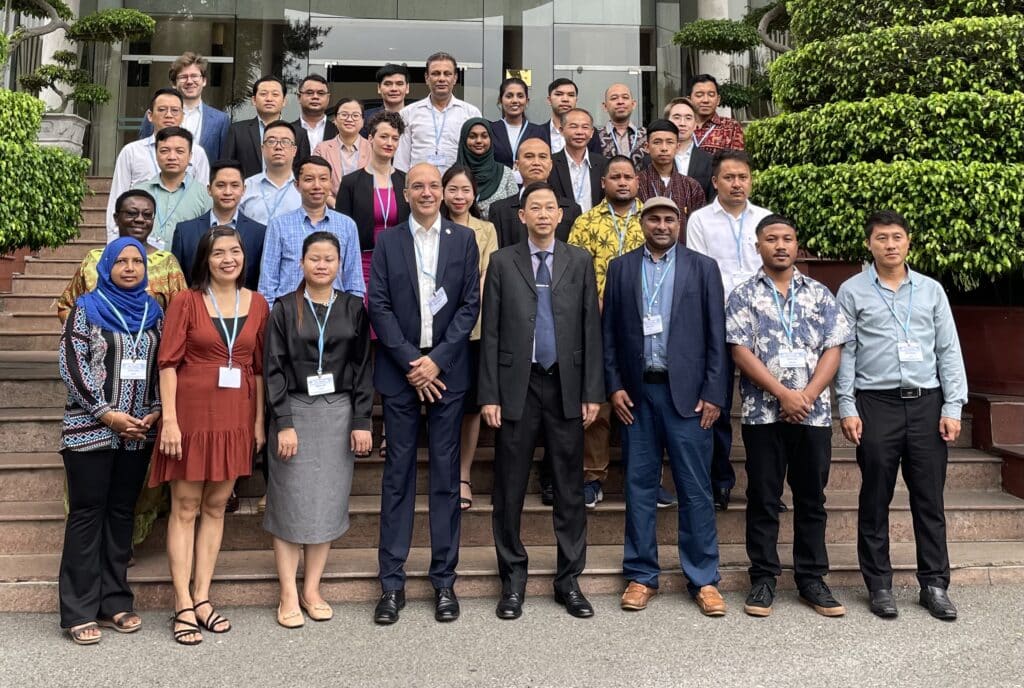 © Michel Arnd, GIZ
---
Author(s)