Connecting Women to Global Opportunities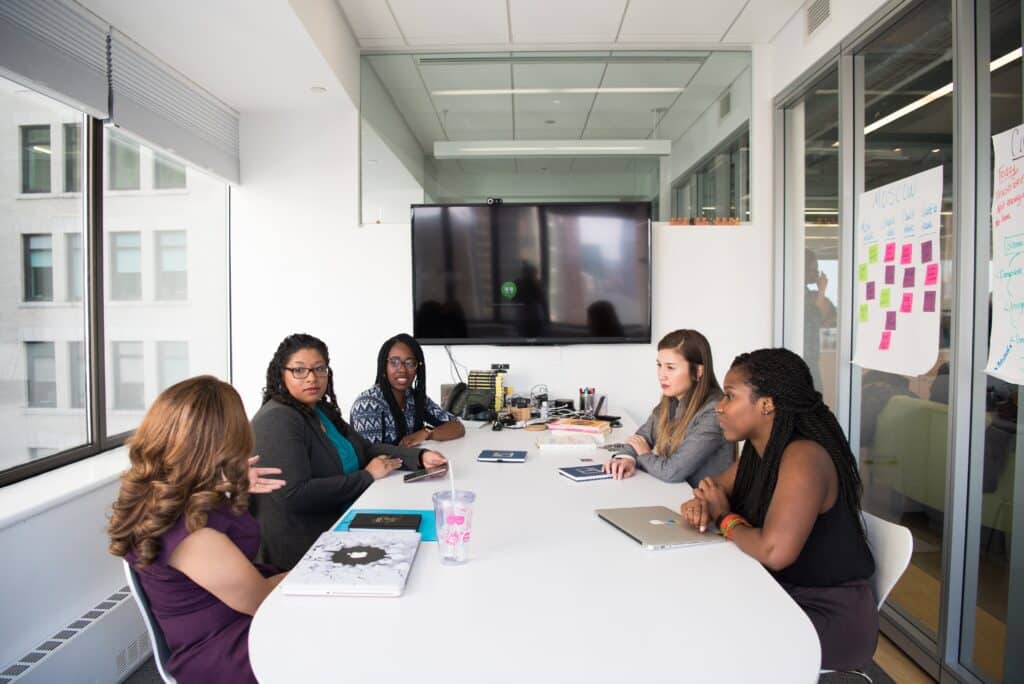 Third check-in session of the Women on the Move Mentorship Program
Connections and networking are essential for the development of sustainable transport, especially when it comes to showcasing the remarkable work of women in the field as a source of inspiration. The Women on the Move sessions aim to connect women worldwide for this purpose. During the last session on 20 August 2023, two initiatives were presented, offering a variety of opportunities for women in the professional sphere. We began with an icebreaker session to help participants warm up before the main session started. Following that, we had the privilege of inviting two speakers, Urda Eichhorst from NDC TIA-GIZ and Julia Remmers from Women Mobilize Women, to share their initiatives with us.
GIZ's Women Experts Database: Empowering Women in Asia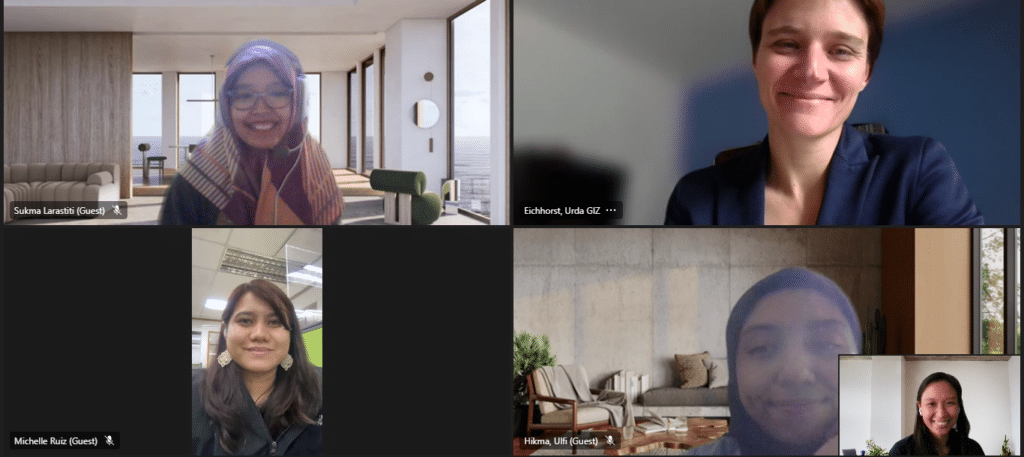 Urda Eichhorst, the director of the NDC Transport Initiative for Asia of GIZ, unveiled an innovative project aimed at empowering women in the fields of transport, environment, energy, and water sectors in Asia. This initiative, set to launch in late 2023, revolves around creating a comprehensive database of women experts. Inspired by Women in Green Hydrogen, the primary goal of this project is to increase the visibility of women experts in these sectors in order to achieve equal opportunities for all gender. By highlighting the wealth of talent among women professionals, GIZ's database promises to pave the way for a more inclusive and equitable future in these critical fields.
Women Mobilize Women: Driving Sustainable Mobility Globally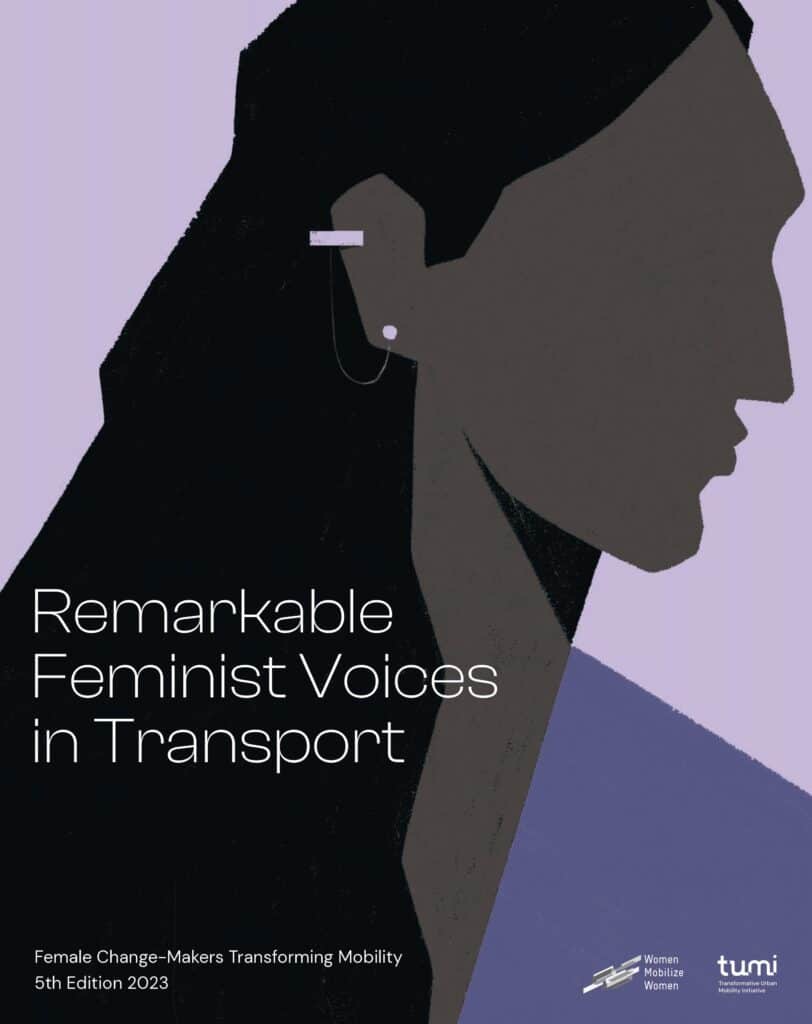 Julia Remmers, representative of Women Mobilize Women, introduced the network as the initiative promoting feminist transport planning and the empowerment of women in the sector globally. With the believe of "Transport planning is not gender neutral", the network's mission is to promote inclusive and sustainable mobility. Founded in 2018, this network has made significant strides in the past five years through a range of activities such as conferences, publications, and leadership programs. In 2023, Women Mobilize Women organised Study Tour and award ceromny with "Feminist Voices in Transport" as the theme, bringing together women from over 30 countries to celebrate and learn from each other's effort towards a more equitable future.
The session also featured an interactive Q&A, providing participants with the opportunity to engage with the presenters and ask questions about the initiatives. Some of the topics covered included inquiries about the expert database, potential funding opportunities for women in these sectors, and ways to connect with other networks that share similar goals. This open exchange of ideas and information underscored the dedication of Women on The Move and its partners to support women professionals and innovators in the transport sector.
The Ideas for the Development of Women on the Move
Before concluding the session, participants were informed about the upcoming final session of the mentorship program on the 20 November 2023, which will provide an opportunity to discuss the progress, lessons learned, and success stories from the past year, and about the TUEWAS Women Expert Database, which will be launch on the 15 November 2023.
In conclusion, the Women on The Move Mentorship Program's third check-in session exemplified the power of collaboration and innovation in advancing gender equality and inclusivity. The initiatives presented by GIZ and Women Mobilize Women hold the potential to be transformative in these sectors, equipping women with the tools and resources needed for global success. Through opportunities for connection, learning, and growth, these initiatives are driving positive change and propelling women forward in the world of transport and mobility. As these projects unfold and the Women on The Move Mentorship Programme continues its vital work, we can look forward to a future where women are truly on the move in these industries, breaking barriers and driving change on a global scale.
NDC Transport Initiative for Asia (NDC-TIA) is part of the International Climate Initiative (IKI). The German Federal Ministry for Economic Affairs and Climate Action (BMWK) supports this initiative on the basis of a decision adopted by the German Bundestag. It supports China, India, and Viet Nam as well as regional and global decarbonisation strategies to increase the ambition around low-carbon transport.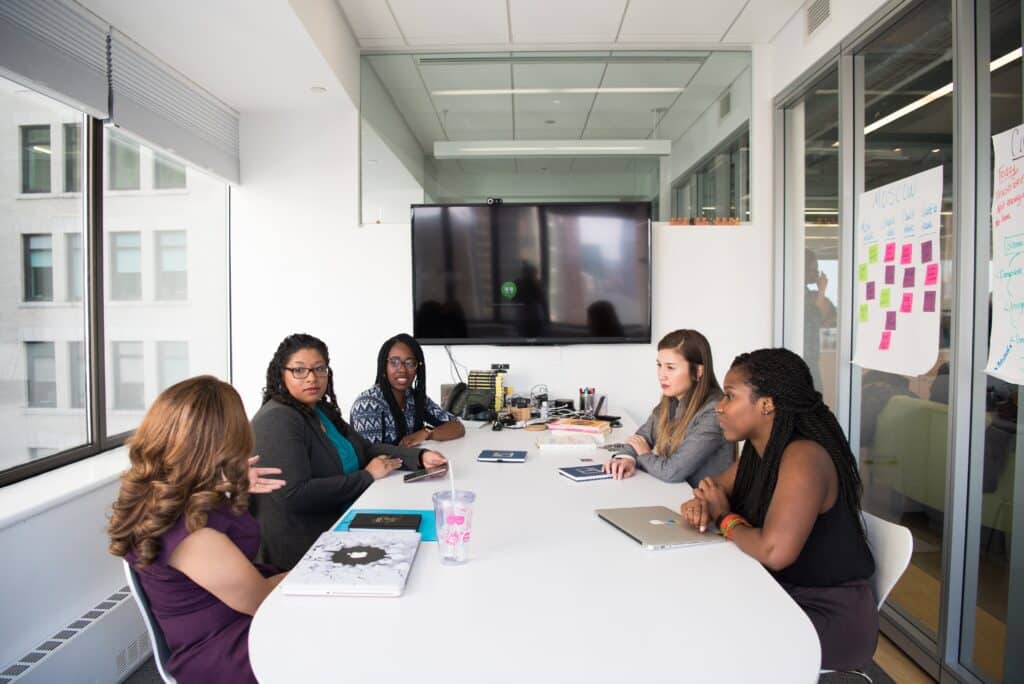 ©Christina Morillo, Pexels
---
Author(s)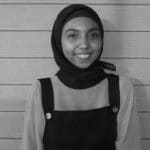 16th UMI Conference Highlights in New Delhi
Integrated and Resilient Urban Transport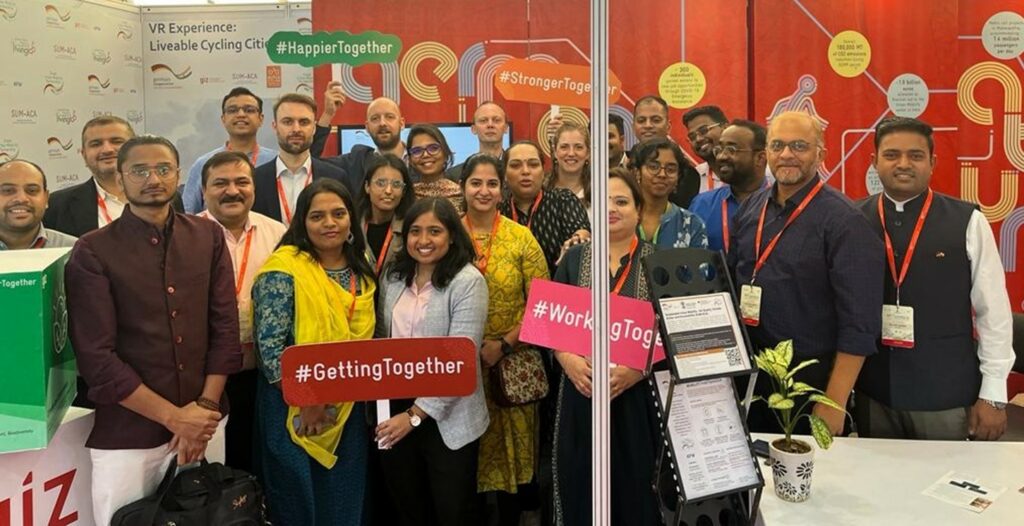 Theme: Integrated and Resilient Urban Transport
The 16th Urban Mobility India (UMI) Conference convened in New Delhi from October 27 to 29, 2023, serving as a flagship event of the Ministry of Housing and Urban Affairs (MoHUA), Government of India, and its Institute of Urban Transport (IUT). The conference was attended by 1200 persons. GIZ for the 5th consecutive time supported the UMI as a knowledge partner. This year five transport projects contributed to 9 sessions, showcasing the impact of the Indo-German Cooperation in a stall and organised a cycle ride.
Inaugural Session Highlights: Launch of GUMP Newsletter
Panel Discussion: Strengthening Urban Transport Resilience

Mr. Armin Wagner, Senior Transport Advisor at GIZ, emphasized key steps for enhancing urban transport resilience, including risk identification, scenario analysis, and organizational structures.

Multi-Modal Integration: Unleashing Public Transport Potential

Mr. Daniel Moser, Director, GIZ India Transport, highlighted the transformative impact of multi-modal integration on public transport, citing Berlin's integrated main train station as a successful example. The discussion concluded that multi modal integration unleashes the full potential of public transport, making it an interconnected and passenger-oriented system.

Electric Mobility Initiatives: Kochi Case Study

Mr. Shirish Mahendru, Technical Expert at GIZ India, presented the support for Kochi, showcasing the implementation of 100 electric rickshaws and organizational capacity development. The session's key takeaway was that integrating multiple modes unlocks the complete capabilities of public transport, transforming it into a connected and passenger-centric system.

NDC-TIA India: Driving the Shift to Electric Mobility

Mr. Kuldeep Sharma, Component Leader for E-Mobility at NDC-TIA India, discussed India's shift towards electric mobility, emphasizing the role of subnational governments, decarbonizing power generation, and inclusive strategies

"Together Ride" Family Cycle Event: Promoting Cycling for Cleaner and Healthier Cities:

GIZ, MoHUA, Dutch Cycling Embassy, BYCS, and Raahgiri Foundation collaborated to promote cycling for cleaner air and healthier citizens. Aligned with the Urban Mobility Conference 2023, the event coincided with "Raahgiri Day," offering a car-free street experience to encourage sustainable urban living.
Apart from the support by GIZ, the UMI conference experienced diverse participation from various sectors. Attendees included ministerial representatives, governmental agencies, transportation authorities, urban planning and development organizations, technology and innovation companies, research institutes, policymakers, transportation and infrastructure providers, private companies, and financial institutions. During his address, the Union Minister for Housing and Urban Affairs in India emphasised about the remarkable milestone in India's metros with a daily ridership of one crore (10 million) passengers. He highlighted the vital role of metros in easing traffic congestion and promoting sustainable urban development. Presently, India's metro systems span 895 km, encompassing around 20 cities. He mentioned that it is poised to evolve into the second-largest global metro network, with approximately 965 km currently in the construction phase. Upon completion, this expansion will elevate the number of cities with a metro system from 20 to 27. The successful implementation of the National Common Mobility Card (NCMC) was also acknowledged during his address. Such ridership milestone underscores the increasing reliance on efficient urban transit systems, aligning with the government's vision for integrated and accessible public transportation. Addressing the valedictory session, Secretary MoHUA stressed upon the need of Transit Orientation Development (TOD) and highlighted the need for innovative funding mechanisms and public- private partnerships to meet the growing demands of urban transportation infrastructure. Furthermore, at the UMI 2023 awards were given to the victorious state/city authorities in recognition of outstanding projects and best practices in Urban Transport
In conclusion, the Urban Mobility India Conference 2023, supported by GIZ, achieved remarkable success, raising awareness for sustainable transport and showcasing the impactful outcomes of Indo-German cooperation. The event emphasized the need for resilient and integrated urban transport systems, promoting cleaner and healthier cities for all citizens.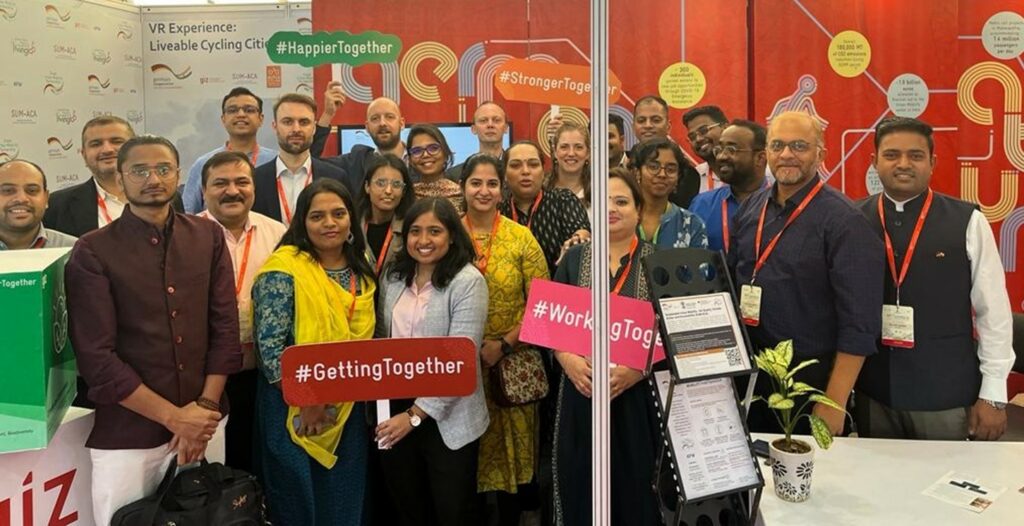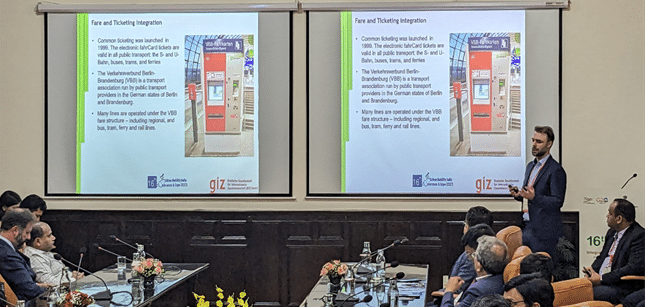 NDC-TIA
NDC Transport Initiative for Asia (NDC-TIA) is part of the International Climate Initiative (IKI). The German Federal Ministry for Economic Affairs and Climate Action (BMWK) supports this initiative on the basis of a decision adopted by the German Bundestag. It supports China, India, and Viet Nam as well as regional and global decarbonisation strategies to increase the ambition around low-carbon transport.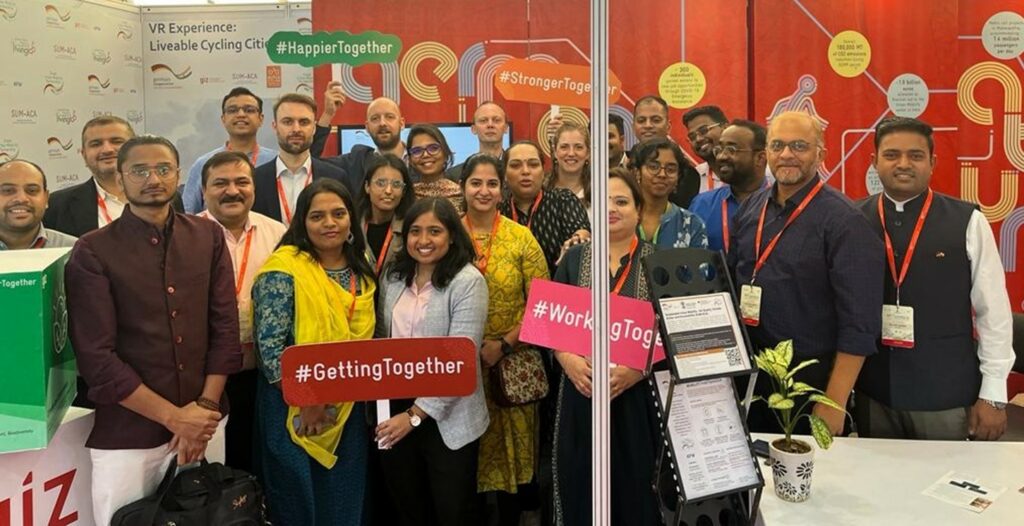 ---
Author(s)