Sustainable Mobility with Renewable Energies in Morocco
Paving the Way for a Greener Future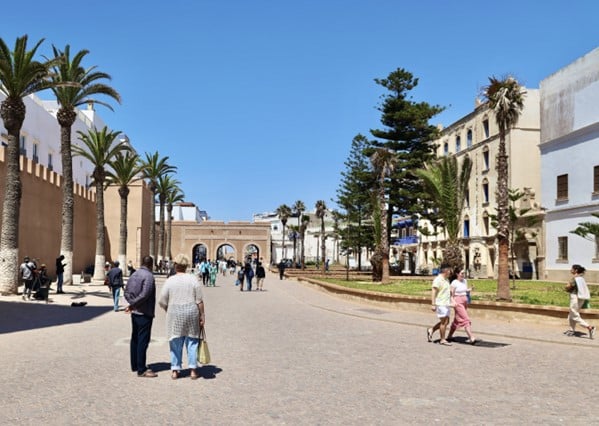 Transportation plays a pivotal role in shaping societies worldwide, facilitating connections among people, and fostering economic growth. However, the global transport sector's significance comes with a considerable drawback, as it contributes approximately 22% of global CO2 emissions, making it a significant driver of climate change. Specific breakdowns show that ground transportation is a leader contributing 17.9%, while international aviation and shipping make up 3.1%, and domestic aviation contributes 0.9% of global emissions (see Figure 1). The below graphic represents global CO2 emissions evolution from 1970 to 2022 dissected per sector.

Figure 1: Global CO2 emissions 1970–2022 per sector.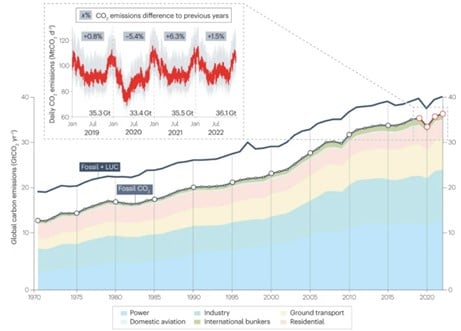 This environmental impact holds true for Morocco as well, as is the case in many other countries, where the transport sector plays a major role in emissions, presenting challenges to achieving sustainable development goals. In Morocco, a 99% dependency on fossil fuels characterises the transport sector, making it the leading consumer of final energy at 38% and the second-largest emitter of CO2 in the country, accounting for 31% of total CO2 emissions (IEA 2019).
Morocco's ambition for sustainable mobility
Recognising the urgent need for change, Morocco has embarked on an ambitious journey towards a sustainable, climate-friendly, and innovative transportation system, which is rooted in a comprehensive policy framework for the transport sector. The country's policy system outlines priority fields such as inclusivity and accessibility, multimodality, digitalisation, and safety while taking into account multiple aspects surrounding mobility including the integration with energy and the digital sectors to ensure a holistic approach to sustainable mobility.
The policy landscape outlines ambitious goals and objectives, such as reducing energy consumption in the transportation sector by 24% between 2017 and 2030, as set forth by the National Energy Efficiency Strategy 2030, and developing integrated public transportation systems in all Moroccan cities by 2030, also in accordance with the National Urban Mobility Strategy. In addition, Morocco has set ambitious goals to promote electromobility (aiming to become a leading country with regard to fully decarbonised automotive supply chains as part of a comprehensive industrial transformation) hand in hand with the country's energy transition – the country has set targets to increase the renewable energy (RE) capacity in its electricity mix to reach 52% of the total by 2030 (Morocco – Updated NDC 2021), and 80% by 2050 (Long-Term Low-Carbon Strategy Morocco 2021). In 2022 installed RE capacity share was about 37.5% and RE accounted for 17.7% of Morocco's energy mix by 2022 (ONEE 2022). Noteworthy achievements include the construction of the Al Boraq high-speed rail, operating at speeds of up to 320 km/h, which connects the cities of Tanger and Casablanca, with further plans to extend this network to encompass additional cities including Marrakesh and Agadir. Tramway systems have been successfully established in Rabat and Casablanca, while a Bus Rapid Transit (BRT) system is being implemented in Agadir. Furthermore, the country has made significant strides in enhancing cycling infrastructure. These projects align with the objectives set forth in the policy system, enabling Morocco to address emerging trends, unlock opportunities, and effectively tackle challenges within the transportation domain.
German-Moroccan cooperation on sustainable mobility
In line with the country's sustainable transport and mobility vision, the Deutsche Gesellschaft für Internationale Zusammenarbeit (GIZ) GmbH is implementing the cooperation project "Sustainable Mobility with Renewable Energies in Morocco". The project is commissioned by the German Federal Ministry for Economic Cooperation and Development (BMZ) and implemented in partnership with the Moroccan Ministry of Energy Transition and Sustainable Development (MTEDD), the city of Agadir, and a variety of Moroccan and international stakeholders.
Over the next four years, the project aims to improve the conditions for sustainable, low-carbon mobility in Morocco at national level and in the pilot city of Agadir by advancing policy dialogues, collaborative research, pilot project implementation, training initiatives, and event coordination in partnership with an extensive array of stakeholders from the realms of politics, academia, and civil society. The project will prioritise a holistic planning that would work on different aspects of sustainable mobility:
Multimodality: Focusing on the seamless integration of multiple transportation modes, including tramways, BRT and bus lines, walking and cycling, as well as taxi and innovative mobility services, the project aims to advance interconnected and efficient transport networks. These networks will ensure smooth transitions between modes, drive a shift away from car-centric trips towards more environmentally conscious options, alleviate congestion, cut emissions, and promote sustainable commuting choices.
Electromobility: Recognising the importance of transitioning from fossil fuel-based vehicles, the project will support the switch towards electric mobility. This involves incentivising measures, the establishment of charging infrastructure, and fostering an ecosystem that encourages electric mobility adoption. This also includes the question of how public transport and forms of shared mobility can promote electrification and vice versa.
Digitalisation and Artificial Intelligence (AI): Leveraging the power of technology, the project will support the digitisation of transportation systems, enabling e.g., real-time data exchange, improved traffic management, and better passenger experiences through mobile applications and smart services. The project further seeks to harness AI's potential to optimise transport operations and enhance road safety.
Inclusivity: Ensuring that transportation systems cater to the needs of all individuals, the project will prioritise inclusive mobility solutions for all. This involves improving accessibility for persons with disabilities, addressing the needs of marginalised communities, and promoting equitable access to transportation services for everyone, ultimately creating a transportation network that is truly inclusive and serves the entire population.
The four thematic pillars were carefully selected together with the project partners to align not only with Morocco's policy landscape but also harmonise with its Nationally Determined Contributions (NDCs) set forth under the Paris Agreement. In doing so, these actions actively promote sustainability in accordance with the United Nations Sustainable Development Goals (SDGs). Guided by the overarching philosophy of the "Avoid-Shift-Improve" framework, the project integrates these principles into its core framework (Figure 2).
Figure 2: Avoid-Shift-Improve Framework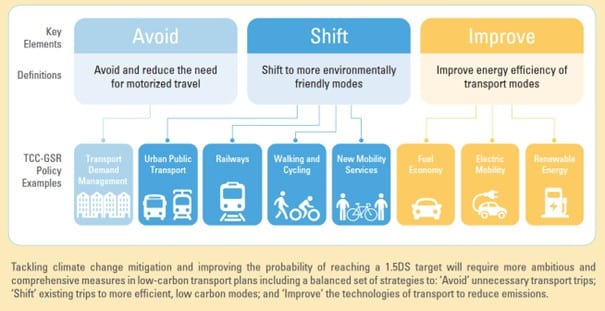 While the project envisions a nationwide impact in mobility patterns, the significance of tangible on-ground actions and local implementations cannot be understated. Agadir, located in the Souss Massa region, has been chosen as the local scope for the project due to its significant urban and mobility development potential and ongoing commitment to sustainable development.
Figure 3: View over the city of Agadir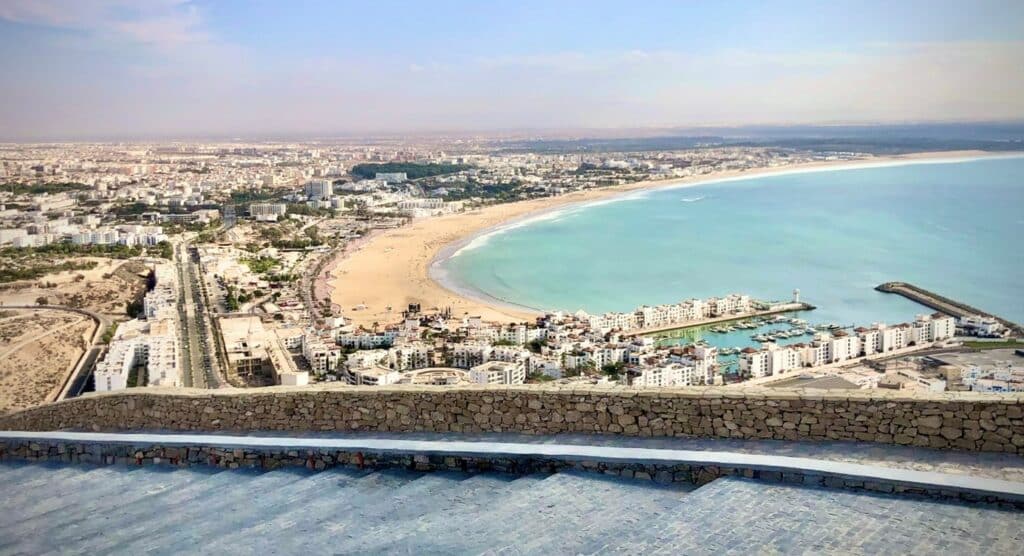 The city has already made considerable progress in promoting sustainable mobility with the implementation of its Urban Development Plan (PDU) and plans to continue this progress with its forthcoming Sustainable Urban Mobility Plan (PMUD). These strategic plans outline a vision for Agadir's urban growth, with a specific focus on creating a mobility system that is efficient, eco-friendly, and inclusive. Moreover, Agadir's Sustainable & Smart City Plan reinforces its dedication to foster change, with specific aspects dedicated to enhancing transportation through digitalisation, smart mobility solutions, and the integration of innovative technologies. Illustrations of Agadir's ambitious progress encompass initiatives like BRT Line 1, slated to launch as one of three planned BRT lines in 2024, and the construction of urban cycling infrastructure. By building upon these existing initiatives, the project can assist Agadir's strong foundation to further enhance and transform its transportation landscape, making it a blueprint for sustainable and smart mobility that can be upscaled, adapted, and replicated elsewhere in Morocco and globally.
Figure 4: Agadir cycling infrastructure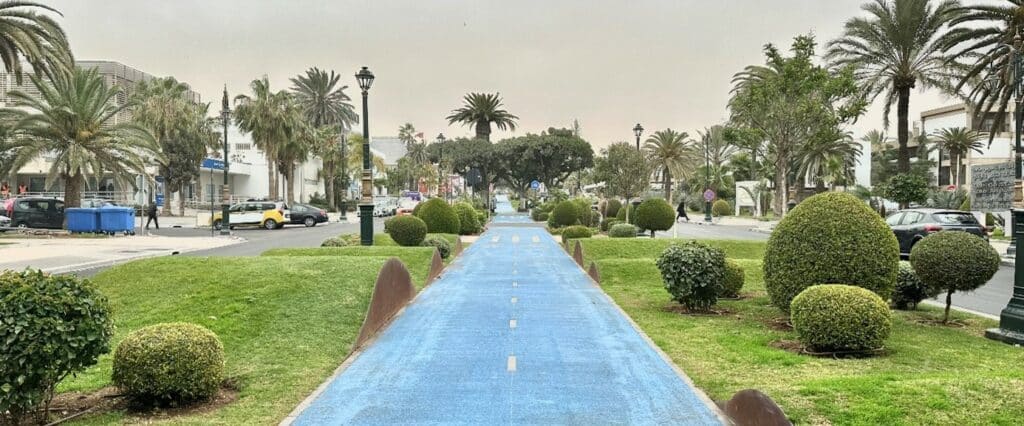 A significant milestone in the project's journey was the workshop with Dr. Leila Benali, Minister of Energy Transition and Sustainable Development on 19th May 2023. The workshop fostered the discussion and exchange as well as feedback on the strategic orientation and activity planning of the project. Discussions covered the effective integration of mobility and energy sectors and shaping the future of mobility with innovation, inclusivity, replicability, and economic sustainability in mind.
Figure 5: Project workshop with Dr. Leila Benali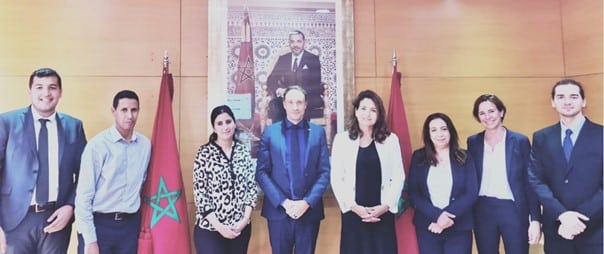 Furthermore, the first steering structure meeting that took place on 11th July 2023, chaired by Mme Farah Bouqartacha, the Secretary-General par intérim of the Ministry of Energy Transition and Sustainable Development, marked a crucial step in our collaborative efforts. Representatives from Moroccan ministries, regional authorities, the city of Agadir, and key institutions attended the meeting. The meeting underscored, among various aspects, that addressing climate change demands bold strategies for reimagining mobility systems and urban environments as a whole. The inquiry into what constitutes climate change-resilient solutions, addressing challenges such as escalating temperatures, heat islands, and the ensuing health hazards, emerged as a concern.
Figure 6: Steering Structure meeting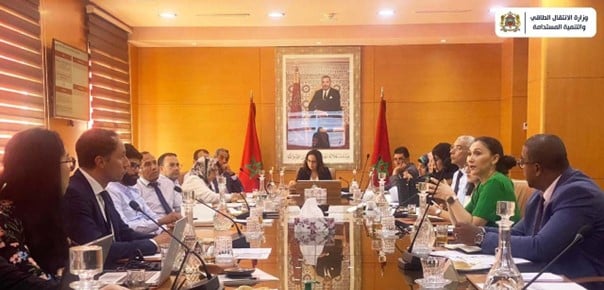 On July 26, 2023, a coordination meeting was held in the city of Agadir to plan local-level activities for the project. Chaired by Ms. Khadija Sami, Head of the Environmental Directorate of the Souss Massa region, the meeting saw the participation of representatives from various entities, including the Wilaya Souss Massa, Agadir Municipality, SDL Grand Agadir for Mobility and Urban Transport, Ibn Zohr University, and the Chamber of Commerce, Industry, and Services of Souss Massa. The meeting hosted a discussion on the upcoming steps for implementing specific activities under the cooperation project in Agadir.
Figure 7: Local-level coordination meeting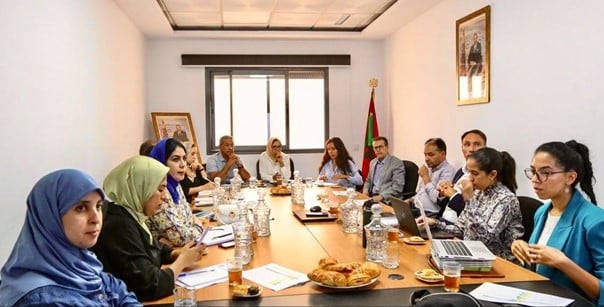 The "Sustainable Mobility with Renewable Energies in Morocco" project will leverage the accomplishments and progress achieved through the collaboration on the Advancing Transport Climate Strategies (TraCS) project, and will work closely with the Introducing Measures, Pathways and Roadmaps for Optimizing Vehicle Efficiency and Electrification (IMPROVE) project. These initiatives are being executed in partnership with the Moroccan Ministry for Transport and Logistics (MTL).
Together with our partners, we are embarking on an exciting journey that hopes to not only contribute to Morocco's sustainable mobility goals but also to foster knowledge exchange and mutual learning for the future of mobility.
For further information, please contact Mr. Sebastian Ibold (email hidden; JavaScript is required).
The Sustainable Mobility with Renewable Energies in Morocco project is implemented by the Deutsche Gesellschaft für Internationale Zusammenarbeit (GIZ) GmbH and is commissioned by the German Federal Ministry for Economic Cooperation and Development (BMZ). It is implemented in partnership with the Moroccan Ministry of Energy Transition and Sustainable Development (MTEDD), the city of Agadir, and a variety of Moroccan and international stakeholders.