Promoting Gender Equality in Asia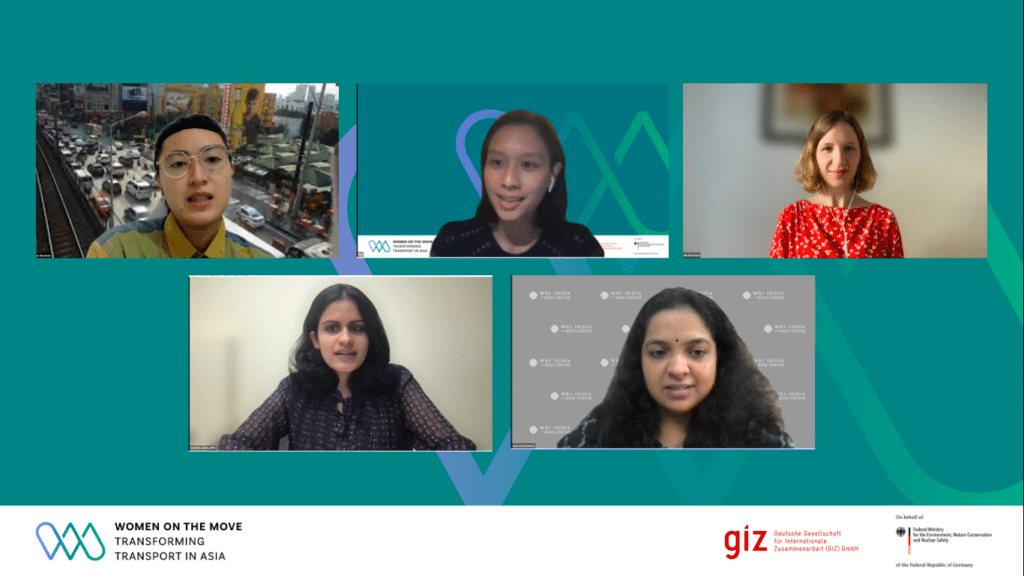 This article is part of our #StoriesofChange where we profile the work of our partner countries in developing climate actions in transport. Read more #StoriesOfChange and follow the Hashtag on Twitter.
Presenting the Women on the Move Network and its ambition to transform transport in Asia
We are at a cusp of a mobility revolution were inclusive, sustainable, people-centric mobility has to be prioritized. This is an effort to be undertaken not just by the government, but also by the civil society, private sectors and funders – they all play a significant role in this transformation

Harshita Jamba, Urban Mobility Researcher, WRI
Why is gender equality essential to decarbonize transport in Asia?
Worldwide, people are aiming for a paradigm shift to zero-emission transport. Considering their high reliance on public transport and low carbon traveling modes, women are one of the key drivers to a green transport transition. Recent studies showed that by improving women's safety the use of public transport would increase and contribute to decarbonizing the sector. To scale up resilient, inclusive, and accessible transportation, mobility systems must better factor in diverse perspectives. In the Asia-Pacific region, the female workforce in the transport sector makes up less than 20%[1]. This underrepresentation inevitably leads to gaps in how mobility services are delivered, and transport planning practices have historically failed to account for this variation in transport needs between different genders. Concerning their journeys and their underrepresentation, it is important to identify women's needs in transport and engage them in all stages. From the decision-making processes, project design, and implementation there must be aware of gender inclusivity.
Women on the Move: Transforming Transport in Asia
As females employed in the transport sector, we need to work together to all collaborate and agree upon a framework on how we start this process and change the system

Aparna Vijakumar, Manager Transport & Cities, WRI
The goal of the network is to connect women from different backgrounds with each other and give them a platform to exchange about their experiences working in the transport sector. The network also aims to spread more awareness on the obstacles women face in public transport through hosting events like panel discussions, knowledge hubs, or presentations of research on gender and mobility. Lastly, it is the network's goal to have more women working in the transport sector. Through a mentorship program and the exchange with many women already employed in this sector, we want to get in touch with young women and motivate them to become part of the movement.
Hosting a Knowledge Hub at the ADB Gender Forum
The need to make transport systems more inclusive sparked the discussion on the realities faced particularly by women who use several modes of transportation as key for their mobility for example sexual harassment, discrimination, and limited participation. At the first ADB Gender Forum, the Women on the Move Network hosted a knowledge hub to highlight the importance of gender in the transport sector.
Four female panelists with different backgrounds and expertise on gender and mobility shared the results of their assessments and observations to understand the situation of women in transport. Carolin Bernhard (GIZ) her experience working on a project which focuses on strengthening political dialogues and technical implementation to address what hinders gender equality in China. Understanding the Structures is essential to get where to problem is on the different levels. Harshita Jamba and Aparna Vijaykumar from World Resources Institute (WRI) discussed the recurring discrimination faced by women in India's transport sector. They elaborated that currently, the transport sector in India is still heavily male-dominated with only 1% of the workforce being female. Lastly, Zaxx Abraham showed some insights from their ADB study on gender and public transport, where she highlighted the finding that the Filipino women who use public transportation wish nothing more than to feel free from public harassment.
What activities does the Women on the Move Network offer?
Founded in summer 2021, the network has already hosted two online panel discussions and created a LinkedIn Networking Group. The launch of the network took place at the Transport and Climate Change Week in June 2021 with a panel discussion on the topic "The role of women in the process of decarbonizing transport". Many inspiring women from different countries and backgrounds reflected and discussed this topic, finding that it is especially important to involve women in the whole planning process. Through actively involving women we can reach the goals to include women in transport as users, operators and professionals.
The network is just getting started with activities. In the coming year, there are already several projects planned such as regular exchanges, events at the Transport and Climate Change Week 2022, and a mentoring program.
Become a Network member by joining our LinkedIn Group: Women on the Move: Transforming Transport in Asia | Groups | LinkedIn
Join our regular Connect & Chat Meetings: Women on the Move – Connect & Chat – Changing Transport (changing-transport.org)