Changing Tracks in Africa 
The transport sector can only be transformed at the global level if we involve Africa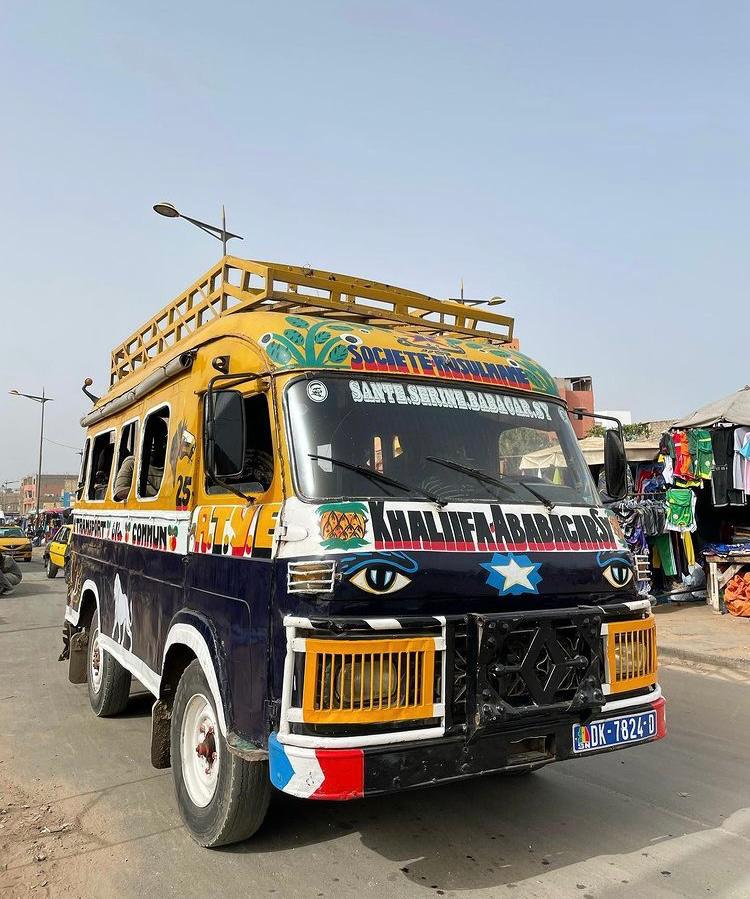 African countries currently contribute only 3.8% of global CO2 emissions, but their emissions are increasing rapidly, particularly in the transport sector. In Africa, the transport sector accounts for about one-third of the continent's total energy-related CO2 emissions, or 346 million tonnes (Mt) of CO2. By comparison, Germany emits about 160 Mt of CO2. But unlike Germany, Africa's emissions are growing rapidly.
This momentum threatens to erode the gains made in climate policy around the world. Factors such as urbanisation, infrastructure investment and growing mobility needs are driving this growth. However, there are opportunities for Africa to leapfrog to sustainable transport through global trends in electrification, renewable energy and digital innovation.
A shift in development patterns is needed
The term "turnaround" or "transport revolution" (German term "Verkehrswende") is not appropriate in the African context. Despite low motorisation rates and negligible per capita transport emissions, these statistics are mainly the result of low incomes and limited access to affordable motorised transport options.
Addressing these issues requires avoiding the pitfalls of transport development seen in the Global North. If African countries can avoid future greenhouse gas emissions from the transport sector without compromising economic development, leapfrogging to sustainable transport will be possible. The focus should therefore be on changing the trajectory of the development and expansion of mobility systems, rather than a complete turnaround.
Considering the diversity and complexity of the continent and the issue at hand, it is essential that the dialogue takes place within Africa itself, rather than being dictated from outside. Nevertheless, European actors have a responsibility because of their high historical emissions and the consequences of colonisation. The following considerations serve as an invitation to engage with stakeholders committed to the design of sustainable transport systems, looking at three dimensions:
Developing socially equitable mobility services for urban and rural areas,
Exploring the potential for renewable energy and electric mobility
Leveraging investment in sustainable infrastructure for a net zero future.
Developing socially equitable mobility services
By 2050, Africa's population is espected to reach 2.5 billion, with 1.5 billion living in cities and 1 billion in rural areas. This will lead to a significant increase in demand for mobility. Social justice is critical to transforming the sector, as rural areas face challenges in accessing basic services. The uncontrolled growth of informal settlements in cities further exacerbates the lack of necessary services. Orienting urban growth along sustainable public transport corridors can help prevent many transport problems.
Walking as well as informal buses and taxis, known by various names such as Daladalas, Matatus, Bodas, Cars Rapide, are the main mobility services in Africa. While they provide flexible mobility options and employment opportunities, the use of old vehicles raises concerns about road safety and air pollution. Despite the introduction of bus rapid transit systems and trams in some cities, these informal services remain necessary. Improving their quality and reducing emissions without excluding low-income people is essential. Digitalisation can play an important role, harnessing the potential of Africa's young and tech-savvy population.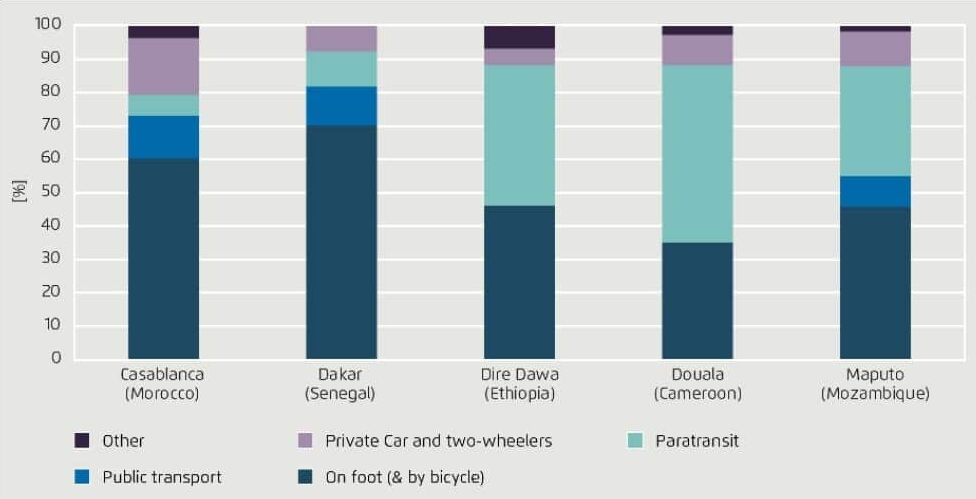 A closer look at the modal split in African cities reveals a significant reliance on walking and paratransit. This is largely due to a lack of affordable alternatives and high levels of social deprivation. Inadequate and unsafe sidewalks further discourage walking. As a result, pedestrian fatalities account for 40 to 60% of accidents in many African countries. Urgent attention is needed to improve active mobility infrastructure.
Exploring the potential for renewable energy and electric mobility
Non-motorised transport is desirable for reducing emissions. However, for longer distances, motorised propulsion and external energy sources are required. The introduction of and transition to electric vehicles in all modes is needed, especially given the potential for low-cost renewable energy production.
The transition is already underway for motorcycles, which are widely used in many African countries.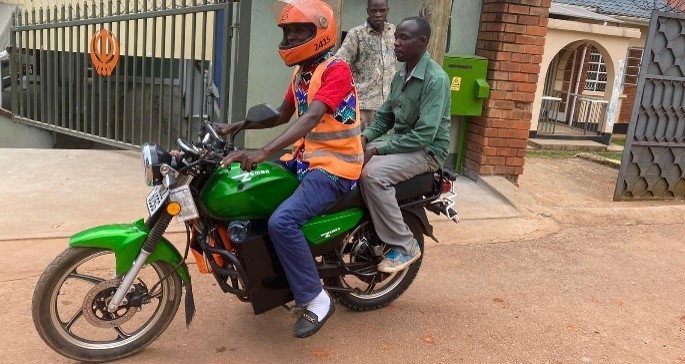 Start-ups such as Zembo in Uganda and Senergytek in Morocco are demonstrating the local value created by e-mobility. Africa is also producing its first electric buses, such as those manufactured by Roam in Kenya. Although batteries are mostly imported from China, using raw materials also found in Africa, there is potential to shift parts of the value chain to the continent.
However, electrification of the transport sector is still in its early stages, with pioneering projects driving change. Rapid motorisation in many African countries is largely driven by the second-hand car market, where inadequate import regulations and lack of export standards result in unsafe and high-emission vehicles on African roads. Vehicle manufacturers and major vehicle exporting countries such as Germany have a responsibility to address this issue.
Leveraging investments into sustainable infrastructure
Sustainable transport systems in Africa depend on the necessary investment in infrastructure development. The African Economic Outlook estimates that $130 billion to $170 billions of annual infrastructure investment is needed. However, only $100 billion is currently being invested, of which about one-third is in the transport sector. The scope for action and investment is huge. Expanding road and rail networks, rapidly scaling up renewable electricity generation and distribution, and shaping African cities to enable climate-friendly mobility for a growing population are all essential.
In addition, the impacts of climate change require climate-resilient infrastructure to minimise damage and costs. Building infrastructure projects with climate resilience adds 2-3% to the cost. Mobilising more resources, including through climate finance funds, can help bridge the investment gap and build resilient transport infrastructure. This will also facilitate private sector investment in transport in African countries.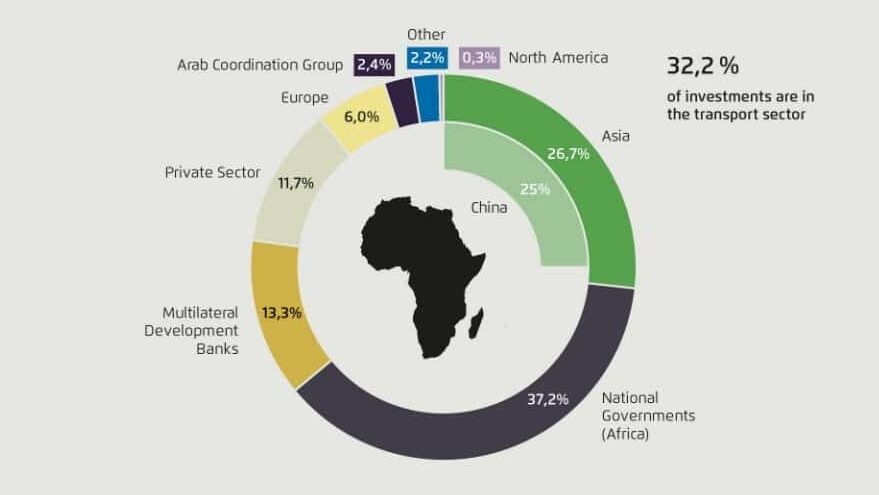 It is important to bear in mind that investments are particularly useful if they are coordinated between different donors. Coordinating all infrastructure investments across different sources and geopolitical interests and prioritising them according to the goals of sustainable development should be primarily the responsibility of African governments and the African Union. While this is partly working well, there is still potential for better cooperation between Western and Chinese banks and investors.
We need to continue and broaden the discourse
Of course, all these considerations can be expanded, supplemented, considered in a more differentiated way, placed in the national context of various African countries or applied to regional case studies and, if necessary, critically examined. We see them as a starting point for a discussion that should be conducted in close exchange between states, institutions, organisations and individuals from African countries and the Global North.
It is in the common interest and shared responsibility of the African governments and the international community to work together to initiate a change of direction towards a climate-neutral and socially equitable design of the transport sector.
If you want to dive deeper in this discussion: The content of this article is based on a discussion paper jointly developed by GIZ and the think tank Agora Verkehrswende. In addition to extensive research, the contents were developed in particular in group discussions with African transport experts.
The paper is available for download here: https://www.changingtransport.org/publication/transforming-transport-in-africa/