Enhancing Climate Ambition in Transport
Lessons learnt on how to raise ambition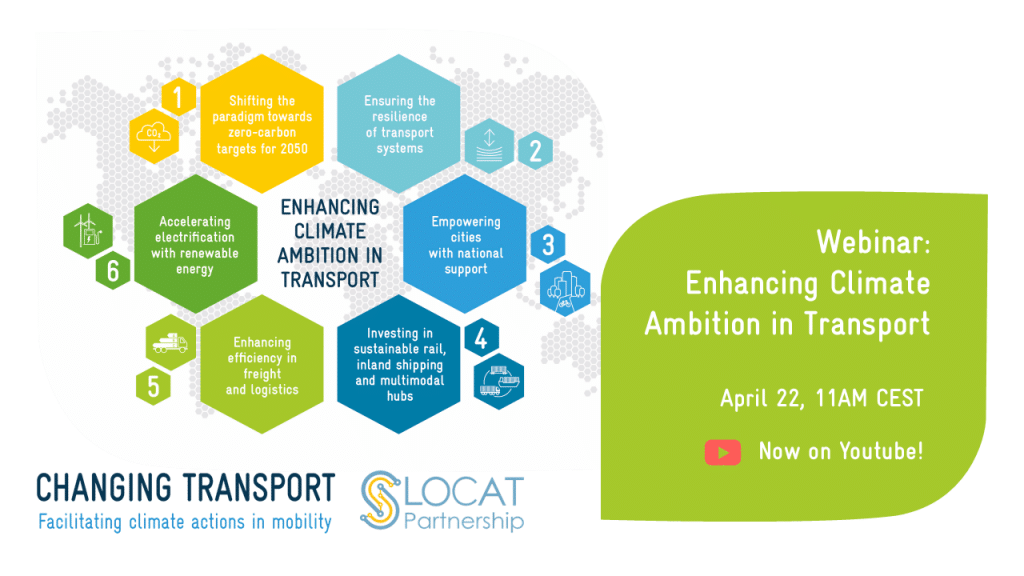 On Wednesday, April 22, GIZ together with the Partnership on Sustainable Low Carbon Transport (SLOCAT) organized a webinar on Enhancing Climate Ambition in Transport. It featured a lively discussion on how countries could align their climate targets with the Paris Agreement and the Sustainable Development Agenda. The webinar presented an overview of the six action recommendations for policymakers and subsequently explained what needs to happen in the transport sector to make it compatible with long-term mitigation objectives.
The webinar was facilitated by Nadja Taeger from GIZ and featured two presentations: Marion Vieweg, founder of Current Future and co-author of the aforementioned paper, put the recommendations into context, and Mark Major of the SLOCAT presented SLOCAT's new database of transport in NDCs. Moreover, the webinar kicked off SLOCAT's advocacy campaign on transport and NDCs in 2020.
Insights offered by the webinar
For transport, reaching the Paris Agreement targets essentially means decarbonization by mid-century – which represents a 75% reduction compared to today's levels. However, transport targets in countries' Nationally Determined Contributions (NDCs), aiming to reduce emissions and adapt to the impacts of climate change, remain insufficient: Whilst 90% of NDCs submitted before 2020 identified the transport sector as crucial, only 14 countries defined clear quantified reduction targets for transport(see GIZ 2017 for more details). This needs to change.
It's only with a package of strategies that it is going to be possible to meet the objectives of the Paris Agreement.

– Mark Major, SLOCAT
The webinar identified a need for a broader transformation of access and mobility patterns to avoid unnecessary transport demand. Innovations and increased efficiency of technology, operations, and fuels will not be enough to meet the 1,5° target. Cooperation between sectors and communities is needed to forego incremental improvements and instead focus on a goal-oriented approach to sustainable planning.
In order to support such cooperation, SLOCAT together with GIZ will conduct an analysis of transport commitments in the second generation of NDCs submitted in the run-up to COP26. It will feature the specific measures that are proposed to mitigate transport and adapt the system to the challenge of a changing climate to assist in the development of solutions for an integrated system that includes the different elements needed for a broader mobility transformation. The database that is underlying the analysis will also be made publicly available.
To encourage an increase of ambition in the second generation of NDCs, SLOCAT together with partners kicked off the Transport NDC Advocacy Campaign. This campaign will center around ten recommendations on transport and climate action as well as the analysis of newly submitted NDCs. More information can be found on SLOCAT's NDC Website.
You would like to know more? Watch the webinar on our Youtube channel or take a look at the presentations. For an overview of all questions you asked in the webinar including those that were not answered during the webinar, please see here.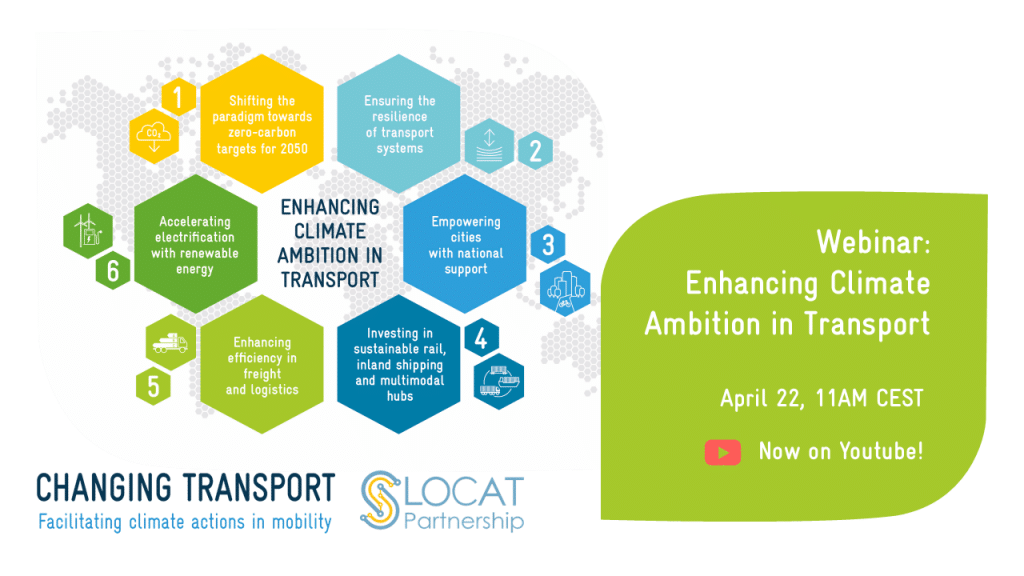 ---
Author(s)