The Future of Electric Mobility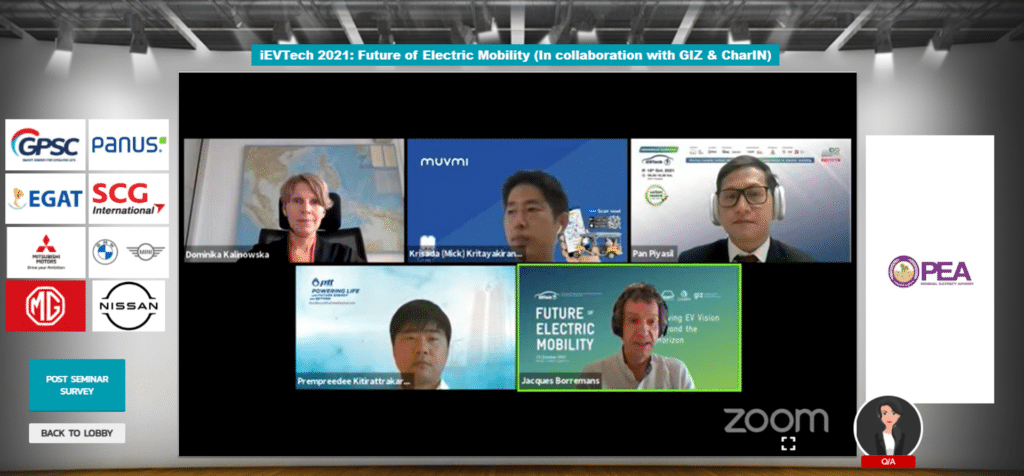 Driving electric vehicles: a vision towards sustainable development ⚡️
Electric Vehicles (EV) have become a promising transport alternative to vehicles powered by fossil fuels. Utilising electricity as automobile power input, EV have revolutionised transportation globally by significantly reducing GHG emissions and air pollutants. Unrestrictedly, automobility advancements did not stop at electrification but have pursued more mobility breakthroughs such as automated and shared mobility.
To unveil the potential of the future, GIZ's TRANSfer project, jointly with CharIN, organised a half-day convention along with the Electric Vehicle Association of Thailand (EVAT) on 15 October 2021 during the anual ASEAN Sustainable Week. The session, Future of Electric Mobility, invited pioneering mobility experts from Thailand and internationals to share their experience with electric mobility and to discuss approaches necessary for future EV implementation as well as novel business opportunities.
Shaping a sustainable future with transport electrification
While EV technology and infrastructures – including EV chargers and smart autonomous applications – have continuously progressed in Thailand, the EV expansion has been significantly dependent on state support in EV deployment and infrastructure setup regulation. During the panel discussion, both Thai and international panelists agreed on the state's essentiality to take a clear stance on policy support and incentive programs on automotive electrification as the transparency on a framework and support conditions has a crucial impact on the future mobility layout.
The session covered a wide range of topics and aspects related to sustainable transport electrification. Starting the session, Mr. Krisada Kritayakirana, Co-founder and CEO of Urban Mobility Tech (UMT) shared the company's development of Muvmi and the approaches that integrated microtransit electromobility as part of the Thai daily commute. Mr. Prempreedee Kitirattrakarn, Manager of PTT ExpresSo, also speculated an ample number of incoming business opportunities as electric automobile technology continues to expedite.
From an international point-of-view, Dr. Andy Palmer, CEO of the Switch Mobility, introduced the initiatives in establishing electricity-powered mass transportation in the UK and India while Mr. Jacques Borremans, Managing Director Asia of CharIN, shared on public transport EV charging infrastructure development. Lastly, GIZ Transport Policy Advisor, Mr. Marvin Stolz, discussed prospecting automobile technology, digitalisation, and progressive impacts they will bring in future transportation.
The role of autonomous and shared vehicles
Another aspect highlighted was the concept of shared and autonomous vehicles. With the advancement of digital technologies, public transport operators can aim not only to electrify their fleets but also to
tailor their services to the needs of users (on-demand service)
encourage sharing of vehicles among users
cut cost
increase efficiency
embrace autonomous vehicle on fix routes and specific needs.
This can lead to new business models and opportunities, especially for public transportation. To promote this, government agencies can play an active role to enrich collaboration between private and public sectors as well as mitigating investment risks for new business ideas and start-up companies that spearhead this direction. The panelists agreed that shared, autonomous, and electric vehicles could be a bright future for sustainable public transport and green recovery after the pandemic which further support decarbonising the transport sector in the future without leaving individual mobility needs and demand behind.
Joint objective of the global ASEAN transport community
Besides Future of Electrical Mobility, other interesting sessions took place with the same objective to advocate for sustainable transportation. During the Role of EV toward Carbon Neutrality, the panel discussed how EV can be supported from several dimensions to be able to better contribute to a carbon neutrality society. While in the Taiwan Mobility Session experts from both Thailand and Taiwan exchanged information on advancing mobility technology. In EV Knowledge Sharing, private automobile companies discussed the latest EV technology and trends.
Aligning with the global sensation, Thai automotive sectors have taken measures to expedite EV advancements. In response to domestic and international anticipation, the Thai government sets an ambitious goal to achieve 100% use of electricity-powered automobiles by 2030.
The TRANSfer project is implemented by GIZ and funded by the International Climate Initiative (IKI) of the German Federal Ministry for the Environment, Nature Conservation and Nuclear Safety.