Towards a Better Normal: Philippine Government reorganises EDSA main road – Bus Service Modernisation
by Patricia Mariano & Christian Mettke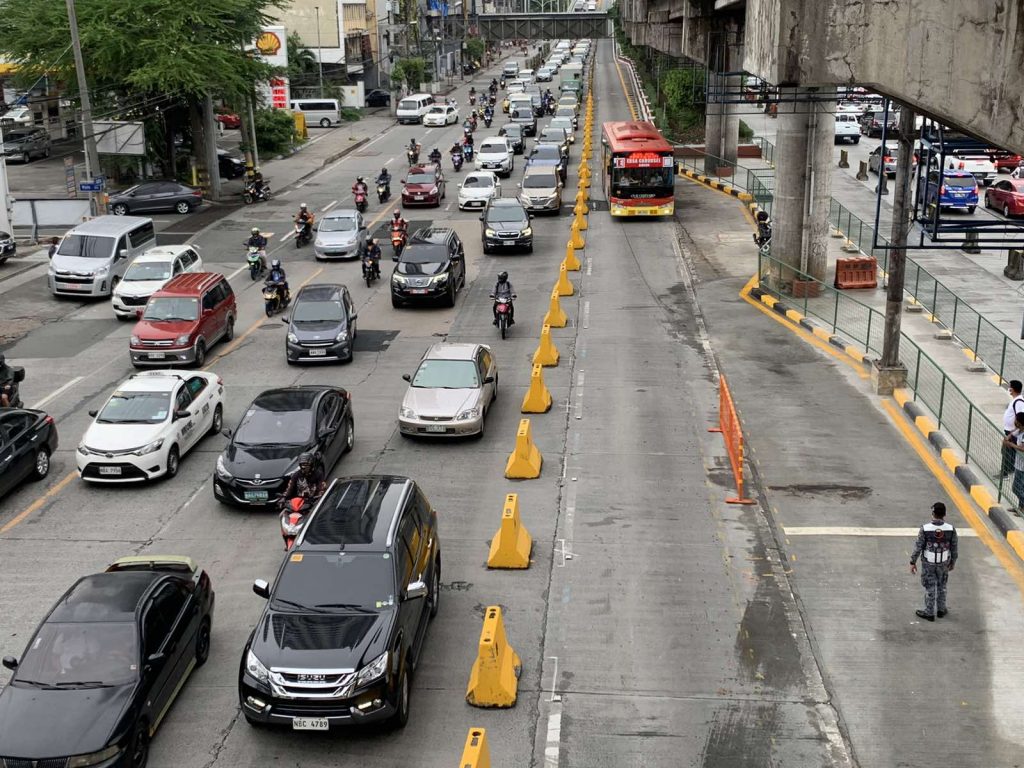 The Philippine government has for years been studying options to improve people movement along the EDSA, one of Metro Manila's main thoroughfares for connecting home and work. Plans have involved increasing rail capacity, enforcing strict bus-only lanes, implementing bus rapid transit (BRT) system variations, providing free bikes, introducing motorcycle lanes, and banning trucks. The list goes on, and so do the lines of people stuck in queues or in vehicles.
These initiatives have generally had little success, but that might now be changing.
EDSA, short for Epifanio delos Santos Avenue and also known as Circumferential Road 4 (C4), runs for approximately 24km and traverses five of the 17 Metro Manila local government units (i.e., Caloocan, Quezon City, Mandaluyong, Makati, and Pasay). It is for the most part a 12-lane road, with the two outermost lanes of each side being "yellow lanes" for buses. Through EDSA, the Cubao transport hub in Quezon City is only 10km away from the Ayala MRT Station in the Makati central business district. Despite this, travel time between the two points could take anywhere from 30 minutes to over an hour in 2019.[1] EDSA has clearly been lacking capacity for years, with long waiting times and overflowing vehicles for both the MRT-3 and buses.[2] Congestion is worse than ever and has started to affect people's health, personal life, and work.
Even so, EDSA is by no means the most inefficient road in the country. A 2019 study released by the Japan International Cooperation Agency (JICA)[4] found that while vehicular traffic is 70% higher on the parallel circumferential road C5, EDSA still sees 22% more person-trips (Table 1). Both roads were found to have vehicles speeds of 20 kph or less on 80% of their stretch. Ortigas Avenue – which connects the residential areas of Cainta and Pasig City with key services and economic centers accessible through C5 and EDSA – starts getting congested before the sun even rises.
PCU-km/day
(passenger car unit)
Person-km/day
EDSA
2.0 million
9.4 million
C5
3.4 million
7.7.million
Table 1. Person and Vehicle Traffic on EDSA, C5.
JICA, 2019
But EDSA has captured the imagination of Filipinos like no other place has managed. In addition to its economic importance, EDSA has a decorated history as the site of a peaceful revolution in 1986. Once representative of hope, it has now become a national symbol of traffic congestion and the daily struggle of millions of commuters in the Philippines.
It is in response to these terrible conditions that government agencies such as the Department of Transportation (DOTr) and the Metropolitan Manila Development Authority (MMDA) have been exploring programmes that will alleviate congestion.
Proposals that involve reallocating road space away from vehicles and towards pedestrians, cyclists, or commuters are, however, typically shelved. There is a misconception that public utility vehicles (PUVs) cause congestion even if the MMDA has stated that as much as 90% of the cars on EDSA are private, with over half of those being single-occupancy vehicles.[5]
One of the proposals affected by this was the EDSA Bus project for the seamless movement of public transport, which involves median bus lanes and the utilization of MRT-3 emergency bays. In support of this, GIZ TRANSfer published a report evaluating the operational and business aspects of the project considering technical studies provided by the DOTr and existing institutional structures, which informed the current initiative of the Government (EDSA Bus Case Study: Operations and Business Model).
A Terrible Thing to Waste
COVID-19 has forced us to rethink our norms and habits. While the pandemic has hit the Philippines harder than neighboring countries in Southeast Asia,[6] it has also allowed the Government to implement long-awaited sustainable urban mobility measures, such as the improvement of bus operations and an increase in active mobility modes like cycling.
In an effort to contain the virus when cases started increasing last March, Metro Manila was placed under strict community quarantine with only essential travel for food and healthcare being allowed. This quarantine involved a public transport ban that pushed front liners with no cars to cycle or walk to work. It seems that since there was no way to ensure that operators would follow physical distancing requirements, the easiest way to mitigate the spread of the virus through public transport was to completely shut down operations.
To counter the negative effects of the ban, government agencies such as the DOTr directly engaged bus companies to provide free (bus) shuttle services along certain routes. The government's Libreng Sakay ("Free Ride") programme has, as of June 2020, accommodated at least 1.2 million passengers nationwide, with 70% from Metro Manila.[7]
Such a service opened other contractual arrangement options between government and bus operators in general. Instead of simply granting private operators a franchise with the right to run vehicles along a route, the DOTr moved towards a contractual system where the operators are required to meet certain key performance indicators, one of the main recommendations of GIZ. The DOTr is currently requesting for budget to properly fund these service contracts to ensure sustainability and scaling of the services.
The EDSA Bus Project, with buses operating along the median lane, have been since introduced with professionalised services and decreased travel times for passengers. The DOTr is also preparing to formalise service contracting for bus services (including along EDSA) in order to promote higher service quality and frequency for passengers. So far, travel time on EDSA for bus passengers has been reduced by nearly 50%. Additionally, the DOTr has released a map of the rationalised routes across Metro Manila (Figure 3) and have had bus companies consolidate operations to avoid on-street competition. While there used to be over a hundred bus operators competing for passengers along EDSA, there are now only two consortia – each composed of 30 companies – operating along dedicated stops. The rationalised has set the number of buses along EDSA at 550 units.[8]
In line with the EDSA Bus Project proposal, passengers are using the overpasses and train stations to reach the bus stops. The first phase involves 12 stops from Monumento in Quezon City to Estrella in Makati City, primarily alongside the LRT-1 and MRT-3 alignment.[9] The second phase will add 17 stops and extend the route to Mall of Asia in Pasay City,[10] increasing accessibility to the service.
Physical distancing in public transport is of course also observed, and so buses run at below half of their usual capacity. This has led to financial losses for operators who run on ticket revenue, and understandably to some companies choosing to stop operations at the moment.
Towards a Better Normal
The DOTr is also looking at additional improvements for passengers. For example, in addition to the segregated bus and bike lanes, they are installing bike racks in train stations[11] and proposing at-grade crossings for pedestrians. This will make the public transport more accessible and comfortable for all commuters.
Until now, however, neither the bike lanes nor these crossings have been implemented due to conflicting ideas from different agencies. These, together with proper financial support from the government for public transport operators, are crucial to ensuring mobility during this time.
In addition to the re-organization of EDSA lanes, the DOTr is also seeking approval for an additional PHP 17 billion to support programmes such as service contracts, as part of COVID-response funding.
The EDSA Bus Project, with the clear plan to prioritize people movement through better public transport, is a welcome step. The Philippine Urban Mobility Program (PUMP) proposes an improved public transport system through programmes like the EDSA Bus and PUV Modernization. The societal benefits are clear: reliable services, faster trips, and comfortable vehicles, to name a few. However, the advantages go beyond these. Together with measures focusing on non-motorised or active transport, urban freight, travel demand management, and transit oriented development, the proposed PUMP actions will improve air quality and road safety, and can potentially reduce GHG emissions by 15.01–27.13 MtCO2e over ten years.
(Full document available here: PUMP Concept Document.)
The COVID-19 pandemic has demanded drastic changes to our lives. We have to wear masks, wash our hands far more often, stay at least a meter away from others, and avoid unessential travel. It is high time our public transportation system changes as drastically, with a clearer view of what is truly important: safe, dignified, and sustainable mobility for all.
Sources
[1] https://newsinfo.inquirer.net/1128825/makati-to-cubao-via-edsa-in-5-minutes-travel-at-180-kph
[2] https://www.bworldonline.com/mrt-3-ticket-sales-rider-count-further-fall-as-repairs-continue/
[3] https://autocar.com.ph/mmda-wants-driver-only-car-banned-from-edsa/
[4] Follow-Up Survey on Roadmap for Transport Infrastructure Development for Greater Capital Region (JICA, 2019), p.2-9: "Among the five circumferential roads (C1 to C5) in Metro Manila, C5 has the largest vehicle traffic with 3.4 million passenger car unit PCU-km/day (7.7 million person-km/day) followed by C4 (EDSA) with 2.0 million PCU-km/day (9.4 million person-km/day). The vehicles on more than 80% of C5 and C4 run at 20 kph or less, which means these roads reach capacity in a day."
[5] https://www.topgear.com.ph/news/motoring-news/mmda-driver-only-ban-edsa-2019-a962-20190613: "The driver-only ban has never been out of the picture. We keep presenting it to the MMC, and we keep pushing for it," Pialago said at the time. "We have studies from the MMDA working group that prove that 90% of cars in EDSA are private, and from that 90%, more than half are driver-only. We don't stop making studies about this."
[6] https://globalnation.inquirer.net/189278/ph-now-2nd-in-southeast-asias-covid-19-count: The Philippines has the second most COVID-19 cases in Southeast Asia as of Monday night with a total of 46,333 infections. This developed after the country logged 2,099 additional cases, enough to surpass Singapore which currently has 44,983, according to the Johns Hopkins Coronavirus Resource Center. Indonesia continues to top the region with 64,958 cases. However, it was the Philippines that has the most active cases with 32,845, followed by Indonesia's 31,798 and Singapore's 4,516. In terms of fatalities, Indonesia is currently first with 3,241, while the Philippines has 1,303 at second, followed by Malaysia with only 121. With 12,185 total recoveries, the Philippines is third behind Singapore (40,441) and Indonesia (29,919).
[7] https://newsinfo.inquirer.net/1296069/dotr-libreng-sakay-program-reaches-1-2m-ridership: More than 1.2 million health workers have been served by the government's "Libreng Sakay" program during the coronavirus disease pandemic. In a statement on Facebook on Tuesday, the Department of Transportation (DOTr) reported that the free bus service has reached a total of 1,203,177 in ridership, wherein 348,092 came from NCR-Greater Manila, while 855,085 from different regions.
[8] https://www.pna.gov.ph/articles/1103338
[9] Information from DOTr
[10] Phase 2 stops will have 9 additional stops along the current alignment, and 8 new stops to extend the service.
[11] https://dotr.gov.ph/55-dotrnews/1933-lrt-1-lrt-2-mrt-3-pnr-install-bicycle-racks-for-free-use-of-passengers.html