Green Hydrogen and Power to X – The Silver Bullet for Decarbonizing Transport?
The potential of Power to X at the example of Brazil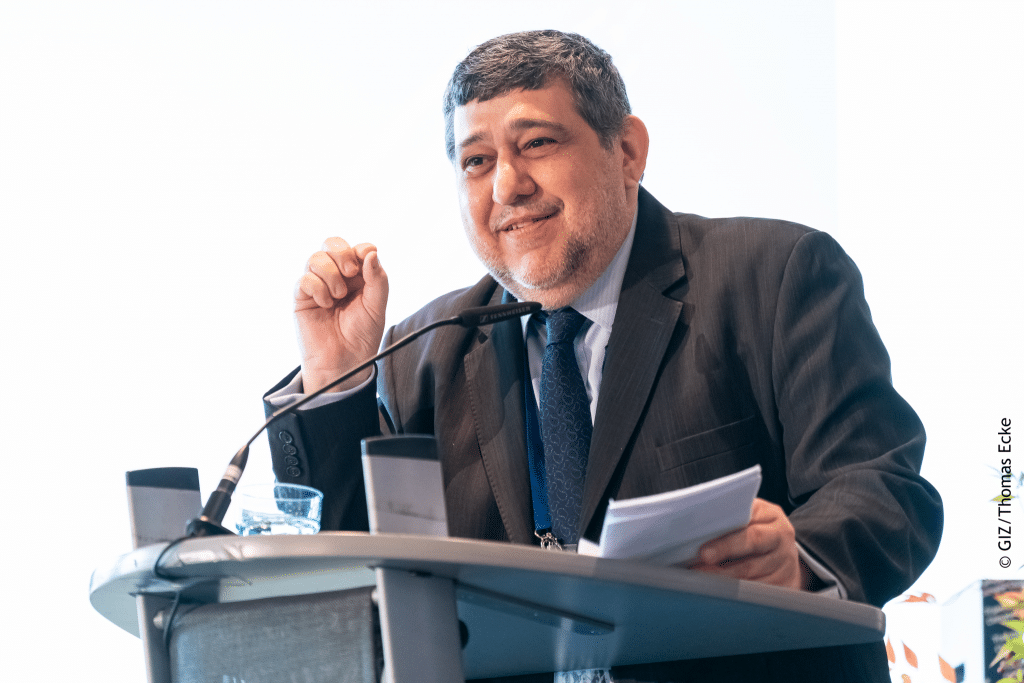 "We have to highlight this idea of PtX – For aviation, it could be the solution."

– Eduardo Soriano Lousada
Eduardo Soriano Lousada, General Coordinator and Deputy Director from the Ministry of Science, Technology, Innovation, and Communications in Brazil is convinced that Power to X could be the solution for a reduction of emissions in aviation. Power to X is a technology that uses electrolysis to produce hydrogen out of water. This hydrogen is then converted into synthetic fuels (e.g. kerosene) or feedstock.
In Brazil, the potential is currently being explored: The Project Climate Neutral Alternative Fuels (ProQR), implemented by GIZ and funded by the Federal Ministry of the Environment, Nature Conservation and Nuclear Safety (BMU), is developing a pilot plant for PtL production. It is also stimulating the market introduction of PtL technologies and advising the ANP. The National Regulatory Authority for Petroleum, Natural Gas and Biofuels (ANP; Agência Nacional do Petróleo, Gás Natural e Biocombustíveis), GIZ's project partner, just aligned Brazilian regulation for aviation fuel with the international standards for alternative fuels. Additionally, as the ANP is recognised as an institution exempt from import tax, production costs in Brazil have become up to 40% cheaper.
How to bring renewables to road transport
PtX has huge potential for aviation and maritime shipping. Nevertheless, an analysis of chances and challenges of these synthetic fuels makes clear that for other sectors, such as urban mobility and passenger road transport, renewables are the most efficient option. Issues of cost and energy efficiency show that road transport would benefit from policies which promote a further electrification of the sector. As stressed by Daniela Soler of the Chilean Ministry of Energy, who is working on Chile's Energy Roadmap 2018-2022.
Germany sees great potential in Power to X
Dirk Meyer, Director General of the Federal Ministry of the Environment, Nature Conservation and Nuclear Safety, also stressed the necessity for a proactive and cooperative approach in his opening speech at this year's Transport Week.
Therefore, to maximise and fully tap the potential of PtX in sectors that cannot be electrified, Germany's Ministry of the Environment started a cooperation with Morocco at the COP25 in Madrid, and also funded the International PtX Hub in Berlin, which promotes the sustainable and effective use of PtX and green hydrogen. It aims to foster dialogue on how to develop a sustainable PtX market.
Sustainable production and efficient usage are crucial
A main issue of bringing renewables into transport is to establish high sustainability criteria. Questions of sustainability and market potentials also feature into the discussion concerning feasibility within sectors. These aspects were discussed by Dr. Harry Lehmann, UBA; Dr. Christoph Kohnen, VW; Geert De Cock, T&E; and Hannah Murdock, REN21, during a panel on Renewables in Transport.
In the panel, consensus emerged that:
The transport sector must move away from fossil fuels. For road transport, cars have to be electric. E-fuels and biofuels would be a loophole for combustion engines.
In freight transport, green hydrogen and PtX are interesting options to supplement electrification. However, production needs to be sustainable.
Aviation is a field in need of rapid change. Apart from policy instruments that lower international social costs, such as fuel taxes, technologies will also be needed. Synthetic e-kerosene from PtX would be the most efficient way to do so since it could make use of the existing infrastructure.
This consensus shows that there is a need for a proactive approach to the mobility transformation to meet the climate targets of the Paris Agreement. E-mobility should be at the forefront of the decarbonisation efforts in road transport as it has a higher energy efficiency. Sustainability issues need to be taken into consideration when developing markets for synthetic PtX feedstocks and fuels. That PtX should primarily be used to de-fossilise sectors such as aviation and shipping, not road transport, was also clarified by Charlotte Hussy and Heino von Meyer of the International PtX Hub.
International cooperation can create win-win situations
However, innovation in transport relies on international cooperation. As the example of Brazil has shown, countries of the global south have favourable conditions and can leapfrog to sustainable solutions. At the same time, developed countries can support these conditions by creating markets for these sustainable products.
Thus, it is crucial that we work together in our efforts to decarbonize the transport sector. Through cooperation, green hydrogen and Power-to-X have the potential to be a key contributor to the global efforts towards mitigating climate change by making aviation and maritime transport fossil-free.