The Many Benefits of Including Women in the Field of Transport
Interview with Dr. Kawtar Benabdelaziz – a change maker women in the field of e-mobility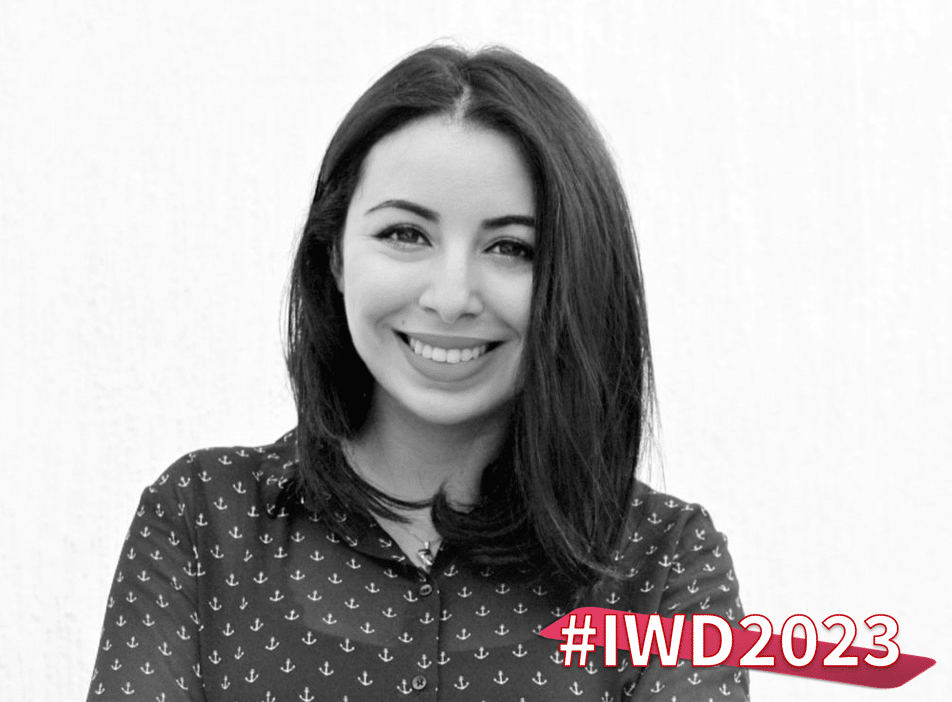 Published on 2 March 2023
In a special interview in the frame of the International Women's Day (IWD) 2023, Kawtar shared with us her experience, perspective, advice, and challenges of being a women change maker in a mostly male dominated sector.
Everything comes from a change of perspective and women can bring such innovative ideas when it comes to the development of transport.

–Dr. Kawtar Benabdelaziz
It is not new that the transport sector has been for many years a male dominated sector in which women have been working hard for a seat at the table and participate in the development of it. This is the case of Kawtar Benabdelaziz, a remarkable women and researcher in the electric mobility sector in Morocco. Kawtar has been working in the development of electric vehicle ecosystems for several years and there is a lot to learn from her. Her case is inspirational for other women who are now making a change in the transport sector on the route to zero emission transport.
First some context, what can you tell us about the role of Women in the transport sector in Morocco?
Unfortunally, women tend to be underrepresented in the transport industry in Morocco, and in general. The majority of workers have been historically men and nowadays, just a few women are involved in the decision-making process. However, it is fascinating that there are many women studying to become engineers and developing skills in science to work in this sector. At the same time, there are professional training programs which encourage women to get into mechanic-and driving fields and to pursue their career in the industry. Of course, there still are a few women working as drivers, but there are many encouraging initiatives and programs and that show a positive progress.
In the transport sector, there are different kinds of jobs where women started working for already many years, such as drivers, technicians, administrators, researchers or even more. Depending on the context of the country, sometimes seeing women, especially as drivers, call the attention of the people, but it also highlights their participation and visibility in the field, one aspect that motivates other women to join and be part of the change. However, there is a difference between what happens in the big cities and on the countryside, especially when it comes to education and job opportunities.
Why is it important to see women as part of the solution?
Women can contribute a lot to the topics of transport. A perspective coming from a woman is usually very rich and considers points that sometimes are not obvious. From a security point of view, women have been dealing with many problems within transport, and it is important to work for safety in public places. Being surrounded by women make other women feel safer. Women are the ones that mostly use public transportation in their daily life, and because of that, their perspective is essential to creative and innovative solutions.
To boost women's participation in the field, it is also essential to look at gender equality policies that facilitate the employability of women in different sectors. Recently, different countries worldwide have been working on developing standardised policies to promote equality regarding job opportunities. For many years, women have had to deal with female-specific stereotypes that affect decision-making when applying for a job. It is important to separate these aspects from reality and highlight that women are not less capable of achieving their professional goals because of their gender.
How to booster women participation in transport
Knowing by having the example of a person who succeeded as a woman in a male-dominated field gives motivation, encourages, and gives confidence. Sharing experiences can also encourage women's participation. Good examples are the many existing networks often based on mentorship programs in the transport field. What is better than letting other remarkable women guide your journey? Also, getting to know the personal stories of women worldwide creates a great connection. We can even take advantage of technology to have an international support network to celebrate each other's achievements and even create job opportunities
Which advice would you give yourself some years ago?
Sometimes it is hard to prepare women to face what they face; as a woman, you sometimes face discrimination and harassment, and it can get tough, but believing in yourself and developing confidence is very important in every aspect of life. It is important to give the tools like networks and training programs at hand, but sometimes you will make some mistakes, and that is part of the process, but you have to hold on to your passion and have the confidence that you are going to be a change maker if you stick to your beliefs.
Nowadays, many initiatives aim to empower women's participation in the sector where women were not visible for many years. Transportation is one of the most important sectors for social development and climate sustainability, and it has shown many benefits of including women in the field. Kawtar is a great example of a change maker taking part in different movements and academia to achieve zero emissions in the transport sector. Around International Women's Day 2023, we want to share empowering stories to inspire women from all fields to raise their voices, participate in events, and work together in the development of the transport sector worldwide.