Four Years of Advancing Climate Strategies in Kenya's Transport Sector
Achievements in TraCS' cooperation with the State Department of Transport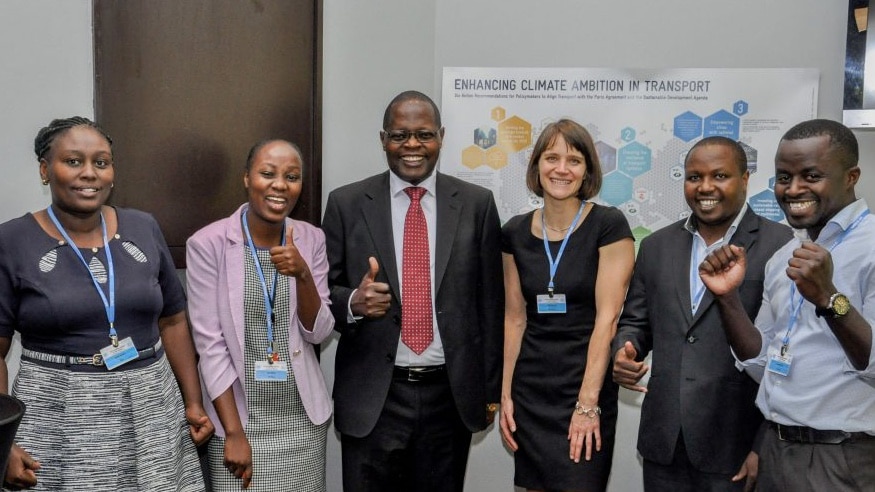 This article is part of our #StoriesofChange where we profile the work of our partner countries in developing climate actions in transport. Read more #StoriesOfChange and follow the Hashtag on Twitter.
Over the last four years, the Advancing Transport Climate Strategies (TraCS) project team has worked with Kenya's State Department of Transport to promote meaningful change in the country's transport sector, in particular with the aim of reducing greenhouse gas emissions from transport. With the project now winding down, it's time to reflect on what has been achieved.
How it started
Prior to the launch of TraCS in 2017, Kenya had identified transport as an important sector for mitigation in its nationally determined contribution (NDC) to the Paris Agreement. Furthermore, Kenya had enacted watershed climate policy legislation, the 2016 Climate Change Act.
The need for policy action was clearly evident, as transport emissions had nearly trebled between 2005 and 2015, making the sector responsible for two-thirds of Kenya's energy-related CO2 emissions (see Transport Sector Climate Change Annual Report, p.7). Rapid economic and population growth also meant that further emissions increases were anticipated in the future.
The TraCS team quickly saw a need to translate national legislation into tangible transport policy action. This gap between national ambition and sector-related action was attributable in part to the fact that transport officials lacked the knowledge and data resources necessary to develop and implement effective mitigation policies.
Over the last four years the TraCS team has made tremendous strides in helping Kenya to elaborate tangible measures for the transport sector. A particularly important aspect of this work has been improving data resources, including associated collection and reporting methods. The project has four action pillars:
incorporating climate change policy into transport strategies,
improving systems and techniques for monitoring and reporting CO2 emissions,
developing local expertise surrounding data transparency, climate change, and transport, and
promoting broader awareness for the topic in Kenya and beyond.
Climate change strategy
The 2016 Climate Change Act required all government departments in Kenya to establish a Climate Change Coordination Unit (CCCU). TraCS provided guidance to the Department of Transport as it worked to assemble and professionalize this unit, in part by hosting capacity building and training measures. The TraCS team also worked to strengthen collaborative ties between Kenyan authorities responsible for transport and for the environment.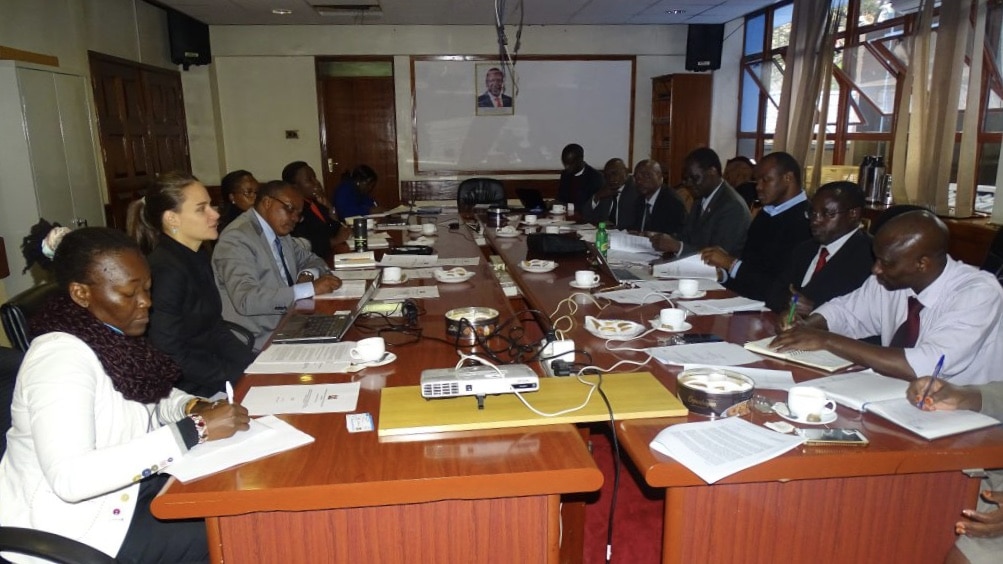 From the beginning, the TraCS team advocated for climate change to figure prominently in transport policies and, by extension, for transport to play a central role in national legislation. TraCS assisted with the drafting of Kenya's revised Nationally Determined Contribution (NDC), which seeks to promote low-carbon modes of transport and to develop climate-proof road infrastructure. The National Climate Change Action Plan (2018–2022) lays out further measures for reducing emissions in the transport sector. In addition, the current draft of the Integrated National Transport Policy contains prominent reference to climate change, in no small part due to the persistent advocacy work of the TraCS team.
Martin Eshiwani, Director of Road and Rail Transport Services at the State Department of Transport (SDoT) and a key partner to the TraCS project provided a succinct overview Kenyan climate policy at the outset of the TraCS project in an interview available here.
Monitoring, data collection, and climate change reporting
To be sure, sound data resources are indispensible for evidence-based decision making and the associated formulation of effective mitigation measures. Data resources in Kenya were not up the task in 2017. During the TraCS project, data collection activities were significantly expanded and enhanced, enabling local officials (1) to understand the composition of Kenya's current vehicle fleet (2019); (2) to calculate country-specific greenhouse gas emission factors for road transport (2018); and (3) to assess the mitigation potential of various transport actions (2018), such as the promotion of electric mobility. All Kenya publications are available here.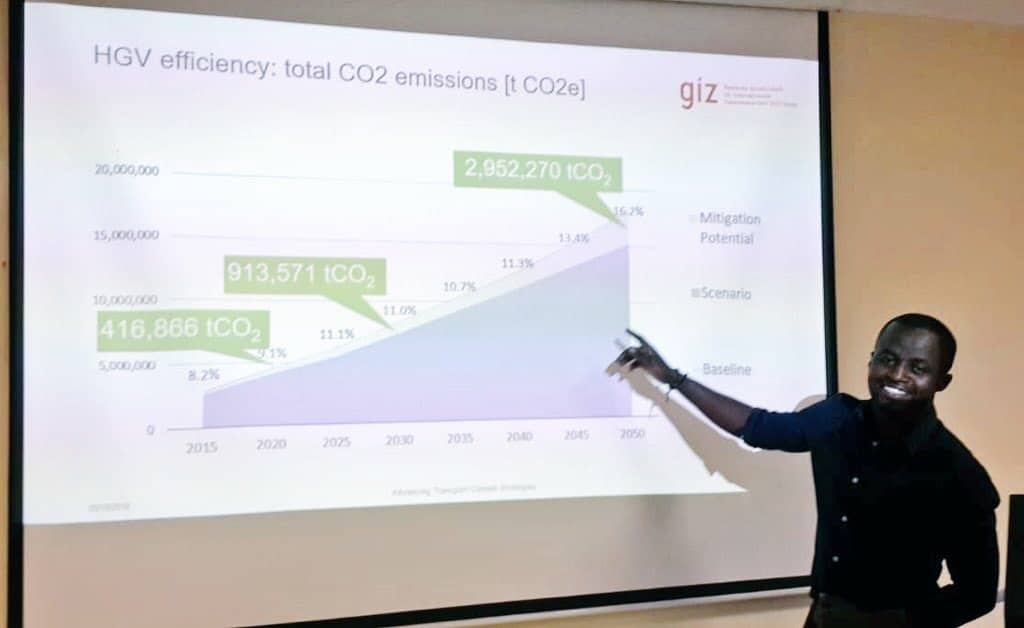 While it was evident early on that mitigation efforts should be focused on road transport, which is responsible for 98% of transport emissions in Kenya, the TraCS team also hosted training sessions related to the maritime sector, and helped launch associated monitoring activities. Indeed, a key dimension of the work performed by the TraCS team has been to develop and enhance data gathering and assessment methods in the transport sector. The Kenyan Department of Transport quickly assumed a vanguard role in the country, inaugurating the first sector-specific annual report on emissions and climate change actions (with the third edition expected in 2022, see here and here). The annual report is largely based on two tools developed by the TraCS project: the spreadsheet TrIGGER (Transport Inventory and Greenhouse Gas Emissions Reporting, here), and a tool that facilitates the merging of data from different transport agencies (here).
Capacity building and networking
The foregoing successes would have been impossible without the dedication of the project's local partners over the past four years. TraCS significantly enhanced Kenyan expertise, not just among the members of the Climate Change Coordination Unit, but also among other departments of government. For example, together with UNFCC, TraCS hosted regional training sessions on GHG emission quantification and mitigation in transport. Kenyan transport officials also had an opportunity to take part in a study tour in Germany as well as in the Transport and Climate Change Week in several years.
Outreach
An additional aim of the TraCS team was to foster awareness among the general public for the importance of mitigating transport emissions and encouraging sustainable development. To this end, the TraCS team developed a webinar series, a facts brochure (2020) as well as a paper on end of life applications for electric vehicle (EV) batteries and a presentation on charging infrastructure for EVs in order to enhance the policy environment for the increased uptake of electric vehicles – a major mitigation measure for reducing emissions in the road sector.
What's next?
It is with pride and gratitude that the TraCS Kenya team looks back on the four years of fruitful cooperation with its partners in Kenya.
While TraCS has equipped Kenyan transport officials with the tools and expertise necessary to monitor the transport sector and to formulate climate policy, the implementation of effective abatement measures will be a major challenge in coming years. To this end, the Kenyan Department of Transport will need to devote ongoing efforts to strengthening the alignment of the transport sector with national policy ambition. This will necessitate the continuous updating of transport emissions data in addition to the monitoring of implemented measures.
A promising future lies ahead, not just for the Kenyan transport sector, but for the country as a whole. We're excited to see what lies in store!
Asante sana and all the best.
Read more about previous lessons learned of TraCS Kenya here.