En Route to COP26
A high-level event to drive action for zero-emission transport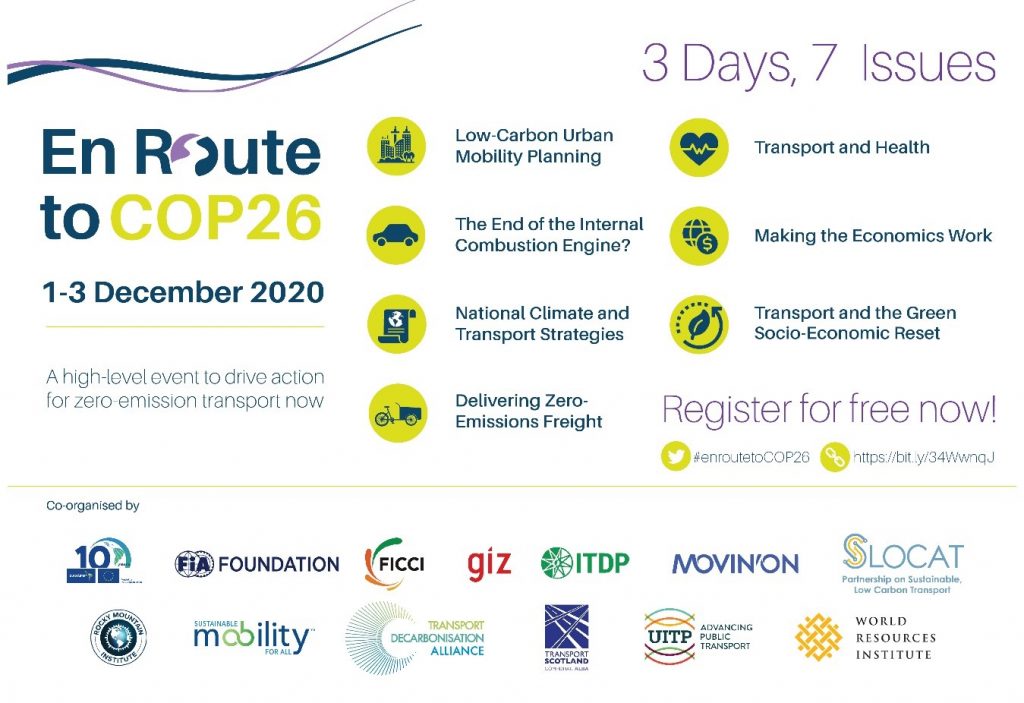 From December 1st to 3rd, different sectoral actors gather to discuss strategies for a quick, efficient, and fair realisation of low carbon transport transition.
The postponement of COP26 to 2021 due to the global crisis caused by COVID-19 poses a significant challenge for climate action. Especially in a year so relevant to the Paris Agreement and considering the call for increased ambition that was made during COP25.
In this context, the En Route to COP26 event was scheduled exactly 12 months prior to the United Nations Climate Change Conference which will take place in November 2021. Organised under the UK Presidency, it puts key transport players – policy-makers, transport experts, corporate decision-makers, planners, and entrepreneurs – in the same virtual room to collaborate on driving action for zero-carbon transport now.
The purely virtual event focuses on seven central themes which will be covered in eleven conversation and exchange sessions. To give you an idea of the upcoming programme, we highlight two of those exchange sessions in the following.
National Climate and Transport Strategies
Which climate strategies does the transport sector need in order to fulfill its climate objectives? This key question will be addressed by GIZ Transport, SLOCAT as well as EUROCLIMA+ and Movin'On in a session titled "National Climate and Transport Strategies" on December 1st (14:00-16:30 CET/21:00-23:30 CST/00:00-02:30 FJT/ 08:00-10:30 EST).
The session will elaborate on economic, social and policy opportunities to equip policy makers with the right tools to create a transformative national agenda on sustainable low carbon transport. Experts will share cases of recent national strategies which exhibit the benefits of shifting towards low carbon transport during the last 5 years until present, through their recent national strategies. Participants will be asked to reflect on examples of transport sector strategies and their potential to bring about and guide long-term change to ensure that countries holistically address socio-economic and environmental goals in this critical time.
Registration is open and available here.
Low Carbon Urban Mobility Planning
On December 2nd (14:00-16:30 CET/21:00-23:30 CST/00:00-02:30 FJT/ 08:00-10:30 EST), EUROCLIMA+, through its Urban mobility component and in cooperation with the Rocky Mountain Institute and UITP, presents a session focused on Urban Mobility planning and the transforming possibilities provided by low carbon mobility.
The event will explore the question of how national and local planning can deliver on a number of goals simultaneously – from global climate goals to national emission targets and local urban mobility resilience, thereby providing benefits for all. It will also highlight key opportunities for enhanced and coordinated actions that can arise from COVID-19 responses.
The session will also feature an interactive segment where participants identify some of the most pressing challenges and promising actions that can be taken to drive sustainable, low carbon urban mobility.
Registration for this session is available here.
The full programme is available here, and the registration for all sessions is open in the link.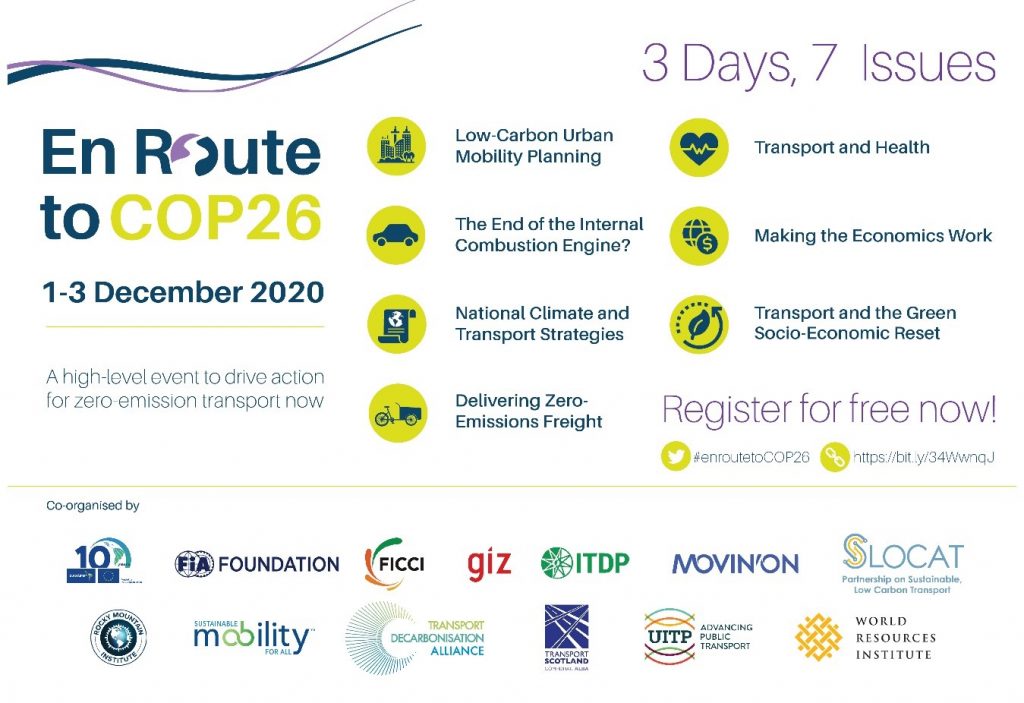 ---
Author(s)