Explore Transport Targets and Policies in NDCs and LTS
Discover the new Tracker of Climate Strategies for Transport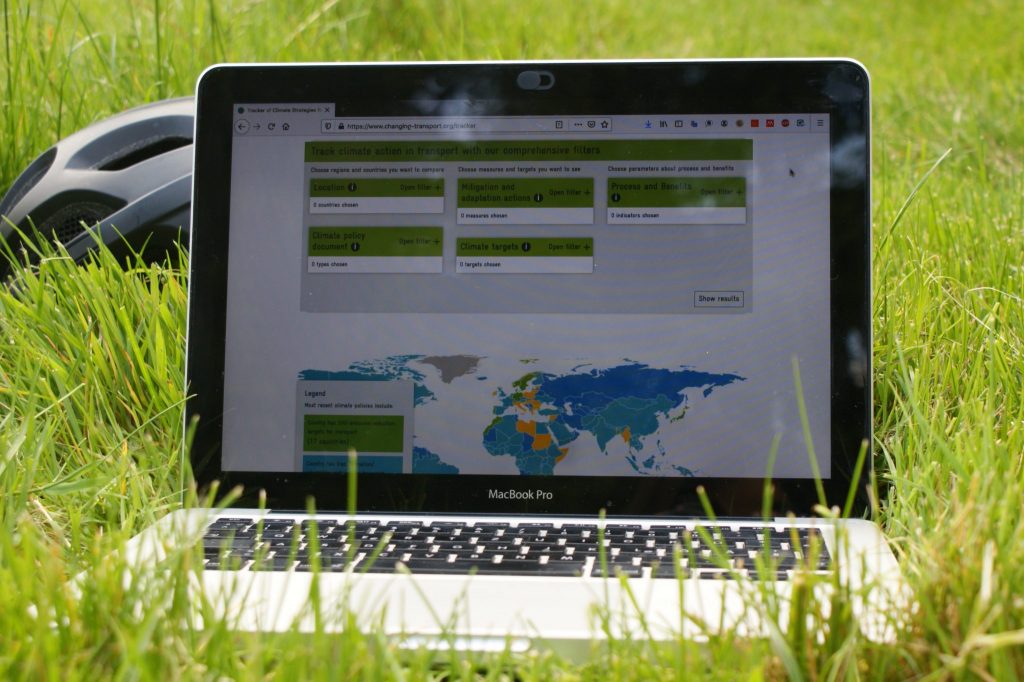 Did you know that only 17 countries include greenhouse gas emission reduction targets for transport in their latest climate strategies even though it is the sector with the highest forecasted emissions growth? Would you have guessed that in the new NDCs transport-related mitigation measures are mentioned 3.5 times more often than transport adaptation measures?
The Tracker of Climate Strategies for Transport provides a broad range of information about the role of transport in Nationally Determined Contributions (NDCs) and long-term low greenhouse gas (GHG) emission development strategies (LTS) – the two most important instruments of the Paris Agreement to limit global warming to well below 2°C.
The tracker is the result of a comprehensive scanning of references to transport in current national climate policies conducted by the TraCS project together with the SLOCAT Partnership on Sustainable, Low-Carbon Transport. As of May 2021, the Tracker of Climate Strategies for Transport includes more than 1900 quotes from 285 climate policy documents. Those quotes are classified and categorised based on more than 150 indicators for climate change mitigation and adaptation measures as well as climate targets. Additionally, the indicators cover references to the process of drafting and implementing transport climate policies as well as further benefits thereof that go beyond the reduction of GHG emissions. The user can apply filter tools and different modes of display (world map, tables, bar charts) to customise results and thereby gain a structured overview.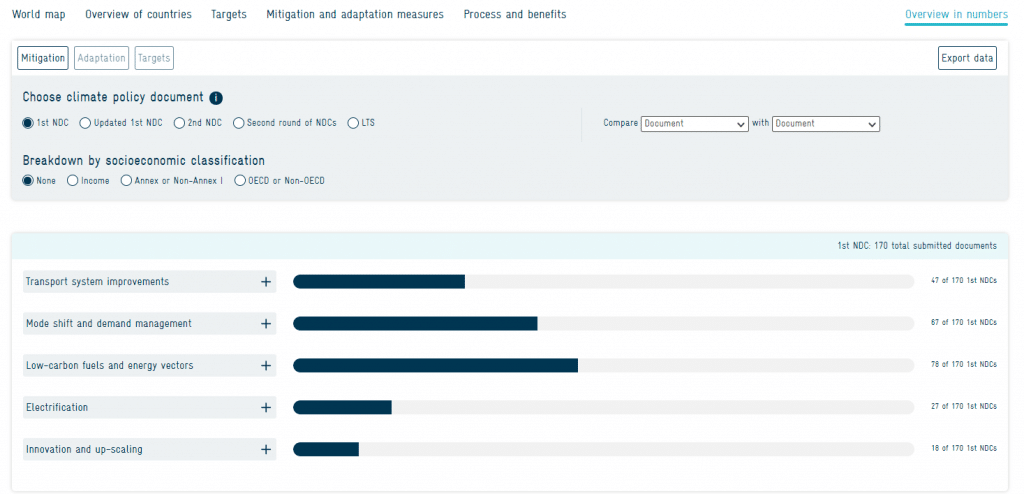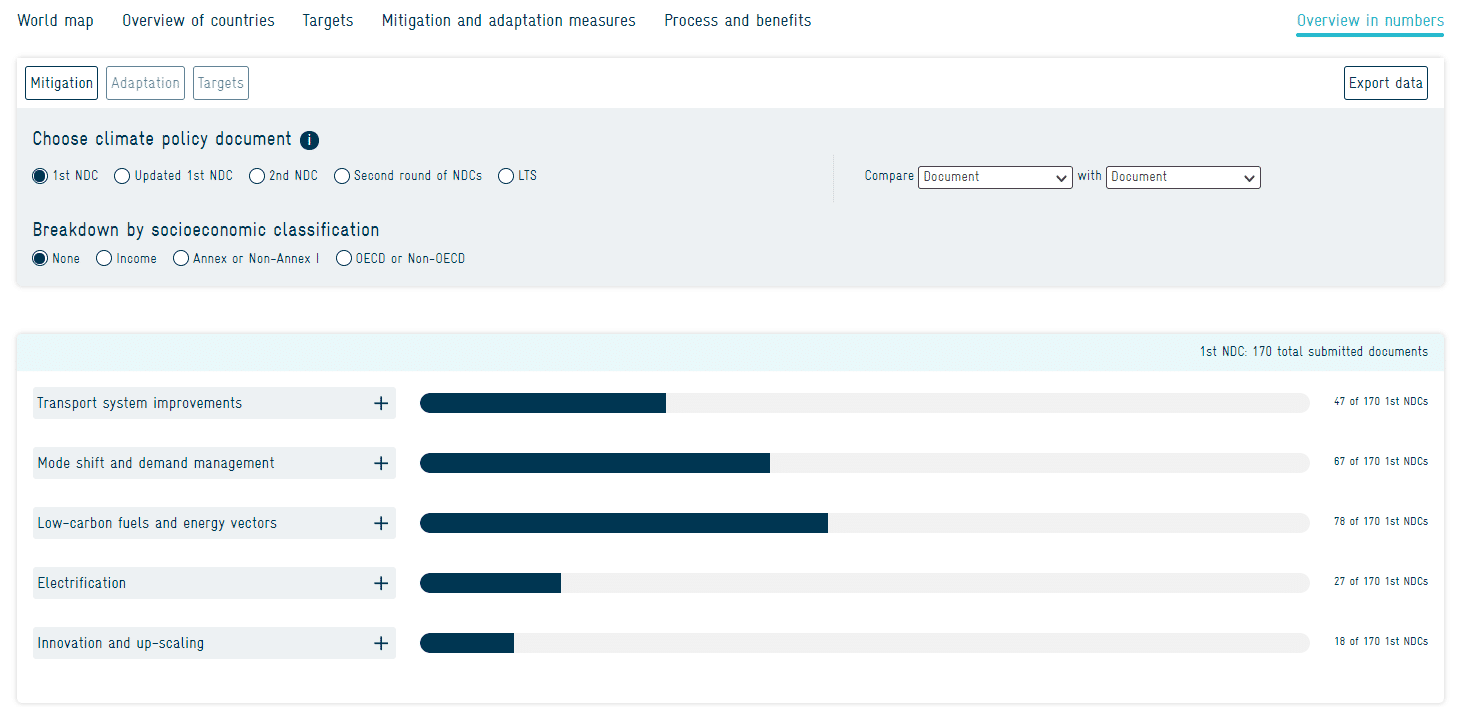 If you are, for example, interested in what countries in Latin America and the Caribbean are planning to do in terms of electric mobility, you can select the relevant filter to determine the region and similarly select "electric mobility" under the filtering options for mitigation. The world map will highlight all countries of the region that have included corresponding measures and the tables under Overview of countries or Mitigation and adaptation measures will provide more detailed information.
Likewise, all quotes about mitigation or adaptation measures can be filtered by transport mode (e.g. show all references to active mobility), urban or rural transport, or freight or passenger transport. Additionally, you can look for references to investment needs, governance or implementation frameworks and many others. The filters can be of use for national transport and climate officials, donors, international organisations or scientists for instance.
The Tracker itself is not to be understood as an analysis tool. It doesn't rate the level of ambition of NDCs or LTS. Nevertheless, it contains the necessary data to make all kinds of assessment. We make this data available to you for free, so you can make your own assessments. So far, we used the Tracker as the foundation for a first analysis of the role of transport in the new and updated NDCs. You can access it in this comprehensive overview. Additionally, the fact sheet below provides some key insights that we gained from the Tracker: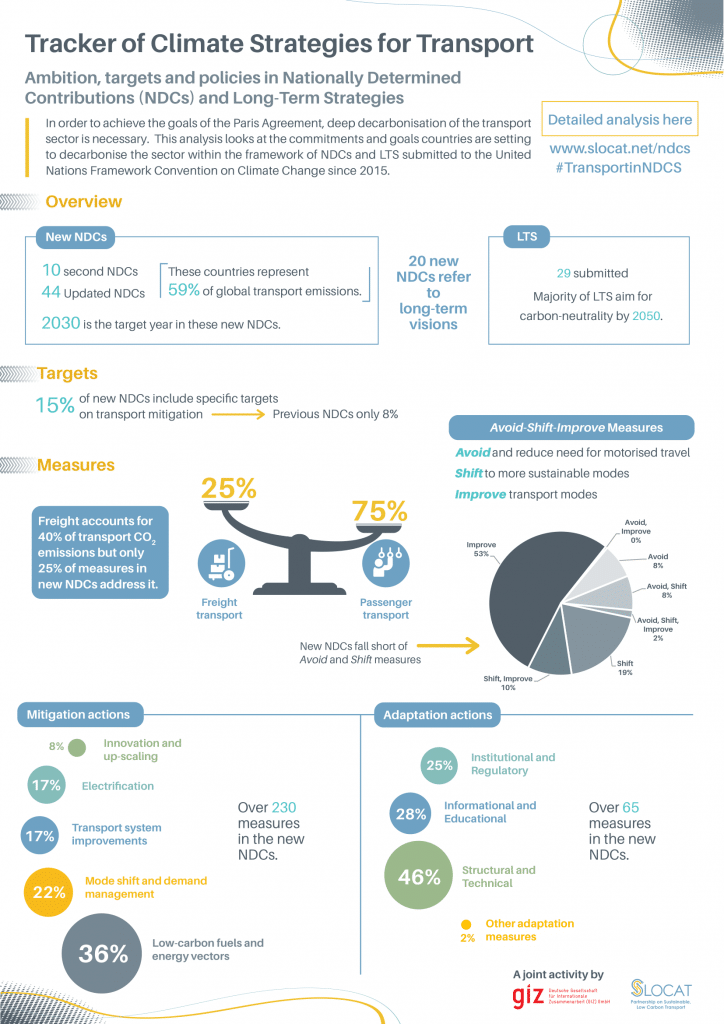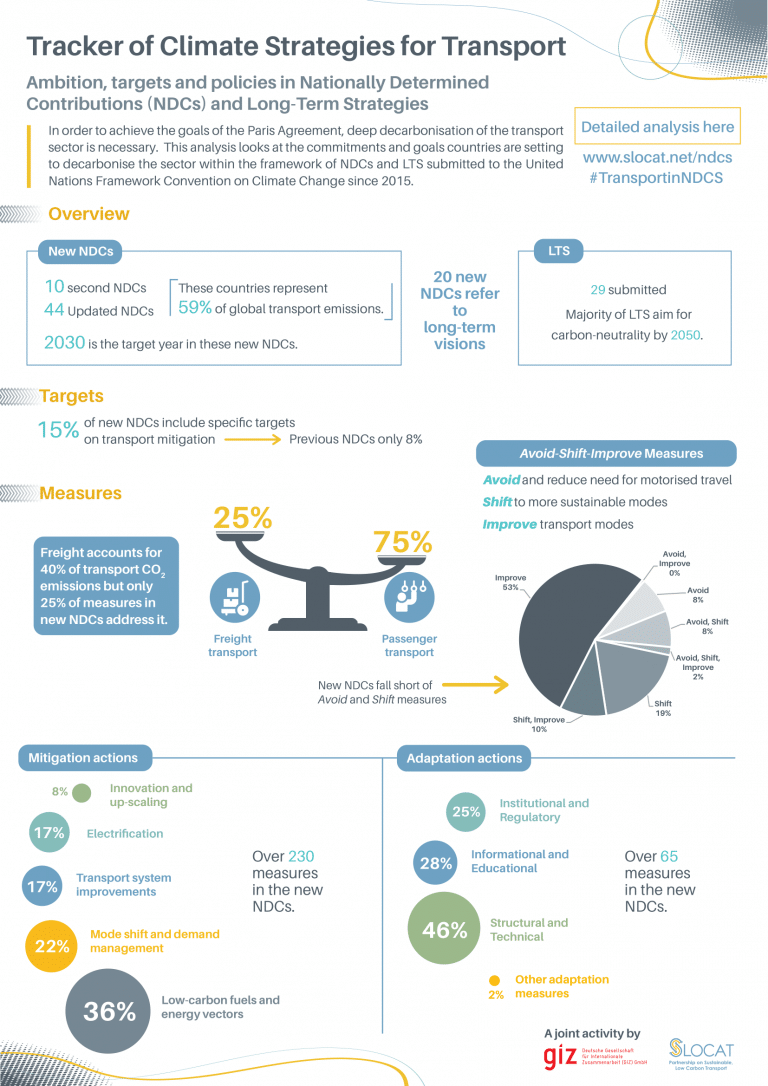 Please note that the Tracker of Climate Strategies for Transport has only recently been launched on May 11th, 2021. It is a beta version and we are constantly making improvements and adding new content. If we made a mistake, you found a bug or you would like to suggest further features, please reach out to us. We are very happy to receive your feedback!
You can contact Nadja Taeger (GIZ) at email hidden; JavaScript is required or Nikola Medimorec (SLOCAT) at email hidden; JavaScript is required.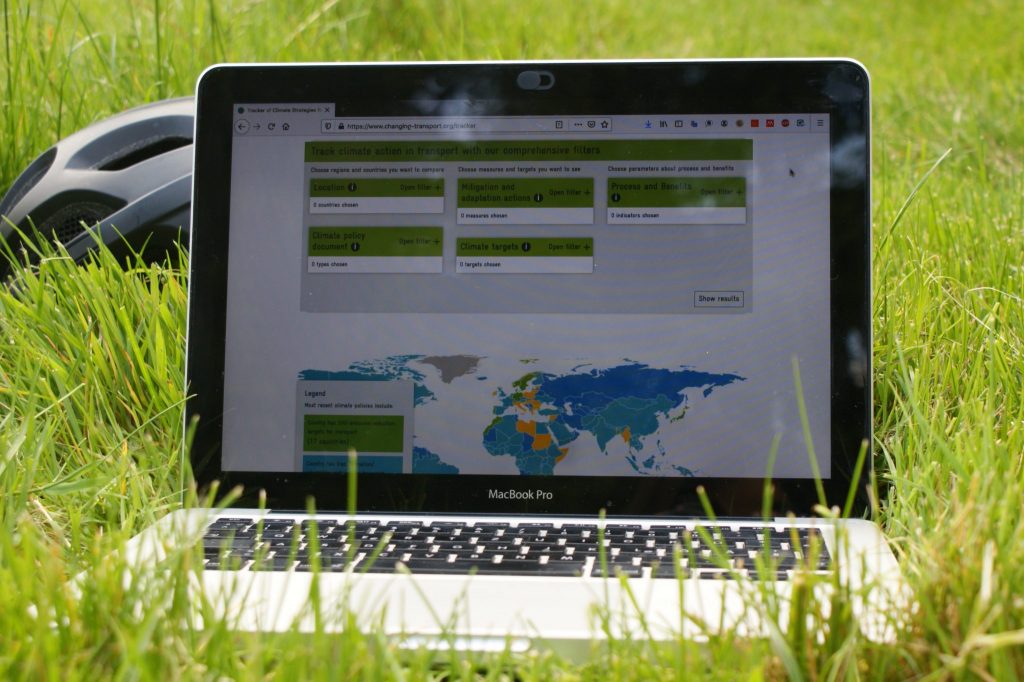 ---
Author(s)