Building a Global Network to Achieve Net-zero Transport
A call for multisectoral engagement at Transport and Climate Change Week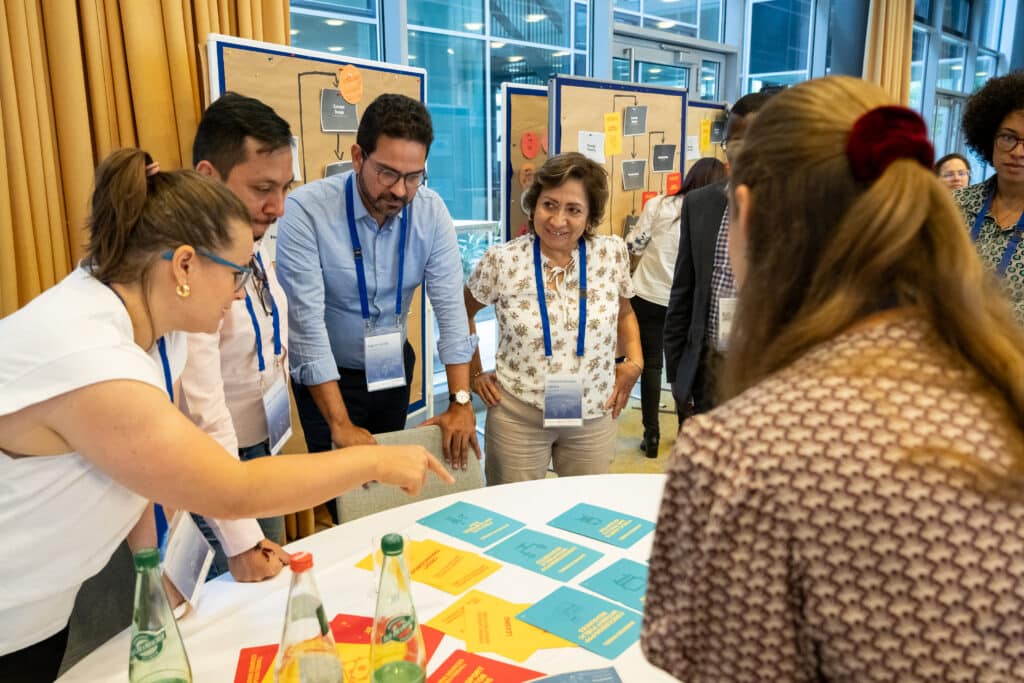 In recent years, much of GIZ's work has focused on building the frameworks and capacities needed to respond to the climate crisis. Working with countries from different regions through bilateral, regional and global projects, there are many lessons to be learned about policy frameworks that enable a long-term perspective, MRV systems that are accountable, business models that engage in a sustainable transition, and more. The complexity of the transport transformation calls for a multi-sectoral perspective where all contributions are needed. To be ambitious and achieve full decarbonisation of the sector, collaborative frameworks are increasingly needed.
Our countries (Chile and Morocco) are similar on several levels, we will have a lot to learn from each other!

Karim Ben Amara, Head of sustainable mobility service, Ministry of transport and Logistics Morocco
Breaking down thought silos by collaborative training
At this year's Transport and Climate Change Week delegates received in-depth training. Designing policies to enable vehicle efficiency at the country level provided knowledge on different policy options to improve vehicle efficiency and promote electrification, such as fuel economy standards, energy efficiency labels and vehicle taxes (feebates). Delivering e-mobility through effective decision-making enabled governments to interact with leading experts, private sector representatives and peers to identify the best approaches and solutions available to make e-mobility a reality in their own countries. Developing long-term urban planning for safe and sustainable mobility – Provided practical experience in formulating urban mobility plans, identifying needs and challenges from a territorial approach. Structuring sustainable and bankable mobility projects gave a better understanding of different financial options (or a combination of options) to consider when implementing sustainable mobility projects at city level.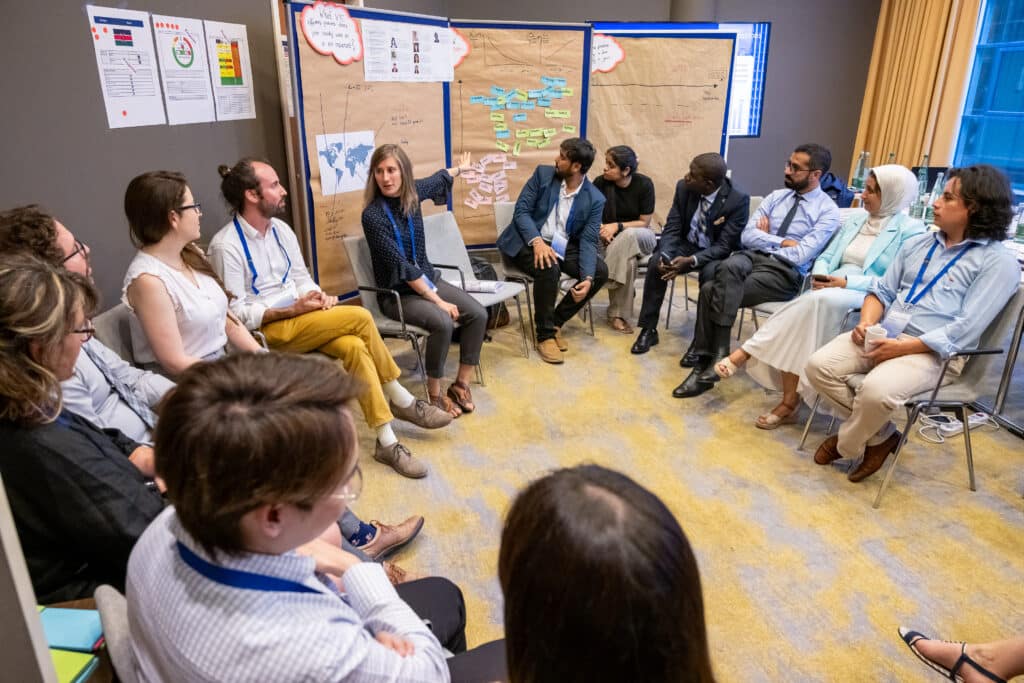 Climate solutions in energy and transport were thought together by exploring the potential of Power-to-X to reduce emissions from shipping. Power-to-X in Shipping provided a solid introduction to the concept of power-to-x and the importance of sustainability criteria for a just transition in the shipping industry, with a focus on maritime transport. The transport sector is an opportunity to make the application of the energy transition tangible, calling on ministries to collaborate and align their agendas, for example by visualising the life cycle of critical aspects of the transition, such as the treatment of raw materials like batteries used in EV solutions.
Steering the process as a network
At Transport Week 2023, we promoted two aspects that contribute to the challenge of managing uncertainty and improving collaboration. First, by strengthening a community of experts and decision-makers who can guide the process and steer sustainable change towards a common focus that allows for sufficient diversity in response. Second, by creating collegial spaces to share and learn from each other.
It was great to learn from different experiences and share our challenges and commitment to improve our cities and lives of citizens.

Cynthia Chávez Ríos, Director General of Mobility at the Municipality of León, Mexico
Taking advantage of face-to-face opportunities, alongside in-depth training, connections and opportunities for delegates to share their experiences and open questions where fundamental. By fostering professional acquaintances, delegates went deeper in creating opportunities for further exchange and collaboration. For example, the exchange between delegates from Chile and Morocco is shaping a cross-regional exchange of experiences. Some delegates came with very specific needs for exchange. For example, Oaxaca-Mexico is building an intelligent and integrated transport system for the city and has sought advice from peers during training sessions.
Time for meaningful conversations
When we understand that climate change affects our lives, we must invest all we have to find solutions.

H.E Doreen De Brum, Ambassador of the Marshall Island in Geneva
With a focus on empowering leaders of change and complementing the knowledge imparted through training, the programme included spaces for open discussion, thematic sessions to connect peers with each other and with partners from expert institutions and donors. The challenge is complex and climate change knows no borders. That is why the core of this year's Transport Week was to facilitate conversations that strengthen our capacity to innovate. It can seem very simple, but we do not always have the time and space for deeper sharing of experiences and feedback on specific challenges.
Innovation happens when obvious ideas are shared and become an enlightening path for someone else. The rich diversity of contexts and approaches allows ideas to be applied in new ways, linking policy to action and theory to practice. Recognising years of building expertise and trying out integrated solutions on the ground, it's time to create safe spaces to share what's working and what paths need time or should not be replicated. During the regional exchanges, delegates had the opportunity to reflect on the week and consider next steps. By participating in possible further networks, priorities for communities of practice will be established.
I am happy to see so many countries I would not have the opportunity to meet if it was not here.

Cecile Danica Gotamco, Undersecretary, Department of Transportation (DOTr) in the Philippines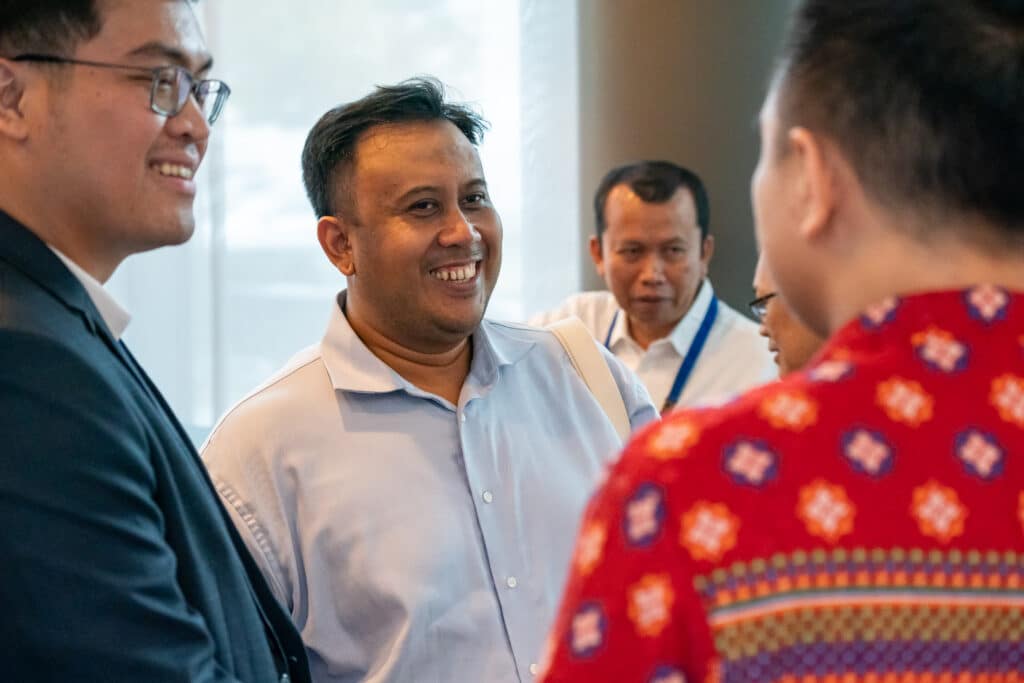 Confidence in our gained experience
Multisectoral work is underway at country level, and delegates are familiar with and informed about the impacts of transport. It's time to take the lessons learned from years of international cooperation and prepare to go beyond. Transport and Climate Change Week is a community of experts ready to take risks and go beyond borders.
We need to be ready for bold and revolutionary actions.

Juan Carlos Muñoz, Minister of Transport and Telecommunication in Chile
This year's goal is to accelerate the race to net-zero transport. Let's not take this opportunity for granted, and let's keep building together. We have the knowledge, we have the opportunity to pull together and be ambitious. Let's keep the momentum going. It's time to go beyond!
The Mobilize Net Zero project team is organising the annual Transport and Climate Change Week, alternating between a virtual and face-to-face format. The project is implemented by the Deutsche Gesellschaft für Internationale Zusammenarbeit (GIZ) GmbH and is funded through the International Climate Initiative (IKI) of the German Federal Ministry for Economic Affairs and Climate Action (BMWK).