A fitness regimen for the planet
This article is part of our #StoriesofChange where we profile the work of our partner countries in developing climate actions in transport. Read more #StoriesOfChange and follow the Hashtag on Twitter.
---
MRV systems in a nutshell
Have you ever started a new diet or fitness regimen? As any nutritionist or personal trainer will tell you, having a plan is essential. In other words, motivation is not enough. To make genuine progress, you need to be systematic. Specifically, you need to assess your current situation; to define appropriate goals and actions; and to track your progress. All three of these activities are united by a dependence on data – e.g. concerning your calorie intake, current weight, or the number of kilometres you run each week.
A Measurement, Reporting, and Verification (MRV) system is essentially no different. Indeed, climate action could be described a "fitness regimen" for the planet. To keep global warming below 1.5C, governments need to take stock of the status quo; define abatement targets and associated measures for attaining them; and monitor progress achieved. All of these measures depend on a robust MRV system.
We at Changing Transport have been supporting countries with the development and implementation of MRV systems for over ten years. In this article, we shed light on MRV systems – exploring what they are and how they work – using examples from our past work in Colombia, the Dominican Republic, Kenya, Indonesia, Peru, Uganda and Viet Nam.
---
MRV systems are used to keep track of various factors and trends, including in particular:
current greenhouse gas emissions in the form of Greenhouse Gas inventories.
successful emission reductions in the form of Nationally Appropriate Mitigation Action (NAMA) or Nationally Determined Contribution (NDC); and
support received in implementing climate goals in the form of climate finance.
In the 2007 Bali Action Plan, countries agreed to develop capacities for Measuring, Reporting, and Verifying their emission reduction efforts. Building upon the IPCC guidelines for GHG inventories, the United Nations Framework Convention for Climate Change (UNFCCC) provides general guidance on the design of MRV systems. However, the transport sector has its own unique characteristics and measurement challenges. Accordingly, in 2014, GIZ published an MRV Blueprint for Transport in collaboration with experts and partnering countries. The approaches described in this document were further refined as Peru and Indonesia (acting with GIZ's support) became global frontrunners in the formulation of Nationally Appropriate Mitigation Actions (NAMA) for the transport sector. Specifically, in 2014, the Ministry of Transport in Peru began to address the urban transport sector, building a robust MRV system that has detailed protocols for reporting and verifying mitigation. Since 2017, Indonesia's Sustainable Urban Transport Program (SUTRI NAMA) has been supporting policy formulation at the national level and will achieve an estimated indirect mitigation impact of 222,600 tCO2e over 2022–2032. Indonesia's MRV system was essential for the quantification of this mitigation impact.
Another important milestone in the development of MRV systems was the signing of the Paris Agreement in 2015. Each signatory to the Paris Agreement is obliged to submit a Nationally Determined Contribution (NDC). Yet formulating an NDC requires a great deal of hard data. Accordingly, prior work performed in signatory countries to establish MRV systems in connection NAMAs proved to be extremely valuable. Some countries, however – such as Tunisia – lacked experience formulating mitigation actions. Hence, the TRANSfer project helped Tunisia to develop a detailed mitigation concept for the transport sector, which was included in the country's 2015 NDC. Alongside the expansion of renewable energy, measures in the transport sector will account for the bulk of the mitigation achieved up to 2030 (namely, 37% of the calculated emission reduction).
With the adoption of the Enhanced Transparency Framework (ETF) under the Paris Agreement, countries pledged to enhance their existing MRV systems by adhering to clearer rules and standards for data collection and reporting. The ETF builds on existing MRV principles; it establishes a common reporting format and enhances clarity regarding ambitions and progress. The ETF requires national GHG inventories as well as NDC reporting. While the ETF guidance applies to both developed and developing countries, it also provides flexibility to account for divergent national capacities.
We will explore the consequences of the ETF for the transport sector in an upcoming publication.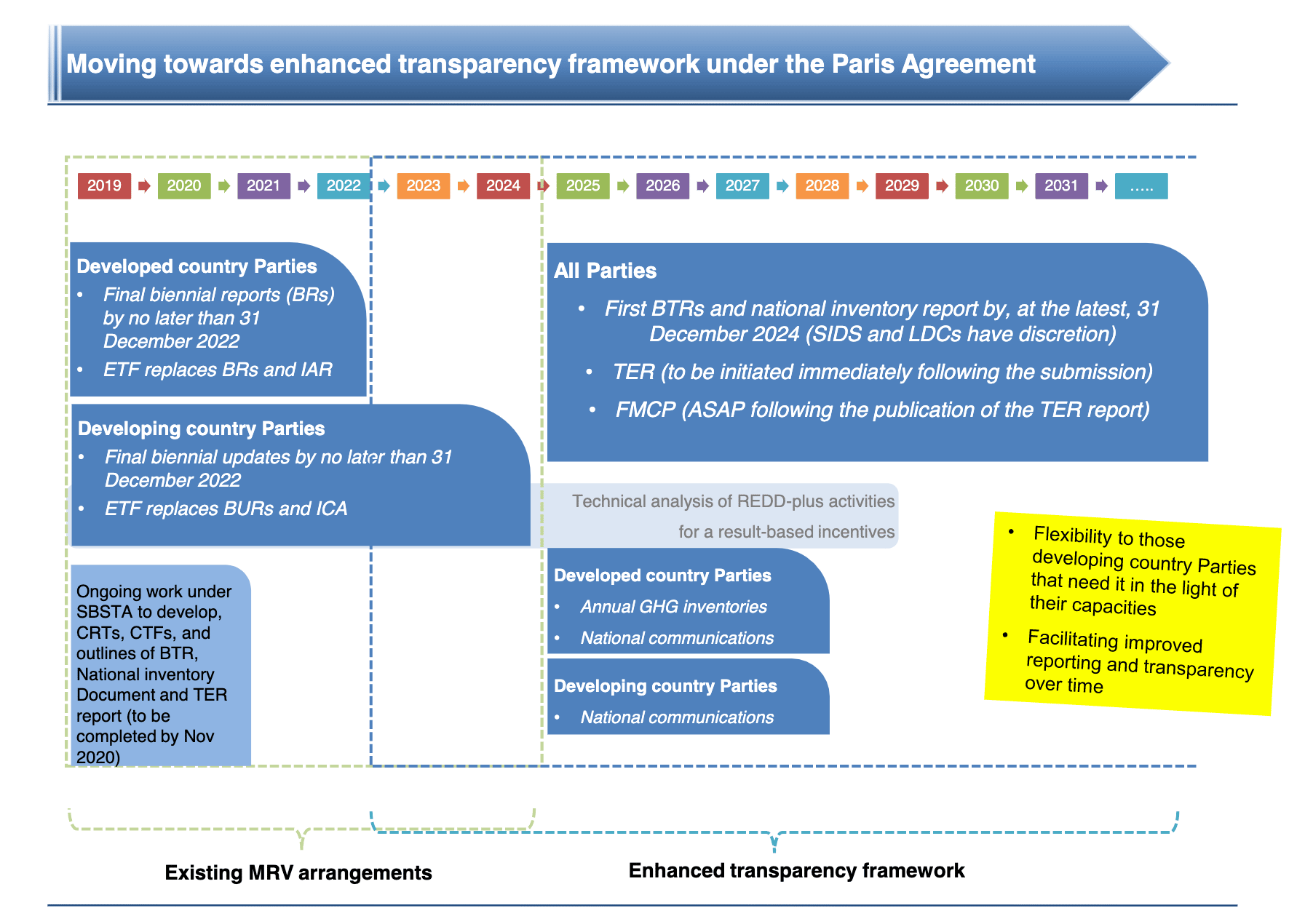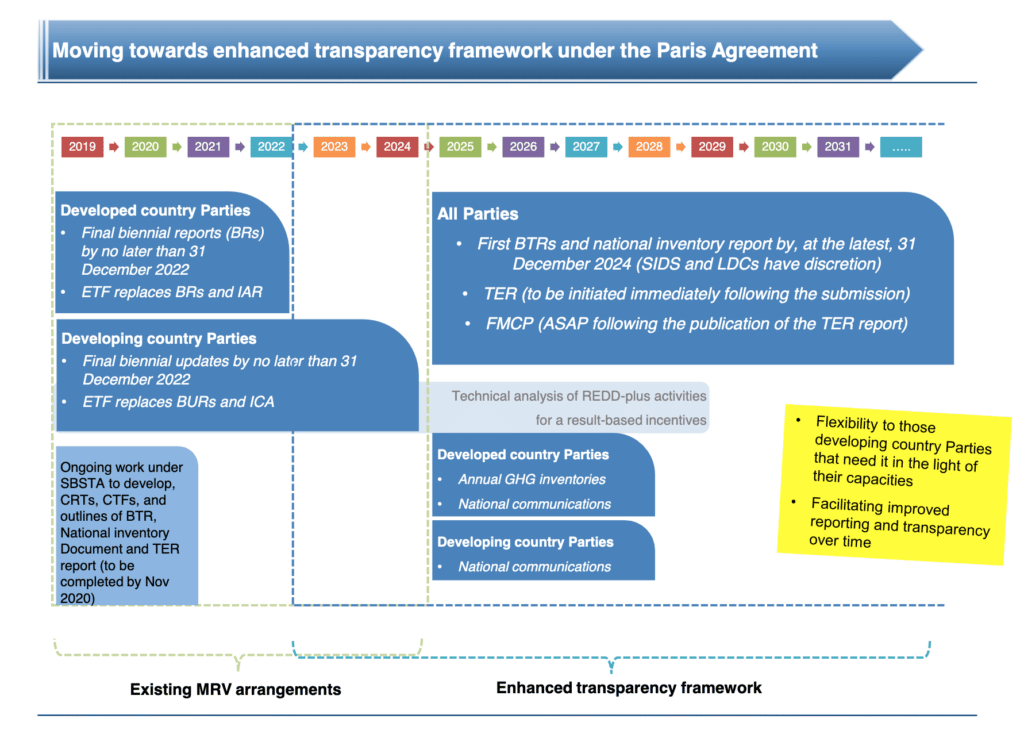 Measurement and Monitoring: The key to robust data
The M in MRV technically stands for both measurement and monitoring; it thus encompasses both regular data collection (measurement) and the tracking of progress based on those data (monitoring). Once you have identified the forms of data that you require, the next step is to obtain them. However, this can give rise to numerous challenges. For example, some forms of data might not be accessible or not readily available. Alternatively, some categories of data may be proprietary and in the hands of private-sector organisations. Yet another common problem is that data may be old, and thus unsuitable, as tracking progress requires accurate and current data. All of these difficulties underscore that data collection is no easy task. Indeed, it requires an appropriately trained staff and substantial resources.
However, countries have been rising to the challenges associated with data collection. The Ministry of Transport in Viet Nam, for example, has been using GIZ's TrIGGER tool to account for the country's main sources of transport sector emissions. The tool employs a streamlined and bottom-up data collection process in combination with an emphasis on available and collectable data. The tool quickly spotlighted the measures with the highest mitigation potential: specifically, improving the energy efficiency of vehicle; shifting freight transport from road to waterways or railways; and shifting from private vehicles to public transport and cleaner fuels. This assessment laid the foundation for transport measures in Viet Nam's 2020 NDC.
Uganda and the Dominican Republic have also gone through similar processes: Together with TraCS staff, they collected data and conducted a status-quo inventory of GHG emissions. These data were used to develop emission reduction models, which enabled the evaluation and prioritisation of different mitigation actions. Uganda's data collection process highlighted both the opportunities and challenges faced when transitioning to sustainable transport.
What if important data are missing? A crucial distinction is whether data are unavailable or merely inaccessible, as these are two distinct problems. If data are unavailable – i.e. do not exist – then you must collect them on your own, or hire someone to do so. By contrast, if data are inaccessible – i.e. they exist, are not publicly available – then the solution is to sign a data sharing agreement with the respective data owner, e.g. a national statistical office or private-sector company.
The possible scope of "in-house" data collection depends crucially on the staffing and financial resources that a country can devote to the MRV process. Data collection conducted in-house may range from surveying households about their travel behaviour to the solicitation of data on fuel sales to estimate the transport sector activity, and may be gathered by one's own staff or associated departments of government, or, alternatively, by hiring external experts. When TrIGGER was adopted in Viet Nam, "proxies" were used to overcome gaps in the data. Specifically, if it is not possible to directly collect the data you need (e.g. total fuel sales in a country), one solution is to collect a "proxy" – that is, a related piece of data that allows you to estimate the missing figure. For example, if you know the domestic fuel sales of a single gas station operator, and you know or can estimate the company's market share, you can easily obtain an estimate of total domestic fuel sales.
Another important MRV activity is to regularly review the gathered data in order to update the country's mitigation policies and NDC. In 2019, TraCs and EUROCLIMA+ helped Colombia to update its data collection activities and mitigation scenarios. This included work to accelerate the country's emissions reduction pathway.
The UNFCCC Compendium on GHG Baselines and Monitoring is a vast repository of knowledge on how to assess mitigation actions in the transport sector. The measures and process steps that are described in the compendium are adaptable to local circumstances and capacities. Countries can use this knowledge resource to estimate mitigation potential and forecast emissions trends. For a deeper dive on this issue, view our webinar series.
Countries can significantly ease the effort required to compile data as well as improve data availability by adopting a sustainable and robust data collection system in line with the UN's statistical requirements compendium and by encouraging cooperation between additional official data collectors (e.g. between the national statistical office and motor vehicle department). For example, it is now standard practice for Kenya's aviation authorities to report their data on a quarterly basis to the national bureau of statistics. However, changing data collection and sharing practices takes time. The EU, for example, needed over two decades to develop its system, while many developing countries started just some years ago. To be sure, Rome wasn't built in a day – but every successful #StoryofChange starts with a first step.
Reporting: The key to transparency
In the reporting phase of the MRV system, information on data collection and analysis activities are shared with relevant stakeholders. Reporting can take various forms, such as a GHG inventory or report on NDC implementation. Yet whatever their form, reports should enable both internal and external stakeholders to clearly understand what has been done, when and how. Based on national and global reports, for example, we know that transport sector emissions rebounded after the COVID-19 lockdowns, "growing by 8% to nearly 7.7 Gt CO2" in 2021. Furthermore, passenger cars are the main polluter, representing 41% of emissions in the sector (see the IEA Tracking Report for Transport). These are important statistics that would not exist without national MRV systems in place.
Working in close collaboration with the TraCs project, the Kenyan Department of Transport quickly assumed a vanguard role in the country, inaugurating the first sector-specific annual report on emissions and climate change actions (with the third edition expected in 2022; see here and here). The report shows how transport contributes to climate change, highlights progress in cutting emissions, and describes planned transformation measures.
While such reports are highly valuable for national policymakers, they are not designed exclusively for domestic consumption. Indeed, it is important to adhere to UNFCCC requirements and international standards, in order to ease the work of international climate experts who collect and analyse such data. In line with this consideration, TraCs assisted Kenya with the development of Data Collection Templates for Climate Change Reporting. The templates provide guidance to third parties who are engaged in data collection and reporting, both in relation to measuring current emissions and tracking abatement progress.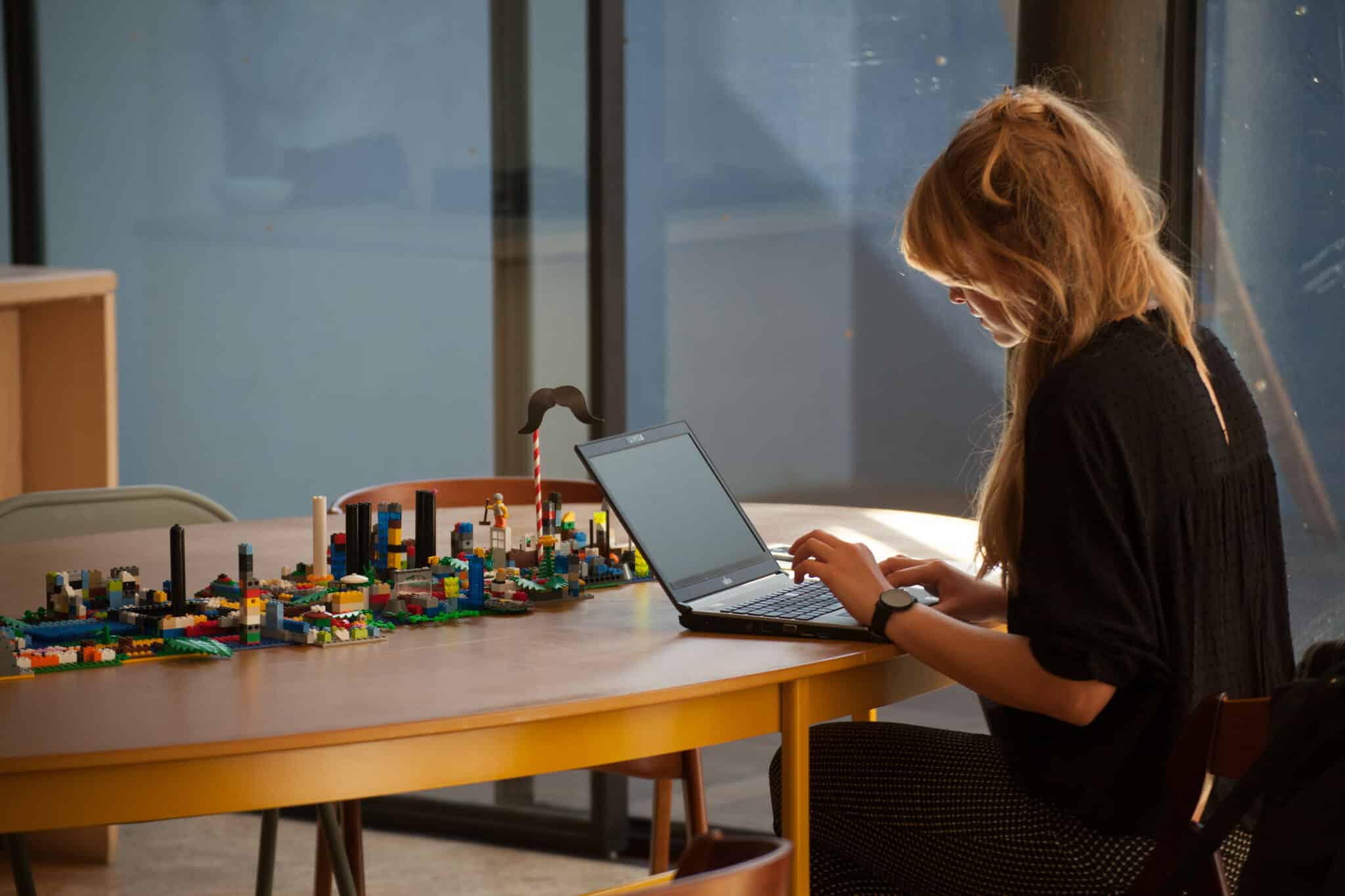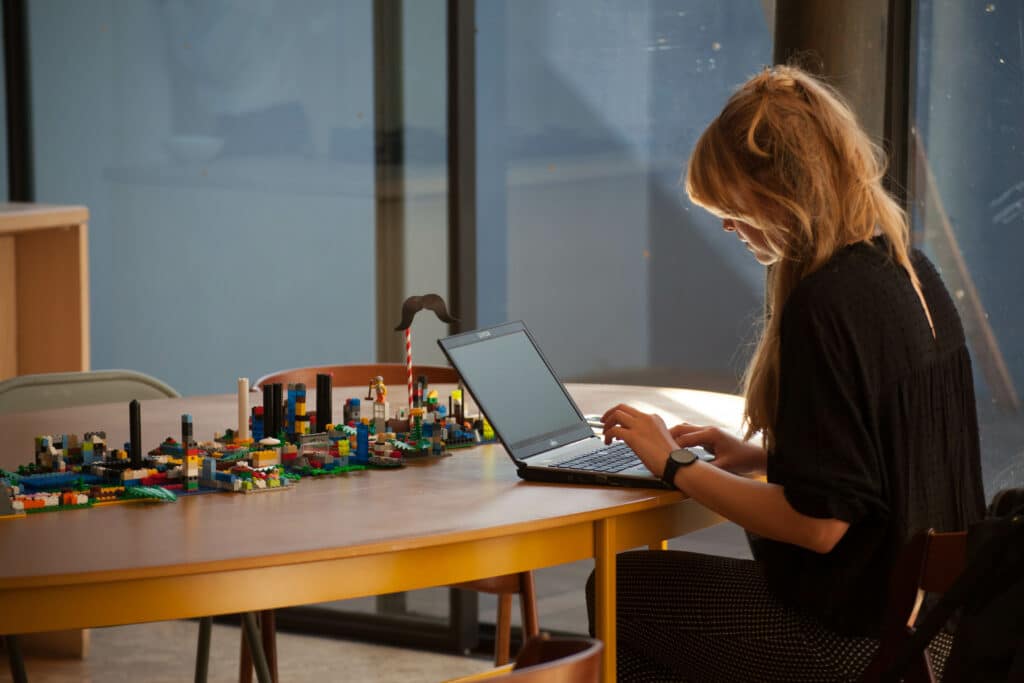 Verification: The key to effective impact
Verification involves confirming the accuracy and robustness of the previous two steps. This aspect of the MRV system can be the trickiest – but only if the M and R are not fully developed or somehow deficient. The IPCC has published guidelines for verification practices that is available here. The four most common verification formats are as follows:
The "two-person rule", which means that two individuals check the data. For example, you can ask a colleague within your agency to review your work.
Verification can also be done within a working group that is composed of staff members from various departments of government. This can help to increase the transparency and credibility of data submitted to the high-level politicians and public.
One can also draw on external verification experts to accompany the process and/or help to build departmental capacities. Local universities may have expertise in this area.
Ideally, the verification process should not only enhance the robustness of the data, but also directly improve the data management capacities of relevant staff. Demonstrating good data collection and verification practices can be vital for tapping into national and international funding. Yet another important aspect of the process is to document the verification activities themselves, in order to correct deficits and ensure adherence to best practice.
Ultimately, MRV systems are crucial for the evidence-based development, implementation and monitoring of climate action measures. As the Vietnamese Ministry of Transport puts it: "Government agencies are only able to set effective reduction policies if they can accurately determine energy consumption and GHG emissions, and monitor the results of reduction initiatives."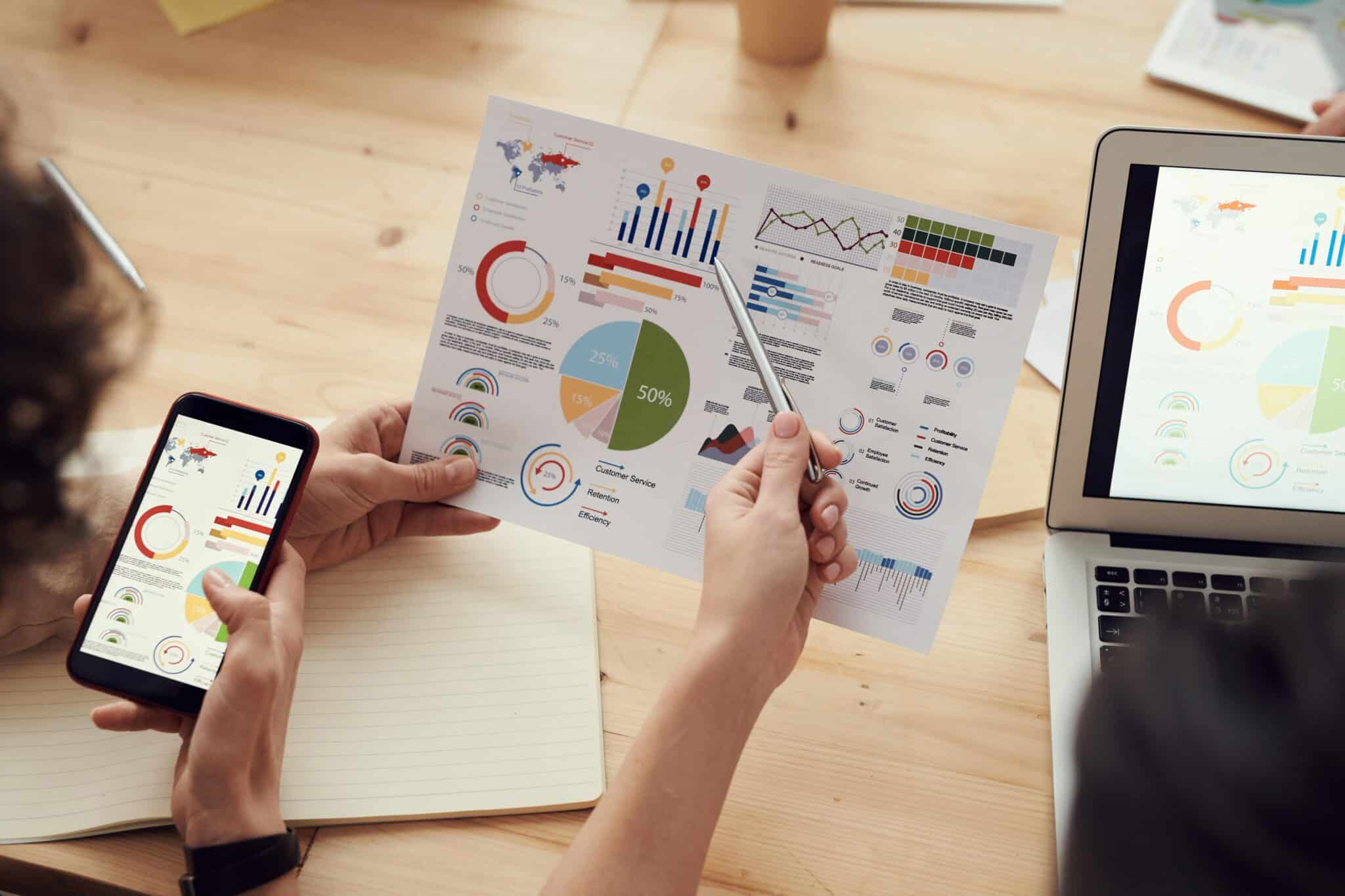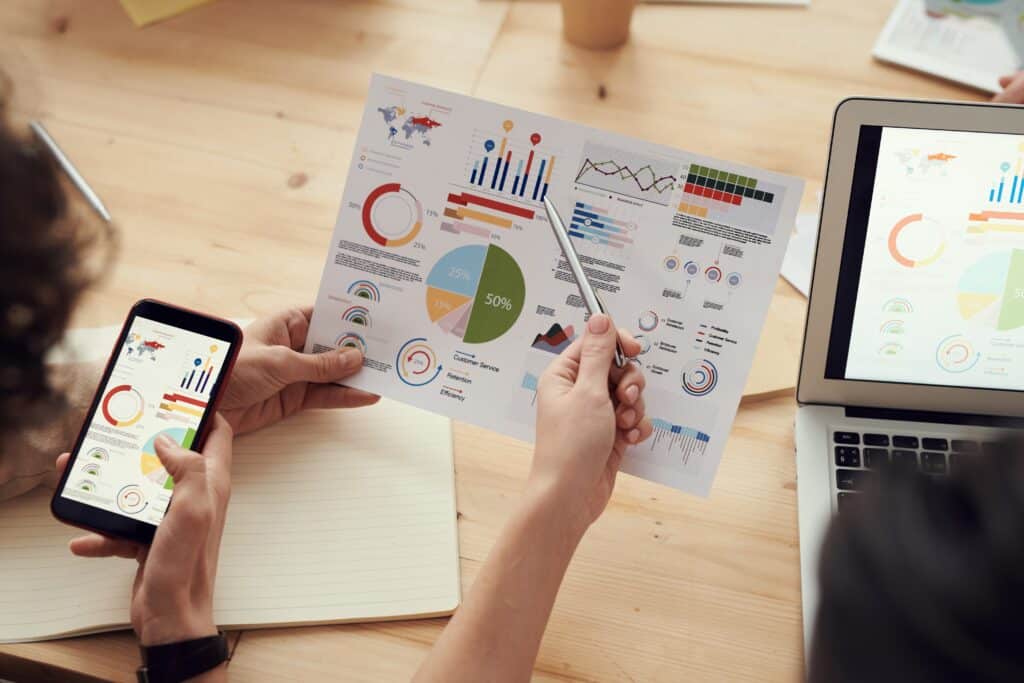 Want to learn more and improve your fitness when it comes to fighting climate change?
At Changing Transport, we have been helping developing and emerging economies to formulate and implement socially beneficial climate action measures in the transport sector for over ten years, including in Chile, Colombia, China, India, Morocco, Kenya, Indonesia, and Viet Nam.
The Changing Transport Transparency Toolkit provides step-by-step guidance for the development and implementation of an MRV system, drawing on strategies and methods tested and proven in real-world settings.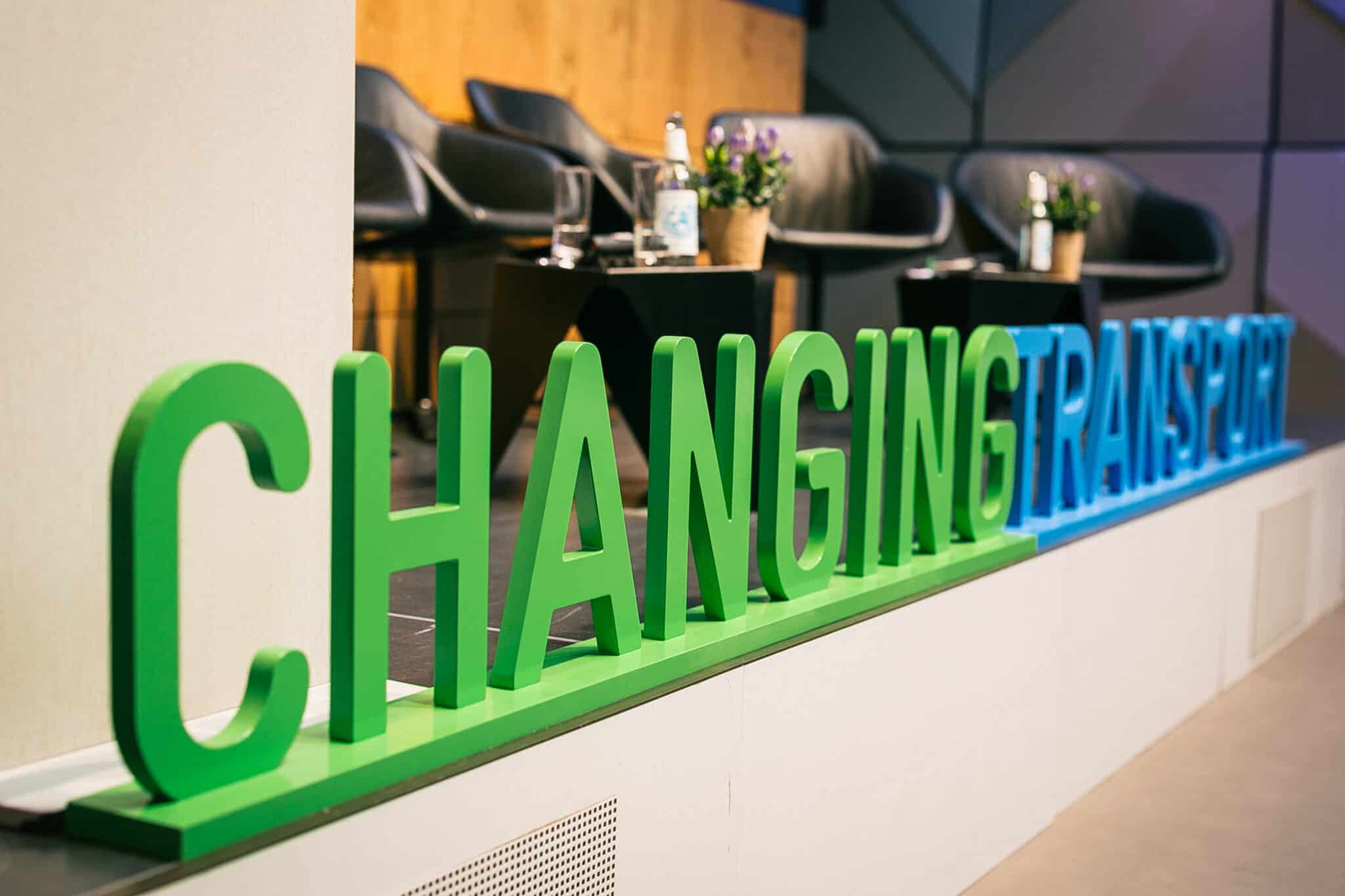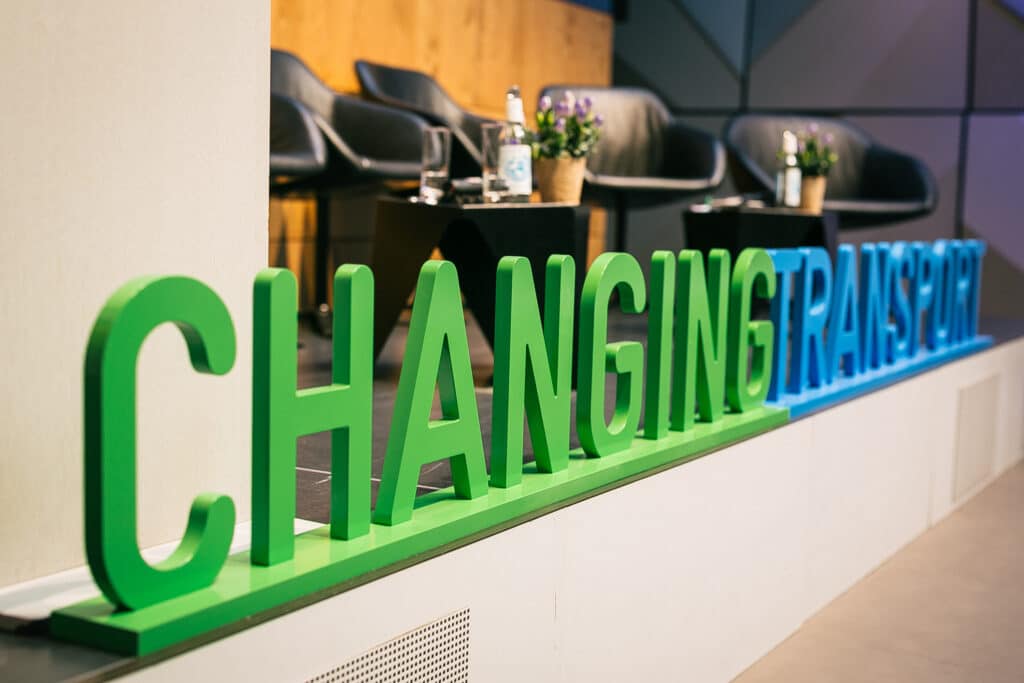 Additional inspiring stories are available on our website.
Together for Implementation on Nov 17 at COP27
On November 17, 2022, it is Solutions Day at the climate conference COP27 in Sharm el-Sheikh, Egypt. While multilateral negotiations between countries continue to discuss how to ramp-up climate finance and compensate the most vulnerable countries for irreversible damage, the transport community committed on the solutions for the sector. Various new initiatives on how to accelerate implementation collaboratively have been presented. So even there was no dedicated transport day, nor a transport pavilion, it felt like transport is everywhere today.
LcO2TUS is a milestone for sustainable mobility
At 12:30 pm local time the Egyptian COP Presidency launched its Low Carbon Transport for Urban Sustainability (LᶜO₂TUS) initiative aiming at decarbonising urban transport systems worldwide and especially in the Global South. As Egypt's Minister of Transport Kamel al-Wazir put it:
Last year at COP26 we saw a lot of commitments on Electric Mobility. Developing countries need sustainable mobility solutions to improve access and limit emissions. This is why Egypt decided to work the LOTUS initiative at COP27.
This is remarkable, because it is the first time that sustainable mobility, incl. AVOID or reduce distances, SHIFT to efficient modes and IMPROVE vehicle technologies, has been put up prominently on the agenda of a COP Presidency and in this way got increased attention. Furthermore, it directly links to the SDGs and establishes a link between the two global agendas. Last but not least, the initiative puts financing on the agenda.
However, it remains to be seen how this intiative will be implemented. While according to the official description a number of non-state actor organizations want to engage, no parties – UNFCCC jagon for country governments – formally joint so far. The presidency still has a lot of work to do in the coming month.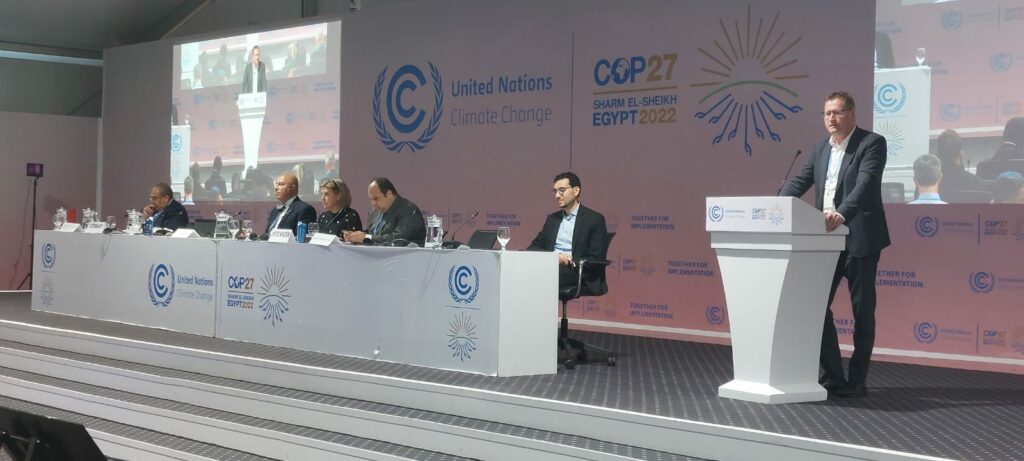 Progress and concrete plans for the transition to electric vehicles
How commitments can be extended and maintained was demonstarted later at 15:00 pm. Building off the Zero Emissions Vehicles (ZEV) Declaration of the British COP26 presidency, this year the Accelerate to Zero (A2Z) Coalition has been launched at the UK pavilion. By providing a platform for leading initiatives the A2Z Coalition works towards all sales of new cars and vans being zero emission no later than 2035 in leading markets and 2040 globally. It includes a campaign website that provides more details.
This was complemented by the UK-USA-co-chaired Zero Emission Vehicles Transition Council (ZEVTC) will launch its new yearly Action Plan, setting out its priorities for 2023. Among those priorities is a global commitment – signed by the US, Germany, Japan, the Netherlands, South Korea, Sweden and the UK – outlining collective ambition to mobilise more assistance and align existing funds to support ZEV transitions in emerging and developingcountries this decade. For Germany, the Ministry for Economic Cooperation and Development (BMZ) is engaging through global and bi-lateral funding prorammes.
Two more specific elemtents are remarkable as it shows how a presidency intitiative can evolve: Firstly, a scalable ZEV Rapid Response Facility (ZEV-RRF) addresses short-term, urgent technical assistance needs of Global South governments. It aims at helping to unlock larger scale projects and funding for their ZEV transition. Secondly, the US who launched the Zero Emission Vehicles Emerging Market Campaign (ZEV-EM-C), a one-year campaign that seeks to accelerate zero-emission passenger vehicle deployment in emerging markets. For both approaches not much information is available to date but certainly will be presented soon.
Some hope for freight
Freight remains a blind spot of transport decarbonization. However, new country signatories signed the Global Memorandum of Understanding on Zero-Emission Medium- and Heavy-Duty Vehicles, including the USA, several European countries and a number of small island states. The MOU aligns leading countries on the same level of ambition for zero-emission medium- and heavy-duty vehicles (ZE-MHDVs). Country signatories strive towards a non-binding target of 30% of newly sold MHDVs being zero emission by 2030, and 100% by 2040.
An important mode for (international) freight is martime transport and it is critical to decarbonize. Hence it was good to see that the shipping stakeholders are actively looking for solutions.
Shipping corridor initiative reports progress
Following the Clydebank Declaration for green shipping corridors created at COP26, green shipping corridors are increasingly considered an important approach for shipping's transition towards zero emissions. So on Nov 17th, the 2022 Annual Progress Report was published. In addition, the Zero-Emission Shipping Mission that aims to demonstrate commercially viable zero-emission ships by 2030 will present its Green Shipping Corridor Hub, an online tool that shows announced green shipping corridors worldwide, a map for matchmaking between interested partners in the development of such corridors as well as a library of available info material on the topic. In addition, the Green Shipping Challenge was launched by the United States Department of States and the Government of Norway.
Conclusion
Last year's initiatives have proven influential pieces of the puzzle that is decarbonizing transport. They perform better than some commentors have predicted. It seems they remain important for increasing ambition in transport. We'll stay curious to see how the LOTUS initiative evolves and if the dynamic of the EV initiatives can be expanded beyond vehicle technology and electrification. In order to limit the additional need for renewable electricity from electric vehicles, increasing motorization and travel demand (distances) is a challenge that endangers the 1.5 degree target.
The urban mobility initiatives TUMI (focusing on capacity building, access to finance and electric buses) and MobiliseYourCity (focusing on sustainable urban mobility planning), which are co-funded by Germany and where GIZ is involved in, will continue to work on this challenge. The GIZ transport team was present in Sharm el-Sheikh through the IKI-funded TRANSfer programme and on behalf of the German Ministry for the Economy, and Climate Action (BMWK).
---
Many of COP27's launches and reveals are built on declarations generated at last year's COP26 in Glasgow. But this is not all that came from those initiatives. Two weeks ago, GIZ colleague Friedel Sehlleier looked at where these initiatives stand and what they have in store for the future. Click here to read more: https://changing-transport.org/still-alive-an-update-on-the-cop26-initiatives-for-transport-decarbonization/
Messages from Dakar – What Africa's Transport Community is bringing to COP27
From 6 to 18 November the global community is convening at the COP27 in Sharm el-Sheikh, Egypt. As a major driver of global climate change, the transport sector is naturally on the agenda at COP27. At the same time, the climate negotiations in Egypt are being touted as an "African COP", as they will spotlight the needs of African countries and their position in the global climate crisis.
The African transport community is well prepared for Egypt. Just one month ago, some 1000 practitioners and experts met for the Sustainable Mobility and Climate Week in Dakar, Senegal. Organised by CODATU, CETUD and Climate Chance, the event was described as a "pre-COP" for transport in Africa. Given the conference location and organisers, a focus was placed on French-speaking Africa. However, interpretators enabled the participation of several English-speaking experts and organisations in the discussions.
What are the messages that will be brought from Dakar to Sharm el-Sheikh?
The topics addressed during the week were manifold, yet focused on those issues that are most pressing for mobility in African countries, including informal transport, city planning, support for active mobility, the financing of transport infrastructure, the effective use of data, and resilience and adaptation to climate change through nature-based solutions, including a "Great Green Wall" for biodiversity in Africa.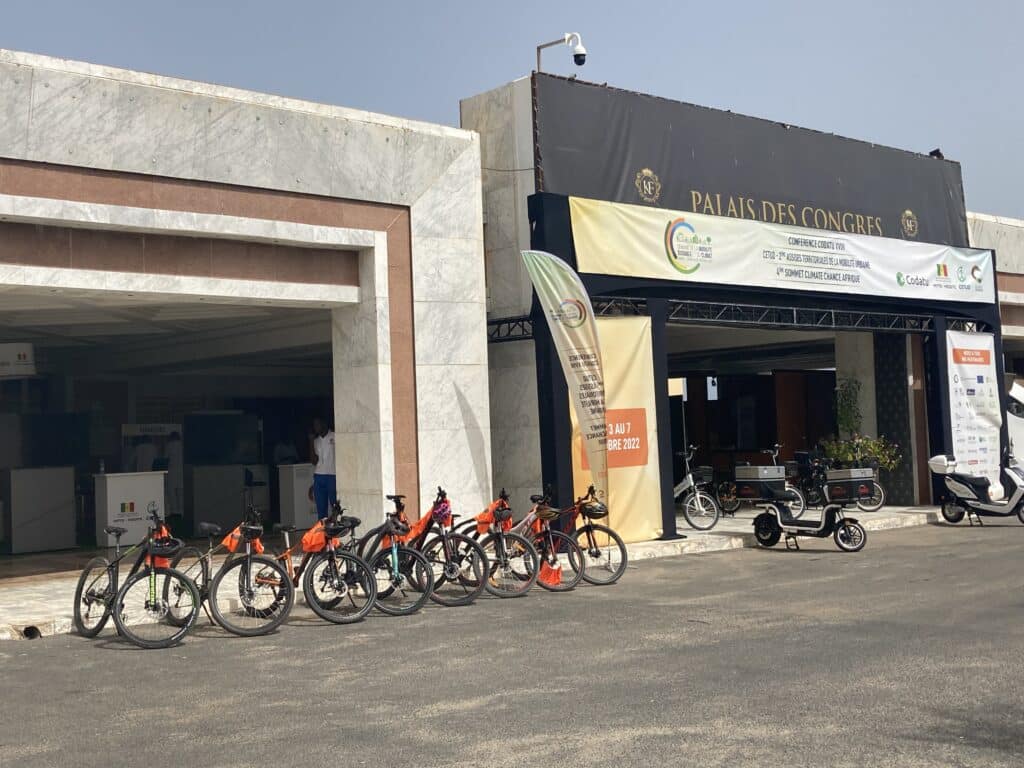 The Dakar Declaration, which was presented at the close of the conference, sums up important aspects of these discussions, which featured African local and regional authorities as well as non-state actors. The declaration highlights issues sure to inform the COP27 in Sharm el-Sheikh.
Striking the right balance between financing for adaptation and mitigation (with a particular focus on loss and damage), while taking responsibility for climate change and national capabilities into account
The importance of a just transition – that is, of ensuring "the right of all people, everywhere, to sustainable mobility"
Improving and reassessing access to various financing opportunities (including green finance)
Strengthening capacity development activities (particularly in relation to project engineering and access to finance)
Accelerating the energy transition
Ending conflicts and respect for the UN Charter as prerequisites for the success of Paris Agreement
With the aim of achieving synergies with previous conferences and declarations while also advancing the above goals, the Dakar Declaration draws attention to 12 action areas:
The absolute urgency of the fight against climate change, including the need for adherence to IPCC recommendations.
Africa's particular vulnerability to climate change impacts, and the need to prioritise finance for mitigation and adaptation in emitting countries.
Social justice and intersectionality in climate action, respect for the human right to a clean environment, and increased coherence between the SDGs and climate agenda.
Financing to preserve biodiversity, prevent desertification, and expand climate protection at a local level.
Local capacity building, decentralisation, and coherent mobility policy for sustainable urban development in anticipation of rapid African urbanisation.
Local access to funding and training in rural regions to develop sustainable agriculture, improve access to water and power, and improve conditions for women and youth.
Access to finance for action by accrediting more entities for local climate projects through the Green Climate Fund.
Ensuring vigilance against misuse of carbon offset financing for emission reduction relief in offsetting sectors. Offset projects must improve local conditions for indigenous people, local populations, and biodiversity.
Call for local empowerment and inclusion of local actors in NDCs.
Improved flow of information to international decision-makers regarding impacts of local action (qualitative and quantitative).
Strengthening the exchange of best practice via decentralised South–South and North–South cooperation as well as collaboration for capacity building at the local level.
Recognizing stability, an end to conflicts, and universal respect for the United Nations Charter as preconditions for successful climate policy.
Fostering stakeholder exchange at the city level to strengthen international discussion
Representatives from civil society organisations, multinational development banks, and international agencies engaged in fruitful exchange during the conference sessions and workshops. In addition, the MobiliseYourCity Partnership and the Transformative Urban Mobility Initiative brought together representatives from their African member and partner cities.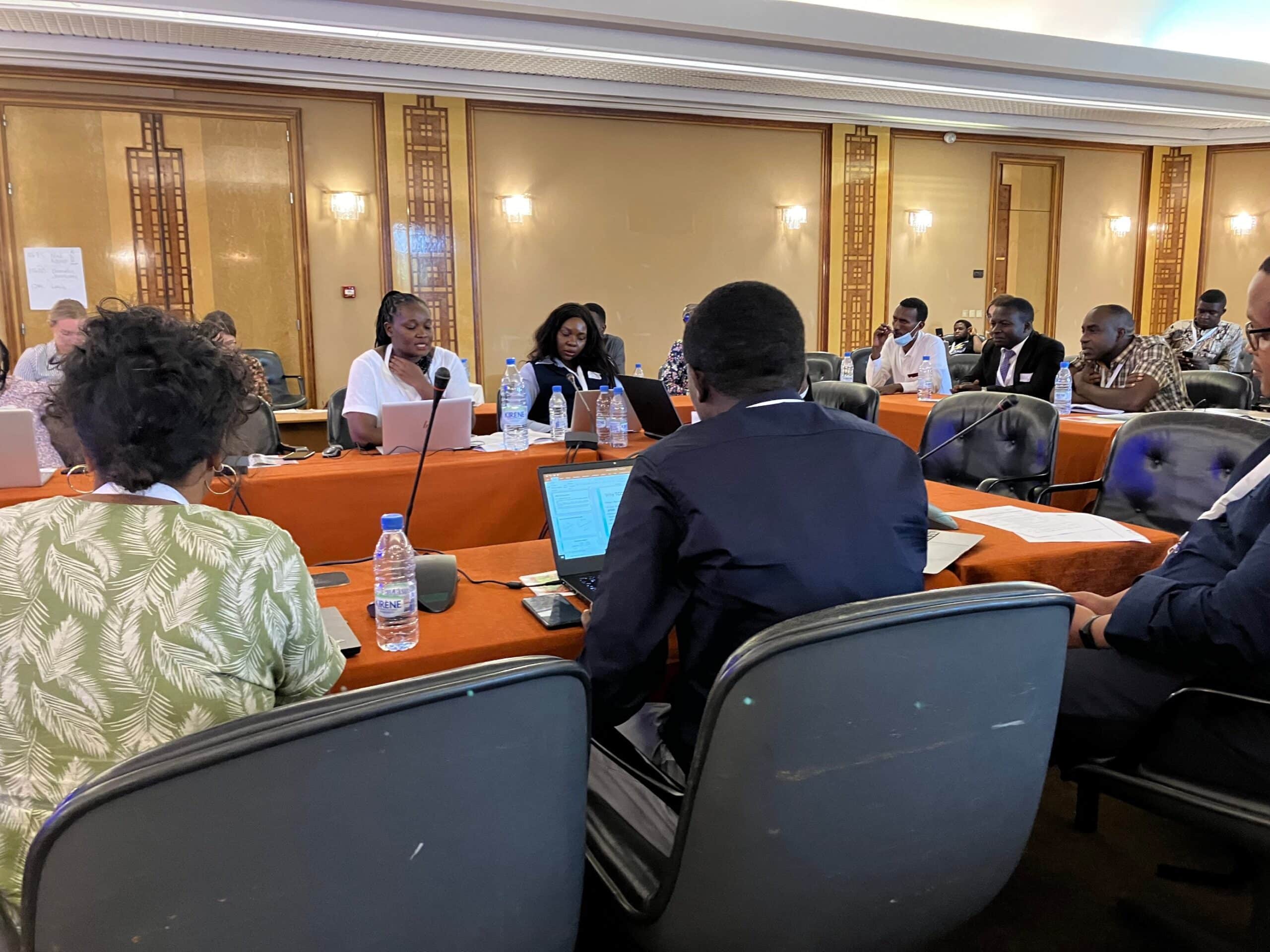 On the final conference day, more than 20 cities participated in a discussion round titled "World Café – Bringing African Voices to COP27", which addressed how international institutions can support decarbonisation and climate resilience in their cities. Many aspects of the Dakar Declaration reflected concerns that emerged from this discussion, including:
Call for more equitable financial support (e.g. fair loan conditions, grants) and adequate consideration for the historical responsibility of the Global North for climate change in funding policies (e.g. through compensation or depth waivers)
Request for more peer-to-peer learning among transport practitioners in Africa and increased engagement in activities that strengthen local capacities
Recognition of the relevance of the African transport sector and its particularities at the international level
Support of private enterprises in the transport sector, acknowledging the potential of sustainable transport for economic development
The urgent need to move forward with adaptation strategies
And now? Sustainable Transport in Africa at COP27
The Dakar conference generated a number of clear messages and insights. Furthermore, the urgency of the climate crisis is particularly evident in Africa given its already significant impacts. The extent to which the Dakar conference shapes the proceedings in Sharm el-Sheikh remains to be seen, however. If you are interested in the conference's outcomes, be sure to follow the SLOCAT Summary of Transport Community Engagement at COP27. The webpage additionally profiles SLOCAT activities that focus on the African context. Make sure to listen-in for the Slocat Transport Day on November 15th, taking place at the Multilevel Action Pavillion. The programme will include the screening of short statement videos from city representatives who engaged in the World Café discussion in Dakar.
---
The Advancing Transport Climate Strategies (TraCS) project supported the World Café session organised by MobiliseYourCity in Dakar and was present throughout the conference. TraCS is implemented by GIZ and funded by the International Climate Initiative (IKI) of the German Federal Ministry for Environment, Nature Conservation and Nuclear Safety (BMUV).
Successful charging infrastructure roll-out – study tour findings
During their study tours, two delegations – from the Ministry of Transport of Viet Nam (MOT), Ho Chi Minh City and from the National Institution for Transforming India (NITI Aayog) – examined charging infrastructure development in Germany and the Netherlands. The two countries account for more than half of the charging points across the European Union. This article outlines five success factors for charging infrastructure development.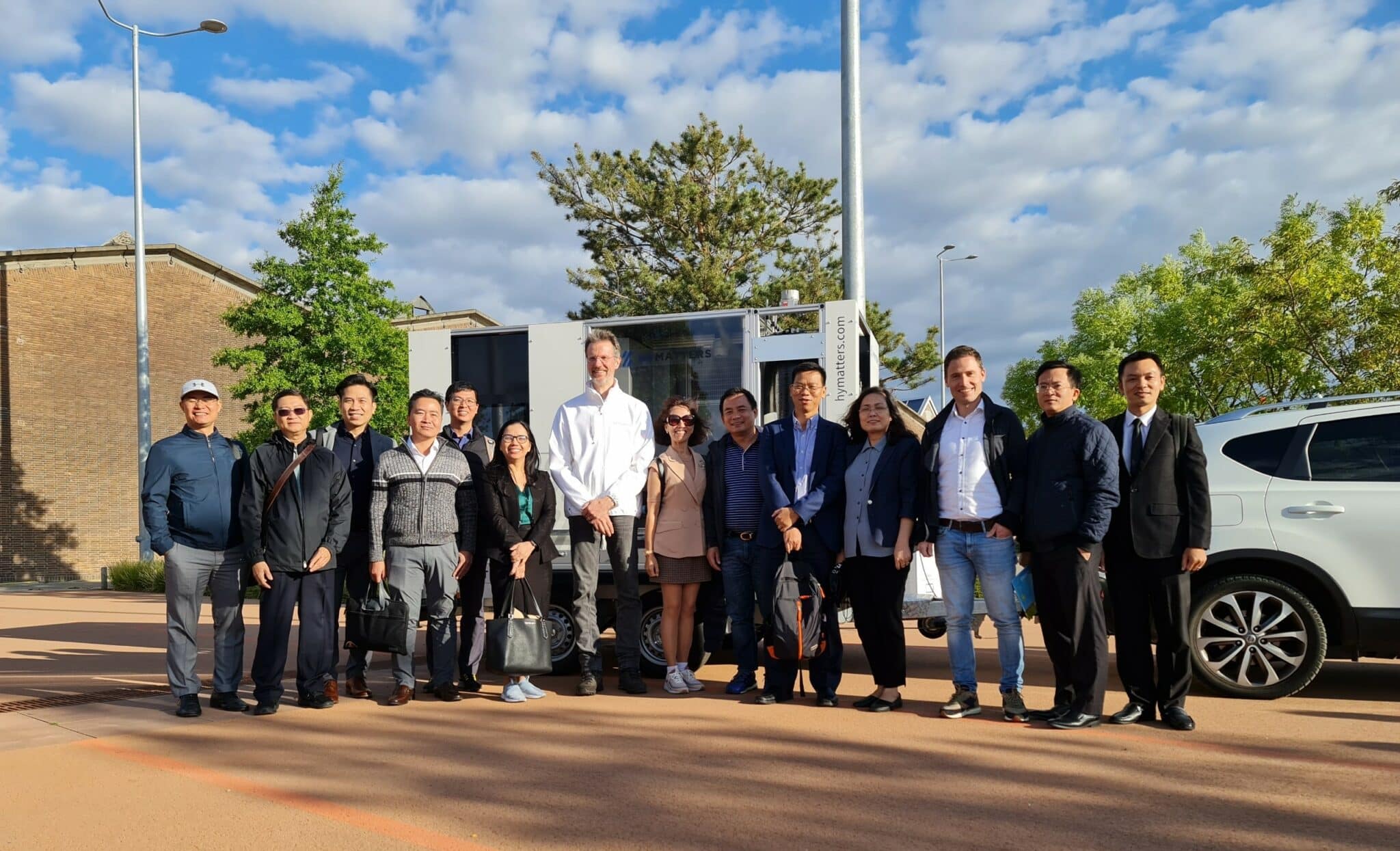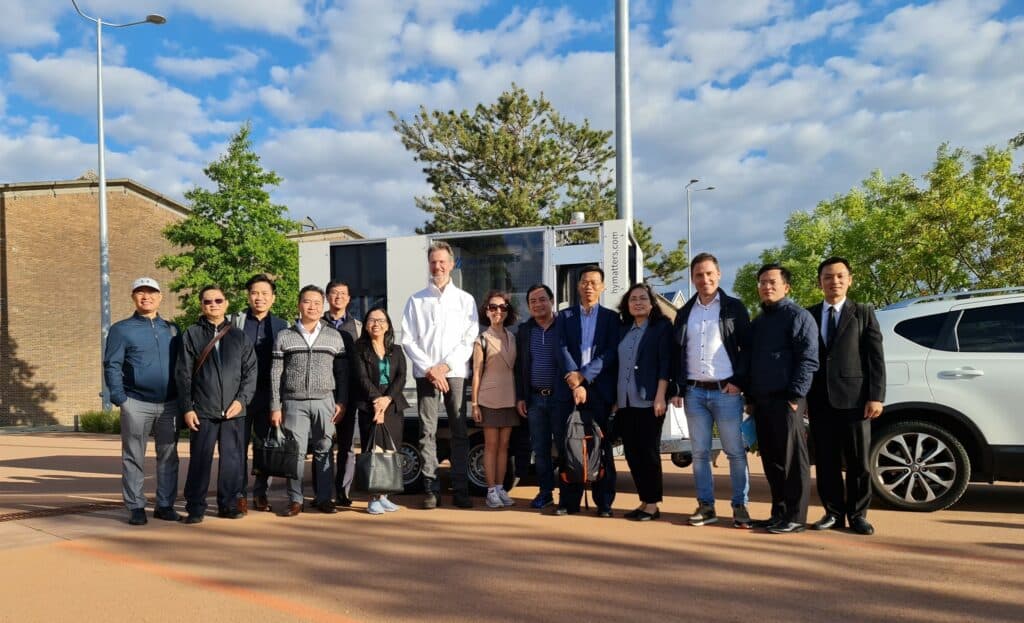 Demand from citizens and municipalities in the driver's seat: Right to charge
Globally, the Netherlands have the most electric vehicle charging points per capita and spatially have the densest charging infrastructure network. The country draws its strong position from collaboration with and interlinking of stakeholders. The Dutch government drives national policy focusing on encouraging electric mobility in general but assigns decision-making power to regions and municipalities. Local authorities structure local incentive programmes, such as Amsterdam's city-specific decarbonisation strategy to drive electric vehicle penetration.
For charging infrastructure, the Dutch government instated the Dutch "right to charge" as a demand-driven approach. It requires the municipalities to set up public charging points within 250m of a home at the request of the citizens who own an electric vehicle. The charging point operators (CPO) validate the demand and choose the charging points' location based on transparent criteria, including available capacity, accessibility, visibility and local impacts. The charging point is set up in collaboration with government bodies and distribution system operators (DSO), ensuring grid stability, and that EV charging data flows to all parties.
The municipalities work closely with DSOs and CPOs who build the network on their behalf and ensure interoperability with existing payment models and compliance with standards.
Decreasing public financial support and establishing a long-term investment environment
Local authorities provide concessions to charging point operators based on public tenders. Dutch municipalities no longer need to subsidise but receive EUR 500 for each charging point from the public-private partnership. The generated money is reinvested in the development of smart charging pilots. The charging point operators benefit from the ensured demand which results from the right to charge, and from the long-term investment horizon.
Municipalities and regions often cooperate for joint tenders for improved bargaining power. In 2016, Rotterdam and 16 other cities in the area awarded a ten year-concession. They set out technical specifications such as compatibility requirements, 100% renewable electricity, 15 years life span of stations and charging costs up to € 0,26/kWh (excl. VAT). The operators were ranked and selected based on their service quality, assessed through several action plans, including organisational aspects, communications, service provision to the user, innovation and sustainability and economic criteria.
Standardisation, Open Protocols and Collaboration
The Netherlands emphasised standards early on. ElaadNL, a knowledge and innovation centre in the field of smart charging infrastructure funded by the DSOs, was founded in 2009. This vendor-independent equipment certification centre ensures that standards are met, and that all equipment is interoperable. ElaadNL also supports the development of charging standards and open protocols, which are crucial to the development of open markets.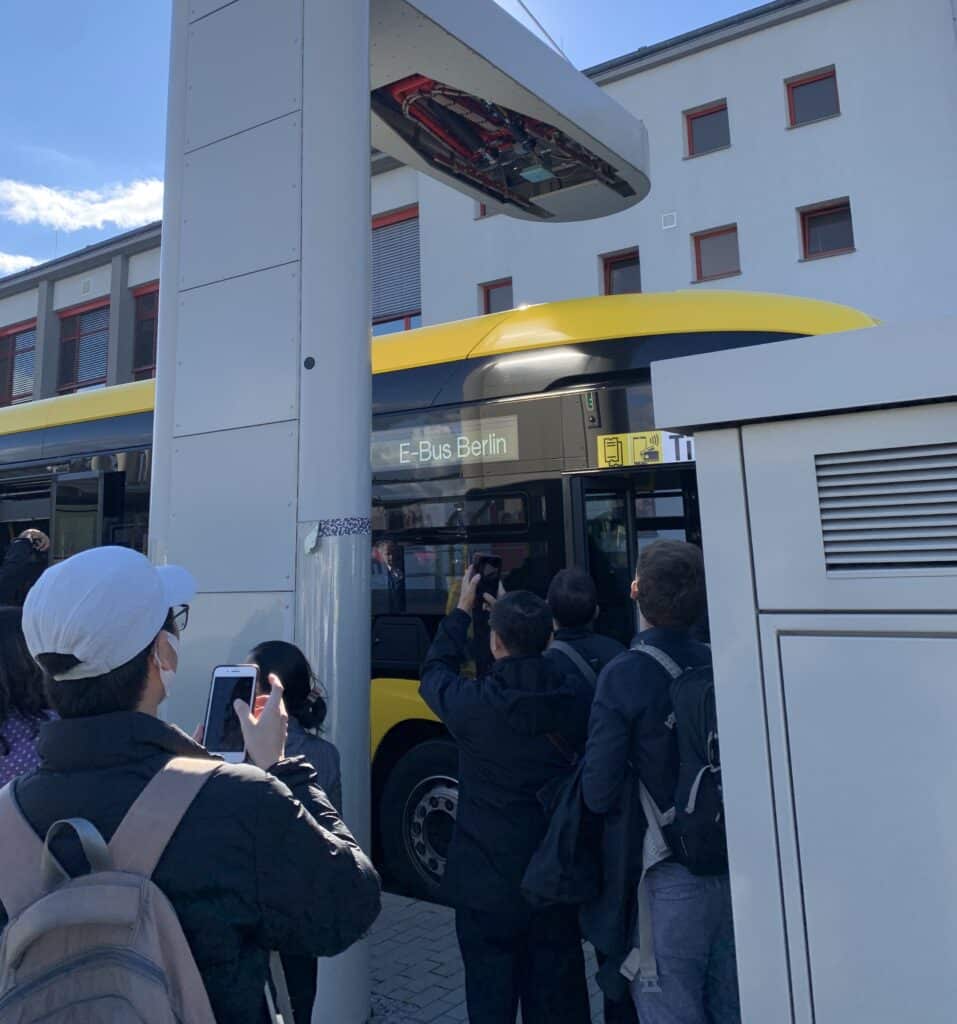 Grid Integration and Integrated Planning
Standards and open protocols are also at the centre of the Dutch government's National Charging Infrastructure Agenda. The multi-year policy programme, which entails a set of agreements between the various stakeholders, is an integrated approach to achieve the fast upscaling of charging infrastructure. Apart from implementation and price transparency, open protocols and open markets, the agenda aims to boost smart charging. Collaboratively, the stakeholders develop market modes and technical architecture and organise legislation and regulation.
Grid integration and smart charging are also keywords in Germany's Masterplan Charging Infrastructure II, published in October 2022. It includes 68 concrete measures with a timeline which will accelerate the network expansion. One aspect is planning and forecasting: For simplified planning procedures, DSOs will prepare detailed network plans to be made accessible online in a unified GIS (digital geographic information system) format. Industry stakeholders will be invited to share their forecasts and plans anonymously in so-called "cleanroom" formats. These results will improve the existing projections and foresighted grid development.
To promote the integrated planning of charging infrastructure, the German National Centre for Charging Infrastructure provides stakeholders with three different publicly available tools. Firstly, the Standorttool which indicates the currently installed CPs, the planned CPs and the forecasted future demand. Secondly, the Flächentool, which allows CPOs to identify potential sites for projects. Finally, the Ladelerntool, which aims at increasing the know-how on charging infrastructure within municipalities.
In contrast to the Netherlands, Germany focuses on non-public charging points, such as private homes, for smart, bi-directional charging. It aims to improve the legal, technical, tax and economic framework conditions to remove any obstacles to the non-discriminatory use of bidirectional charging and the integration into the national grid. Southwest-German DSO NetzeBW also highlighted grid-serving charging management as key for avoiding grid bottlenecks while ensuring a high level of customer acceptance (e.g. Forecasting load peaks, Dynamic Charging Management (smart charging)).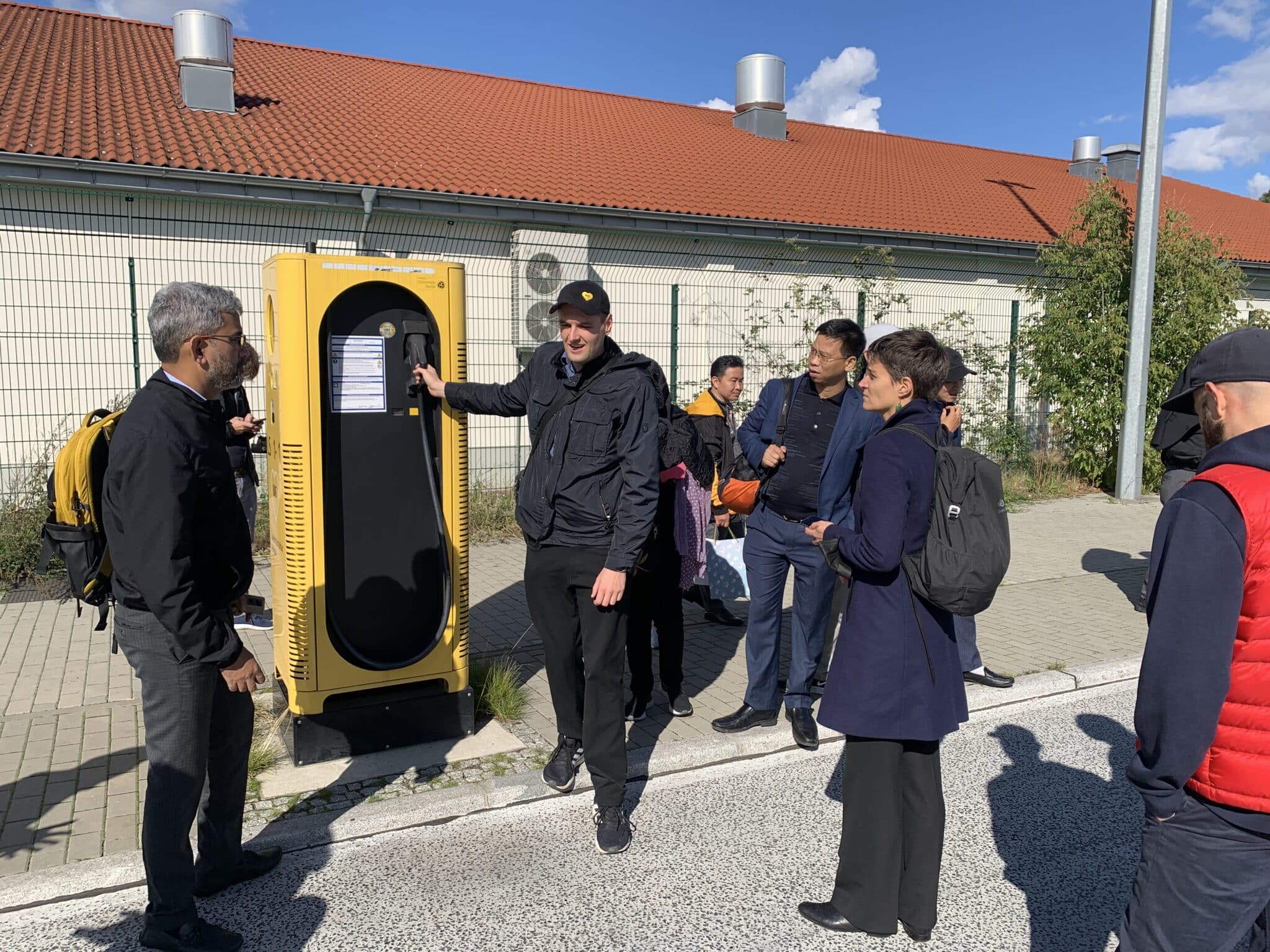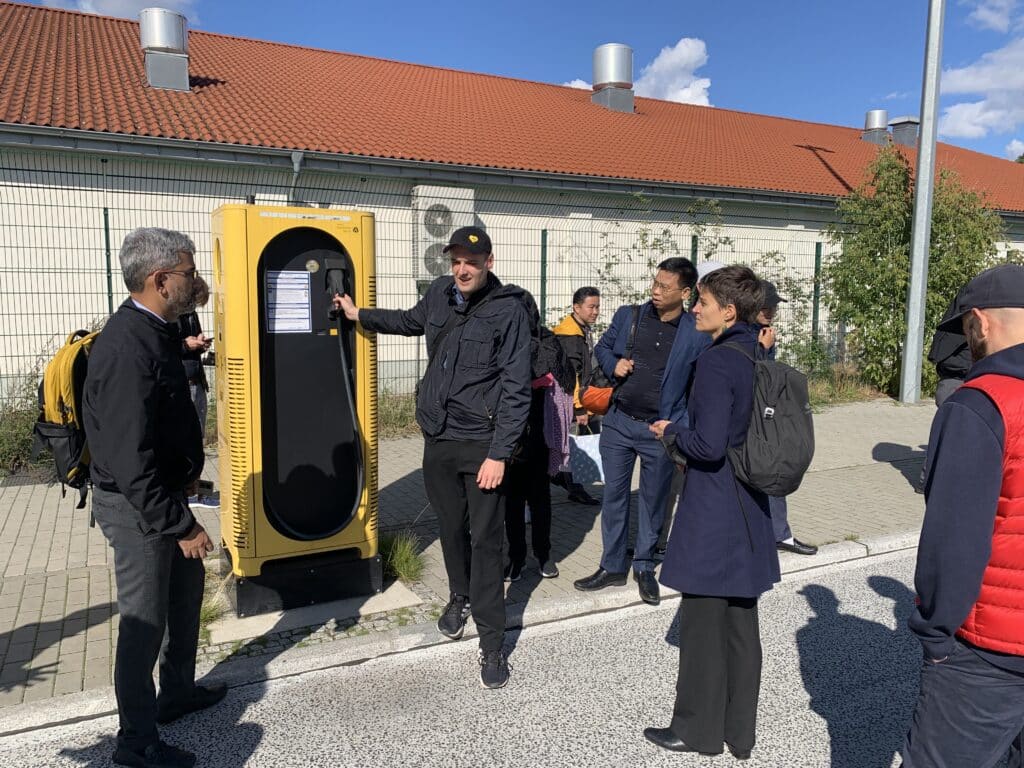 Freight and logistics
Currently, road freight transport relies on diesel engines. Light and heavy-duty vehicles are responsible for roughly 35 % of EU transport GHG emissions. In addition, vehicles heavier than 40t account for nearly half the emissions from freight. The ambitious European CO2 emission standards for new heavy-duty vehicles will increase the need for more low carbon freight vehicles. Battery-powered electric trucks, catenary electric trucks and fuel cell electric trucks are technologies that can step in to fill the gap. The delegation focussed their exchanges on the first two of the aforementioned technologies.
Battery-powered electric trucks, require a demand-oriented charging network and sufficient coverage to allow successful mainstreaming and planning security. For long distance trips, Electric lorries will require specific charging infrastructure that allows much higher charging power, than what is required by high power charging for electric personal vehicles.
The expansion of the charging network for freight vehicles in Germany follows the Dutch example. The manufacturers are requested to develop standards for all essential steps along the truck charging process by the end of 2023. The initial charging network will be tendered and will be expanded at a later stage. Meanwhile, the agencies responsible for charging networks and motorways design sample layouts for the arrangement of charging points, parking spaces and transformers at the charging infrastructure locations at rest areas of motorways.
Catenary electric trucks are being piloted in several small test tracks on the German motorways. The VDI/VDE IT presented one of the projects currently being tested in northern Germany, the eHighway Schleswig-Holstein. In these pilot projects several tracks of 5 km are being equipped with overhead powerlines which the catenary electric truck can connect to via a pantograph. This allows a reduction of the size of the batteries and of the demand for truck charging infrastructure along the highways.
Conclusions
The delegations from Vietnam and India could draw individual conclusions from numerous talks and site visits to Europe's most successful countries in charging network development. They may have identified the following key factors:
Increasing standardisation of the infrastructure, protocols, payment options and grid integration.
Open data, tools and protocols enable market stakeholders to collaborate closely and create a common ecosystem for the user's benefit.
Long-term planning is important for private investors, such as charging point operators or vehicle manufacturers, to secure their investments.
Market mechanisms within concessions are a successful and cost-efficient way to build a standardised, high-quality charging network for citizens and logistics companies to decarbonise.
Piloting and testing of technology is important to gain insights real-life application.
Delegation visits included Amsterdam City Hall, the Dutch Ministry for Infrastructure and Water Management (with the kind support of the Netherlands Embassy in Hanoi), ElaadNL (EV charging knowledge and innovation centre), the German National Centre for Charging Infrastructure (department of BMDV), VDI/VDE IT (knowledge and innovation centre), NetzeBW (distribution grid operator) and EnBW (charge point operator and emobility provider). We thank all hosts for their hospitality.
---
In September, two study tours, as part of the NDC Transport Initiative for Asia (NDC-TIA), explored decarbonization policies, pathways and good practices within the transport sector across Netherlands and Germany. NDC-TIA is part of the International Climate Initiative (IKI). The German Federal Ministry for Economic Affairs and Climate Action (BMWK) supports this initiative on the basis of a decision adopted by the German Bundestag. It supports China, India, and Viet Nam as well as regional and global decarbonisation strategies to increase the ambition around low-carbon transport.
Study tour impressions: Cycling cities – an option for India?
While the benefits of cycling are widely acknowledged, from decreased congestion and improved air quality to the obvious health benefits of exercise, it has not yet become the primary mode of daily transport in most major cities. Discussions surrounding decarbonisation of transport have long emphasised the importance of e-mobility, yet cycling is an often-overlooked component of sustainable and inclusive transport systems. A city which prioritises its pedestrians and cyclists over its road vehicles is therefore a concept best experienced first-hand, as inspiration for what can be achieved by promoting and integrating active mobility policies.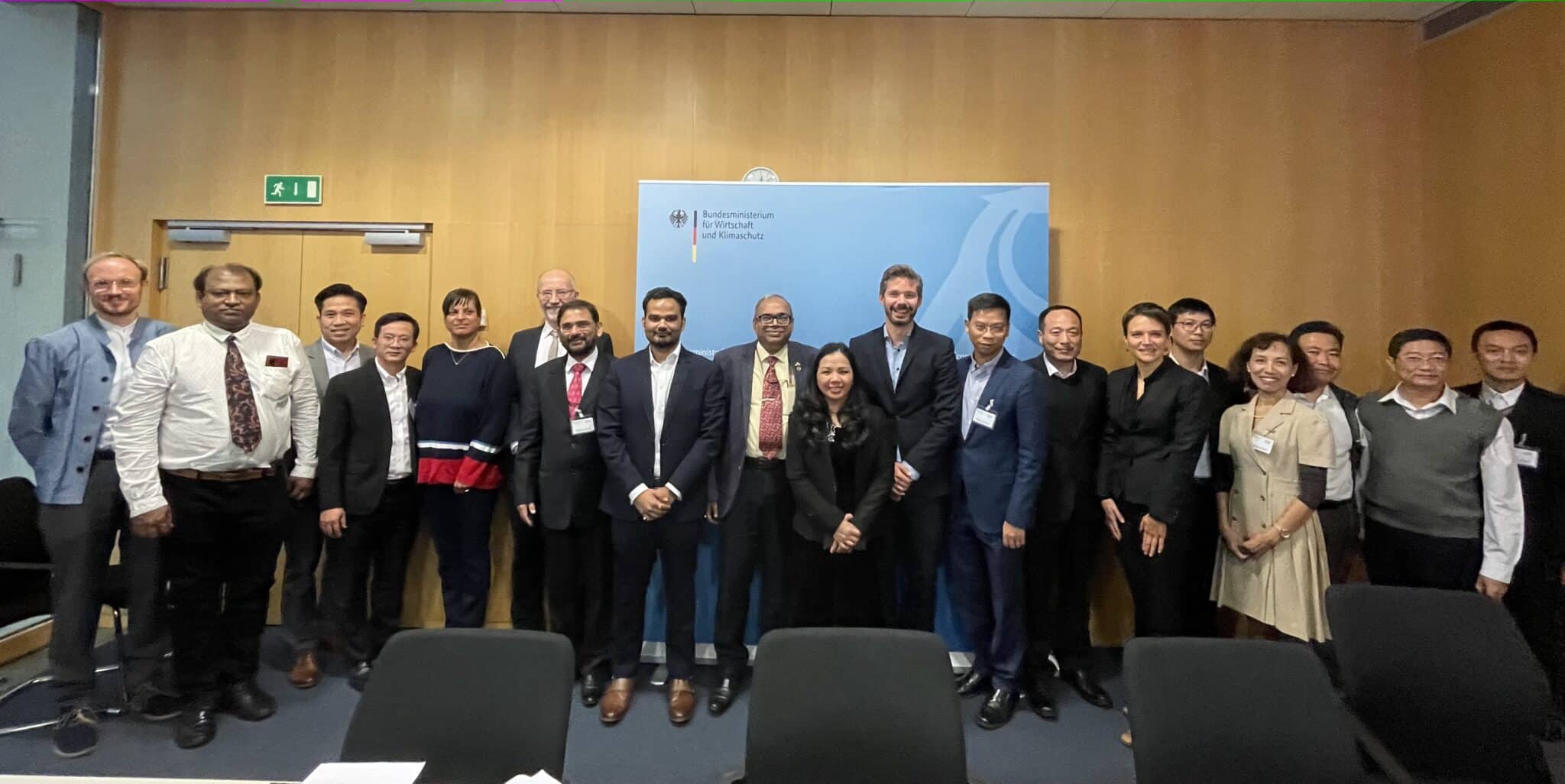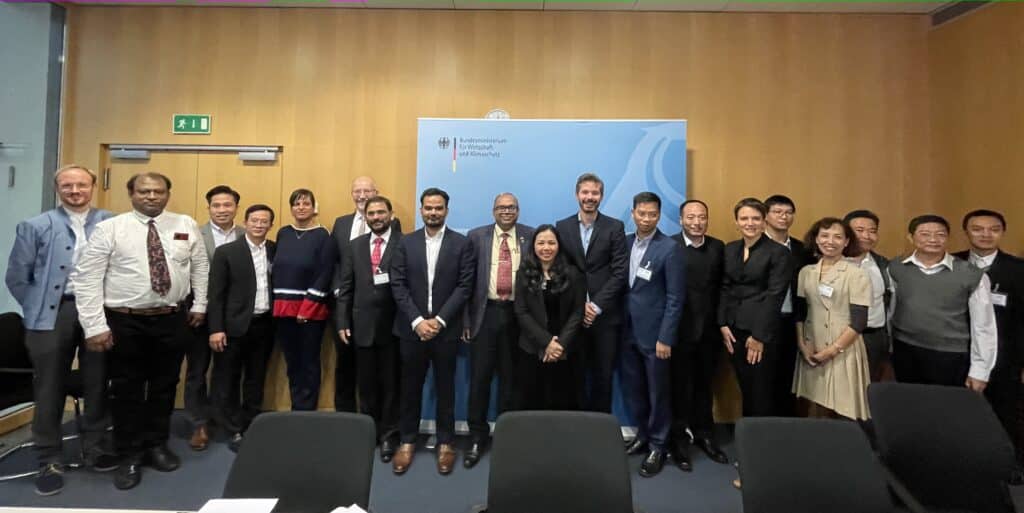 1. Inspiration in Amsterdam: Demand from citizens
Two study tour delegations, featuring decision-makers from Vietnam and India on a mission to decarbonise their transport systems, witnessed the potential of cycling cities up close in September. The tours appropriately began in one of the world's leading cycling cities: Amsterdam.
The Urban Cycling Institute (UCI) led the NITI Aayog delegation on an excursion, which focussed on the design of bike paths. By visiting key sites in person, the group encountered emerging best practices of pedestrian and cycling infrastructure, exploring the choice of different innovations in varying street contexts. To better grasp the extent of the cycling culture in Amsterdam, the tour elaborated on the city-implemented measures, such as dedicated public parking zones for cycles, short-term rentals of cycles, and restricting vehicles to drive only through the periphery of the city.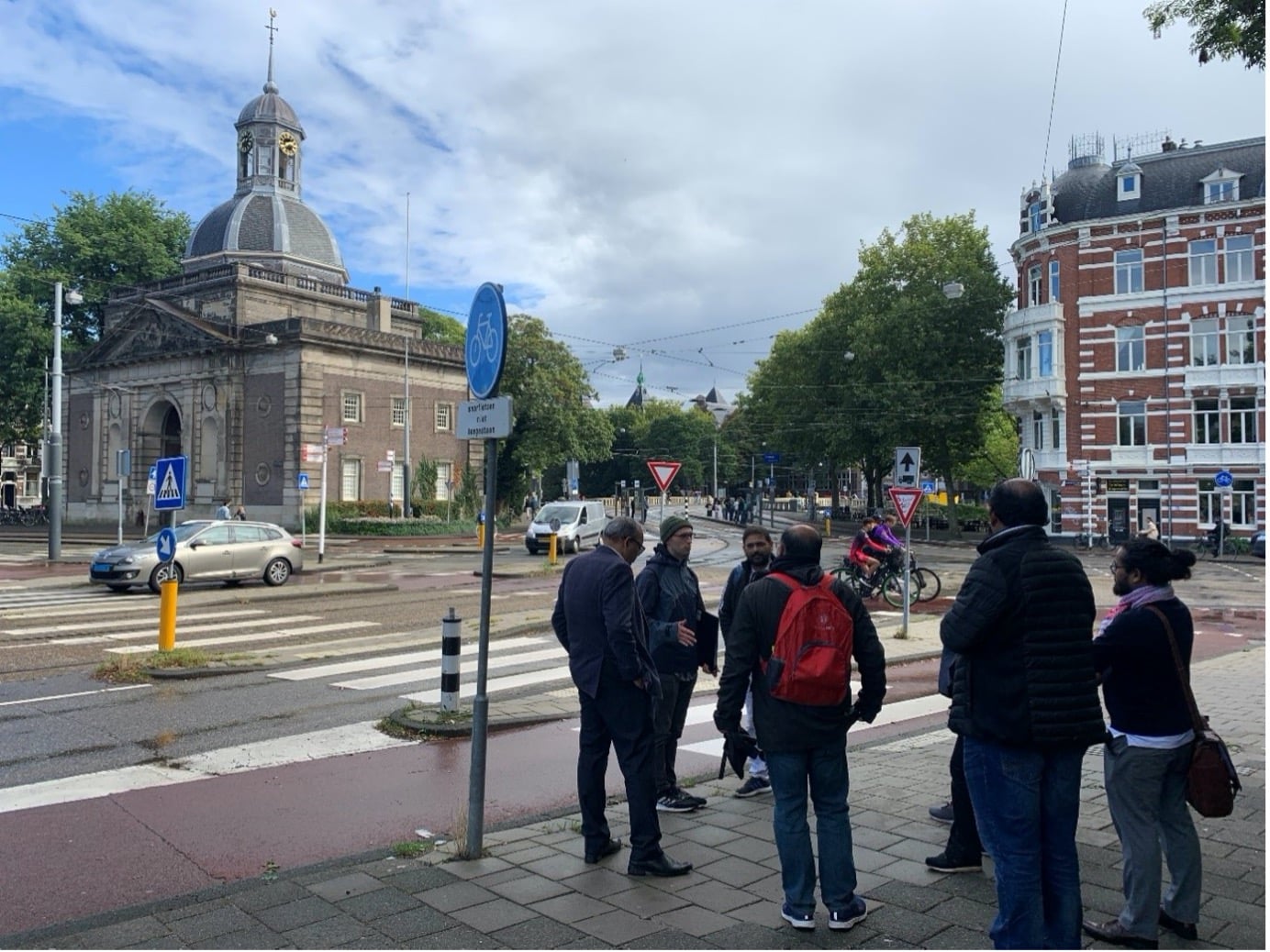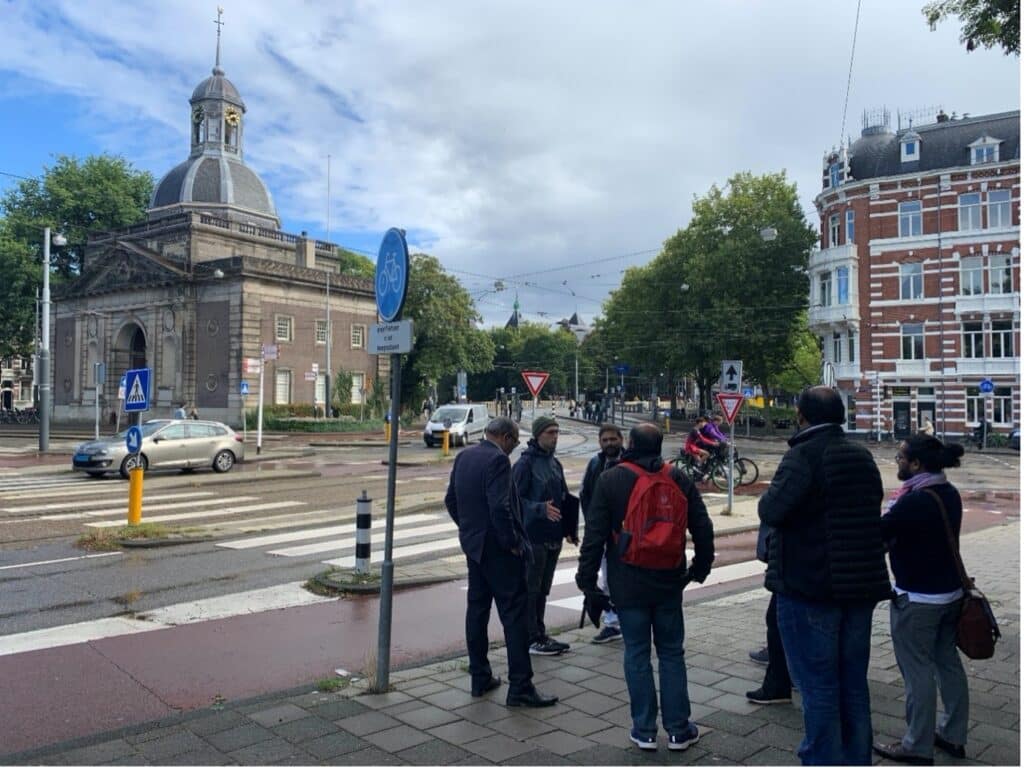 Perhaps the greatest source of inspiration was understanding that, although the city currently has more bikes than people, and well over 60% of citizens cycle on a daily basis, this was not always the case. In fact, the proportion of bicycle trips in Amsterdam fell from 80% to below 25% between the 1950s and 70s, increasing car traffic, and ultimately resulting in a drastic rise of traffic death rates. The 1970s were thus a crucial time for activism and bicycle demonstrations in the Netherlands, when citizens pushed for the prioritisation of bicycles over cars. "One of the biggest victories was managing to fend off a planned highway through the city centre," explained Trey Hahn, of the UCI and Bicycle User Experience (BUX). Now, in Amsterdam alone, there are close to 770 kilometres of cycle lanes. The delegation was impressed by the amount of modern cycling infrastructure available to the citizens of Amsterdam and inspired to take action at home.
Yet, there remain challenges in the shift to active mobility. In Amsterdam, the high cycling density can pose challenges for pedestrians as walkable passages are limited, particularly through the clutter of parked cycles, or are made unsafe by the potential of crashes. The movement of differently abled groups, who cycling infrastructure do not yet take into adequate consideration, is especially restricted in streets which are given over to cycles. With the development and diffusion of e-bikes, moreover, traffic safety has once again become a concern, as cycling lanes are increasingly occupied by higher-speed, motorised e-bikes.
2. Integrated planning: Germany's Roadmap to becoming a Cycling Nation
The Netherlands, and Amsterdam in particular, represent a model cycling culture and city in several national cycling strategies across Europe, as the NITI Aayog delegation discovered on the next stop in the study tour. In Berlin, the delegation met with Velokonzept, a leading German agency for cycling innovation, to discuss the Federal Ministry for Digital and Transport's (BMDV) mobility transition roadmap.
In the ranking of the most bicycle-friendly cities of 2019, the Copenhagenize Index included three German cities in the top 20: Berlin, Hamburg, and Bremen. Yet, while in the Netherlands 27% of all trips are made by bike, Germany's share accounts for only 11%. To promote the use of cycling as a primary mode of transport, the German Federal Government adopted the National Cycling Plan 3.0 in 2021 (Nationaler Radverkehrsplan 3.0, NRVP). The plan references the Netherlands as a model country which has set the standards for both the potential of regular bicycle usage and Germany's cycling targets.
With the overarching vision of becoming a cycling nation by 2030, the guiding objectives of the NRVP are to
Double the kilometres travelled by bicycles in Germany as compared to 2017. In practice, this will require sufficient funding, legal framework and a social paradigm shift in which cycling is integrated in the German way of life.
Create public spaces suitable for cycling to motivate residents to actively exercise. A key component of this objective is to establish Germany as a bicycle commuter country. Safe and attractive infrastructure, for example, well-developed cycle paths, parking infrastructure and sharing systems, are crucial.
Promote cycling in all age groups by increasing the objective and subjective sense of security. Specifically, Germany aims to reduce cycling fatalities by at least 40% by 2030, compared to 2017. The governing principle is 'Vision Zero': the vision of road traffic without any fatalities.
Increase societal awareness and acceptance of cycling, which would in turn increase innovation and economic potential. For cycling to be placed at the heart of modern mobility systems, both the city and users must change how the street and cyclists are perceived. Lighthouse projects such as setting up temporary bike lanes have shown great potential in nudging the positive perception and further adoption of cycling.
By following the example of Dutch cities, investing in cycling infrastructure, and promoting a fundamental paradigm shift, cities can take active steps towards becoming bicycle friendly.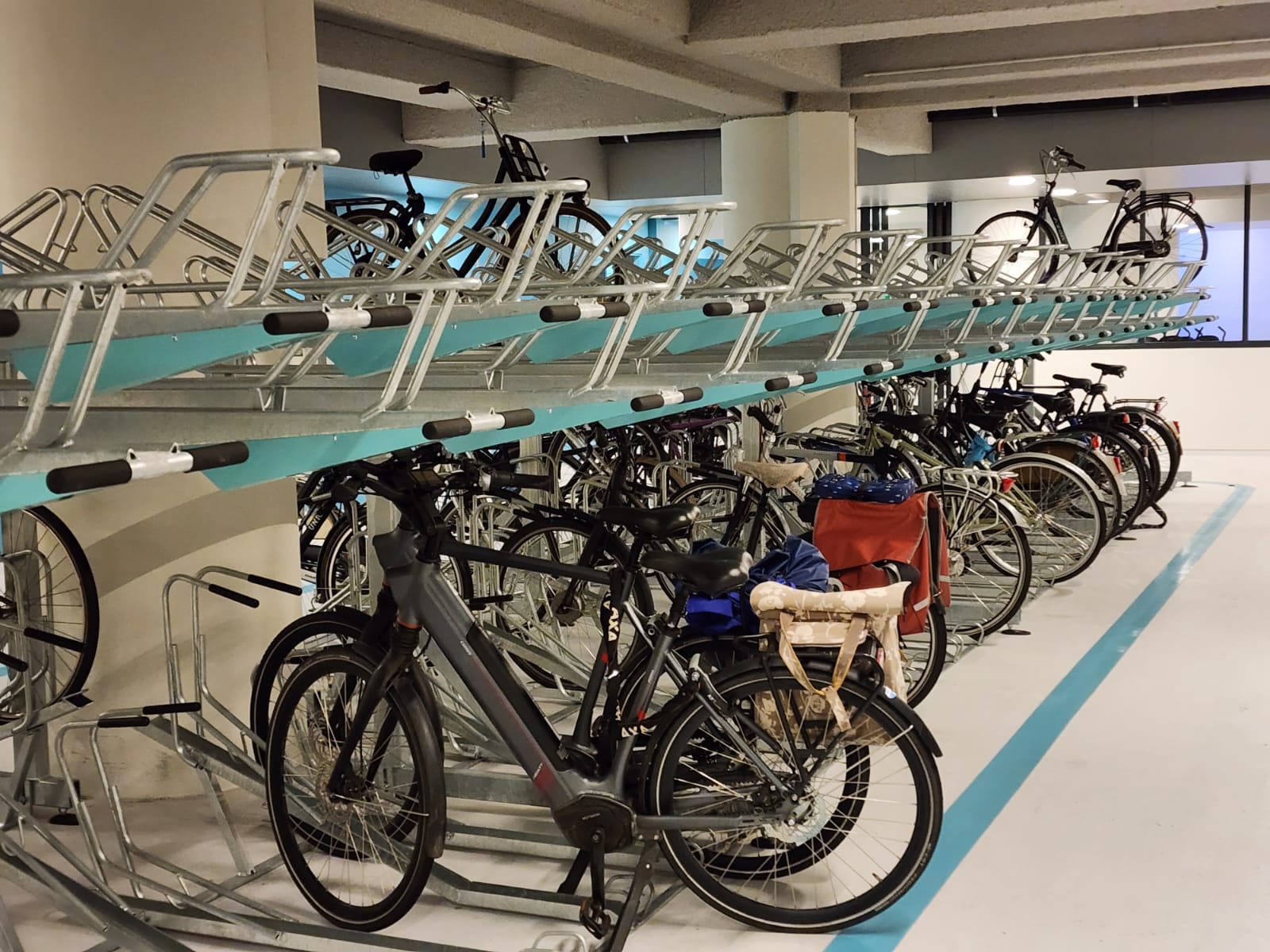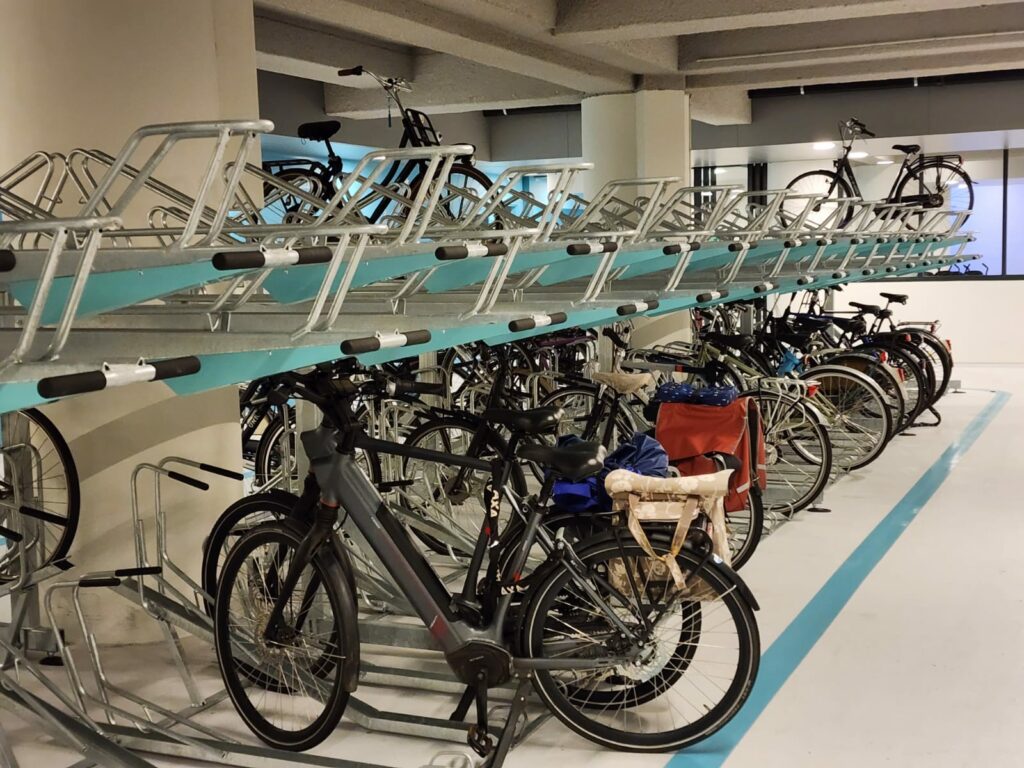 3. Considerations for the future: How India could establish a cycling culture
Similarly to the Netherlands, cycling is considered a significant as well as traditional mode of mobility in India. Yet this has tendentially been limited to those who cannot afford other forms of transport, and primarily among the rural population. And while there are an estimated 23 million bicycles in the Netherlands for a population of 17 million, India has only 90 bicycles per 1,000 inhabitants.
The need for increased cycling and the relevant infrastructure in India is plain: not only do road accidents cause the most annual deaths in India, but air pollution was linked to 1.67 million deaths in 2019. The impressions gathered during the study tour in Germany and the Netherlands revealed numerous measures to support the development of bicycle infrastructure in India:
Integrated policy-driven reformation in urban infrastructure can promote accessibility to cycling, particularly for vulnerable groups, as well as contribute to mitigation of carbon emissions from motorised vehicles.
By introducing digitalization in cycling, data can be gathered that is vital for traffic, networking and infrastructure planning.
Openly accessible databases of academic research and bicycle infrastructure manuals are vital for understanding best practices and foster reciprocal learning between research and practice.
Organisations which promote cycling knowledge, such as Velokonzept and the Urban Cycling Institute, can support cycling infrastructure in becoming intelligent, smart and connected. These can effectively advise and encourage measures and initiatives such as bike sharing, cycle lanes, and regulations on private motorised vehicles, to enhance the share and safety of cycling.
Finally, the role of local stakeholders and on-the-ground champions cannot be overlooked. In Amsterdam, it was the Dutch Cyclists' Union who supported the successful campaigns of the 1970s for better cycling conditions. In India, where modes of transport are closely associated with social status, organisations which promote cycling can help bring a much-needed shift in perspective.
This understanding was the inspiration for the creation of the Bicycle Mayor Network, a network of representative community members who collaborate to brin this issue to light and accelerate cycling change. Bicycle Mayors are present in over 40 cities across India, representing the largest network in the international programme. Such independent, community-driven networks offer amazing potential to tackle India's issues of congestion and pollution, and to encourage cycling in all parts of society.
---
In September, two study tours, as part of the NDC Transport Initiative for Asia (NDC-TIA), explored decarbonization policies, pathways and good practices within the transport sector across Netherlands and Germany. NDC-TIA is part of the International Climate Initiative (IKI). The German Federal Ministry for Economic Affairs and Climate Action (BMWK) supports this initiative on the basis of a decision adopted by the German Bundestag. It supports China, India, and Viet Nam as well as regional and global decarbonisation strategies to increase the ambition around low-carbon transport.
GIZ TRANSPORT AT COP27
COP27 under the UNFCCC will be held between November 6 and November 18, 2022. As in previous years, the GIZ Transport Team is co-organizing and participating in many other panels, receptions and offsite side-events, joining forces with partners from relevant sectors to present sustainable transport as a holistic, cross-cutting solution. Read below for an overview of GIZ Transport's presence at COP27.
---
Week 1
Experiences on the road to sustainable mobility – Perspectives from Colombia, Kenya and Vietnam
November 8 | 5:00 – 6:00 pm (UTC+2)
Venue: UNFCCC PCCB Pavilion, Capacity Building Hub (Area B, room 12)
Organised by: GIZ and UNFCCC
GIZ focal point: Nadja Taeger
Event details: Joint panel event by TraCS and UNFCCC on transport, climate ambition and transparency.
For online participation: Join here.
Watch the event recording.
Support opportunities available to developing country Parties for implementing MRV arrangements under the Convention and ETF under the Paris Agreement
November 9 | 4:45 – 6:15 pm (UTC+2)
Venue: UNFCCC Pavilion, Tutankhamun (Area C, room 9)
Organised by: UNFCCC, with GIZ as guest speaker
GIZ focal point: Nadja Taeger
Event details: Panel event, highlighting financial, technical and capacity-building support opportunities available to developing country Parties for enhancing climate action progress and report capacities under the Convention and the Enhanced Transparency Framework under the Paris Agreement.
For online participation: Join here.
Enhanced mobility, enhanced ambition – Strengthening climate action in transport in Kenya, Morocco and Uganda
November 10 | 3:30 – 4:30 pm (UTC+2)
Venue: NDC Partnership Pavilion (Area C, room 5)
Organised by: Ministries of Transport of Uganda, Kenya, and Morocco, with GIZ
GIZ focal point: Nadja Taeger
Event details: Side event, in which African countries will present their strategies for abating emissions despite increasing demand for transportation systems.
Watch the event recording.
Role of e-mobility in Africa: Towards an inclusive low carbon transition
November 11 | 4:00 – 5:00 pm (UTC+2)
Venue: Climate Compatible Growth Pavilion
Organised by: CCG, HVT, SUM4ALL
GIZ focal point: Marvin Stolz
Further information: via COP27 Side Events
Watch the event recording.
Accessing Climate Finance for Transport: Lessons from project preparation facilities and MDB climate action
November 11 | 5:15 – 6:30 pm (UTC+2)
Venue: Climate Compatible Growth Pavilion
Organised by: GIZ
GIZ focal point: Friedel Sehlleier
Event details: Side event, exploring insights from TRANSfer, the MobiliseYourCity Partnership, and more.
Further information: via COP27 Side Events
Watch the event recording.
TRANSfer Closing Reception
November 11 | 6:30 pm (UTC+2)
Venue: Climate Compatible Growth Pavilion
Organised by: GIZ
GIZ focal point: Friedel Sehlleier
Event details: Side event, on international dialogue on climate finance, as well as to celebrate conclusion of TRANSfer III.
Week 2
SLOCAT Transport Day: "Towards Meaningful Investment in Public Transport, Walking and Cycling"(1)
November 15 | 9:00 – 12:00 am (UTC+2)
Venue: Multilevel Action Pavilion
Organised by: SLOCAT, moderated and sponsored by TUMI/BMZ
GIZ focal point: Jens Giersdorf
Agenda and event details: here | For online participation: Register and join here.
Watch the event recording.
Just transport and energy transition in IsDB countries
November 16 | 12:30 – 1:30 pm (UTC+2)
Venue: Islamic Development Bank Pavilion
Organised by: SLOCAT / IsDB
GIZ focal point: Urda Eichhorst, with Daniel Bongardt as a panelist
Event details and online participation: here.
Watch the event recording.
Events on November 17 | Solutions Day at COP27(2)
India's Global Leadership in the Transition to Electric Mobility
November 17 | 3:00 – 5:00 pm (UTC+2)
Venue: India Pavillion
Organised by: NITI Aayog and World Economic Forum
GIZ focal point: Urda Eichhorst
Event agenda: here | Online participation: here.
Watch the event recording.
Sustainable mobility and climate recovery through BRT
November 17 | 4:00 – 5:00 PM (UTC+2)
Venue: Hall A (Green Zone)
Organised by: Ministry of Transportation (Egypt)
GIZ focal point: Marvin Stolz with Mike Enskat as speaker.
Registration (in-person only) and Green Zone agenda: here.
Accelerating Just Transition to Low Carbon Transport in Asia and the Pacific
November 17 | 5:00 – 6:00 pm (UTC+2)
Venue: NDC Partnership Pavillion
Organised by: ESCAP
GIZ focal point: Urda Eichhorst
Event details and online participation: here.
Watch the event recording.
Inclusive and Sustainable Mobility: How local best practices can influence positive action by the federal government
November 17 | 5:30 – 6:45 pm (UTC+2)
Venue: Brazil Hub
GIZ focal point: Eleonore Francois-Jacobs
Event details: MobiliseYourCity Partnership participating as speaker.
Event details and registration: here.
Moving towards sustainable urban mobility: perspectives from Africa, Latin America and the European Union
November 17 | 5:30 – 6:30 pm (UTC+2)
Venue: EU Pavillion
Organised by: DG MOVE / INTPA / NEAR, MobiliseYourCity Partnership & Euroclima+
GIZ focal point: Mateo Gomez and Victor Valente
Agenda, event details, registration and online access: here.
---
(1) The SLOCAT Transport Day on November 15 will be a key event for the sector, aiming to enhance the transport community's engagement with the COP27 Presidency and Egyptian High-Level Climate Action Champion. As a partner in the SLOCAT Task Force on Transport Community Engagement in the UNFCCC, GIZ will support the Transport Day to promote critical thematic elements, such as the scale up of public transport, global supply chains, and African and Global South transport perspectives. SLOCAT's full compilation of transport-focused and -related events at COP27 can be found here.
(2) Egypt's Presidency has set November 17th as the dedicated Solutions Day, in which Sustainable Transport and Urban Mobility occupy the fourth slot. The session will highlight innovation and resilience as pathways towards green transport, particularly in support of low-carbon, affordable transport in Africa and the Global South. The Marrakech Partnership for Global Climate Action will also hold dedicated transport sessions, including the Implementation Lab on 'Engineering the vision for climate resilient transport' on November 17, 2022.
The measure of all things "GHG" in the Dominican Republic
This article is part of our #StoriesofChange where we profile the work of our partner countries in developing climate actions in transport. Read more #StoriesOfChange and follow the Hashtag on Twitter.
"If you can't measure it, you can't improve it", the British physicist Lord Kelvin (1824–1907) famously wrote. The same goes for climate action in the transport sector. Without quantifying emissions in the sector, how can we reduce them? In line with this insight, a group of government officials from the Dominican Republic embarked on a process to learn more about the techniques of emissions accounting in the transport sector.
In ten interactive working sessions facilitated by the experts at Hill, a Colombian think tank, the group studied how to quantify emissions, compile GHG data and make projections for the future while using the open-source tool MobiliseYourCity Emissions Calculator. In parallel, the team of experts from Colombia and the Dominican Republic collected and analysed the relevant data from the Dominican Republic to calculate a GHG inventory and develop scenarios for the Dominican transport sector. Let's have a look at the methodology and the results.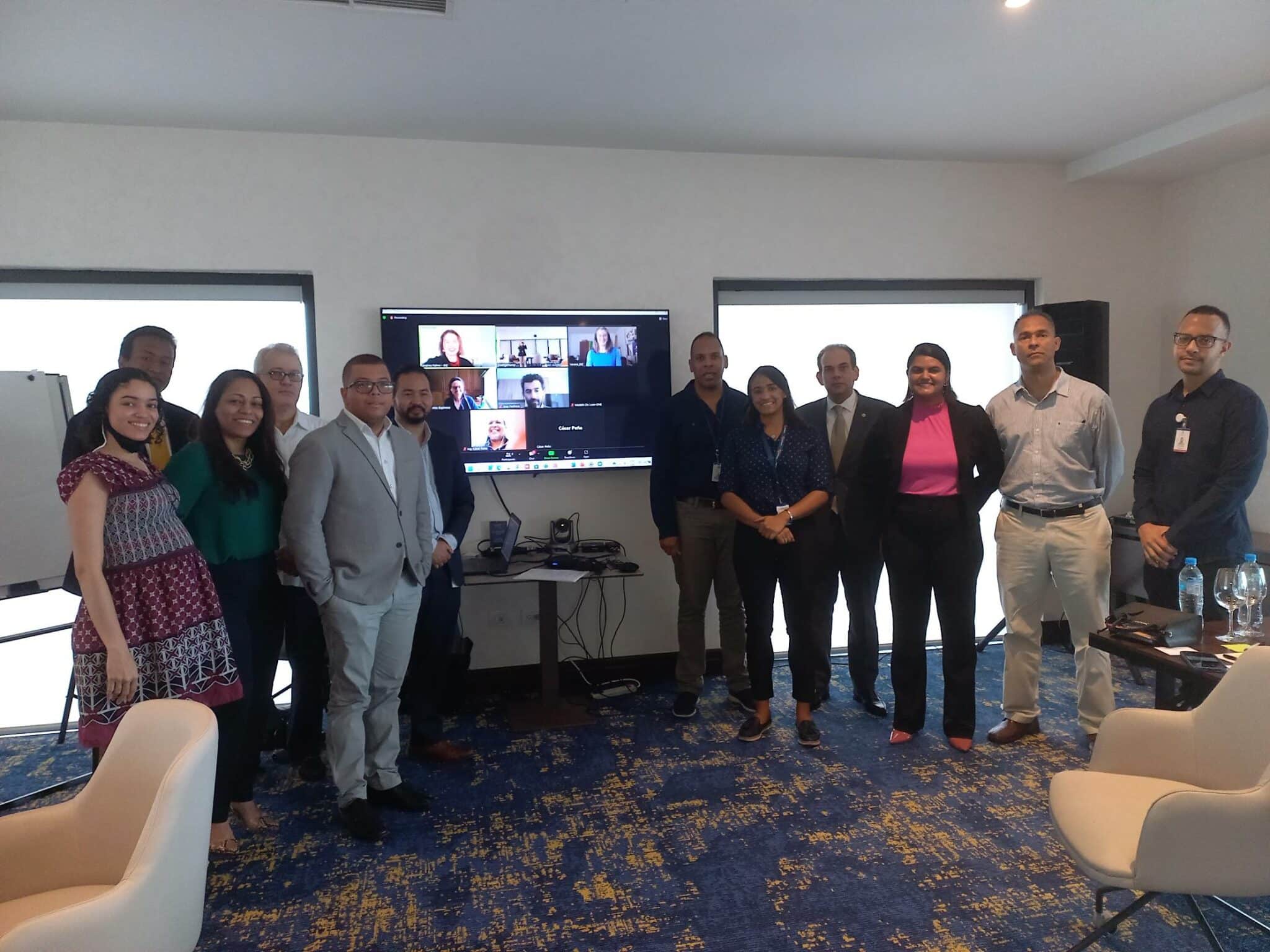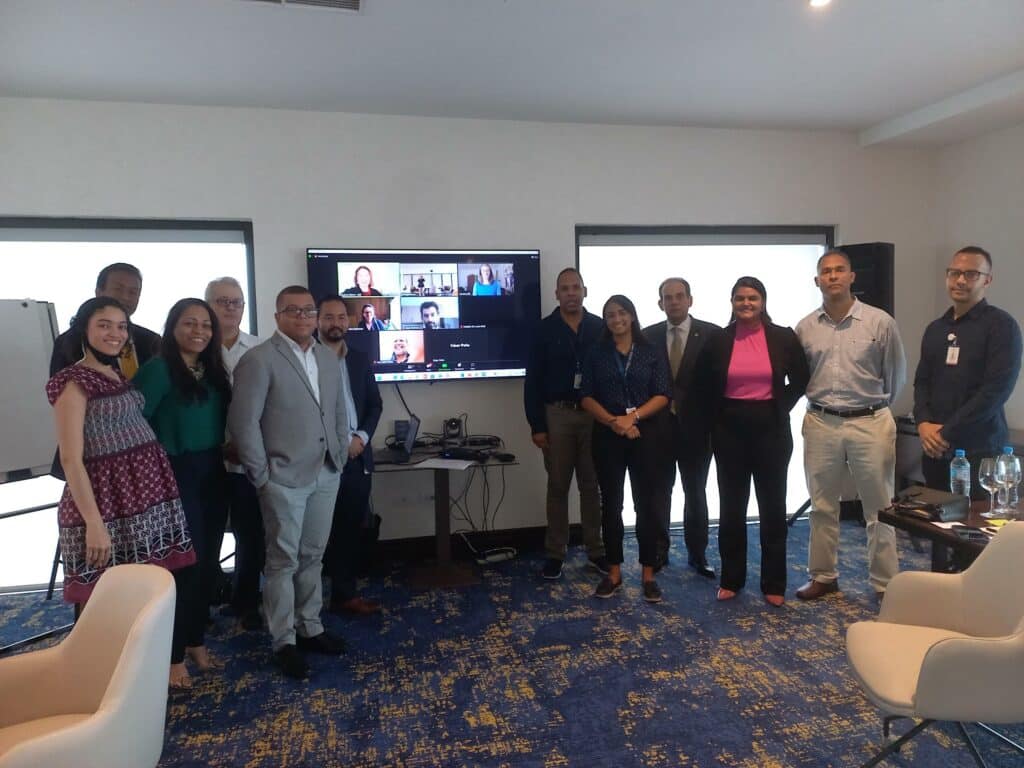 Results: current GHG emissions in the Dominican transport sector
The analysis focused on land-based transport modes, and thus excluded maritime and air travel. This was done for two reasons: 1) land transport accounts for the largest share of transport emissions; and 2) international air and maritime transport are not accounted for in national GHG inventories. While this approach leaves out important sources of transport emissions in the accounting, it is considered best practice today.
A greenhouse gas inventory is the sum of all emissions of a sector for a certain year. For transport there are two ways of compiling a GHG inventory. The fastest and easiest method is a "top-down" approach. This method calculates the emissions based on fuel statistics, i.e. the amount of diesel, gasoline, natural gas and electricity sold during the year. The "bottom-up methodology", by contrast, calculates the emissions based on the activity (vehicle kilometres, say) performed by the fleets of private cars, trucks, trains, buses, etc. in a given country. The results of the bottom-up method are then compared with the top-down calculation (fuel statistics) to ensure consistency.
The bottom-up method is more complex and needs large amounts of disaggregated data, e.g. information on the different fleets and average km/year, but it provides a much more detailed understanding of the GHGs emitted by each subsector and type of vehicle (e.g. rail vs. road transport, cars vs. motorbikes). Identifying the largest sources of emissions and understanding the share of each subsector in the total GHG inventory is extremely important if governments are to prioritise measures and maximise the climate impact.
According to the bottom-up calculation, the land transport sector in the Dominican Republic was responsible for 7,757 gigagrams of CO2e in 2018, with passenger transport representing more than half of the total (4,716 gg CO2e). There is little surprise that private cars account for the largest share of emissions (42%), followed by light commercial vehicles (34%). Public buses, minibuses, taxis and mototaxis together account for only 14%.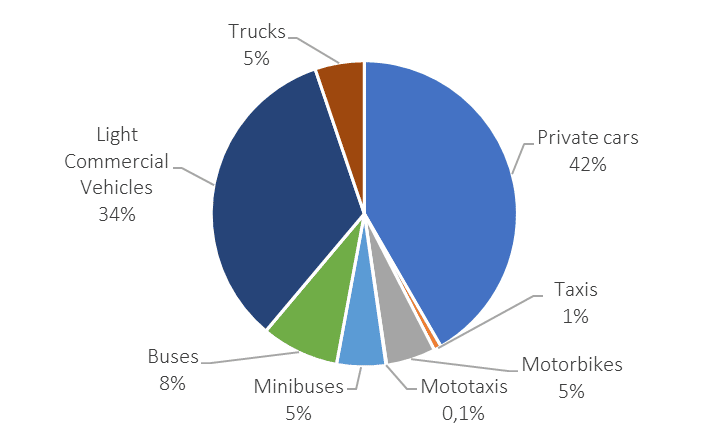 What the future might bring: Forecasting Dominican transport emissions
After assessing the emissions for 2018, the base year, the team proceeded with the second step: forecasting the development of emissions up to 2030 and 2050. This was done in the form of two scenarios. A scenario is a "picture" of a possible future state based on a series of assumptions. It should not be taken as an exact prediction of the future but as a possibility among other possible states. Formulating adequate assumptions is crucial for producing good results.
In the case of the Dominican Republic, two scenarios were developed. One scenario, called Business as Usual, assumed that no particular climate actions were taken in the transport sector. The scenario only considers trends and evolutions that happen independently of political action, such as efficiency gains due to technological improvements. The second scenario, known as the climate scenario, assumed that the Dominican Republic implements all its transport related-climate commitments formulated in its Nationally Determined Contribution (NDC). The scenario considered nine measures and policies:
| | |
| --- | --- |
| N° | NDC measure |
| 1 | New metro lines in Santo Domingo |
| 2 | New cable car line |
| 3 | Implementation of a BRT system in major cities (Santo Domingo and Santiago de los Caballeros) |
| 4 | Substitution of 300 diesel buses by electric buses |
| 5 | Development and implementation of a policy to modernise taxis and minibus taxis |
| 6 | Design and implementation of a network of feeder buses running on natural gas |
| 7 | Provision of a safe transport service to schools using electric buses |
| 8 | Creation of a framework to modernise the fleet of private vehicles |
| 9 | Promotion of bicycle use and creation of cycling infrastructure in major cities |
For more detailed information on the Dominican NDC measures, see the project report (in Spanish).
Drawing on expert discussions and existing empirical studies, the expert team developed assumptions about the implementation and the effects of each measure as well as the underlying general tendencies in the country's transport demand. For instance, they estimated how many car trips would be replaced by a new metro or cable car line and how many emissions could be avoided. All the information went into a projection of emissions with and without NDC climate measures.
As the Dominican NDC considers only measures in the field of passenger transport, it makes sense to focus on the development of passenger transport emissions to assess the effects of the climate measures. In both scenarios, unfortunately, transport emissions in the Dominican Republic continue to grow. If all NDC measures are implemented, however, passenger transport emissions can be reduced by 4.8% by 2030.


The scenarios show that NDC actions do make a difference in terms of CO2, provided that they are progressively implemented. However, the impact of Dominican climate action in transport could be substantially larger if they were extended to freight – for example, through the electrification of light commercial vehicles – and if modal shift measures were accompanied by traffic-demand management. Read the full report in Spanish.
Increasing climate ambition in transport is on the agenda of the Dominican Republic, and the results of the inventory and the scenario development, will provide empirical guidance for the country's decision making. Thanks to the participatory process, a network of people and capacities was brought together to steer the process after the project is over. We are looking forward to hearing good news on transport climate action from the Dominican Republic in the future!
Moving Transport to Net Zero
What is necessary to reach net zero emissions in the transport sector on a global level? To keep limiting global warming to 1.5° C within reach, the world has to decarbonise by mid-century, with every sector contributing as much as possible as soon as possible. The Wuppertal Paper no. 199 identifies what has to be done in road transport, aviation, and shipping to achieve net zero emission in the transport sector.
For this purpose, the paper first sets the scene by providing an overview of the origins and impacts of the concept of net zero emissions in international climate policy as well as of the current state and future prospects of global transport emissions using currently available scenarios for low-emission and net zero transport.
While for staying below 1.5° C, the basic approach to reducing transport emissions remains unchanged from what has been suggested in the past, the set, intensity and pace of actions as to shift fundamentally. Without first drastically reducing traffic volume and shifting transport demand to low-emission modes, reaching net zero transport will not be feasible: the amount of additional electricity required to fully electrify the sector with renewable energy is otherwise just too huge.
After portraying key instruments for achieving net zero emissions in land transport, aviation, and shipping, the paper identifies key barriers for net zero transport. Based on this analysis, the authors recommend the following to be able to move transport to net zero:
Adapt Decarbonisation Strategies to Different Transport Sub-sectors
Prioritise and Significantly Increase Investment in Zero-/low-carbon Infrastructure
Massively Invest in the Development and Roll out of Zero-/low-emission Technologies
Focus on a Just Transition to Overcome Social and Political Barriers
Increase International Support and Cooperation
Read the full paper: Wuppertal Paper no. 199
by Hanna Wang-Helmreich, Wolfgang Obergassel and Oliver Lah
Principles for Preparing City Logistics Plans
This article is part of a three-part article series which aims to provide an over-view on 1) principles for preparing City Logistics Plans (CLP), 2) institutional set-up for developing CLP and 3) measures which cities can undertake for improving efficiency of city logistics. This is the first in the series which shares an information on principles for preparing City Logistics Plans.
On 17th September 2022, Prime Minister Sh. Narendra Modi launched the National Logistics Policy[1] for India with a vision to reduce the cost of logistics and improve India's logistics performance index ranking. A Comprehensive Logistics Action Plan (CLAP) of eight points has been developed to implement the policy. One of the key steps which the policy proposes to undertake is to provide support for development of city level logistics plans, set-up an institutional framework and measure & monitor actions.
A cost-efficient logistics ecosystem is essential for cities' economies and quality of life of its citizens. However, currently grapples with multiple negative externalities such as pollution, costs/inefficiencies, accidents and congestions. For e.g.
the last-mile vehicular movement in cities accounts for 50% of total logistics costs in e-commerce sector[2]
urban freight amounts to 10% of India's freight related CO2 emissions and is usually the biggest contributor to in-city transport related NOx and PM emissions[3].
Planning for city logistics is a complex process as urban freight transport is a for-profit activity which is pre-dominantly controlled and operated by the private interests; and public authorities have a low understanding of the commercial dynamics of freight distribution. Public authorities have treated city logistics as a problem area and solutions have been driven by ad-hoc planning such as restricting the movement of Goods vehicle within the city limits, relocation of freight activity generators such as markets, transport nagars etc. outside city limits etc. Meanwhile, logistics service providers, shippers, carriers have continued with their business to provide the goods required by the urban population at the right quantity, place and time. With the proliferation of the gig economy and e-commerce industry in the recent years urban freight mobility and logistics activities have exploded in cities across India.
Hence, going forward, cities need to take steps to plan for freight and logistics infrastructure for efficient and sustainable movement of goods in the city. For holistic development of the city, freight planning should be integrated within the city's overall development and mobility landscape.
Principles for preparing CLP
According to the guideline developed by European Commission on sustainable urban logistics, a city logistics plan should be developed with the following major principles [4]. These are:
Improve Effectiveness: Emphasise achieving a sustainable mobility system through measures that will improve the effectiveness of the city logistics. The planning area under the city logistics plan should be dependent upon the characteristics of the supply chains in the city, which is from the origin point to the final consumption, rather than limited to the city administrative limits
In line with SUMP: The CLP should be developed in line with the vision of the comprehensive mobility plan / sustainable urban mobility plan, which clearly outlines the feasible short, and medium-term interventions, budget plans, and roles of different stakeholders for better implementation
Scenario assessment: The plan should focus on assessing the current scenario of the logistics ecosystem of the city to understand current challenges, strengths, and influencing factors of city logistics. It should also identify certain measurable targets, and performance indicators to assess the results of the interventions in the future
Define optimum mode: Development of an optimum mode share solution for cargo movement in the urban area considering the options of both passenger, and freight modes, traditional, and non-traditional modes to improve the environmental conditions and economic efficiencies.
Cooperation: Cooperation of Government authorities at different levels such as sectors, urban, regional, and National levels at both the planning and implementation stages is needed for a successful City Logistics Plan considering the wider domain of city logistics.
Stakeholder participation: One of the major principles and success factors of the plan is the participation of all the involved stakeholders such as the public, private, consumers, etc. in the preparation, and implementation stages of the plan. The partnerships as well as the plan should be prepared while keeping in mind the perception of different stakeholders and the value addition towards the activities of various stakeholders.
Define criteria: The plan should develop a detailed framework for identifying key indicators, the data requirement, partnership criteria among stakeholders for data sharing, and the evaluation criteria which will help the implementing authority monitor and evaluate the progress.
Quality assurance: The quality assurance of the City Logistics Plan in terms of the content, feasibility of actions, and roles of different actors are very important and can be undertaken through external panels or self-assessment tools.
Benefits of preparing CLP
Preparation of a CLP will reap multiple benefits for city as it will help city have a clear understanding of the logistics sector and will help in the decision-making process. It will also reduce the negative externalities such as reduction in congestion, reduction in pollution, improve processes such as regulatory strategies and integration of modes. The private sector will benefit as it will bring in efficiency and reduce the cost of logistics. The consumers will benefit with improved accessibility to goods and services.
Bibliography
Anujesh Singh, Devika Kapur and Anshul Sethi. 2018. E-commerce retail logistics in India. KPMG. https://assets.kpmg/content/dam/kpmg/in/pdf/2018/05/e-commerce-retail-logistics.pdf.
Dr. Georgia Aifandopoulou, Elpida Xenou. 2019. Suatainable Urban Logistics Planning. European Platform on Sustainable Urban Mobility Plans. https://www.eltis.org/sites/default/files/sustainable_urban_logistics_planning_0.pdf.
NITI Aayog, RMI, RMI India. 2021. Fast Tracking Freight in India. RMI. https://rmi-india.org/insight/fast-tracking-freight-in-india-a-roadmap-for-clean-and-cost-effective-goods-transport/.
Press Information Bureau. 2022. PM Launches National Logistics Policy. 17 September. https://pib.gov.in/PressReleasePage.aspx?PRID=1860192.
---
For Further Reading
---
[1] https://pib.gov.in/PressReleasePage.aspx?PRID=1860192
[2] https://assets.kpmg/content/dam/kpmg/in/pdf/2018/05/e-commerce-retail-logistics.pdf
[3] https://rmi-india.org/insight/fast-tracking-freight-in-india-a-roadmap-for-clean-and-cost-effective-goods-transport/
[4]https://www.eltis.org/sites/default/files/sustainable_urban_logistics_planning_0.pdf
Still alive? An update on the COP26 initiatives for transport decarbonisation
One year ago, the COP26 climate summit in Glasgow became the birthplace of four new global initiatives for transport decarbonisation. Remember, these were:
Declaration on Accelerating the Transition to 100% Zero Emission Cars and Vans
Memorandum of Understanding on Zero-Emission Medium- and Heavy-Duty Vehicles
Clydebank Declaration for Green Shipping Corridors
International Aviation Climate Ambition Coalition
The COP27 climate summit in Egypt starting on November 7th will mark the first anniversary of these four initiatives. We at changingtransport.org were curious whether a year later these initiatives were still active. Thus, we investigated what happened since Glasgow. Have new members joined? What has been achieved so far? And what can we expect for COP27 and beyond?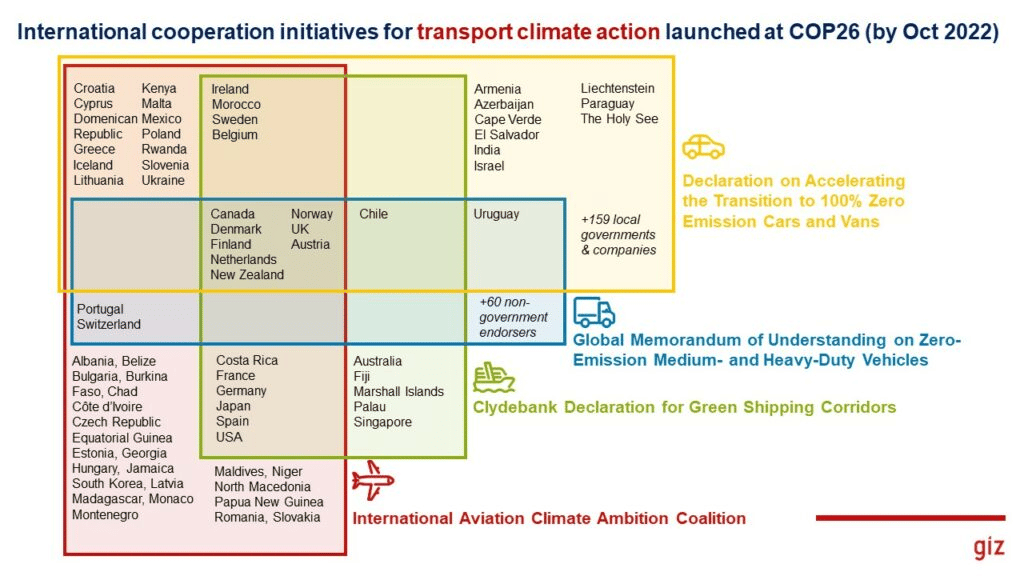 1. Declaration on Accelerating the Transition to 100% Zero Emission Cars and Vans
Objective: The numerous public and private signatories of this declaration have committed "to work towards all sales of new cars and vans being zero emission […] globally by 2040, and by no later than 2035 in leading markets". The declaration was designed to be a leadership group of those actors, both big and smaller countries as well as cities, companies and other entities, committed to an accelerated ZEV transition. It has been modelled on the Powering Past Coal Alliance.
Signatories: Since COP26, the membership of the declaration has grown significantly from an initial 120-130 signatories to a total of nearly 200 national and local governments, OEMs, fleet owners and other entities by October 2022. The aspiration is to get all big automotive markets on board.
Activity: The "Accelerating to Zero Coalition" will be launched as an umbrella initiative of the ZEV declaration. A soft launch already happened at the New York Climate Week on 20th September. The full, official launch is planned for COP27. The new coalition also integrates relevant workstreams of the UNFCCC High Level Action Champions (HLAC) work with Automotive Manufacturers and The Climate Group's EV100, to avoid duplication of efforts, to pool resources, and to strategise to secure more ambitious commitments on a ZEV transition. Existing signatories will gain access to support in delivering their commitments. The UK Government is also working closely with international partners to launch a number of projects aiming to strengthen the support offer for emerging markets and developing economies in transitioning to ZEVs.
Steering: The UK government's COP26 Zero Emission Vehicles Campaign in the Department for Business, Energy and Industrial Strategy has been working in partnership with the HLAC team, The Climate Group, and other campaign partners to undertake global outreach to get additional signatories for the declaration. The new Accelerating to Zero Coalition will be equipped with a stand-alone secretariat that is to coordinate its activities.
2. Global Memorandum of Understanding on Zero-Emission Medium- and Heavy-Duty Vehicles
Objective: The Global MOU aligns leading countries on the same level of ambition for zero-emission medium- and heavy-duty vehicles (ZE-MHDVs). Country signatories strive towards a non-binding target of 30% of newly sold MHDVs being zero emission by 2030, and 100% by 2040. MHDVs are defined as those with gross vehicle weight larger than 3.5 metric tons.
Signatories: The first wave of 16 countries from Europe, the Americas and Oceania has signed the Global MOU during COP26 in 2021 and the ITF Summit in 2022. In addition, over 60 sub-national governments and businesses have since endorsed the MOU. New MOU country signatories and endorsers shall be announced at COP27. The goal is to get a high combined market share on board as well signatures from emerging economies, to send a strong signal to MHDV manufacturers.
Activity: The MOU includes a forum for coordination, collaboration and information sharing on ZE-MHDVs. The forum supports countries to achieve their ambition, share implementation lessons learned, and monitor collective progress. For example, a series of deep dive webinars has been held to inform policymakers to design policies for ZE-MHDVs by connecting countries with technology and business experts. In July 2022, a Global Roadmap for Reaching 100% ZERO-Emission Medium- and Heavy-Duty Vehicles by 2040 was established to define actions and a timeline for how to achieve Global MOU goals. On the Clean Energy Ministerial in Pittsburg in September 2022, a call to action has been released to campaign for additional country signatories.
Steering: The Global MOU is co-led by the Netherlands and CALSTART/Drive to Zero
3. Clydebank Declaration for Green Shipping Corridors
Objective: In a nutshell, the Clydebank Declaration's signatories aim to support the establishment of at least six green corridors by the middle of this decade, i.e. zero-emission shipping routes between two or more ports
Signatories: Singapore and Palau joined in April 2022, taking the total to 24 country signatories. The latter has been the host of the 7th Our Ocean Conference.
Activity: Since the first Green Corridor MOU has been agreed between the ports of Los Angeles and Shanghai in January, multiple other ports followed with bilateral agreements throughout 2022. For example, Gothenburg and Rotterdam , Gothenburg and Gent, Rotterdam and Singapore, or Hamburg and Halifax to name a few. It is unclear to what extent the Clydebank signatories intend to count these and other corridors towards their collective commitment, or whether they are considered as 'complementary'. The US government has focused on defining the overall framework for green shipping corridors, and has reportedly shown interest in identifying corridors with Japan, Australia, and India.
A report from the Global Maritime Forum expects "that Clydebank signatory governments will play the 'convening' role in their Corridor efforts. Thus far the United Kingdom has been the most proactive government, engaging industry, commissioning evaluations and earmarking funding." Notable, the UK recently invited funding proposals for detailed feasibility studies on UK green corridors under the second round of the Clean Maritime Demonstration Competition. The three successful proposals were announced in September, and have each been allocated a share of the £12m promised to winners of the competition to aid in the decarbonisation of the UK's maritime sector. The UK will also be hosting a Clydebank Declaration anniversary event at COP27, in which the progress of signatories and industry towards the establishing of green corridors will be discussed by a panel featuring industry and government representatives.
To build on these efforts, the United States and Norway have announced the launch of a Green Shipping Challenge for COP27. This initiative encourages governments, ports, maritime carriers, cargo owners, and others in the shipping value chain to come forward with concrete steps that will help put the international shipping sector on a credible pathway this decade toward full decarbonisation no later than 2050.
Steering: The UK organized and hosted the launch of the Clydebank Declaration at COP26 and continues to be a leader in galvanising action on the establishment of green corridors, but as noted above, the Declaration is a jointly signatory-led initiative.
4. International Aviation Climate Ambition Coalition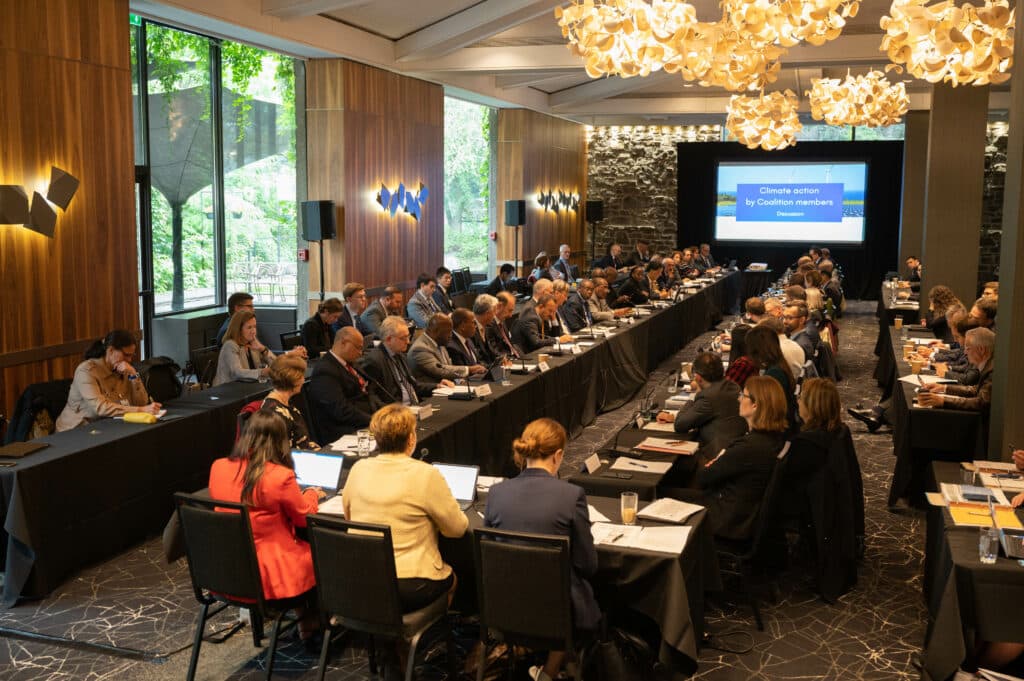 Objective: The International Aviation Climate Ambition Coalition was launched with a declaration at COP26 aimed at galvanizing support for high ambition on aviation decarbonisation, including through ICAO. Among several commitments, members of the Coalition agreed to working through ICAO to support the adoption of a long-term aspirational goal for international aviation that was consistent with the temperature goal of the Paris Agreement. This net-zero 2050 goal was successfully adopted at the recent 41st ICAO Assembly. Other commitments include ensuring the maximum effectiveness of ICAO's Carbon Offsetting and Reduction Scheme for International Aviation (CORSIA) promoting development and deployment of sustainable aviation fuels, and capacity building.
Signatories: The Coalition's membership has more than doubled since its launch, going from 25 to 59 countries, including members in all world regions with Chad, Niger and Papua New Guinea the latest to sign up.
Activity: The Coalition was especially active at this year's ICAO Assembly, making significant efforts to secure agreement to a new goal for international aviation of net zero CO2 emissions by 2050 – an historic milestone for the sector. It submitted a formal working paper calling for high ambition in setting the new goal, maintaining the integrity and ambition of CORSIA, and highlighting the importance of capacity building support. On the eve of the Assembly, Coalition states, represented by Ministers and senior officials, gathered alongside industry and NGOs to reiterate the urgency of climate action and the Coalition's commitment to continued international cooperation in decarbonising international aviation. Coalition members then worked together throughout the subsequent ICAO negotiations and were delighted by the positive outcomes and widespread support for climate ambition. The Coalition continues to welcome new members and will be considering its priorities for 2023 following the success of the ICAO Assembly.
Steering: The UK devised and launched the Coalition in its capacity as COP26 President and has played a key role in convening the group, but members are collectively responsible for its work programme and key decisions.
Conclusion
All four initiatives are very much alive. They didn't make major headlines since COP26 but have been busy expanding and diversifying their membership. The total number of countries being member to one or several initiatives has climbed from 49 to 76 within one year, plus dozens of non-governmental and subnational signatories and endorsers (and plus countries which already were in the original group of 49 yet have joined further initiatives). This is a strong sign of international engagement for the net-zero transition in transport.
Each initiative goes a different way in delivering on its goals and in serving its members, ranging from influencing multilateral negotiations (aviation coalition), to knowledge exchanges and roadmaps (ZE-MHDV MOU), preparing concrete projects (Clydebank Declaration) and coordinating activities, amplifying messages and securing more commitments (e.g. ZEV Declaration).
What unites them is their agenda of strengthening ambition and implementation. They harness collective commitment for net-zero transport systems and build mutual support. They send strong signals of policy support for transforming the transport sector, which is particularly important in the hard-to-abate sectors of shipping, aviation and road freight. Shipping and aviation are not directly included in the Paris agreement due to their transnational nature, which is why the Aviation Coalition and the Clydebank Declaration also serve to bridge between UNFCC, ICAO and IMO.
The UK continues to play a leading role in the success of the COP26 initiatives. We are optimistic that the momentum will carry on beyond COP27. Hopefully with more economies from Asia, Latin America and Africa coming on board. We look forward to continuing supporting partner countries to deliver on their international commitments.
Acknowledgements
A huge thank you to the following individuals who play leading roles in the above initiatives and have provided us with insights and feedback for this article:
Dr. Cristiano Façanha, Global Director, CALSTART
Olivia Wessendorff, Head of COP26 Zero Emission Vehicles Campaign, UK Department for Business Energy and Industrial Strategy
Tom Hyne, Senior Policy Advisor, Net Zero Strategy, Transport Decarbonisation Directorate, UK Department for Transport
And to Felix Klann for assisting in the update of the COP26 initiatives diagramme as well as to Kyona Eichhorn for her desk research.
Transport Data Commons Initiative: We won 2nd place!
In its seventh round, the German Mobility Prize (Deutscher Mobilitätspreis, DMP) announced the winner of the most prestigious award in the digital mobility sector in Germany. Covering over nine different categories, the German Federal Ministry of Transport and Digital Infrastructure (BMDV) honours innovative projects by citizens, entrepreneurs, and experts, as well as outstanding individuals who are rethinking the future of mobility. Thanks to public voting, the Transport Data Commons Initiative (TDCI) became one of the top two competitors in the International category. The final decision was made by an expert jury on 26th October 2022, with the final winners announced during the award ceremony on 27th October in Berlin.
The TDCI aims to tackle one of the main challenges facing impactful and evidence-based transport policies: the availability and accessibility of data.
In most countries around the globe, the transport sector is emitting ever-increasing GHG emissions and pollutes the air of millions of inhabitants. Yet there is currently little reliable statistical transport data in developing countries that could guide data-based decision-making. Most projects and institutions collect data for specific aims and/or sub-sectors, such as road safety, in various metrics. Information is usually published in PDFs and uploaded to various websites, or sometimes not made publicly available. The fact is that smart and sustainable transport policies cannot be reached without an open-source statistical system. Also, in Germany, governments, cities, organisations, and researchers, as well as data managers and civil society need accessible, transparent and up-to-date data to analyse current mobility and its impact on our environment. A common, shared and frequently updated database for the transport sector is not available in the public domain – yet.
Our vision is to develop a joint and open-source data platform, accessible and usable for all. The purposes can vary, from evidence-based neighbourhood improvement, to modelling greenhouse gas emissions for your country or your city, to determining which mix of modes of transport will increase air quality and impact other environmental factors. The Transport Data Commons focuses on countries with poor data systems and would create a joint benefit that none of the participating organizations, state authorities or public transport operators could achieve on their own. In the mid-term, it would save money, reduce data gaps and increase the quality of modelling, evaluation, impact assessment and reporting of climate-friendly and sustainable projects in the transport sector. If data sharing and open data approaches were to become more common, data collection would be much easier.
The TDCI started in May 2022, in the context of the ITF Forum, with 20 people representing over 17 organisations. In a second in-person meeting in Oxford, the initiative expanded, now with over 20 organisations, ranging from universities, international development organisations, Multi-Donor Banks, and consultancies. The aim to make transport data transparent and available on an open common platform is what drives the initiative.
Current partners are (in alphabetical order): ADB, CCG/FCDO, CAF, Chalmers University of Technology, EC JRC, Fabrique des Mobilités, FIA, GIZ, IEA, IFEU, IIASA, ITDP, ITF, KfW, MobiliseYourCity/AFD, Ricardo, SEI, SLOCAT, TUMI, UC Davis, UNECE, University of Oxford. We are open to including further partners, organizations and individuals.
TraCS is implemented by GIZ and funded by the International Climate Initiative (IKI) of the German Ministry for the Environment, Nature Conservation and Nuclear Safety (BMU).
NUMPs guiding living mobility ecosystems in Latin-America
This article is part of our #StoriesofChange where we profile the work of our partner countries in developing climate actions in transport. Read more #StoriesOfChange and follow the Hashtag on Twitter.
A living ecosystem in flux
In recent years, sustainable mobility solutions have flourished in several Latin American cities. On the one hand, bicycle travel in Santiago de Chile has increased 900% over the last ten years, with the total length of cycling paths reaching some 300 km (and growing). On the other hand, in Montevideo (Uruguay) the first 40 electric buses are now in operation, out of a targeted fleet size of 100.
Nearly seven years since the Paris Agreement, we have become more aware of the consequences of climate change and how urban mobility can be transformed to reduce emissions (e.g. by promoting cycling and by improving transport systems, among other measures). But are we achieving anything? Are we moving collectively in the right direction? Can the sum of our actions achieve real transformation?
This is where National Urban Mobility Policies and Programmes (NUMPs) play a crucial role. NUMPs enable us to develop a vision and set long-term goals for achieving sustainable development, aligned to the needs of each country.
How can a strong mobility ecosystem improve climate action? The following discussion shares the experiences of Chile and Uruguay – two countries which, in line with their national context and particularities, have developed NUMPs under the aegis of the EUROCLIMA+ programme.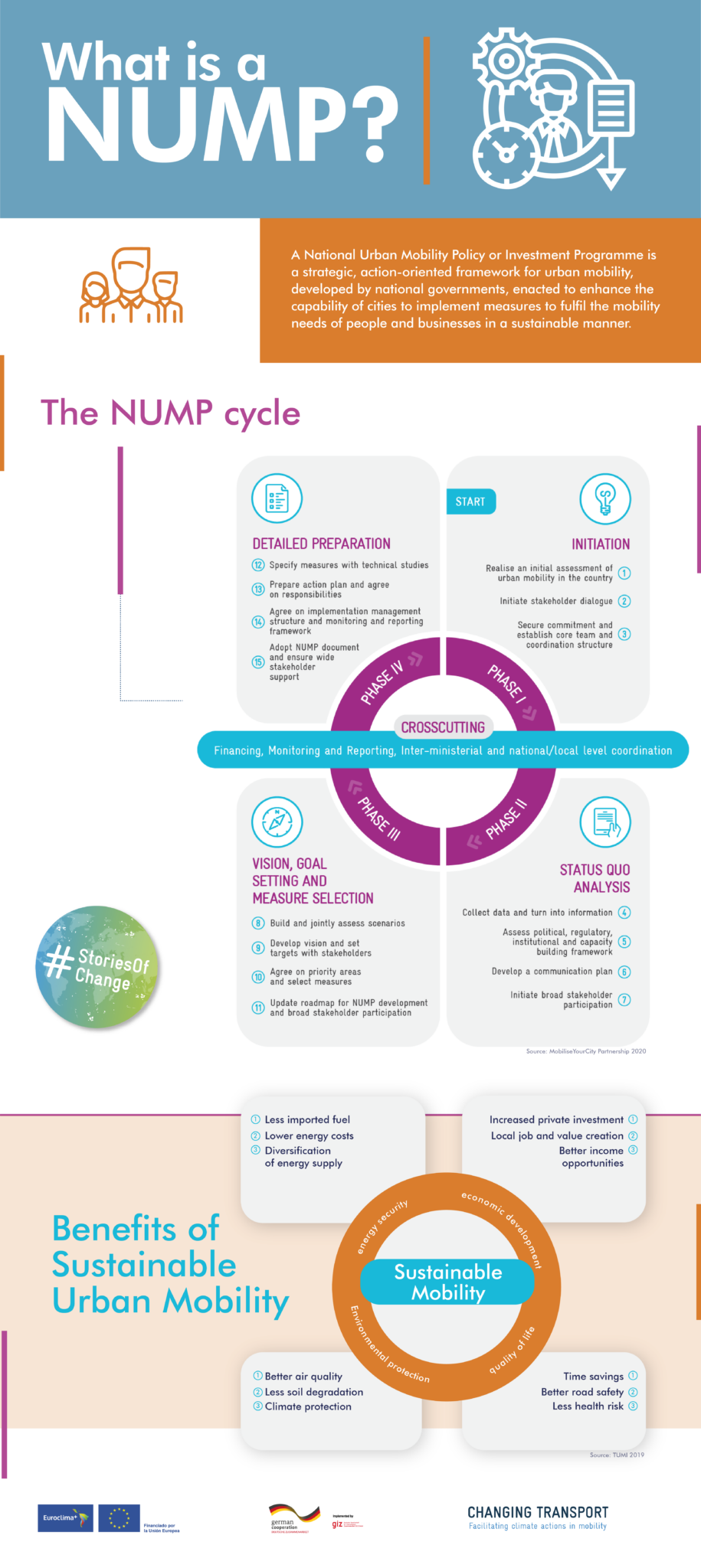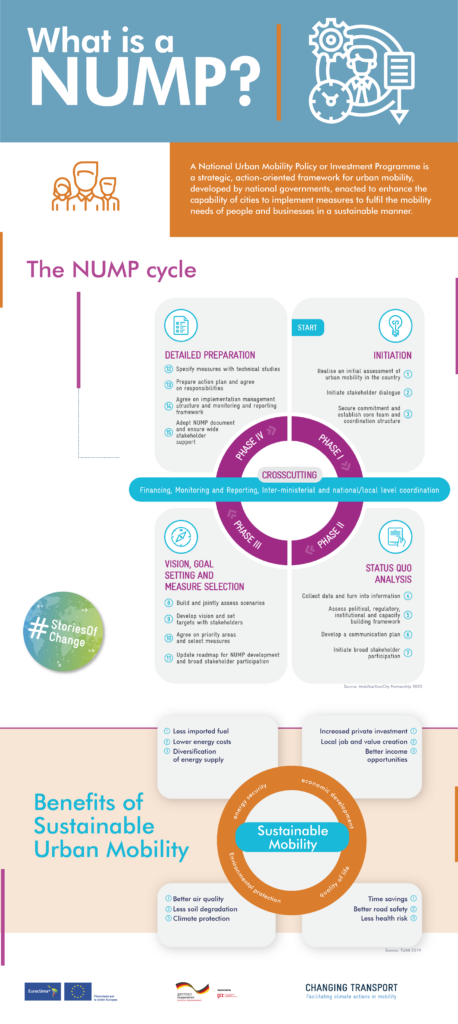 Engaging actors to develop a ready-to-implement policy
MobiliseYourCity's methodology provides a roadmap for the capacity-building process. This helps to ensure a high-quality NUMP that is aligned to a broader policy framework. However, stakeholder participation and ownership are crucial for a NUMP to become a reality beyond pledges on paper.
The NUMP guidelines are flexible, allowing piecemeal adoption to a specific context. Chile and Uruguay pursued a similar initial strategy – that is, to build on a baseline approach with an in-depth status-quo analysis, enriched by qualitative experience from directly involved actors. While Chile built on a series of workshop with practitioners from different ministries, advancing a "horizontal" approach to mobility, Uruguay decided pursue a bottom-up perspective, working with five cities.
Two initial questions were posed to guide collective analysis: How can I contribute to and participate in the urban mobility system? What is in my power to contribute to a solution? In this way, both countries defined the problem at hand while simultaneously identifying the roles involved in building a better transport model. This was achieved as part of a participatory process that captured the complexity of the topic.
We acted as a liaison between governance frameworks and actors in urban mobility, in order to engage actors and encourage them to elaborate pathways for long-term sustainability.
With national and municipal actors in Chile and Uruguay, respectively, this process not only encouraged the development of technical capacities, but also fostered a willingness to implement actions together.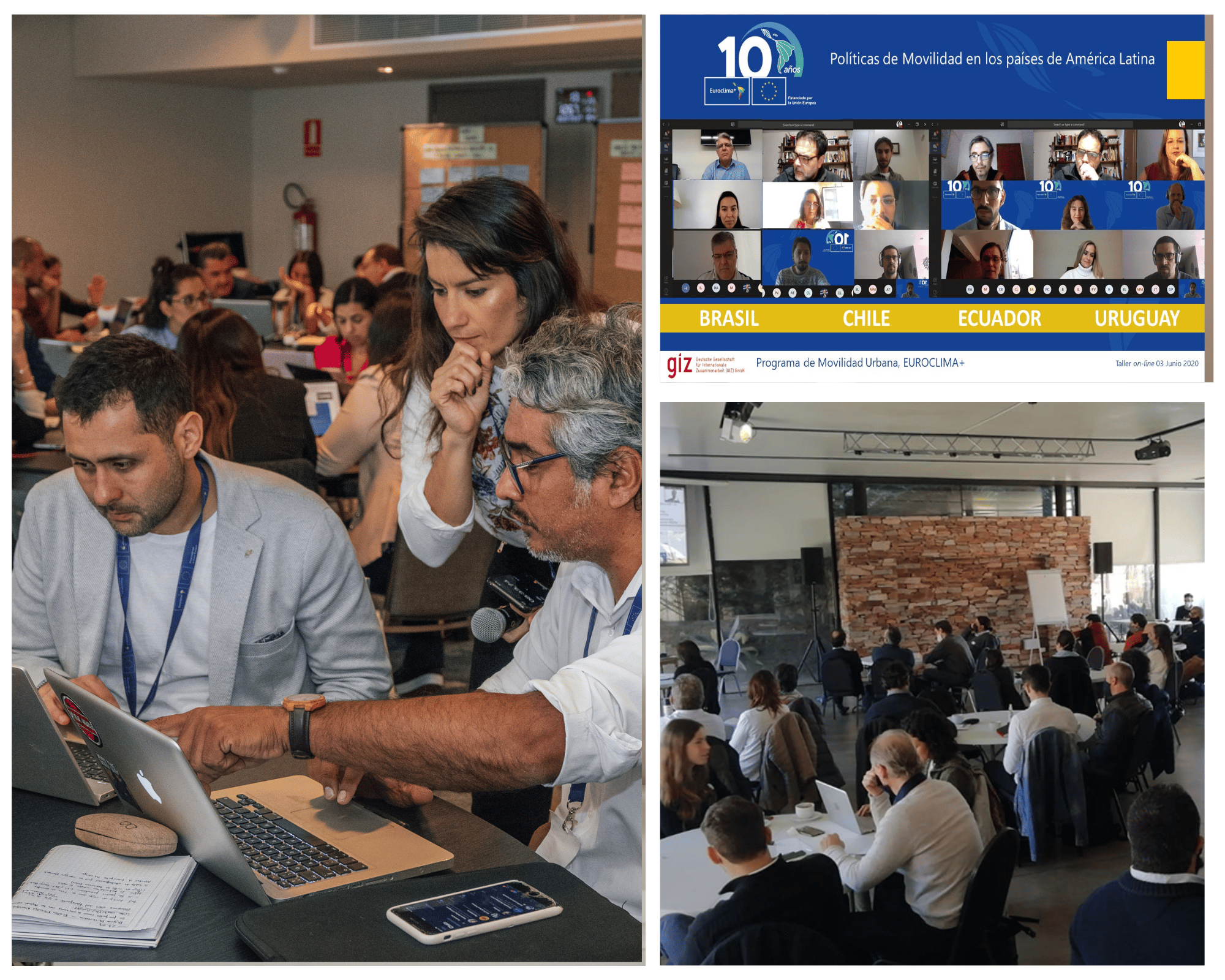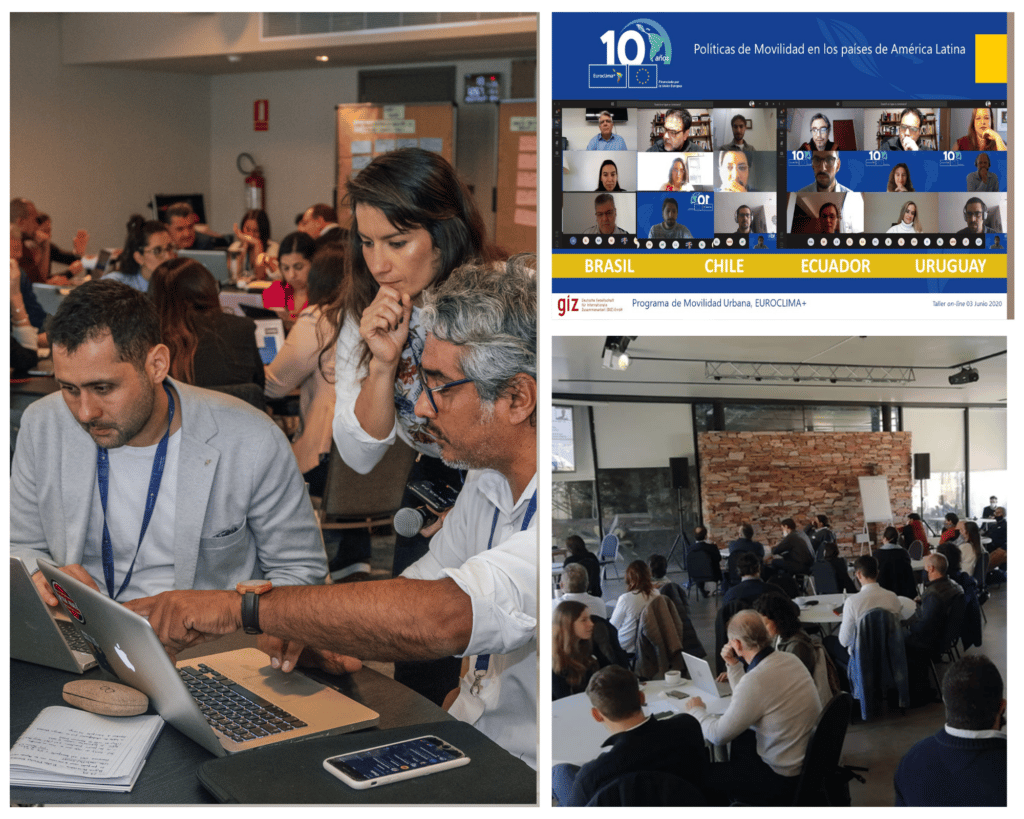 Vertical dialogue
Understanding the link between the national and municipal level is essential for the development of ready-to-implement policy. In these two countries, governance structures are very different. In the case of Chile, despite an ongoing national devolution process, the institutional framework for urban mobility is still very centralised. By contrast, in Uruguay, cities and intendencias (regional authorities) have total legal autonomy to establish their own strategies and policy frameworks in the domain of territorial planning and transport. Designing frameworks that allow efficient coordination and effective support from the national to the municipal level must take these very divergent national circumstances into account.
Originating from different styles of governance, both countries have defined policies focusing on how transport can be made compatible with sustainable development. On the one hand, Chile has developed a strategic framework for multisectoral horizontal cooperation. On the other hand, Uruguay is providing a perspective for cities to move towards a mobility system while leveraging vertical cooperation. This policy process has allowed the countries to empower mobility as an aspect of climate action and set goals connected to their NDCs. Furthermore, it has given mobility an important role in promoting sustainable transport as an aspect of green-growth and sustainable development. Linking the national level to cities enables the NUMP to be specific regarding policy guidelines for cities.
In such a diverse ecosystem of stakeholders, a clear working plan and good communication are crucial. In both countries, the "Avoid–Shift–Improve" model was placed at the centre of policy efforts, thus spotlighting the comprehensive action needed to achieve successful outcomes.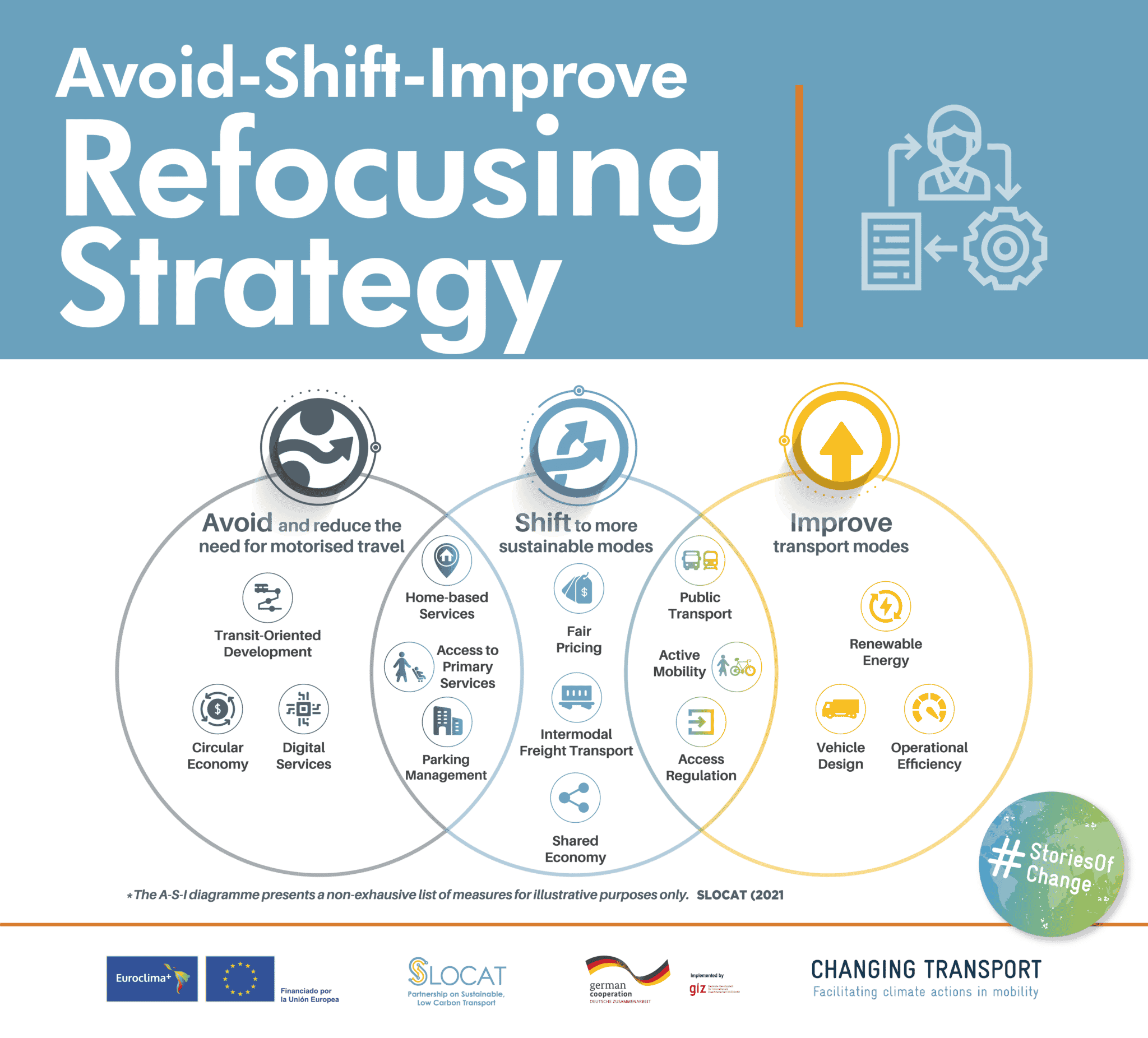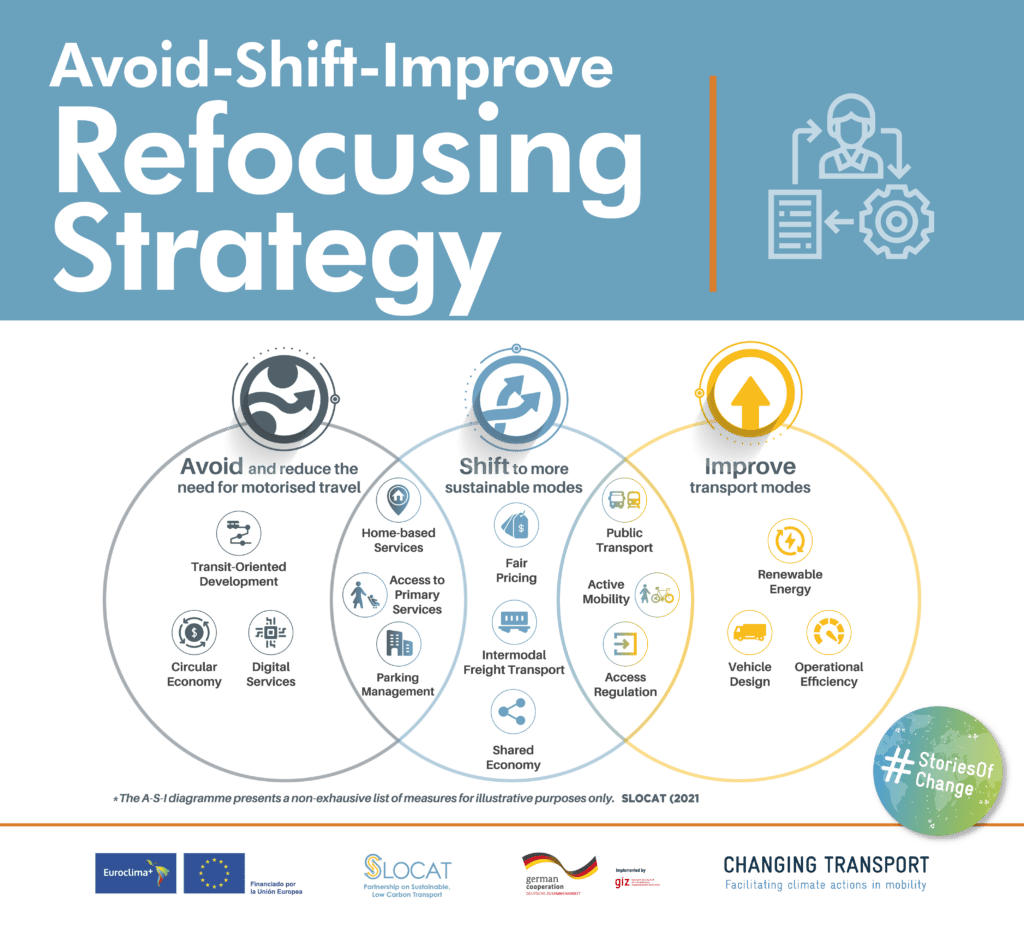 A flexible guidance structure
Staring a NUMP process is challenging. One issue of concern was to establish certainty for actors in a rapidly changing environment. As the transport ecosystem is in a dynamic state of change, some stakeholders questioned the need for a fixed policy framework. This underscores the need for a NUMP that is both agile and flexible. In this connection, adequate time must be devoted to establishing suitable organisational structures for steering the process.
Chile agreed on providing a financing structure to enable regions – at the intermediate level between national and municipal government – to implement sustainable mobility. Uruguay proposed the creation of a steering entity that would direct the process across sectors, in order to assist cities in implementing sustainable mobility. This steering entity was christened the Interinstitutional Sustainable Mobility Commission (CIMS).
These two NUMPs generate a vision, define objectives, and elaborate measures to be implemented. Some of the measures are to be implemented at the national level – however, in each city in which urban mobility takes place, permanent coordination is needed. Learning from the northern city of Antofagasta in Chile, a form of support adopted to make the transformation sustainable is to have local mobility plans (SUMPs). In this connection, the national government should provide encouragement and support. This is where flexibility comes on board, rather than a rigid legal framework. In this way, NUMPs are guidance structures that help to secure the sustainability of the transformation, connecting sustainable mobility to national targets, such as those arising from NDCs or the Sustainable Development Goals.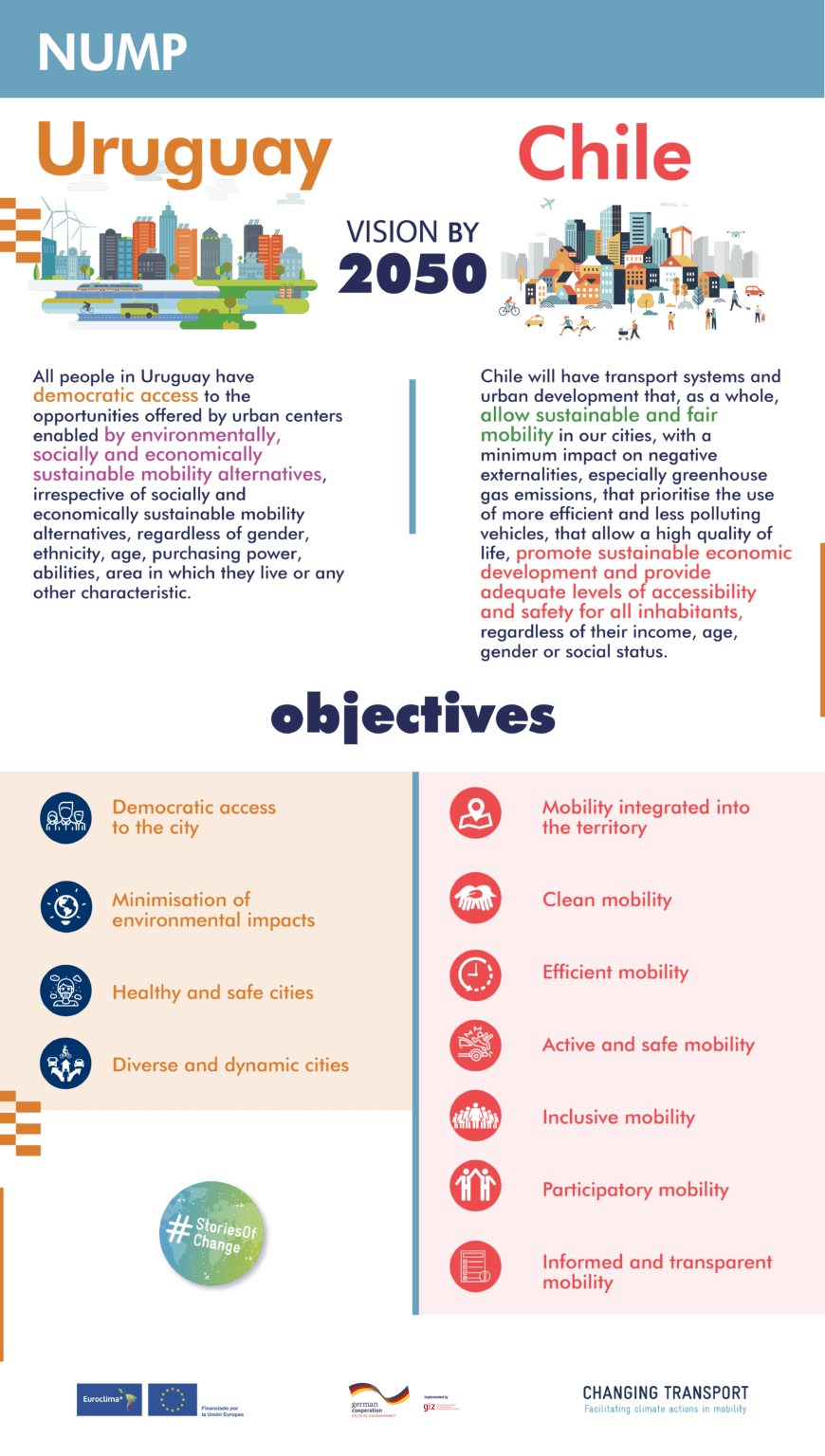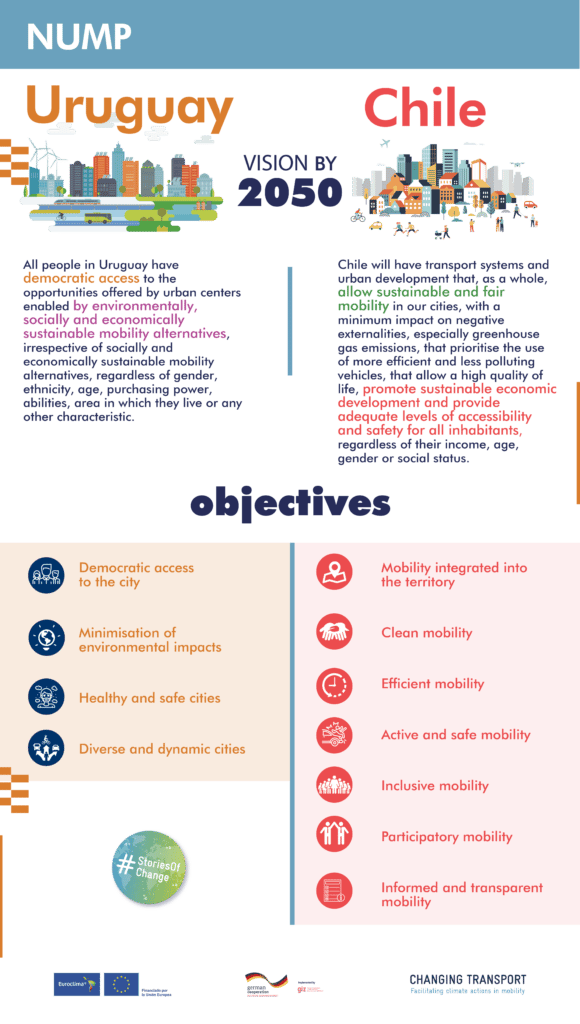 Sharing responsibility
Implementing sustainable mobility crucially depends on answering two interrelated questions: What is the policy aim? And how can we achieve it? The NUMP defines the organisational structure for collaboration between sectors and between different levels (e.g. national, regional and local). By defining achievable measures in the domain of sustainable mobility, it ensures that developed targets are appropriate and realistic.
From this perspective, the NUMP should consider that the ecosystem is in flux and constantly evolving, and that the role of the NUMP is not to control, but rather to steer the development towards a collective vision and larger aims connected to sustainability. Actors should not only be involved to validate policy, but also to provide valuable information on real-world circumstances, governance cultures and roles, and to contribute to the development of organic and effective solutions.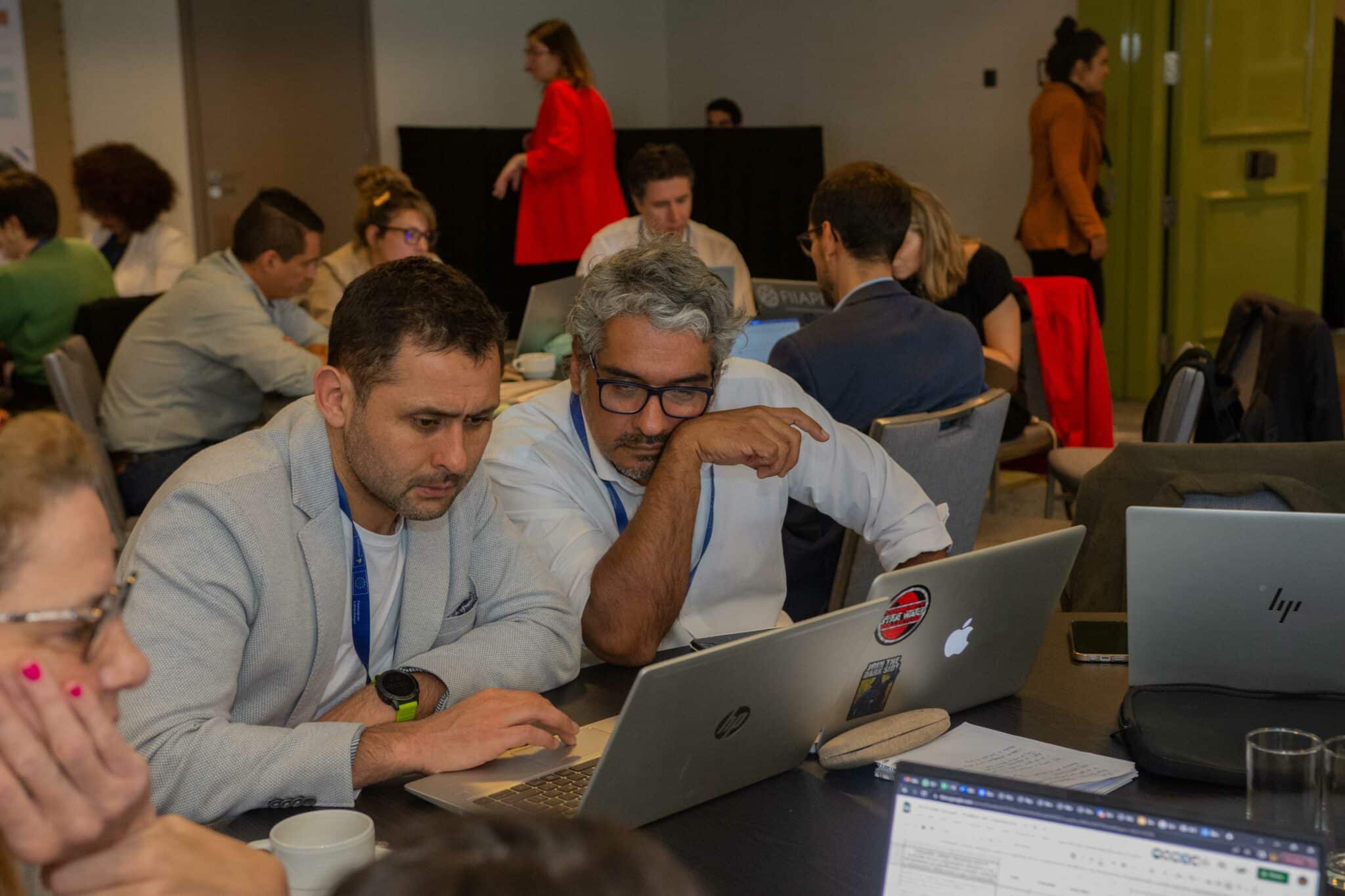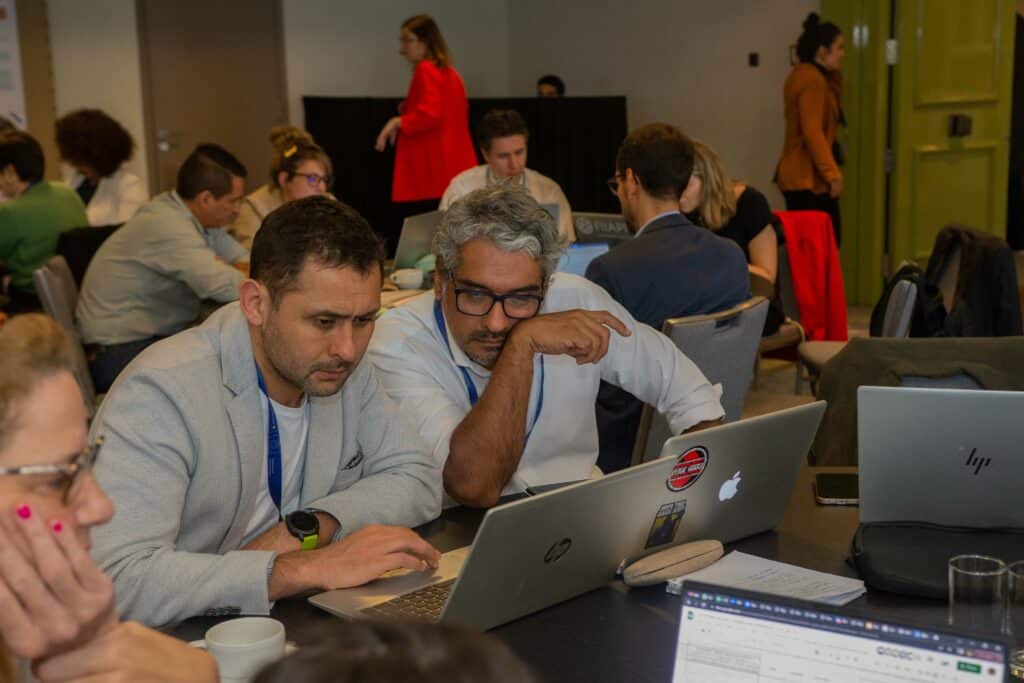 In this way, the elaboration of a NUMP relies not only on capacity development and network building, but also on gathering information about real-world conditions, in order to identify a viable guidance pathway. Establishing a relationship with cities enable implementation, and highlights the role of the national level as a facilitator. Finally, the NUMP should have an agile and flexible framework, in order to ensure adaptability to novel or unforeseen circumstances.
Various "lessons learned" were generated by the simultaneous implementation of the NUMP process in both countries. On the one hand, it became clear that methodologies must be informed by a participatory process, in order to translate the methodological steps into practical contexts. This process should be designed to build capacities while also identifying relevant actors and the roles they should play in ushering in sustainability. The formation of a multisectoral group can help to make the journey from a theoretical framework to a specific reality, thus ensuring the NUMP is an instrument ready to be implemented, i.e. a policy that foresees specific measures, based on a larger vision. Flexible and agile management structures should be the aspiration of a NUMP, in order to enable policy adaptation during the process, and incorporate changes easily.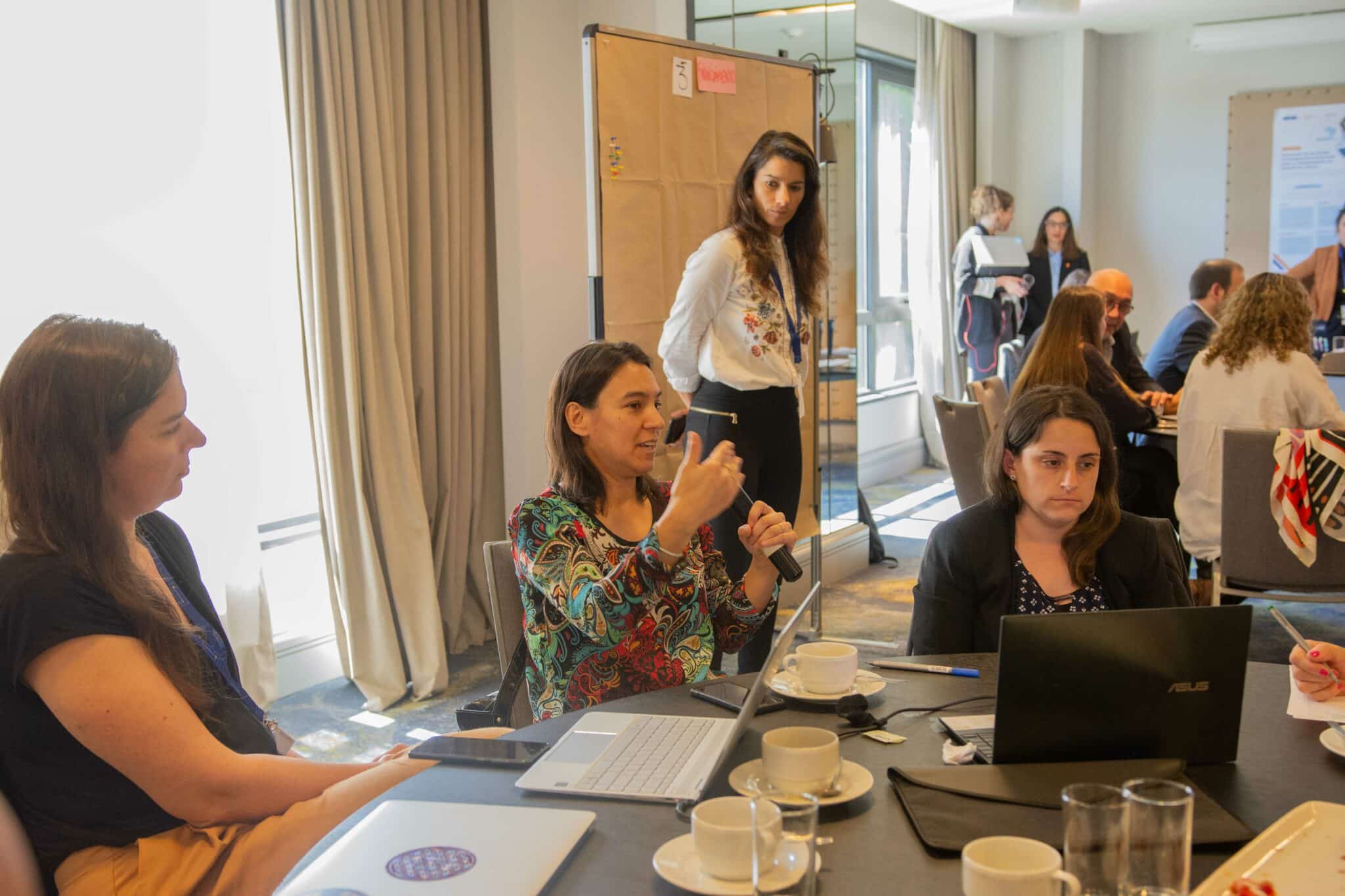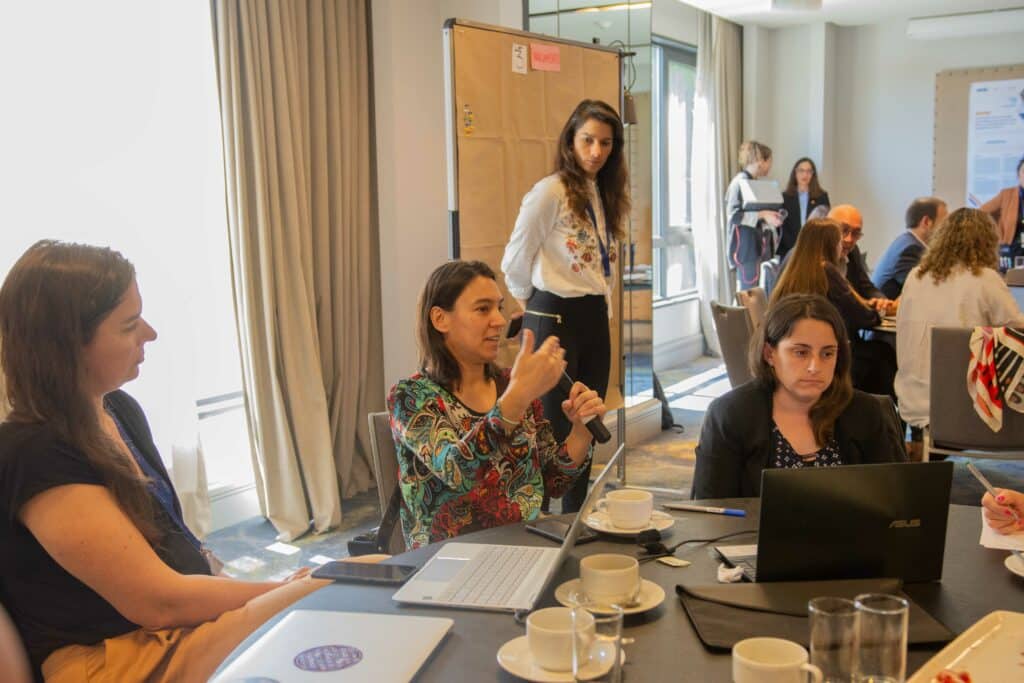 Agile and inclusive
Both Chile and Uruguay now have NUMPs that are actively contributing to the promotion of sustainable mobility. In the case of Chile, a National Mobility Program is to be designed. This program will generate access to financial support for cities that are willing to initiate the process of implementing sustainable mobility. In addition, regional authorities and practitioners can benefit from capacity building measures, so that they can better understand how the National Mobility Strategy should be implemented. In this connection, a two-way dialogue is being pursued, with the national level providing assistance to regional and local actors; these actors, in turn, contribute their perspectives, according to realities on the ground.
In the case of Uruguay, a Country Dialogue is being implemented as part of the EUROCLIMA+ programme. The aim is to develop an institutional entity (the CIMS) and implement pilot capacity-building projects and local communities of practise that can be scaled up to the national level. Uruguay is showcasing the next step in the policy process, in order to enable implementation in a flexible and agile manner. In particular, active collaboration with municipal actors will be pursued to learn based on real-world experiences. A "learning group" will be formed to assist local mobility planning and pilot projects, in order to create a community of practise that can serve as a model in other jurisdictions, both nationally and across Latin America.
We invite you stay abreast of the policy achievements being made in Uruguay and Chile in the coming months and years, which may serve as a source of inspiration for the development of national mobility policy in your country.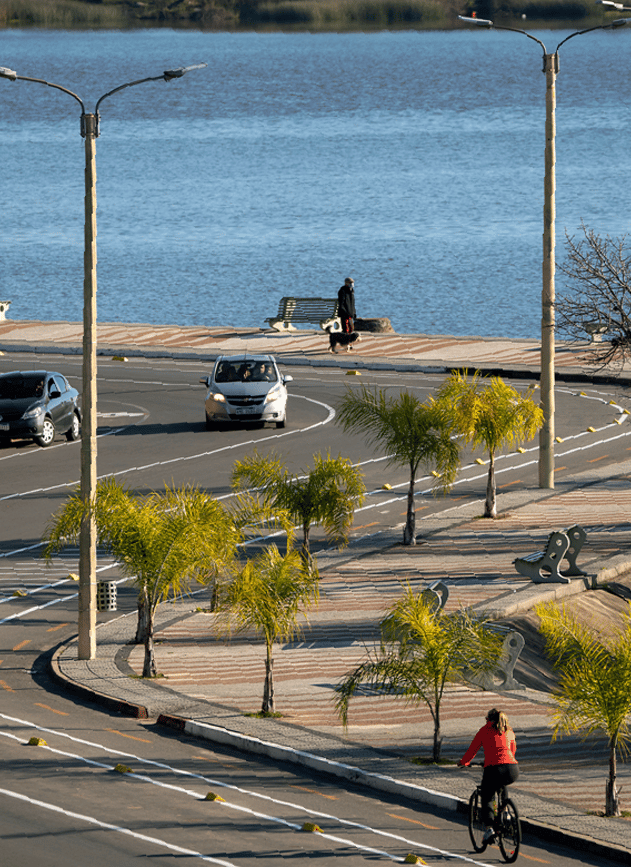 What it Takes to Build a "NUMP" – the Story of Uruguay
This article is part of our #StoriesofChange where we profile the work of our partner countries in developing climate actions in transport. Read more #StoriesOfChange and follow the Hashtag on Twitter.
The perfect scenario for success
The first road for electric vehicles in all of Latin America is located in Uruguay. In recent years, the National Electricity Company (UTE) has worked to establish the ideal conditions for the country to transform towards sustainable mobility: installation of charging stations for taxis in Montevideo, the extension of electric vehicle routes and the conversion of the utility fleet. It is worth mentioning that Uruguay's electricity matrix is almost entirely renewable. Against this backdrop, in October 2018 we initiated a process to develop a National Urban Mobility Policy.
When we landed in Montevideo, we found a working team that was far from traditional. "How to make a national mobility policy without the involvement of the Ministry of Transport and Public Works (MTOP)" was one of my first concerns. Our counterparts also found us curious: a German cooperation working in Uruguay with a team led from Chile, under a programme financed by the European Union.
We needed a working strategy adjusted to this scenario. Now, after four years, I can say that this diversity of experiences enriched the project like you have no idea. This is what I want to tell you about.
The first thing we needed to build a NUMP was the consolidation of the Project Working Group (GTP), led mainly by the ministries of environment –the leading entity for the climate agenda and focal point for the EUROCLIMA+ programme– and energy –the leading entity for the e-mobility and sustainable energy grid agenda.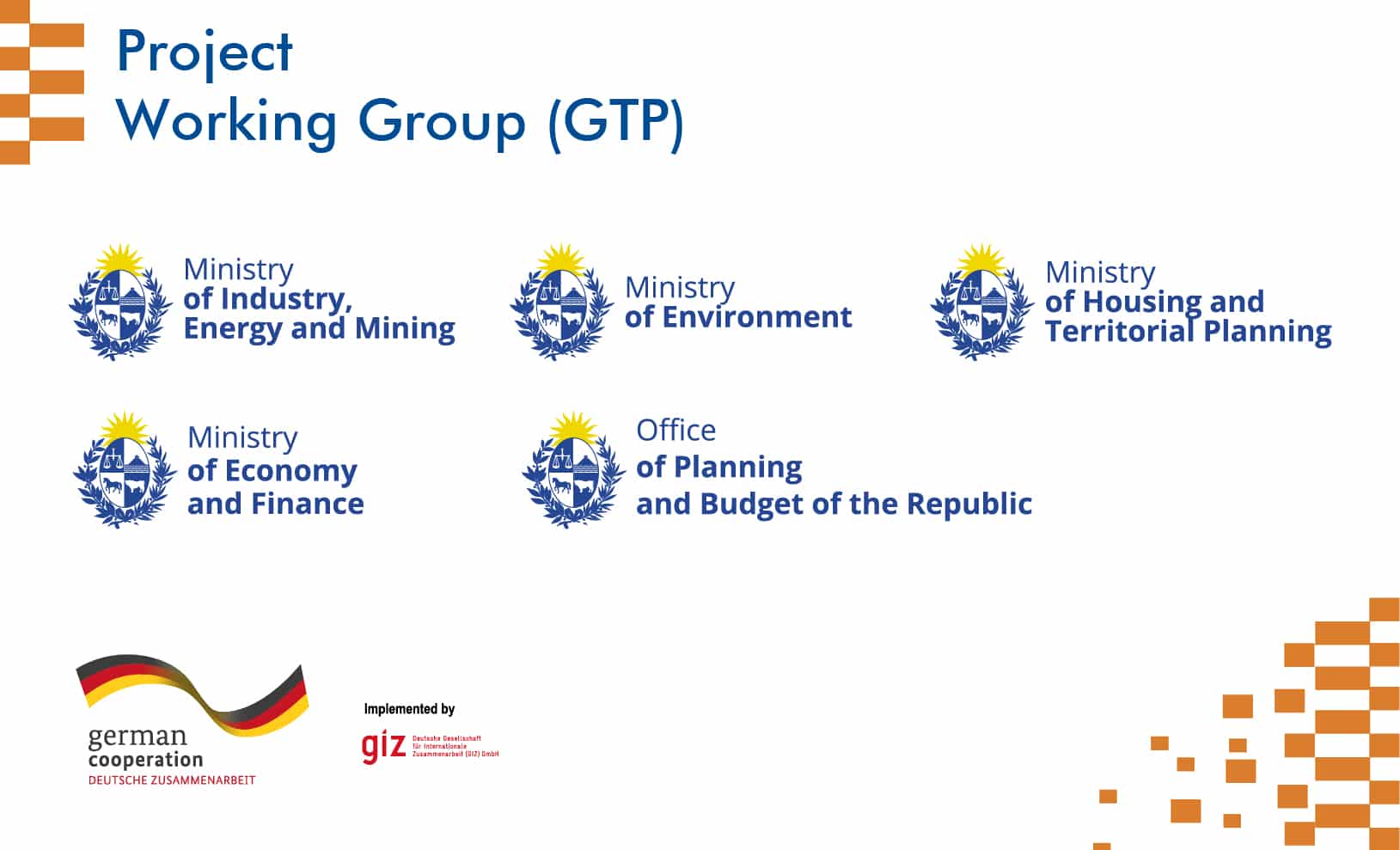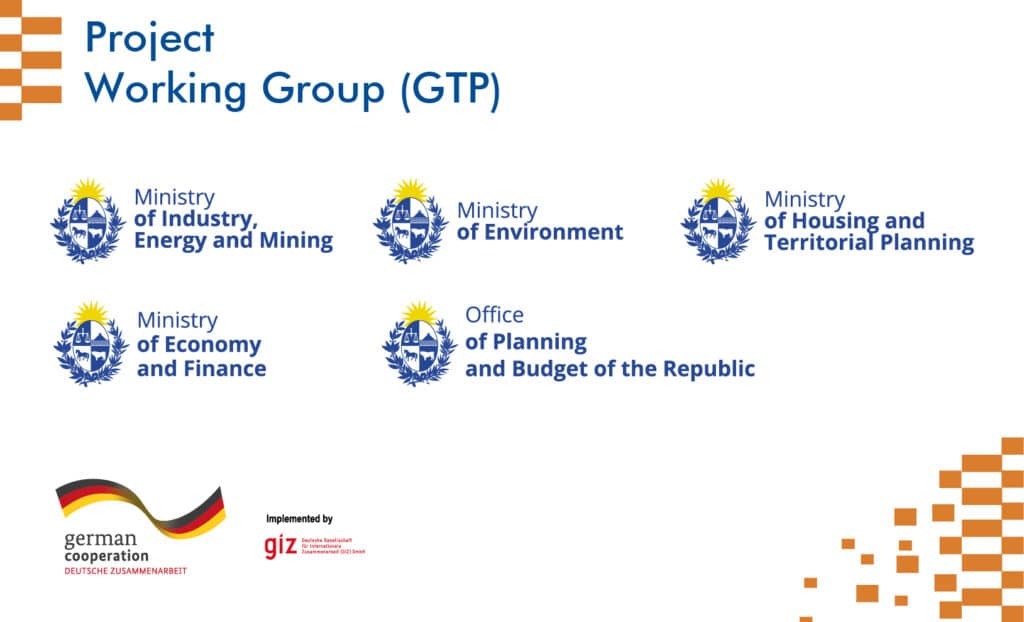 The bottom-up approach
Once our team was in place, we found a country that was already in the midst of a participatory process in which the transport and mobility sector was integrated. More than 300 people from more than 100 public institutions from the public, private and civil society sectors were convened for the elaboration of the National Climate Change Plan (NCCP).
Following this line of action in a coherent and coordinated manner, the first success for the project: the NUMP Uruguay would be integrated into national climate strategies.
The diagnosis of the status quo situation started in five cities. The GTP visited each city twice and organised a large-scale initial and final diagnostic phase. This data collection on mobility challenges and analysis added by expert consultants had two intentions:
To gather feedback from the cities on how to move forward on sustainable mobility
To identify how national policy could support local government departments (GGDD) in the transformation process (Uruguayan legislation gives this group the autonomy and responsibility to develop their own transport policies and programmes).
In a second step of the project, we organised a series of workshops to gather the perspectives of the private sector, academia, NGOs and civil society representatives with an interest in urban mobility.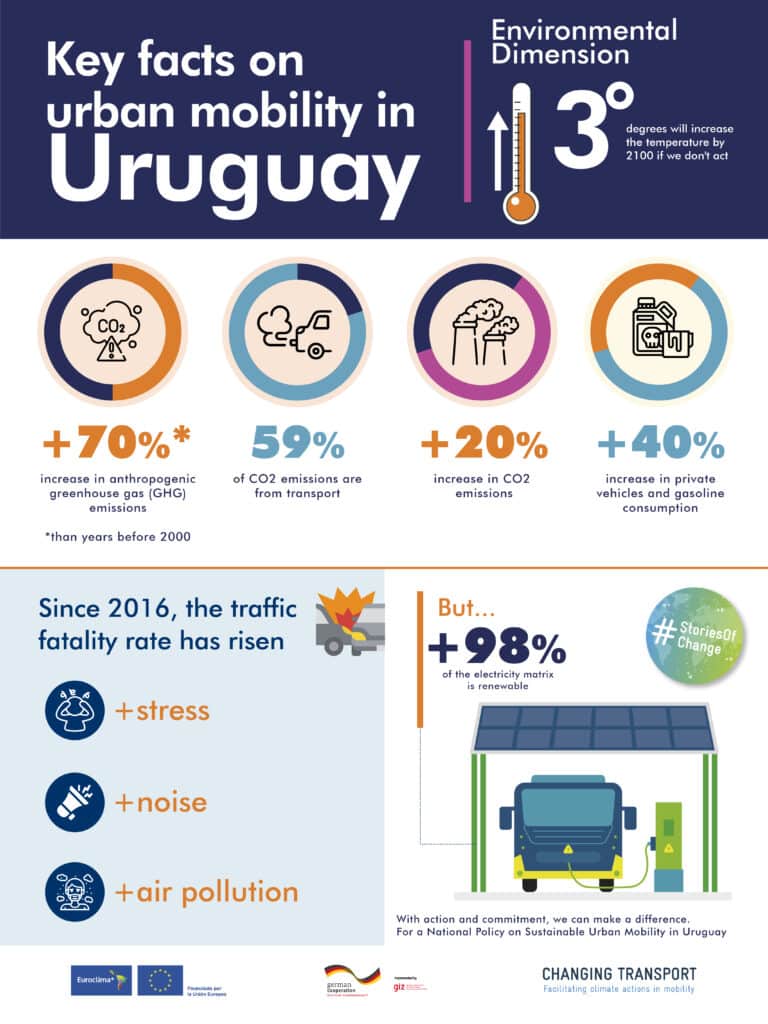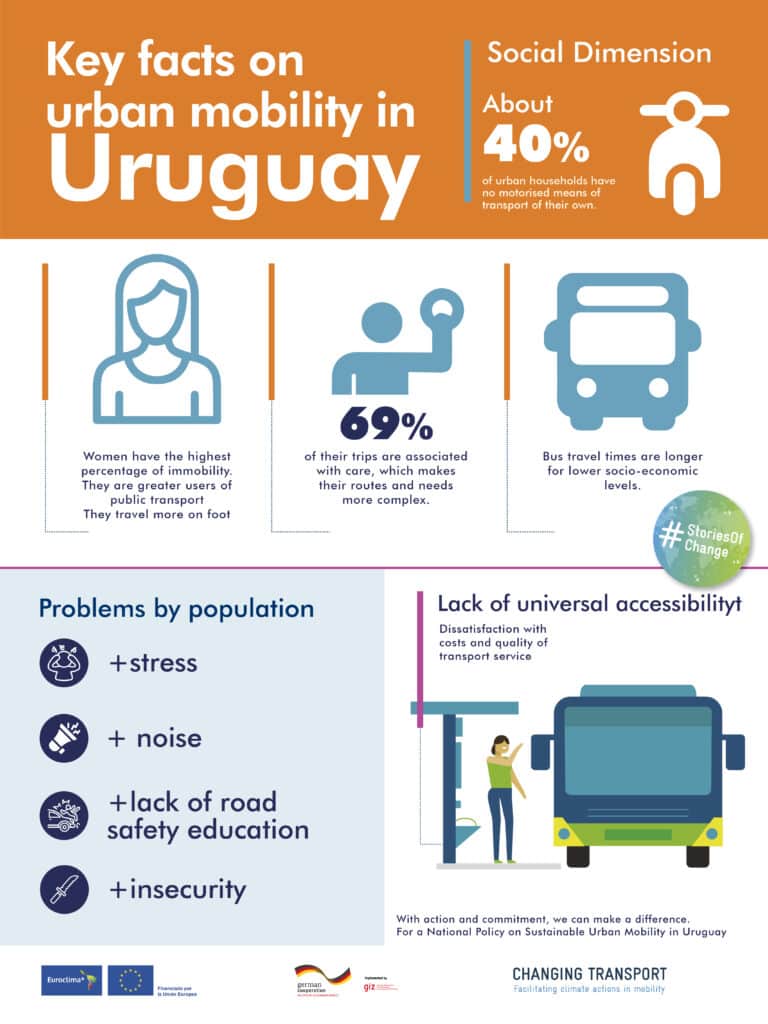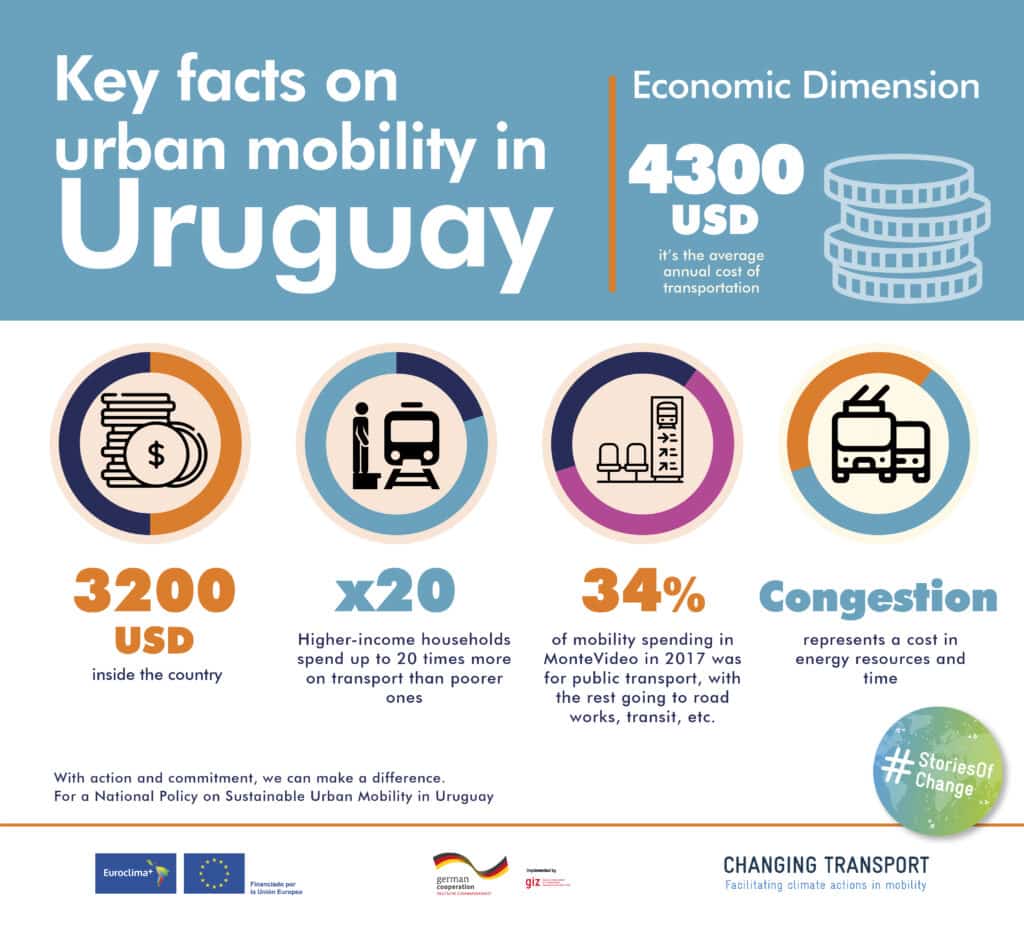 In the private sector, public transport companies and taxi drivers are interested in active participation in discussions with departmental governments and ministries involved in mobility. Indeed, this sector has been instrumental in actions undertaken in recent years to promote electric mobility. Different actors have helped to provide information on government assistance programmes, training opportunities and new regulations.
This process allowed the initial idea of a NUMP focused on electromobility to be transformed into a more holistic, people-centred vision. The GTP adopted the Avoid-Change-Improve (ASI) approach for this project: promoting a series of measures to "avoid" emissions where possible, "shift" transport demand towards greener alternatives, and "improve" existing transport systems.
"The first thing is to take into account the opinion of all the actors involved in the process of electric mobility, otherwise it would be impossible to receive the contributions that help us build the idea that electric mobility is just one part of sustainable mobility, and not the heart of the matter."

Diego Betancur, Head of Electric Mobility Project, UTE
A horizontal steering structure
Another essential aspect of building a NUMP is to consolidate the horizontal structure. In October 2022, we started internal work to define the vision and objectives of the policy. These discussions take time, especially in online meetings. Despite this scenario that we all went through due to the COVID-19 pandemic, these hours of exchanges allowed us to build a coordination where we made mutual and consensual decisions.
The GTP has the technical responsibility to develop the NUMP so that it can be adopted at the political level. Its way of working is to some extent a replica of the Working Group on Energy Efficiency in Transport, an important promoter of electric mobility in Uruguay that was chaired by the Ministry of Industry, Energy and Mining (MIEM) and has representatives from the ministries of environment, transport, economy, territorial planning, the national public company for electric mobility (UTE) and the Departmental Municipality of Montevideo (IM).
Inspired by these years of joint work, they proposed the creation of the Inter-institutional Commission for Sustainable Mobility (CIMS). This commission will lead the implementation of the NUMP and fill the gap between the national and city levels.
The GTP has demonstrated agile management based on flexibility and strategic leadership. The co-design process now reflects the vision and role of each sector within the mobility ecosystem.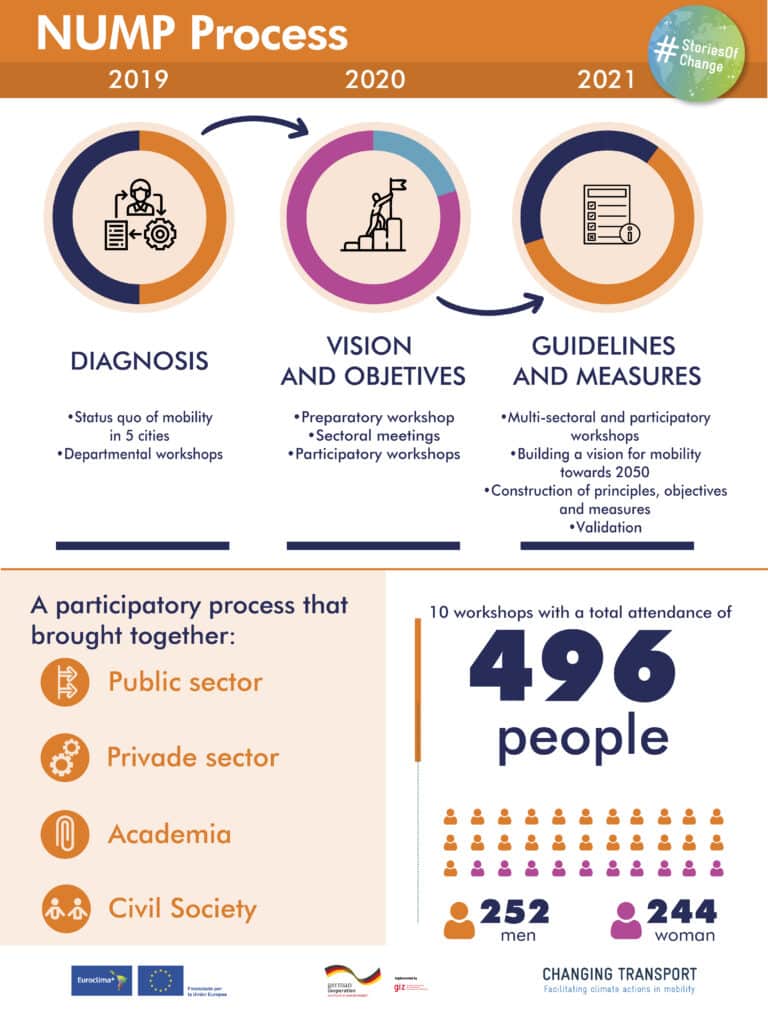 A people-centred policy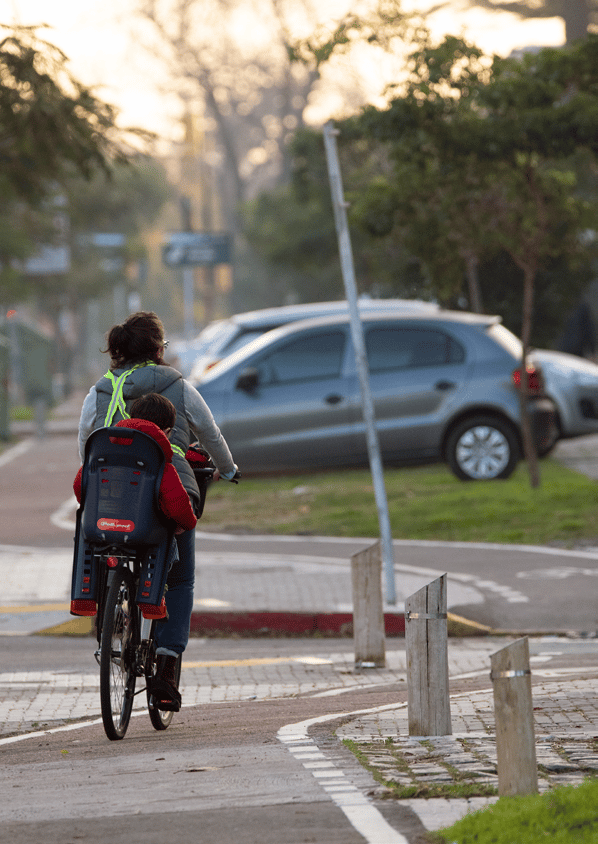 To realise the vision and objectives that we have consolidated over the years, a NUMP must integrate measures and actions that reflect the complex reality of the country.
Most of Uruguay's cities are small, with less than 100,000 inhabitants. This means that public transport is often not an economically viable option due to issues of scale. This reliance on private vehicles is a barrier to mobility for people without sufficient means.
While the project initially appeared as an opportunity to develop a policy centred in e-mobility, it has evolved into an ambitious multi-sectoral policy focused on the important role of mobility in urban life to achieve sustainable development, informed by people-centred principles and composed of measures that reflect this.
The NUMP Uruguay is clear and pragmatic; roles are identified and the institutional framework is in place. The participatory process is flourishing in its ability to manage unpredictability and risk. Information on the policy has been widely disseminated before its official launch, and city-level actors are already implementing sustainable mobility.
Here are some of its main aspects.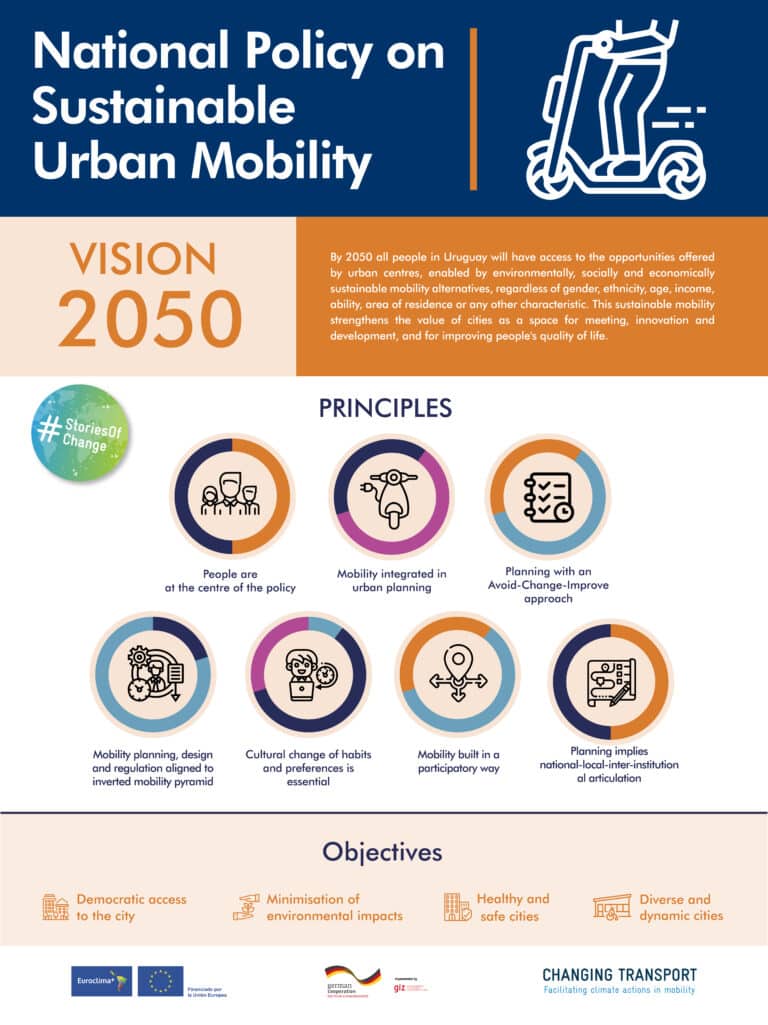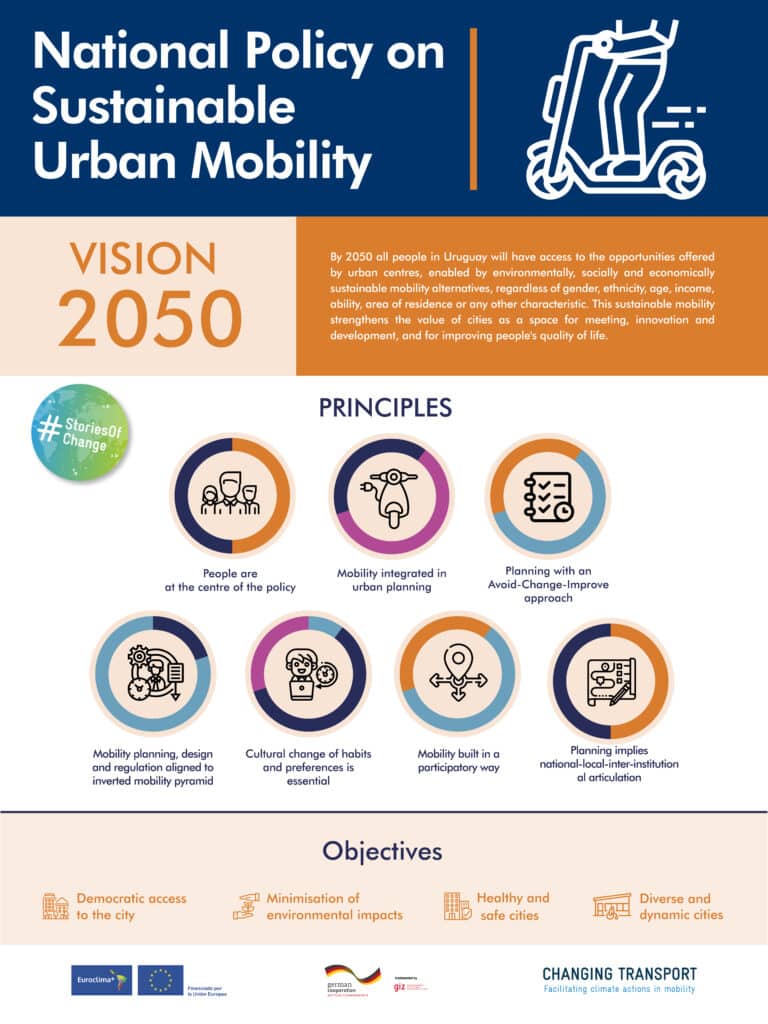 Quality control of a flexible process
An active process of exchange amongst a diversity of stakeholders can lead to an unstructured proliferation of ideas. Accordingly, a structured dialogue process is important. In line with this insight, we adopted the national policy design methodology proposed by the MobiliseYourCity alliance. This four-step methodology addresses all aspects of importance when developing national policy, ensuring it is sustainable, coherent, and applicable.
Furthermore, rather than a strict step-by-step recipe, the methodology is a holistic framework that sets a flexible path for achieving a quality outcome. Actors at the national level need to make use of their national capacity to coordinate stakeholders both horizontally and vertically.
The adopted strategy for promoting municipal engagement with the national vision was to provide cities with a strong knowledge base for change. The National Mobility Policy accompanied by two guidebooks for municipal authorities. Specifically, the mobility planning guide supports strategy development at the city level. It includes measures and recommendations to be considered when planning a sustainable multimodal mobility system. Cities also received an e-mobility guide that offers solutions and highlights aspects to consider when building an e-mobility system at the city level.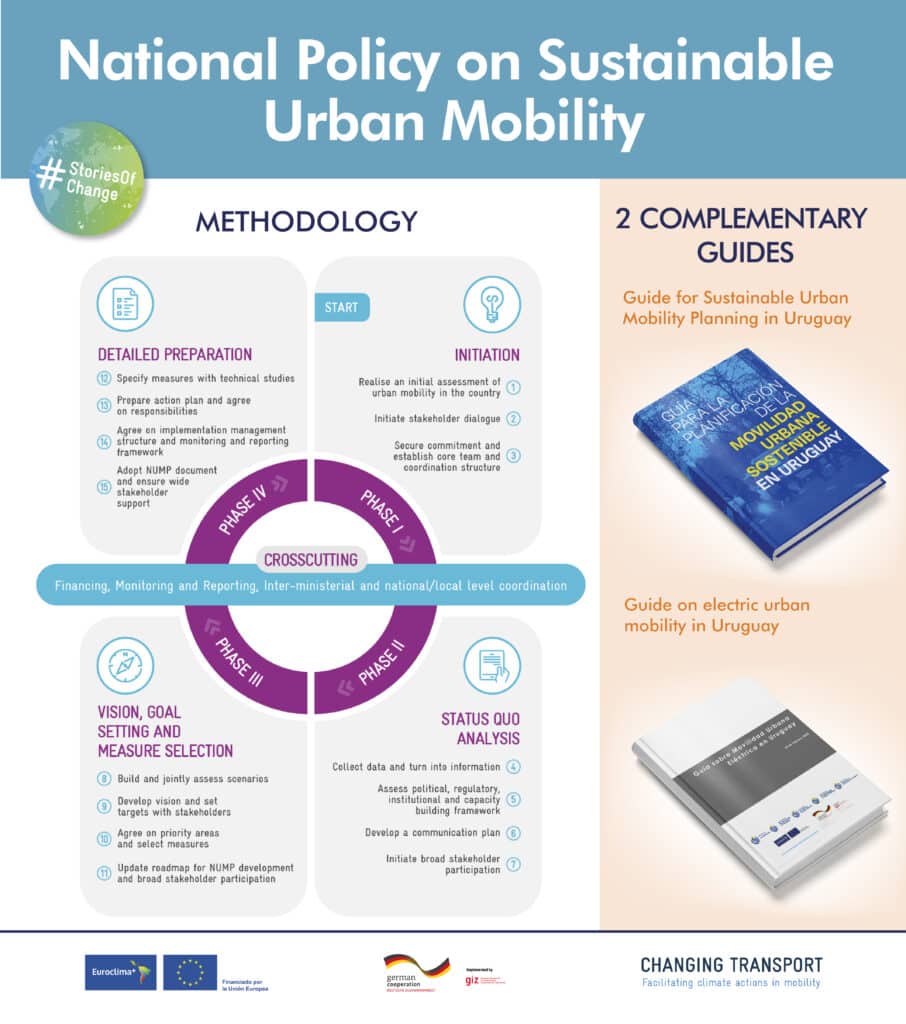 The importance of communication – conversations matter
While the need to consider the perspectives of each stakeholder group slowed down the policy development process, the inclusion of diverse vantage points clearly improved the setting of objectives and allocation of responsibilities.
At the same time, vertical coordination is crucial for involving actors and ensuring the real-world viability and implementation of the policy. It is important to carry out this process in several steps in order to recognise challenges and identify solutions. For example, if the national government is promoting sustainable mobility but not necessarily providing resources to meet stated goals, municipal actors will need to tailor their ambitions accordingly.
In this context, communication is key. We would advise implementing a dialogue process that engages stakeholders to the greatest extent possible. The input provided by stakeholders should be integrated in an iterative process. In this way, one can harness the cooperation of stakeholders who are committed to the spirit of the policy – this, to be sure, is one of the most valuable outcomes of the policy process.
What's next?
Scaling-up
Now that the policy framework had been established and cities understand the need to elaborate their own action pathways in sustainable mobility, the NUMP process is entering its scaling-up phase. As a beneficiary of the Diálogo-País (Country-Dialogue) project, Uruguay is placing an emphasis on two lines of action: first, on the building of institutional capacity; and second, on the piloting of initiatives at the city level.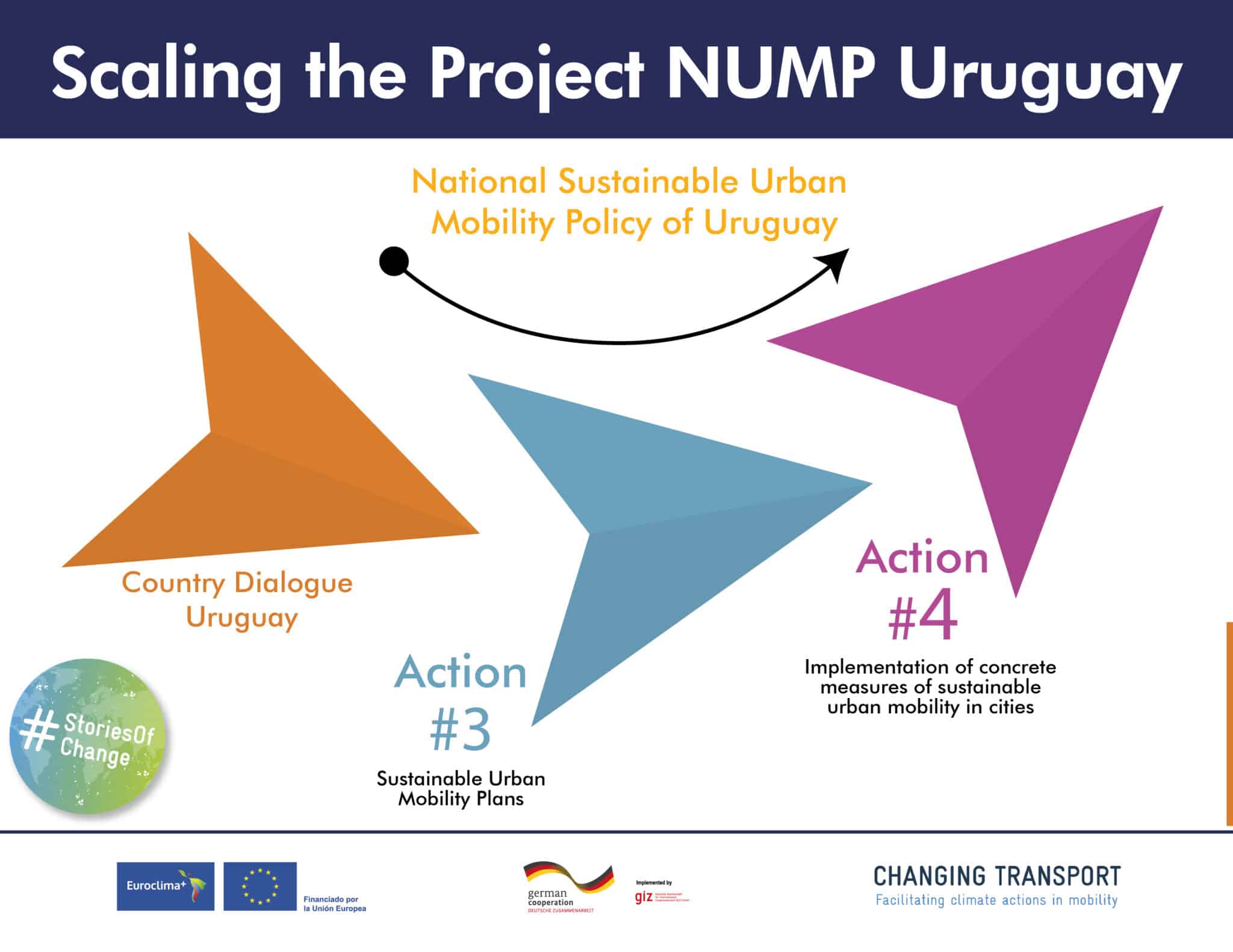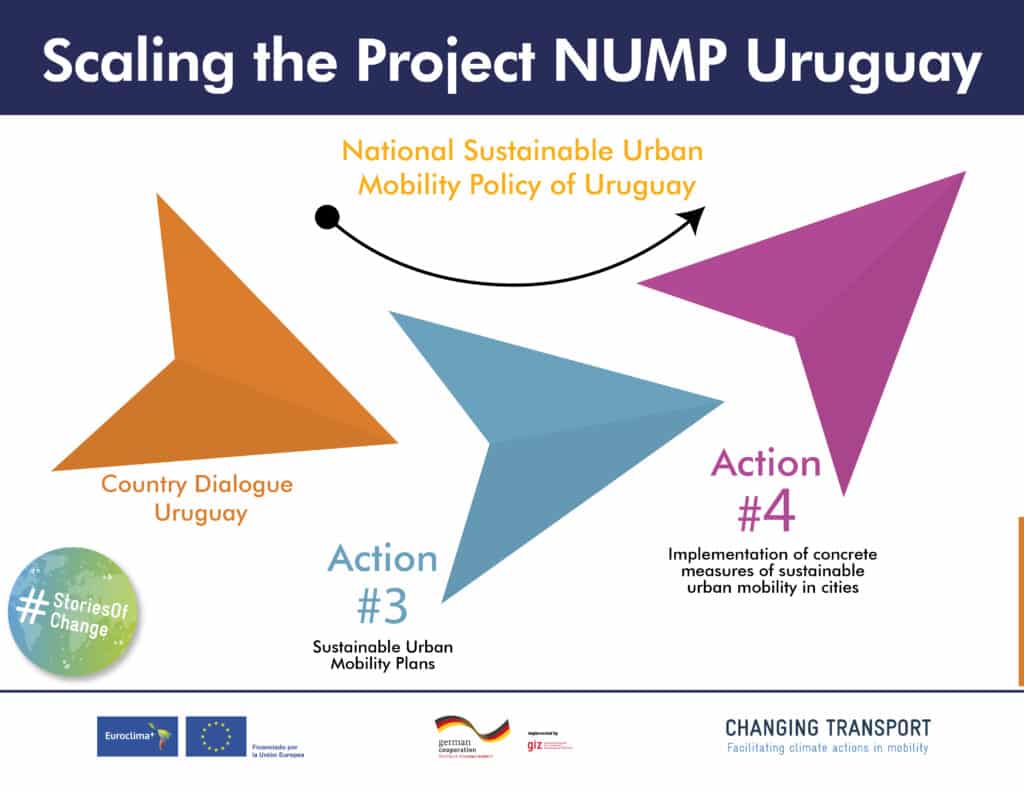 Within Action No. 3 for building institutional capacity, the Sustainable Mobility Commission will work to define how to implement National Mobility Policy. The process will build a bridge between the national and municipal levels in the Uruguayan legal framework. This CIMS will have a help desk that will work with cities to support the process of designing sustainable mobility plans and pilot projects. This help desk will facilitate technical support as well as knowledge sharing. From this process, "lessons learned" will be scaled-up to other cities and a National Community of Practices will be established. Alongside direct experience with cities, the help desk will support national actors, helping them to steer the transformation towards sustainable mobility. With Action No. 4 related to pilot projects, the goal is to monitor changing mobility patterns in urban space through tactical interventions, including potentially the deployment of small EVs.
With its Diálogo-País, Uruguay will strengthen policy implementation while fine tuning its action pathway for achieving a net-zero mobility system.
"For us to learn from this process and acquire methodologies for the development of our Long-Term Strategy is very important, not least to focus on the transport sector, which will be a fundamental variable in the aspirational scenario to achieve CO2 neutrality by 2050."

Juan Labat, Climate Change Office, Ministry of the Environment, 2020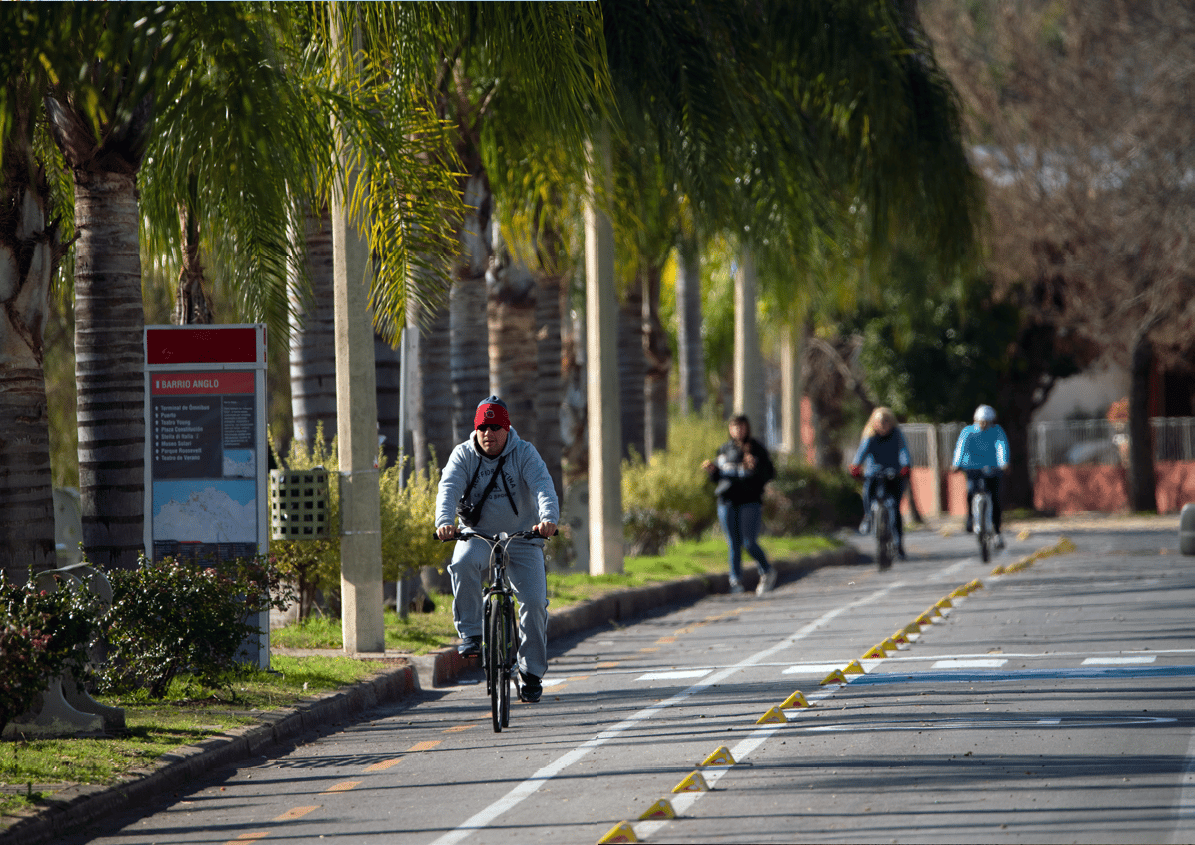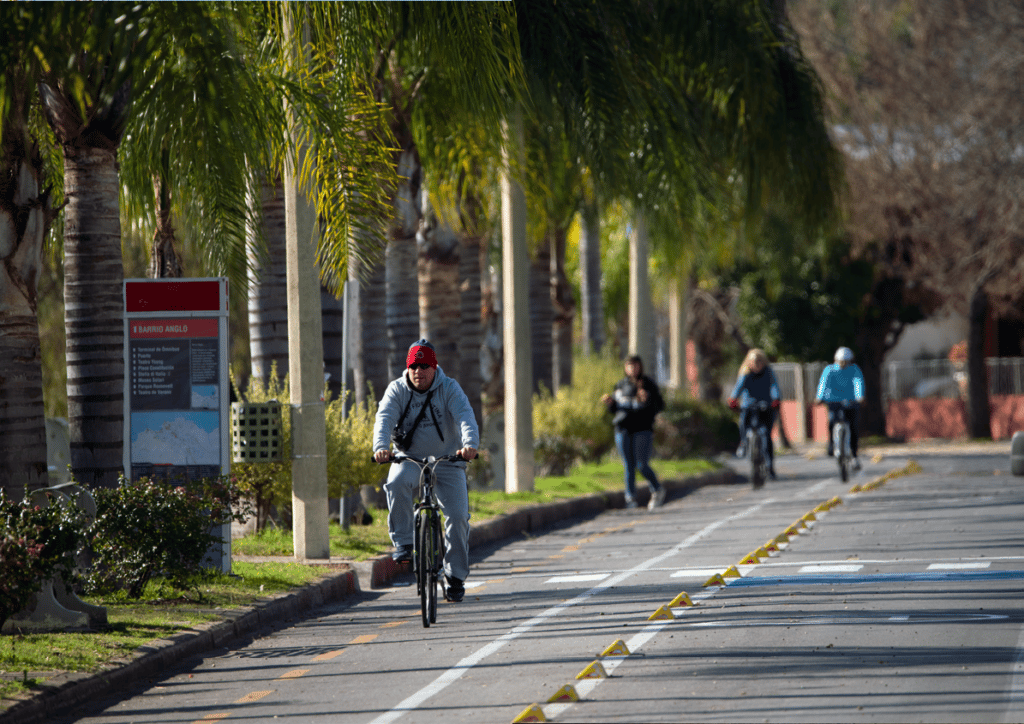 From a Functional to a Livable City – the Story of Ecuador
This article is part of our #StoriesofChange where we profile the work of our partner countries in developing climate actions in transport. Read more #StoriesOfChange and follow the Hashtag on Twitter.
As most cities in Ecuador, mobility in Ambato is based on a model that prioritized motorized vehicles, mainly buses and automobiles. The 2013 Mobility Master Plan focused on actions aiming at facilitating transit in the city main plateau and corridors to the urban center. Little consideration was given to connecting the urban zone with the rural areas, which are key in the life of the city, and to other sustainable means of transportation. The over US$ 900 million projected infrastructure and programs hardly made any attempt at exploring deeper the environmental issues and the social function that mobility serves.
The development of Ambato's Sustainable Urban Mobility Plan (SUMP) brought to light the challenges vulnerable groups face when using the mobility system of the city. Another relevant issue that was revealed was the conditions in which indigenous people from the rural areas mobilize to the urban area to conduct their business, especially regarding the provision of agricultural products to the city.
In 2018, we started with this initiative through the EUROCLIMA+ programme. In May 2022, the SUMP Ambato was finally presented during the Transport and Climate Change Week 2022. This was possible thanks to a joint effort, a diagnosis and plan development phases, participations tools that were used to gain insights on the special needs that the mobility system needs to satisfy for these groups of citizens. Through origin-destination surveys, home-to-home surveys, focus groups and workshops, the city could inform a clear vision of the problems that needed to be addressed to provide better living standards through sustainable mobility systems.
Now, we can present some of the first results and next steps of the SUMP Ambato. This is the story.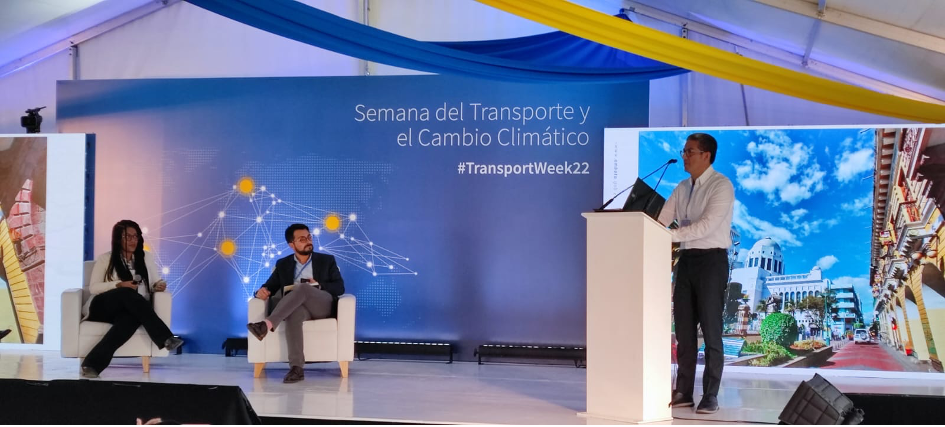 The Mobility Gaps
Ambato is highly motorized city where men and women have different patterns of mobility. 40% of trips within the city are in private cars while 18% happen in buses. In average, women make 2.02 trips per day while men make 2.20 trip. This shows that women tend to stay at home more than men. Despite this fact, 53% of women use public transportation to travel and 44% of men use this means to do their travelling. Along with women, the elderly and children also preeminently use public transport to move around the city. This reveals that the main clients for public transportation are women, children, and the elderly, but those are exactly the groups that find the most challenges in public transport and public spaces such as sidewalks.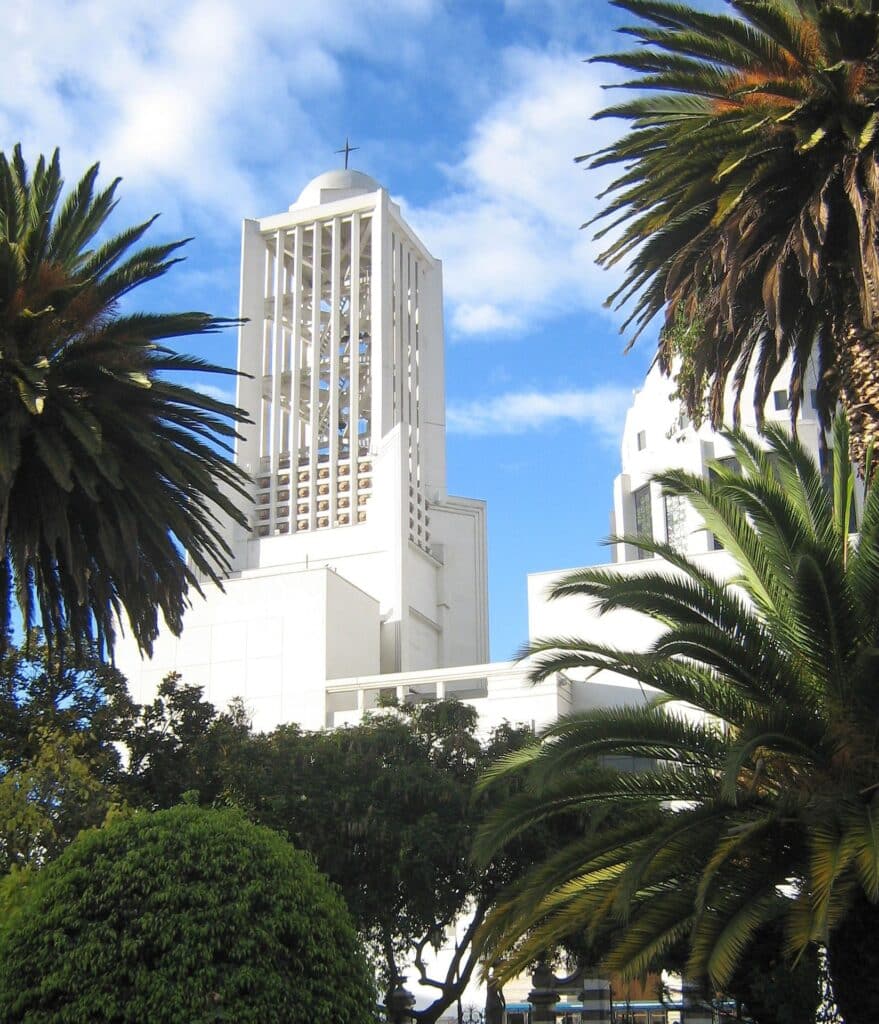 Safety is the first challenge that these vulnerable groups find in their trips. In the focus groups, women, children and the elderly alike revealed that they are exposed to mistreatment and harassment in public transport and spaces. Because people in this groups (including the disabled) need more time to get on and off buses, bus operators tend to avoid stopping or treat them rudely. In public spaces, they are exposed also to mistreatment by drivers and other people. This situation is specially challenging for female kids. Children also revealed that public transport and sidewalks make them feel uncomfortable because they are designed for adults and not for them.
In short, adult males face less danger because they are subject to harassment and safety issues during their trips in public spaces and they use more private cars which protects them from those dangers. The system and transport culture are hostile to vulnerable groups and the must stoically stand the challenges because they have no other safe options to satisfy their mobility needs.
The previous master plan did not recognize the differences that exist among the various groups of mobility users. By gathering the input of such groups, mobility measures can be directed to satisfy the special needs of traditionally excluded groups. Ambato's SUMP, among its measure packages, does include now projects to make the city more accessible for vulnerable groups and the city needs to work with transport operators to become more sensible to their main clients.
The rural linkage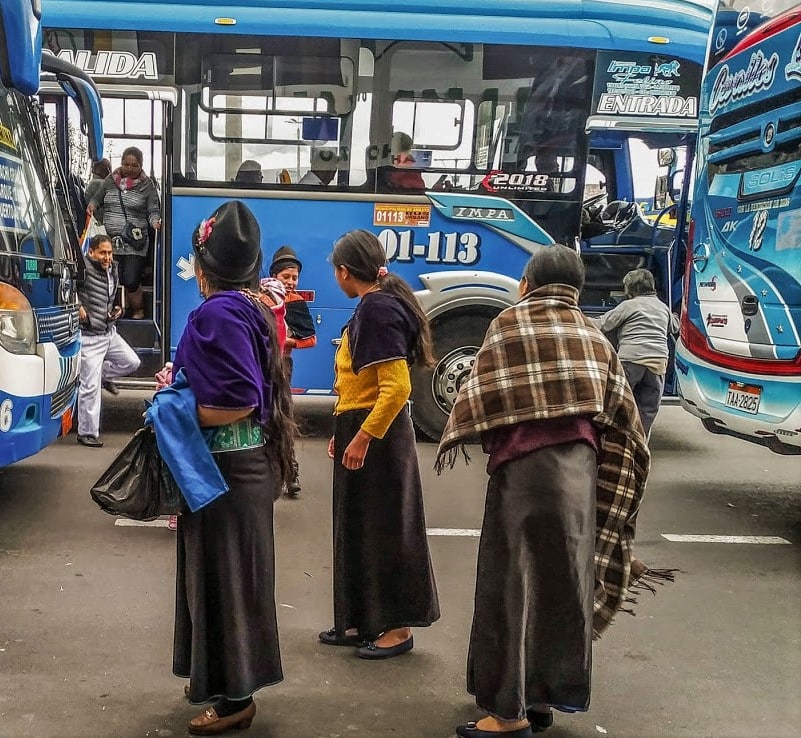 Ambato's rural and urban areas are closely knitted, even more noticeably so than other intermediate or large cities in Ecuador. Almost 30% of trips happen between the urban and rural areas and vice versa, and 18% within the rural area; that is, 48% of trips are linked to the rural area and the reason is mainly the transportation of agricultural products to the city markets. The importance of rurality in Ambato's mobility system is key to support the city's heavy commercial character. Ambato is actually a food distribution hub for most of the country because it is strategically place in the middle of Ecuador, with access to all three continental regions (Amazonia, highlands and coast).
The SUMP methodology focuses on the urban area, but in the case of Ambato it needed to expand and include the rural area because of its importance. This adaptation was a demand of the unique characteristics of the city and, on the political side, of the City Council's Mobility Commission; the members of this commission are all indigenous persons from rural electoral districts.
When exploring the rurality for mobility patterns, the challenges described for vulnerable groups are still present, but their intensity is higher. The linkages between the urban and rural areas are weak due to insufficient public transport which created opportunities for informal transportation means to be exploited. However, informal transport is more expensive than public transport and exposes the population to risks of increased financial pressure to their already deficient economies.
The challenges for women are even tougher to rural women because every Monday they need to travel to the city center to sell their products with their children, leaving them more exposed to safety risk in uncomfortable means of transportation. The SUMP proposes to increase the connection to the rural areas with better roads and more public transport services.
SUMP Ambato's measures
Integrate the concept of sustainability in mobility planning, proposing a new model of urban development that is egalitarian (accessible to all and with an emphasis on gender); healthy (reduction of accidents and pollution); and friendly (social integration of encounter and safe coexistence). This change seeks to replace the traditional model that favours the motorised vehicle and will seek to give priority to rural areas of the canton, to other collective and active modes of mobility, but above all to a new urban configuration and environmental protection, which will contribute to the reduction of poverty and gender gaps in the city.

SUMP Ambato's vision
With the SUMP, mobility in Ambato has undertaken a change in its mobility model, based on the introduction of new technical, institutional, legal, social and financial factors. Its action plan contains 10 packages of measures covering one or more of the three structural models: clean mobility, energy transition and social and environmental equity.
These packages integrate measures such as interventions for sustainable mobility, transport demand management plan, GHG reduction programme in transport, programme to reduce inequality, poverty and gender gap in transport, among others.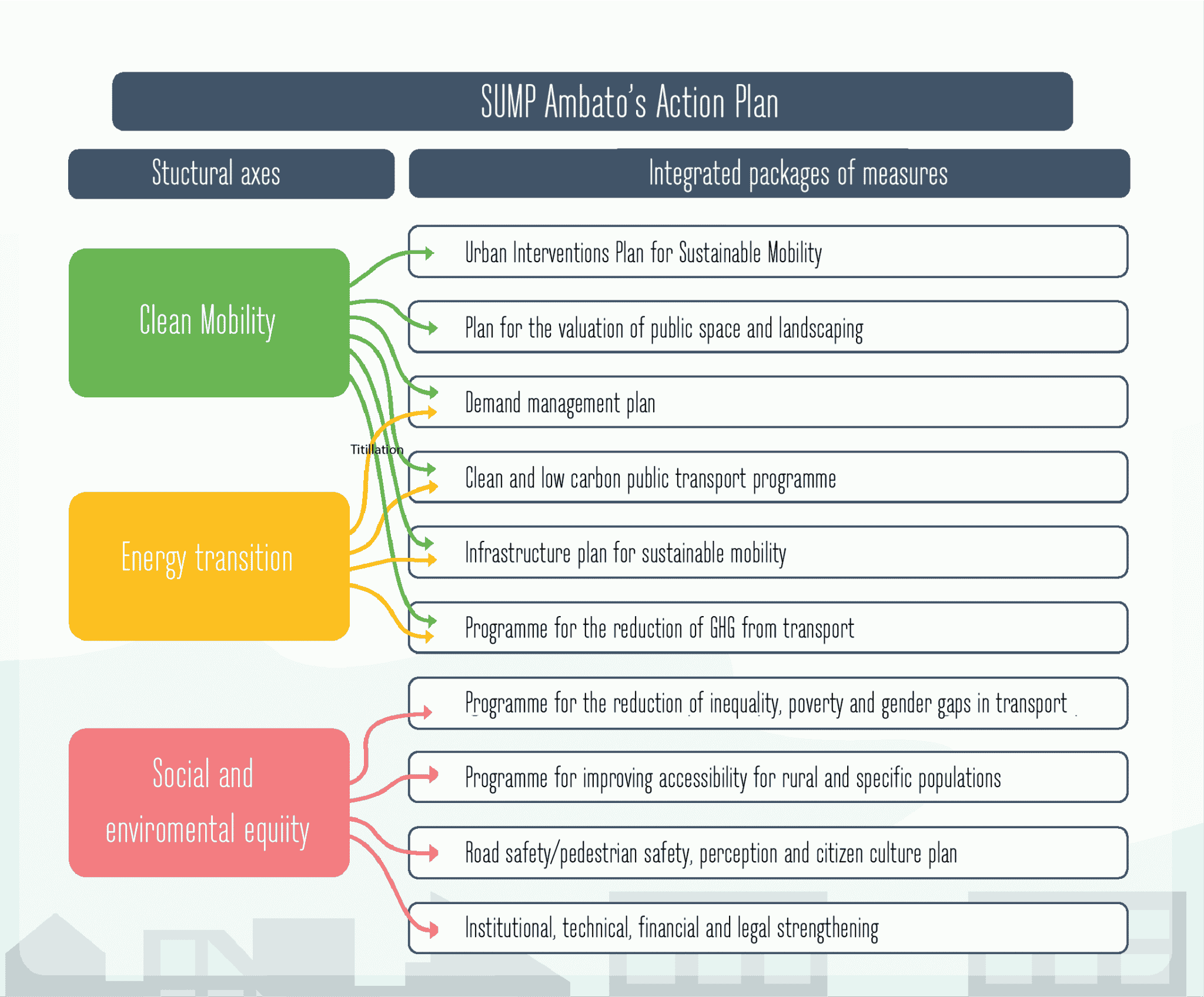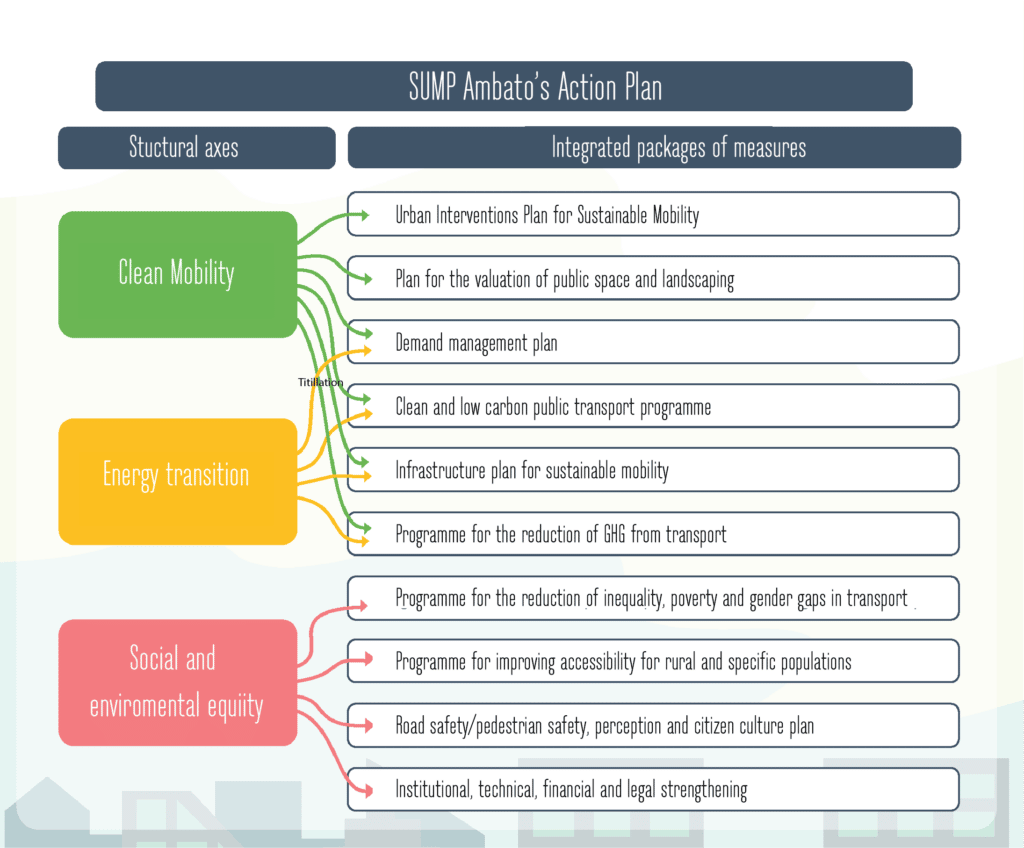 For the implementation of these measures, the SUMP contains fact sheets detailing their place and period of implementation, objectives, actions to be implemented and budget.
This has been agreed with the institutions involved in the planning of the city's mobility, to whom a financial analysis has been presented that takes into account the sources of resources available to the municipality and other national and international cooperation sources.
Good news is that the EUROCLIMA+ programme is also developing a National Urban Mobility Policy (NUMP) in Ecuador, which will generate synergies with the SUMP Ambato and will allow other cantons to develop similar initiatives.
The expected transformation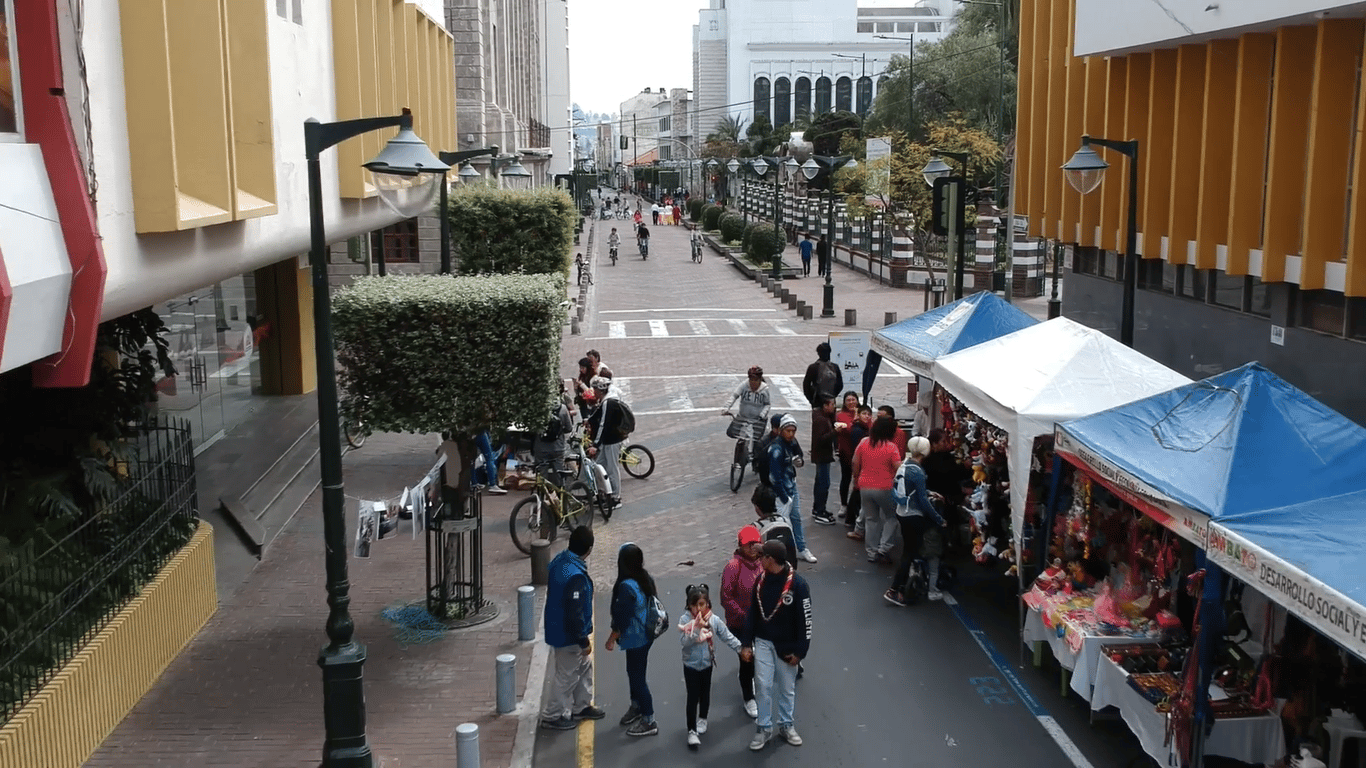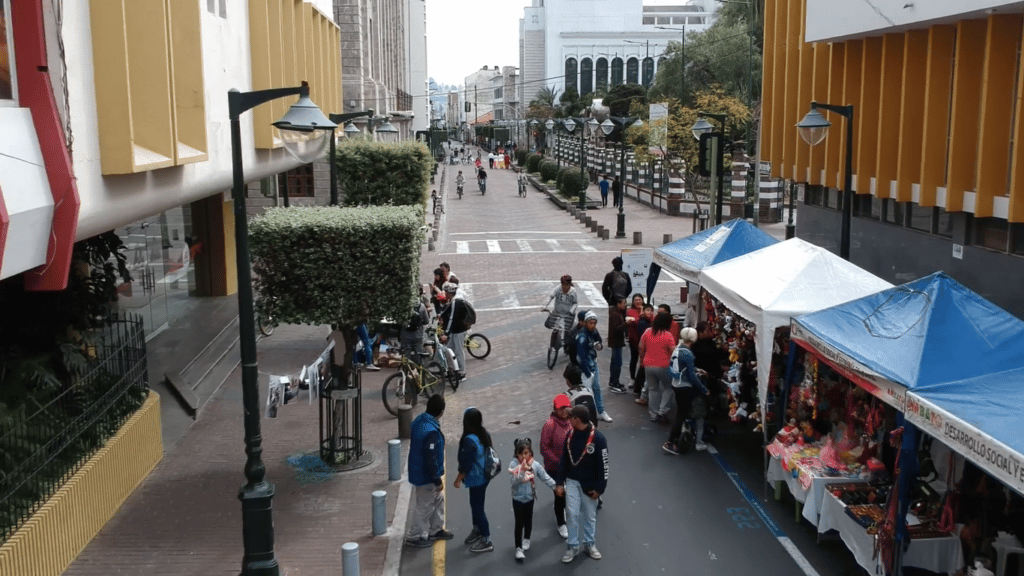 The city mobility planning was based on a Master Plan that was built with a paradigm based on moving vehicles in the city. Users were not differentiated, and their specific needs were ignored. The SUMP is helping Ambato to abandon this paradigm by revealing the real situation of most users and proposing measures that will satisfy their needs.
For its implementation, the work plan indicates that the municipality is working on financial management and institutional, technical and legal capacity building measures, including the development of monitoring indicators to measure the achievement of objectives.
In addition, Ambato is part of the Intermediary Cities Programme II, commissioned by BMZ, which will allow the implementation of sustainable mobility actions aligned to the SUMP.
Mobility planning is now a more human endeavor which will contribute to develop a city more amiable to their inhabitants. The sustainable planning exercise has also shifted the very conception of the city from a commercial space that distributes products to the country to a city with diverse purposes based on the recognition and inclusion of diversity.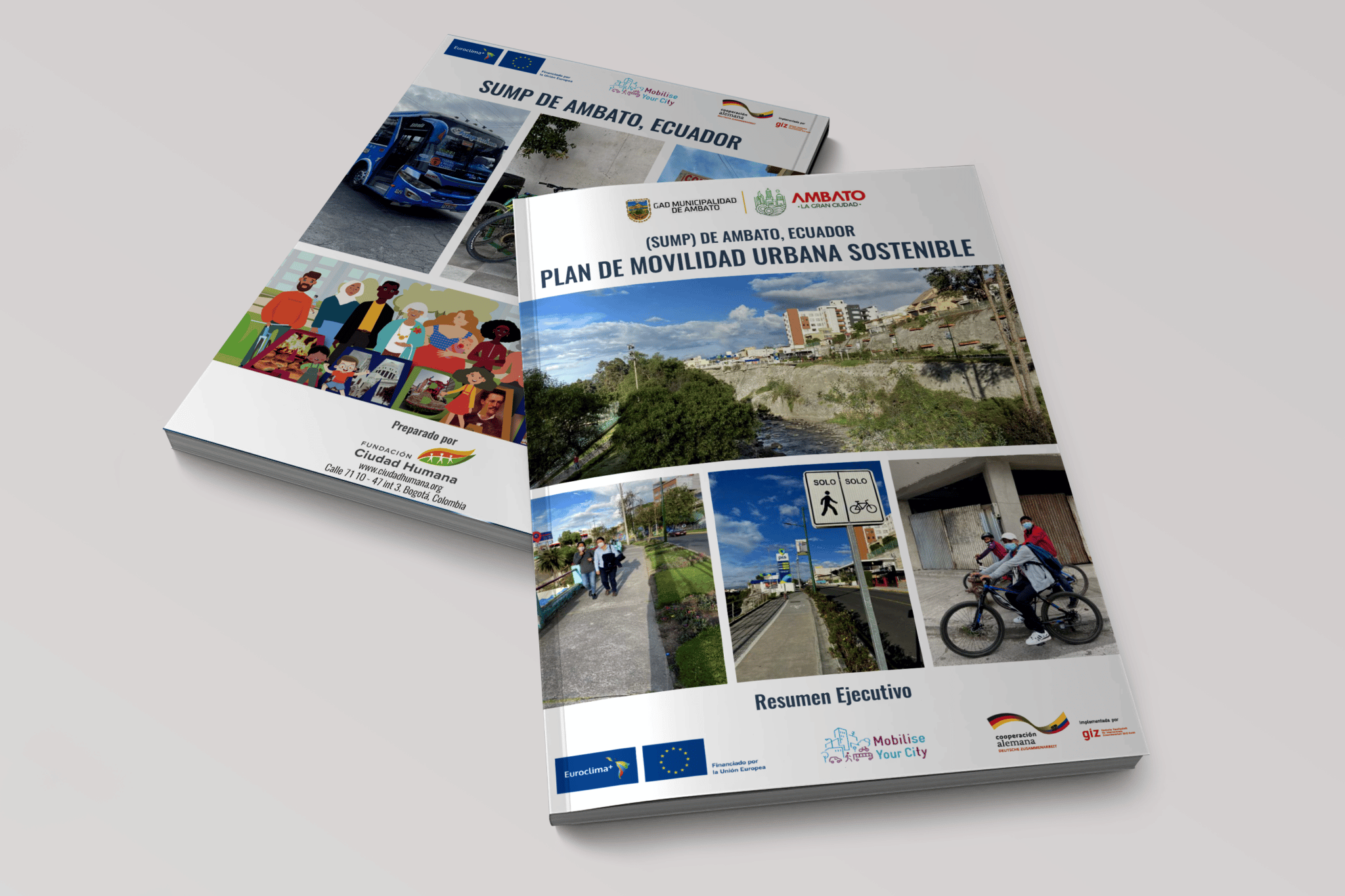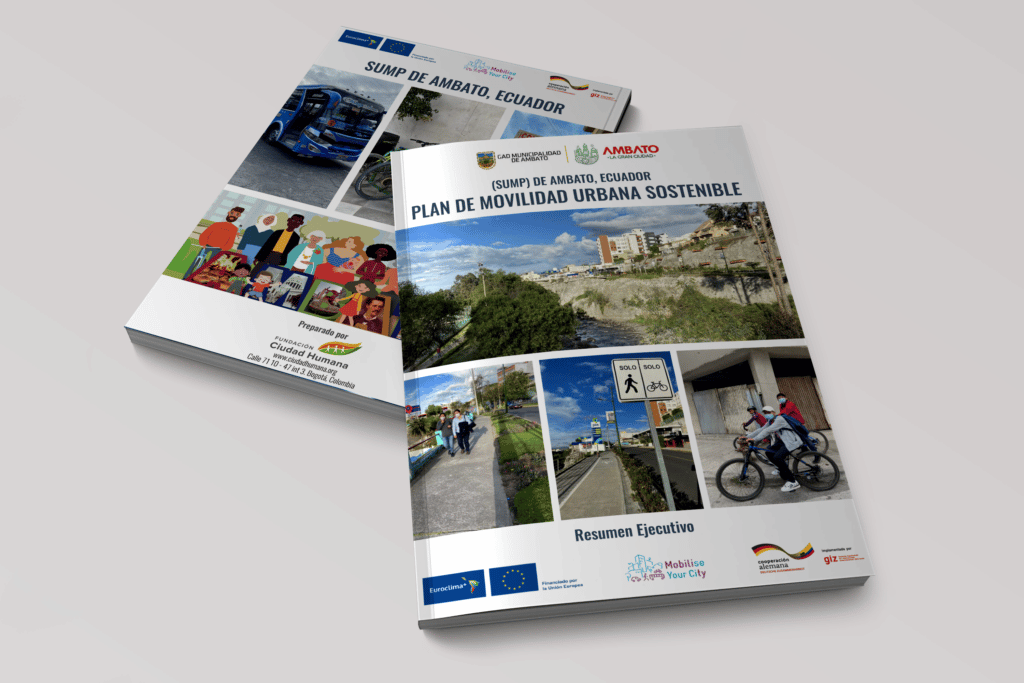 Women on the Move – Asia Mentorship Programme
As women continue to be underrepresented in the transport industry, it is vital to foster those in the early stages of their career through supportive relationships. Women on the Move is thus launching an online, year-long mentorship programme to connect women in Asia with similar goals and areas of focus. Applicants will be matched for one-on-one mentor-mentee relationships through our online form (see below), allowing active exchange on their desired focus area.
We encourage each pair to meet at least three times over a year and will organise "check-in" activities to enable best possible working relationship. After a year, mentors and mentees will be invited to give a joint presentation to reflect on how the mentorship has supported them in their goals. The topic will be flexible, but we suggest a personal development goal or an independent research project related to the subject of gender and transport, to allow for a focused collaboration. Of course, we encourage the partnership to continue even after this presentation!
While we appreciate every application, please be aware that applying is no guarantee of finding a mentoring partner in this particular mentoring cycle, as there may be fewer mentors than mentees.
[Closing date for applications has passed]
---
Find out more about the network and its ambition to transform transport in Asia: Promoting gender equality in Asia – Changing Transport (changing-transport.org)
Become a Network member by joining the LinkedIn Group: Women on the Move: Transforming Transport in Asia | Groups | LinkedIn
Lessons Learned on How to Transition to Zero-Emission Transport in India 
In India, the NDC Transport Initiative for Asia (NDC-TIA) is coordinated by the National Institution for Transforming India (NITI Aayog) and implemented by seven partner organisations. The project supports the development of regulatory frameworks and electric vehicle deployment. In this series, NDC-TIA partners offer insights into lessons learned through the country components in India, China and Vietnam. This second blogpost identifies four lessons on how to transition to zero-emission transport in India:
1. Electrify Mobility, Not Just Vehicles
The electric mobility transition requires policy, infrastructure and financing. Thanks to policy support and technological advancement, India has over 1 million electric vehicles (EVs), and is poised to become one of the largest global electric bus markets. NDC-TIA partners have worked with NITI Aayog to identify needs for a comprehensive roadmap of charging infrastructure deployment, on battery swapping for electric two-wheelers and campaigns to overcome barriers to EV adoption stemming from a lack of understanding.
2. Clean Mobility Requires Grid Decarbonization
95% of India's transport energy need is currently met by petroleum products. A more comprehensive emission framework is needed to phase out reliance on fossil fuels and reduce transport-related GHG emissions. NDC-TIA partners analysed India's key transport energy and emission models to inform transport decarbonization pathways. In addition, current research focuses on life cycle assessment tools and renewable energy-based EV charging.
3. Collaboration Is Key to Enabling a Faster Transition
Communication is a central element in facilitating systematic change. In India, this includes establishing dialogues with key stakeholders through NITI Aayog, as well as with the Forum for Decarbonising Transport. Workshops have been organised as part of the Forum, bringing together representatives of ministries, financial institutions and private companies, to identify solutions and exchange on financing.
4. Don't Assume a Just Transition
The impacts of the transition to zero-emission mobility can be complex and uneven, particularly regarding vulnerable groups. India's transport industry is heavily male-dominated. Equity considerations, especially of EV policies, must be addressed. Policy interventions that follow the Avoid-Shift-Improve framework, and emphasis on broader representation of women and marginalized groups in the workforce, can ensure a more equitable shift in mobility.
—
The full blogpost was originally published on TheCityFix on October 4, 2022, written by Yiqian Zhang (WRI), with inputs from Indradip Mitra (GIZ), Chaitanya Kanuri, Garima Agrawal, Nikita Gupta (WRI India), Malithi Fernando (ITF), Zifei Yang, Anuj Dhole (ICCT), and Angel Cortez, Nikola Medimorec, Chris Dekki (SLOCAT).
Mobility for All in Guatemala
This article is part of our #StoriesofChange where we profile the work of our partner countries in developing climate actions in transport. Read more #StoriesOfChange and follow the Hashtag on Twitter.
Defining mobility patterns is important, but what happens when not all modes are included, and patterns are not differentiated by gender?
Traditionally, family roles are highly genderized; therefore, women mostly fulfil household and care activities. This implies different mobility solutions for women and men, as women tend to take several trips per day to complete various caretaking and housekeeping activities.
For example, in San Juan Comalapa, Guatemala, women travel significantly more often by tuk-tuk (25%) than men (6%). In contrast, men use bicycles for 20% of their trips. Moreover, 11% of the population has difficulties accessing urban mobility services. This is the scenario is not very different from the reality in many other small cities in Latin America.
The Electric Tricycle Pilot project, which is part of the EUROCLIMA+ Programme, allowed us to introduce electric transport to boost the renewal of old petrol-powered tuk-tuks, to increase the accessibility of public transport, improve solid waste management in areas of the municipality that are difficult to access, and to provide public transport service to people in vulnerable situations who so far used to receive a poor service or simply didn't received it at all.
The project was completed in May this year and also included capacity building in matters of climate change, sustainable mobility and gender in order to become a good example in the region and to be able to replicate in other areas of the country or even in the region, where there are no similar examples.
This is the story of how San Juan Comalapa introduced electric tuk-tuks to improve transport services in a more sustainable way in their community, whose population belongs to the indigenous Kaqchiquel community.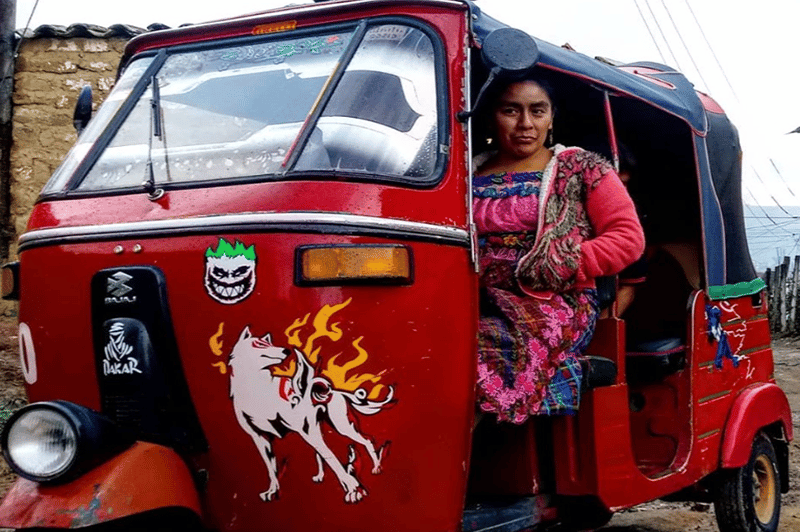 The first steps
In 2018, the journey for the implementation of the pilot project began. Meetings were held with the association of tuk tuk owners where 3 women, owners and pilots of units, participated as well. In the first workshops, an attempt was made to define the route for the implementation of the electrical units.
However, the doubt and skepticism of the operation of the electrical units by the members of the tuk tuk association were always an important factor within the project. Building trust in electric mobility is one of the challenges we have to face, as today there are still cultural barriers to its implementation.
To achieve a good implementation, it was necessary to carry out a series of base studies with the intention of knowing the situation of mobility in San Juan Comalapa, as well as knowing examples of similar projects in Latin America and knowing the market for electric tricycles in the region.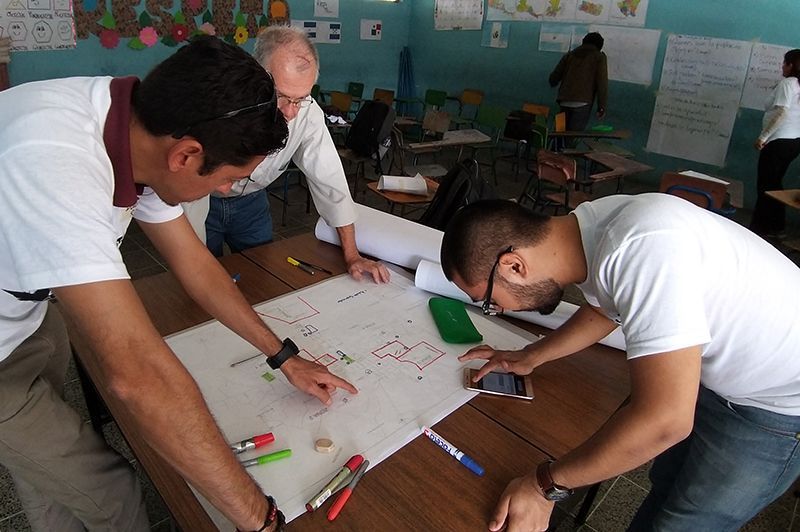 In the same way, a study trip was made to Mexico with the intention of knowing examples of electric tricycles already successfully implemented and in this way being able to know the advantages and disadvantages, the different business models and the technical specifications of the units to be able to ensure their successful operation.
And then the pandemic came
With the arrival of the pandemic, the project implementation process slowed down. Sanitary measures in Guatemala were strict, so the possibility of carrying out activities became extremely complicated. San Juan Comalapa is a rural municipality, so there was no internet everywhere and a large part of the population does not have internet at home, so holding online workshops or seminars was not an option.
However, once the sanitary measures were reduced, it was possible to learn more about the beneficiaries of the units for people with disabilities and we were able to understand the limitations with which they currently moved and the benefits they would obtain once they received the unit. It is also important to highlight the great work that mothers do to support their children to obtain education or therapies.
Understanding the uses and customs of the community of San Juan Comalapa, and how these are linked to the dynamics of mobility, was a very valuable process for us. To make people aware of the project, communication materials were produced in Kaqchiquel, as the following examples show: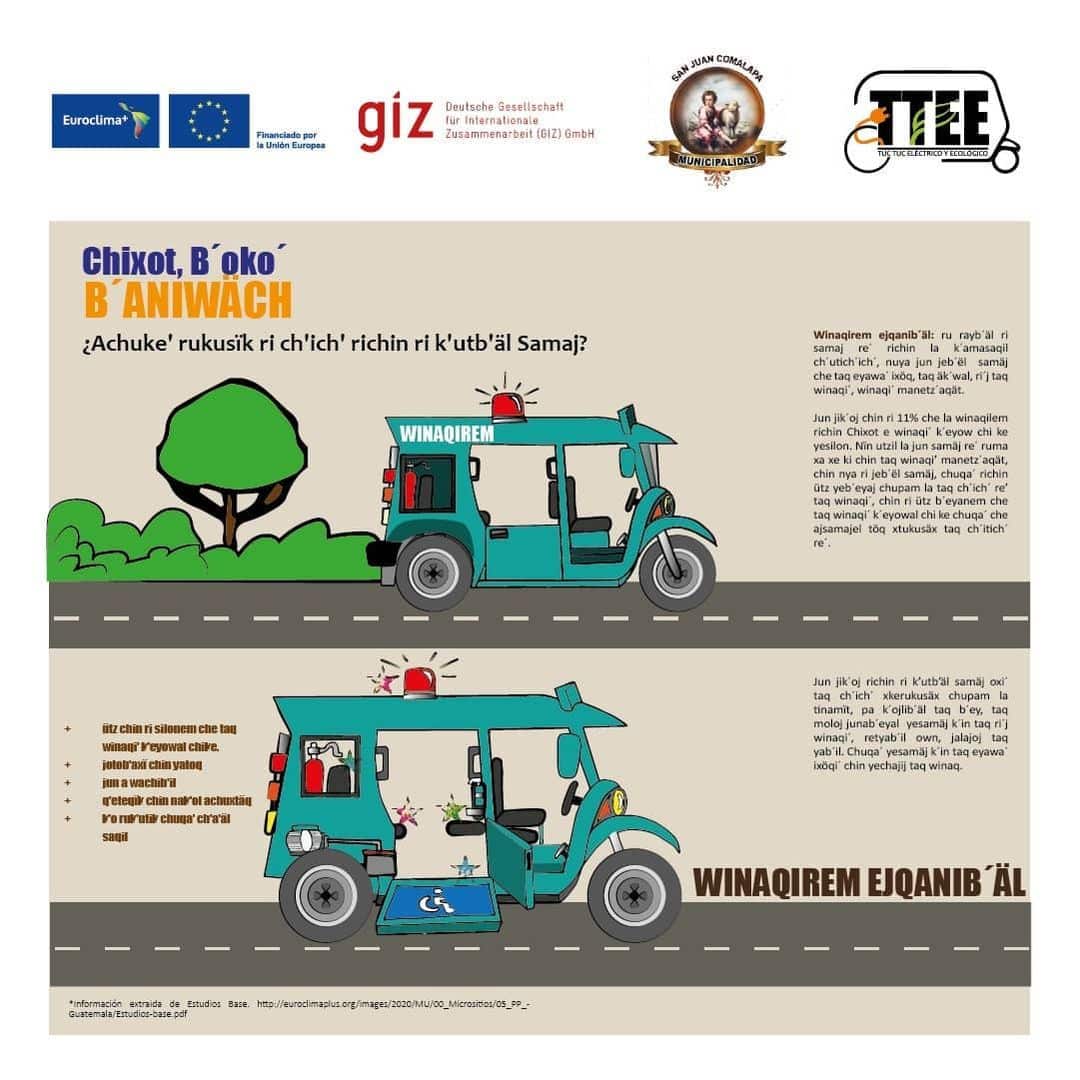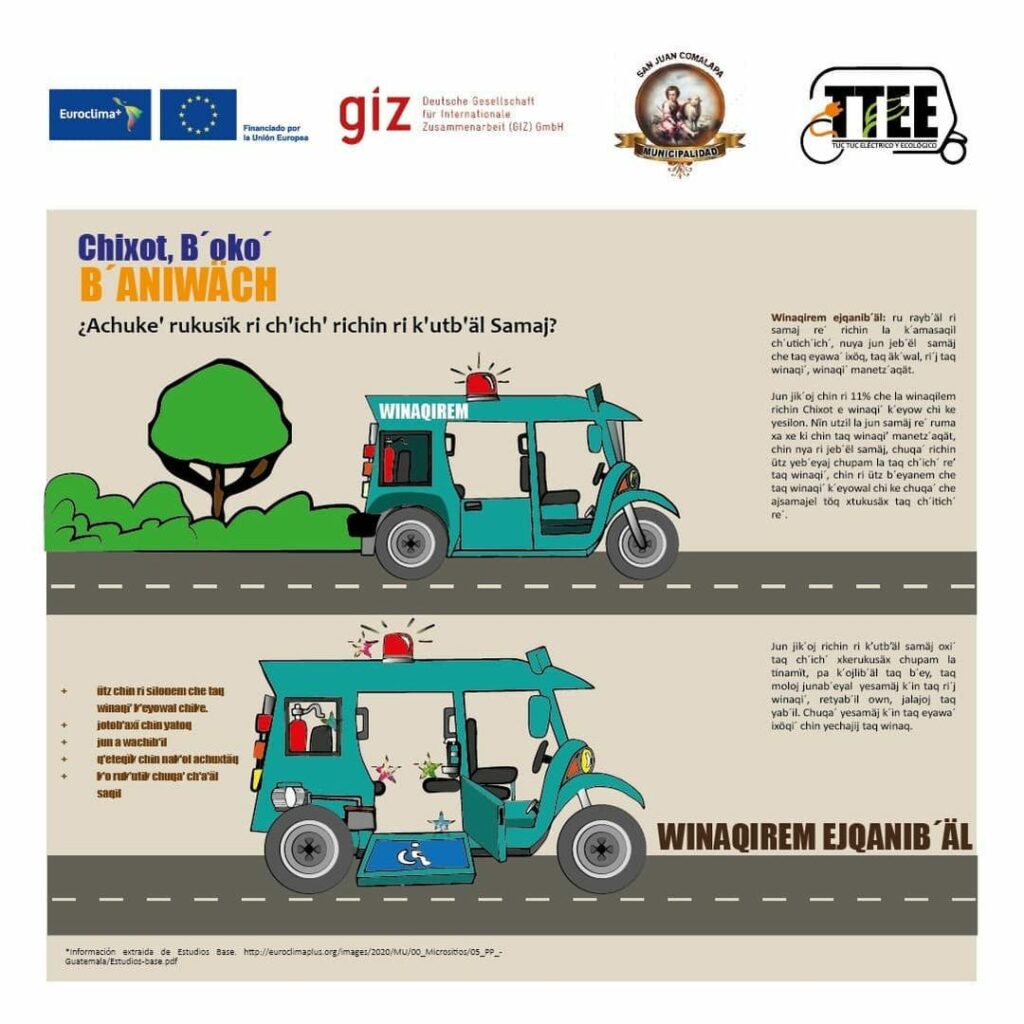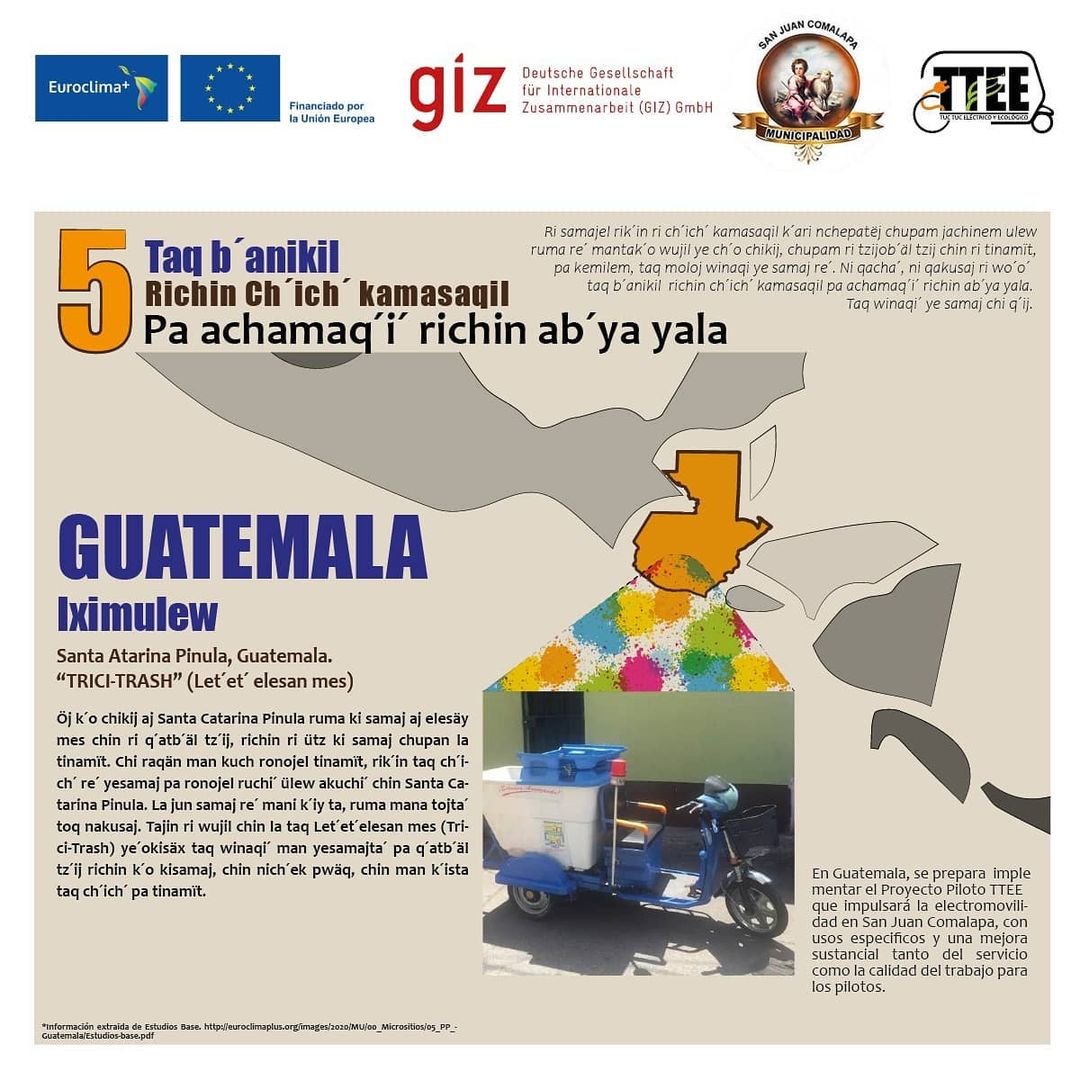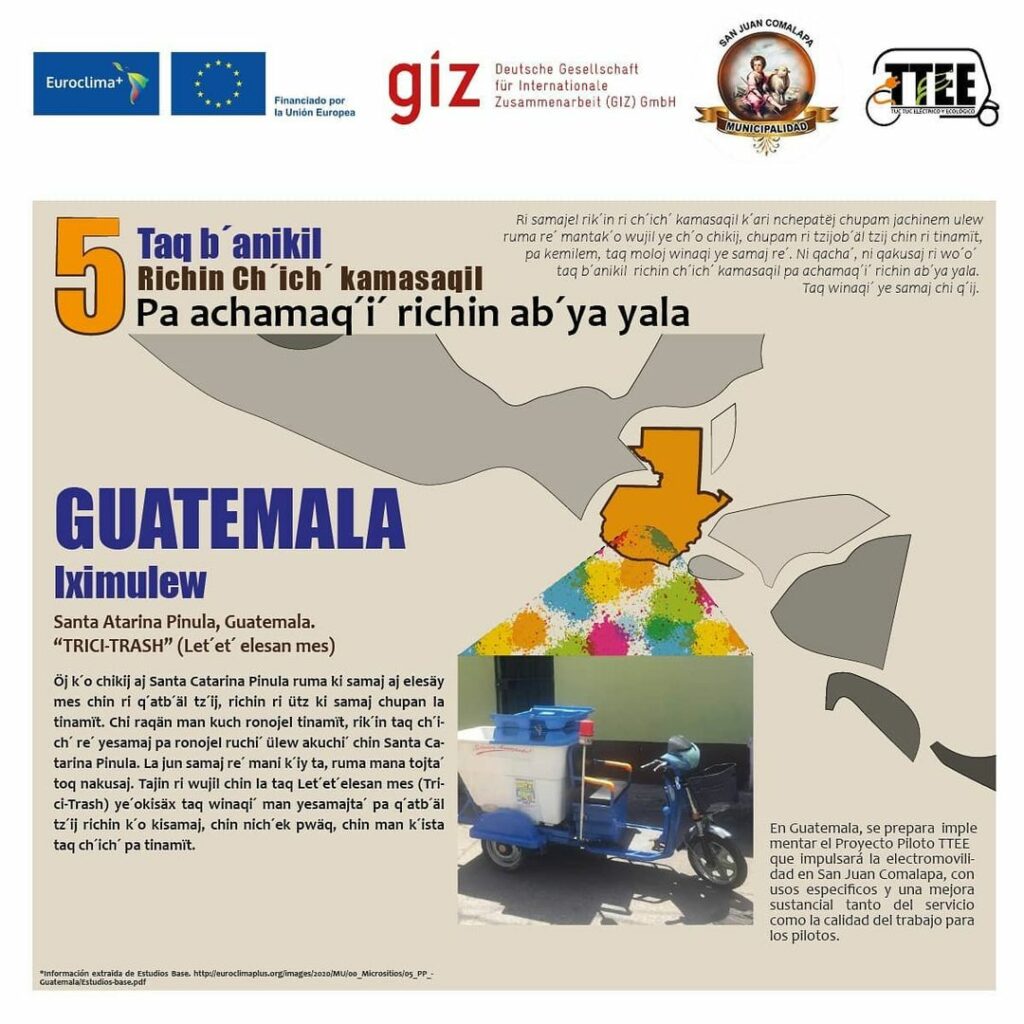 Project implementation cannot be done in a top-down manner. Integrating people's experiences and needs was an aspect we contemplated from the beginning. Although the pandemic slowed down the process, this phase was as important as other technical aspects such as the study of the geography of the municipality, the definition of the characteristics that the units should have and the financial analysis for their acquisition.
The units arrived in San Juan Comalapa
In May 2022, the presentation ceremony of the 2 electric units for public transportation, 4 units for solid waste collection and 3 for the transportation of disabled people, as well as the charging stations, was held.
Along with the delivery of the units, training workshops were held on the proper use of the units and their maintenance. A caravan –an important tradition in the community– was held to present the units, with the intention that the population of San Juan Comalapa become familiar with the units and feel part of the project.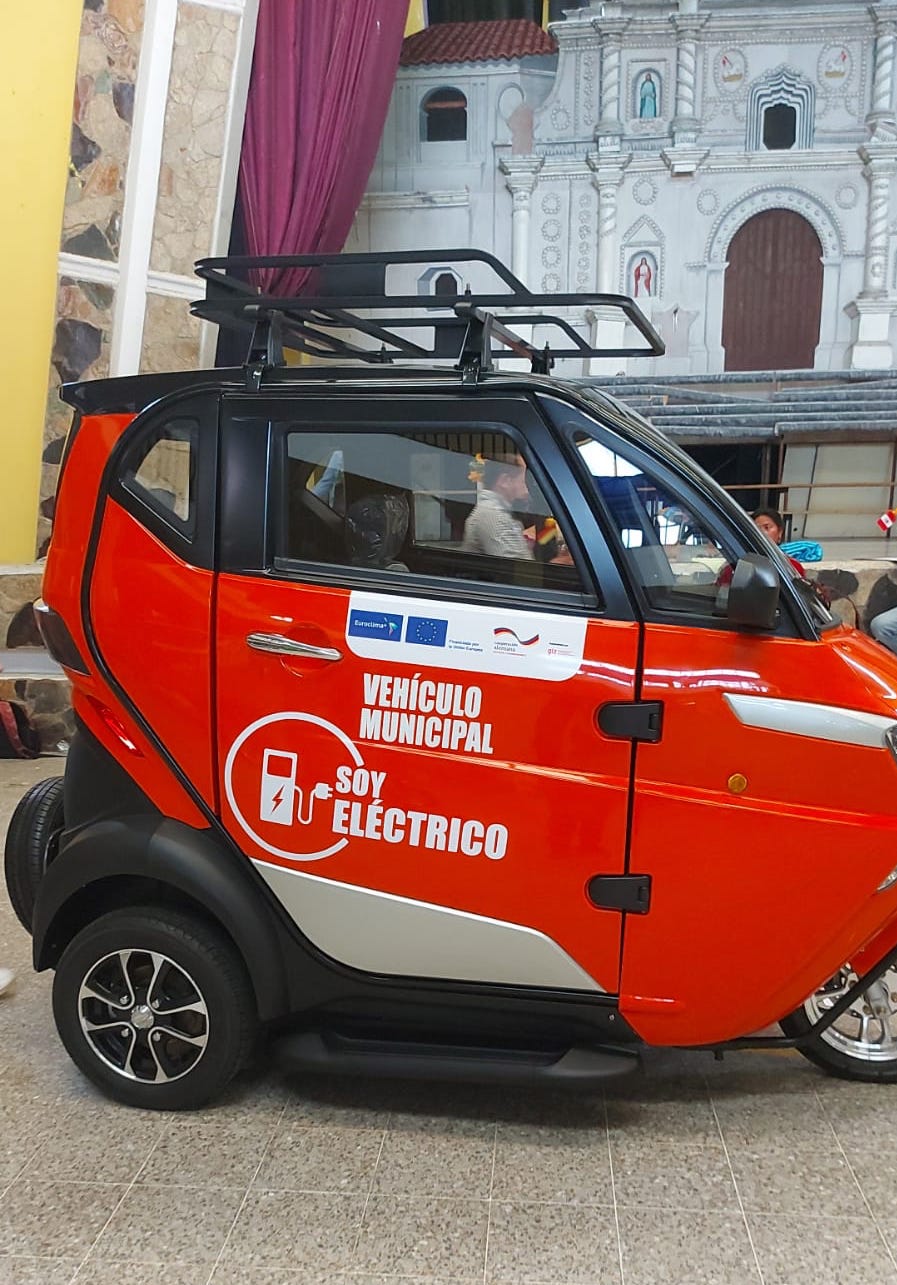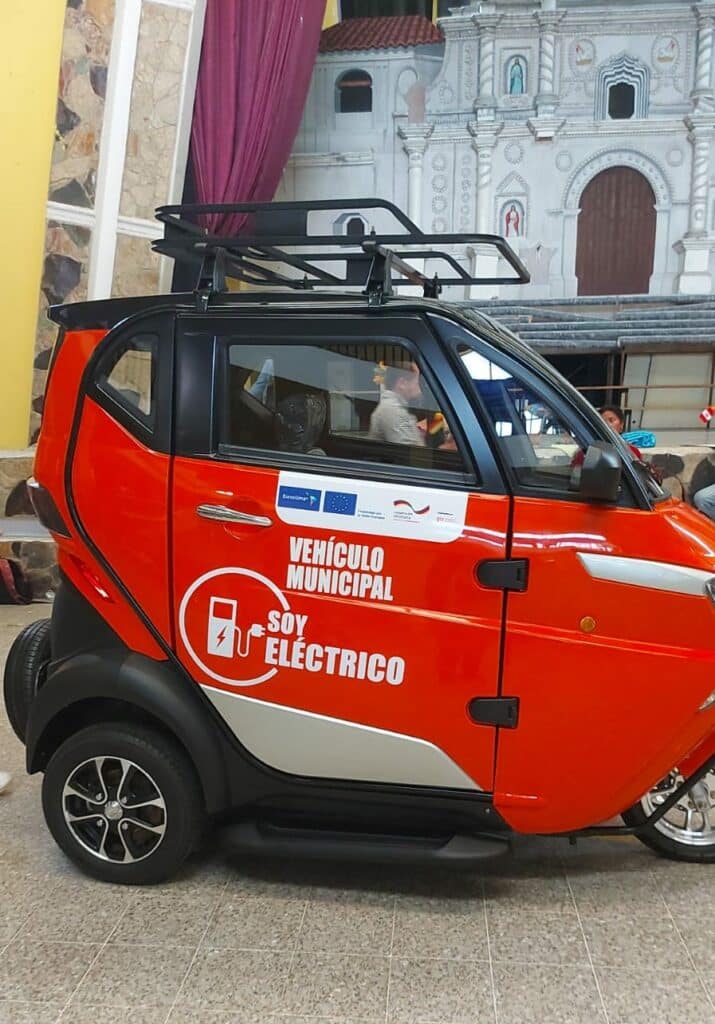 The intention of having 2 units for public transport is that the tuk tuk association gets to knows the units, tests them and get convinced of their usefulness.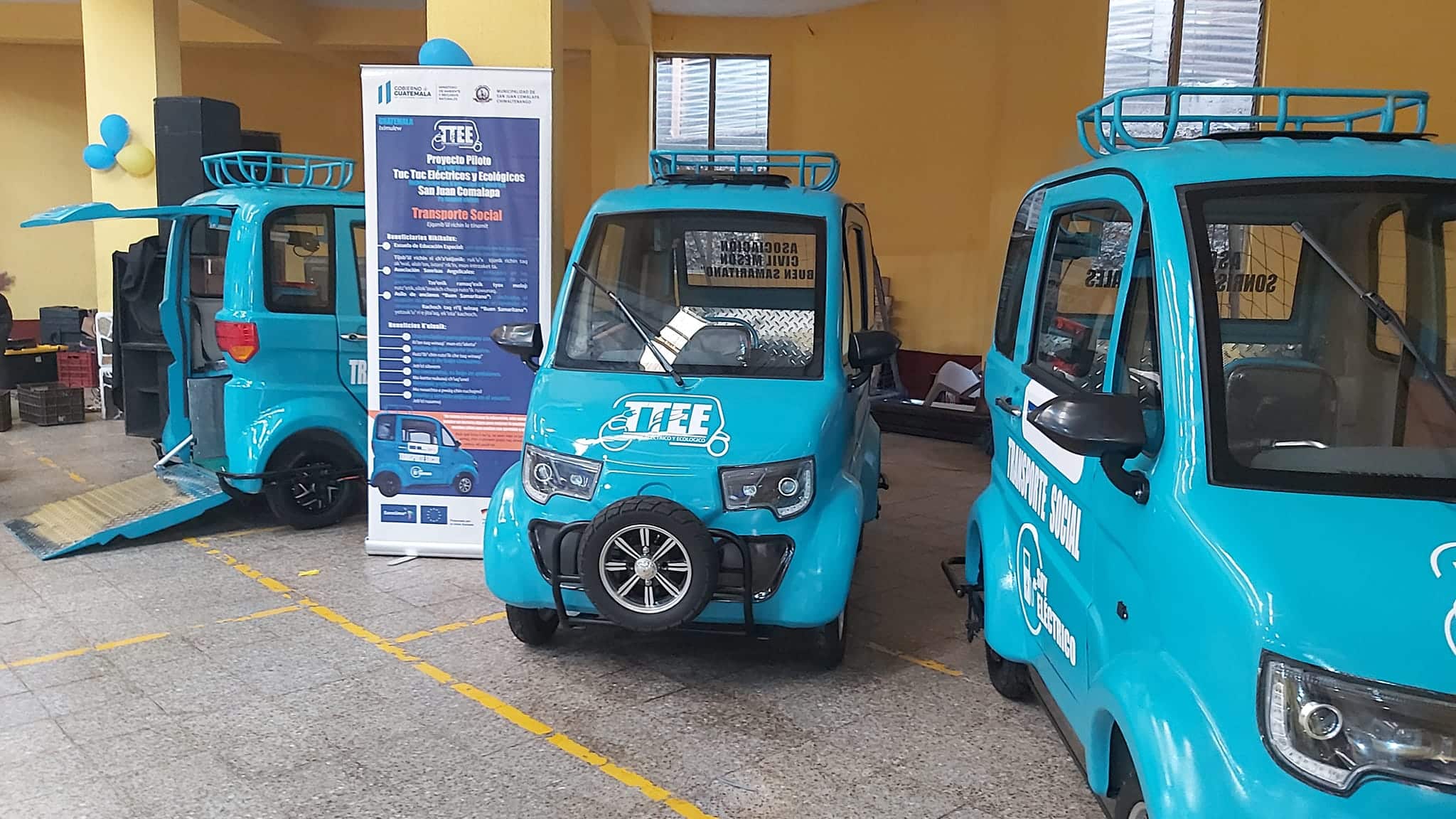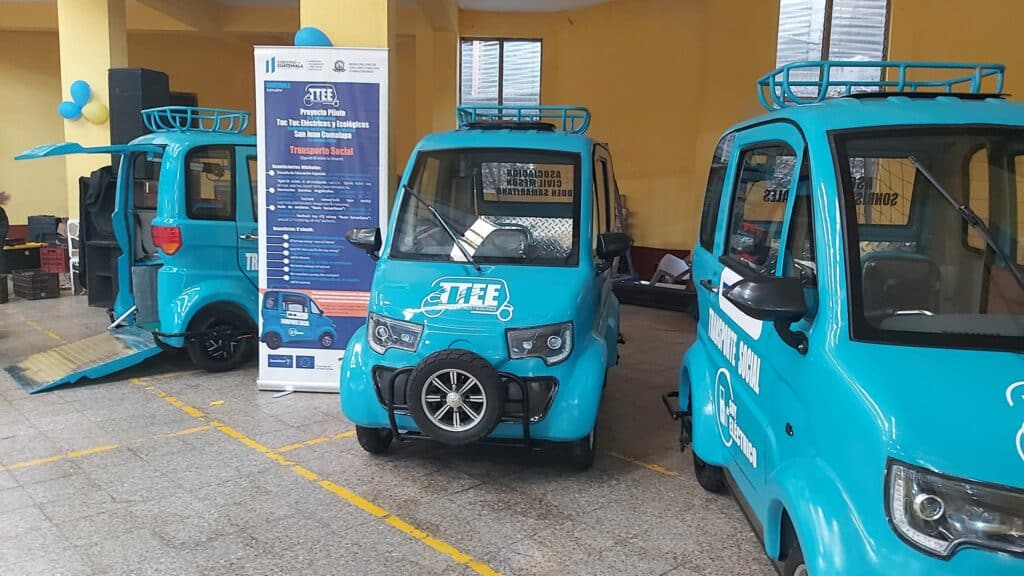 The units for disabled people were costume made, since it is possible to travel with a person in a wheelchair plus a companion, through a hydraulic ramp. These units were donated to schools and social organisations, who will make exclusive use of the units to transport the population they serve.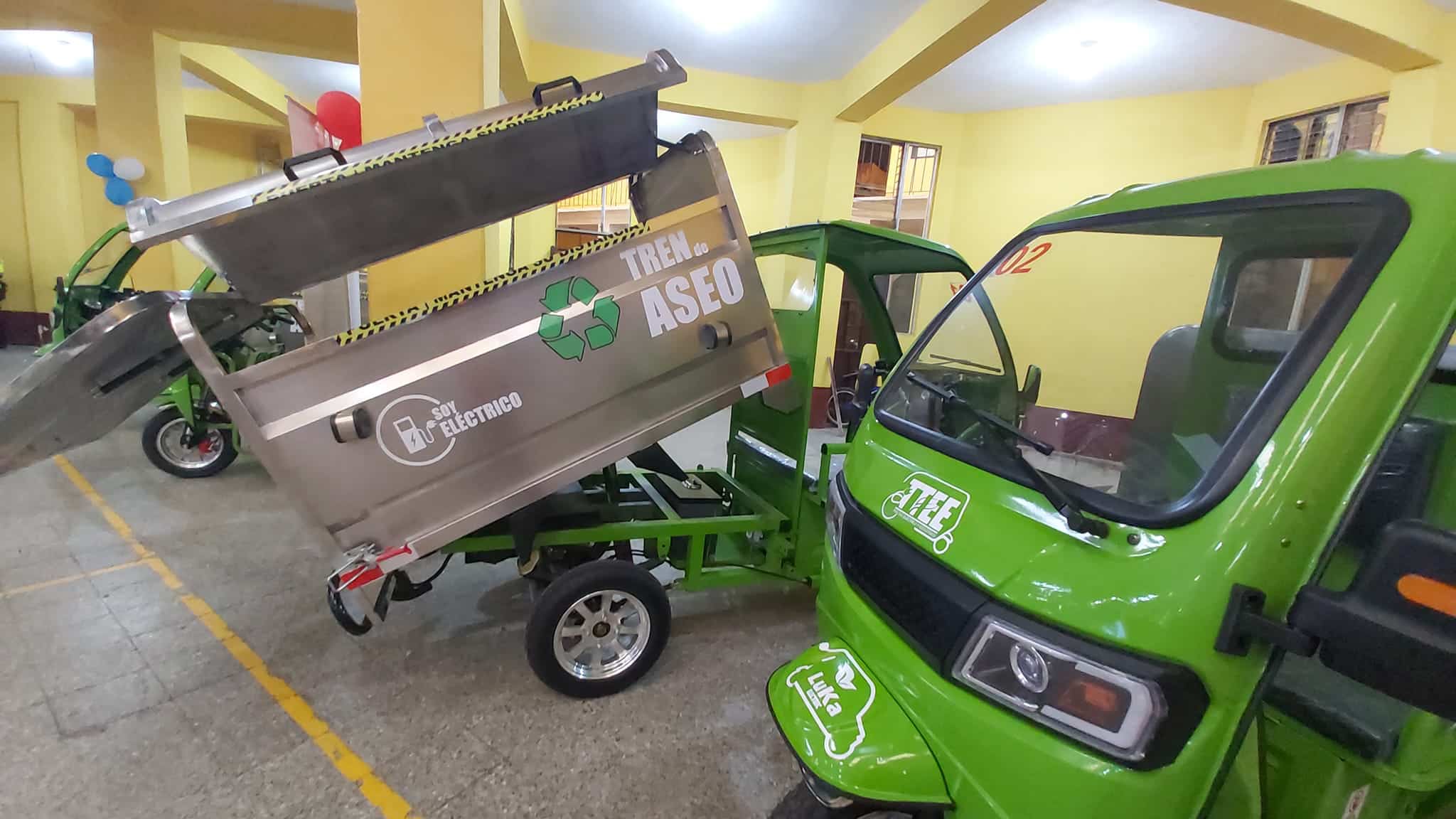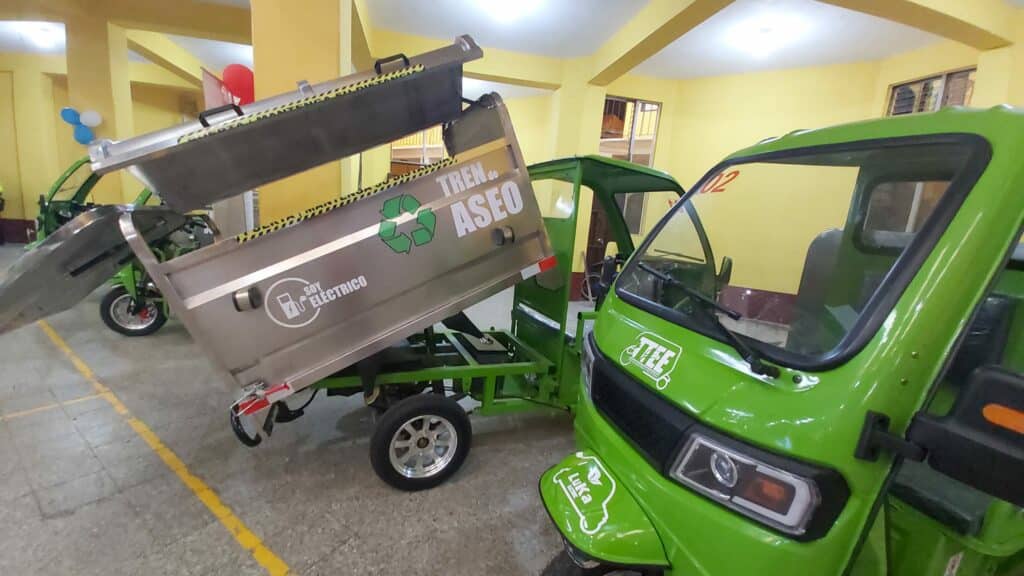 The solid waste collection units are intended to dignify the work, make it faster and more efficient.
Lessons learned
Early inter-institutional coordination and capacity building are crucial. It is necessary to improve inter-institutional coordination when implementing this type of project, since there are many actors involved, and they are not necessarily trained in mobility projects.
Different entities were involved, such as the Ministry of Environment and Natural Resources, the Ministry of Education, as well as the waste collection department and other sectors involved in the execution of the project, which added complexities to its management.
We also emphasise the need for a respectful and empathetic approach to the community where the initiatives are implemented, as their involvement is crucial to ensure their success.
While this process was not easy, one lesson is to integrate community leaders into project decision-making and to generate horizontal communication campaigns that familiarise people with electric mobility and related issues.
In addition, we emphasised the importance of knowledge management and the collection and systematisation of information, a crucial step in pilot projects that seek to scale up.
Scaling-up
The project was completed with the delivery of the electric tuk-tuks. San Juan Comalapa's experience has been shared in different international forums and events, which has aroused great interest. A promising future in the implementation of electromobility projects can be foreseen in Guatemala.
The initiative has conditions for its scaling, but dissemination and marketing actions needs to be carry out. Electric tricycles may be used in more touristic municipalities such as Antigua and replicate the solid waste collection model. This responsibility can be carried by the Ministry of Environment and Natural Resources, which is in line with the recent energy transition and electric mobility policies that Guatemala has promoted at the national level.
On our side, we will continue to promote the lessons learned and share this story whenever we have the opportunity. In this way, we continue to promote electric mobility adapted to the Latin American context and reality.
It is now clearer to us that, in addition to contributing to the reduction of emissions in the transport sector, it is vital to provide decent mobility services that improve people's lives and reduce social inequalities. The energy transition must be a just transition.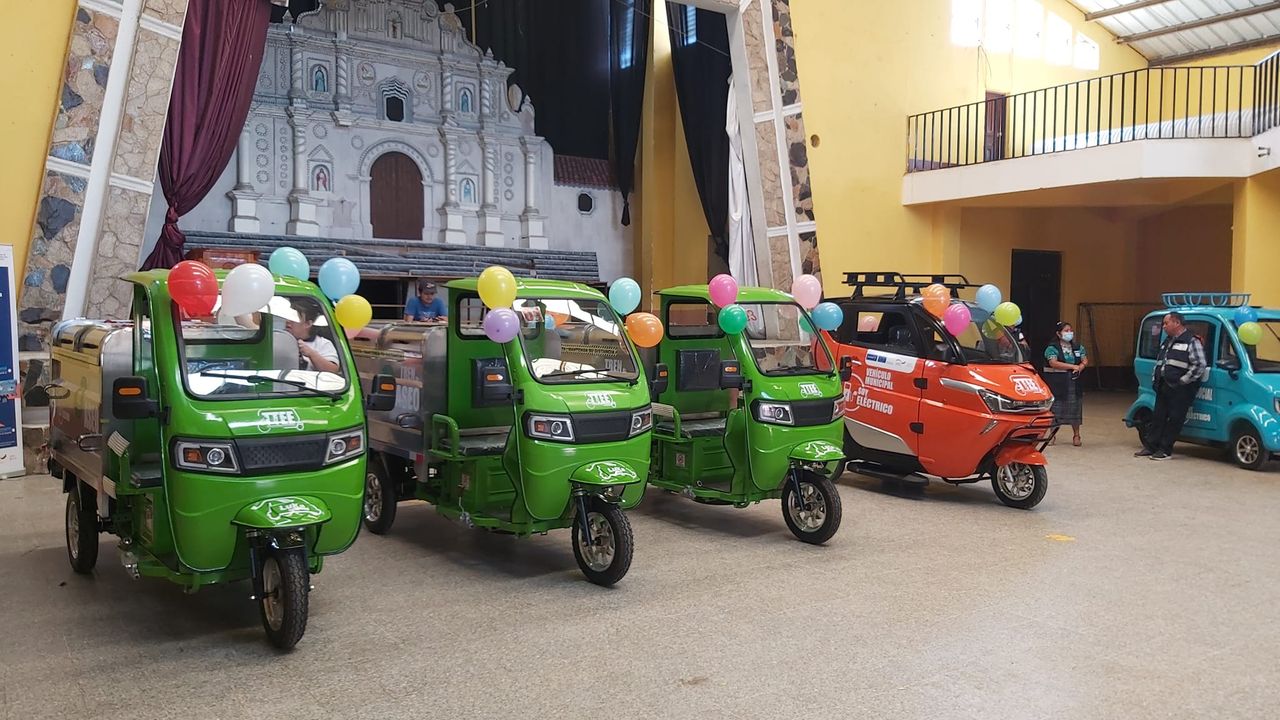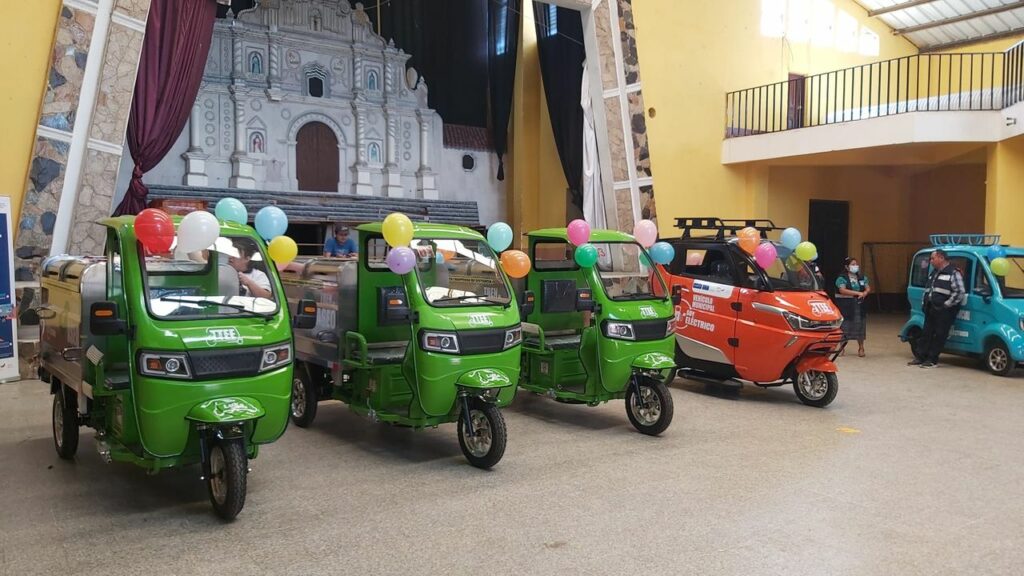 Together, we change transport: BMWK hosts partners from Viet Nam and India 
Transforming transport is key to achieving net zero emissions goals and limiting global warming to 1.5°C. To this end, the IKI currently supports 20 projects in the sector. What is crucial, moreover, is that action be undertaken by all countries in a joint effort.
In September, as part of a study tour across Germany and the Netherlands, two delegations from the Ministry of Transport of Viet Nam (MOT) and from the National Institution for Transforming India (NITI Aayog) were welcomed by the Federal Ministry for Economic Affairs and Climate Action (BMWK) in Berlin. In this context, Dr Behrens, Division Director of the International Climate Initiative (IKI), and Mr. Alexander Franke, Policy Advisor in the Climate Action and Transport Division of BMWK, exchanged with the delegations.
Joint action and support for the mobility transition
In his opening address, Dr Behrens recognised the significance of the NDC-Transport Initiative for Asia (NDC-TIA) project, as it supports two IKI priority countries, Viet Nam and India. He concluded with acknowledgements of the commitments made by the Prime Ministers of Viet Nam and India to achieve net-zero emissions by 2050 and 2070, respectively.
The meeting not only highlighted the countries' respective progress, strategies and decarbonisation goals, but also placed the e-mobility transition and the need for collective action in the spotlight.
India's decarbonisation development and priorities
Mr Sudhendu Jyoti Sinha, of NITI Aayog, placed particular emphasis on the significance of green freight in India: "When talking about decarbonising transport, we need to pay a lot of attention to tackling the emissions from heavy duty transport." Mr Sinha further pointed out that "7% of total emissions worldwide come from India and 14% of those emissions come from transport. From the transport emissions, 80% originate from road transport, of which 40% are emitted by heavy-duty vehicles. This shows that approximately 0.8% of the worldwide carbon footprint comes from Indian heavy-duty transport, which is very significant."
India's progress in the deployment of electric vehicles has hence been noteworthy. This has until now included 5,450 e-buses and a series of upcoming tenders under the National Electric Bus Programme, which plans to deploy 50,000 e-buses in upcoming years. At the same time, Mr Sinha stressed the importance of attracting more e-bus manufacturers to India to increase competition and manufacturing capacity.
Mr Siddarth Sinha, Public Policy Consultant and OSD to CEO of NITI Aayog, further highlighted the current policy priorities of India's climate commitment. Alongside procuring green finance, these include the National Mission on Circular Economy, promoting sustainable lifestyle through the global Lifestyle for Environment (LiFE) movement which is a core part of India's updated NDC and lastly, pushing for clean, shared and connected mobility through the National Mission on Transformative Mobility.
Cooperation towards Viet Nam's net zero commitment
In turn, Mr Vu Hai Luu (MOT) presented on the progress Viet Nam is making towards the decarbonisation of transport: "Viet Nam's commitment to decarbonisation was signified by the Prime Minister's commitment at COP26 in Glasgow, to reach net-zero by 2050." Since then, Viet Nam's Ministry of Transport has tabled an Action Plan for "Green Energy Transition" in the transport sector outlining interim targets and necessary actions to achieve net zero emission in the transport sector by 2050. Mr Luu expressed his gratitude for the cooperation and his hope for continued productive collaborations in the future: "We hope to continue to receive the support and companionship of the IKI in the development and implementation of activities to reduce greenhouse gas emissions to net zero in Vietnam's transportation industry by 2050."
Based on these inputs, the parties discussed further areas in which cooperation would be beneficial in the future, placing special emphasis on green finance and e-mobility roadmaps. Dr Behrens also expressed that it is vital to work on sector coupling, as there will be an enormous demand for renewable energy to fuel the decarbonised transport systems of the future.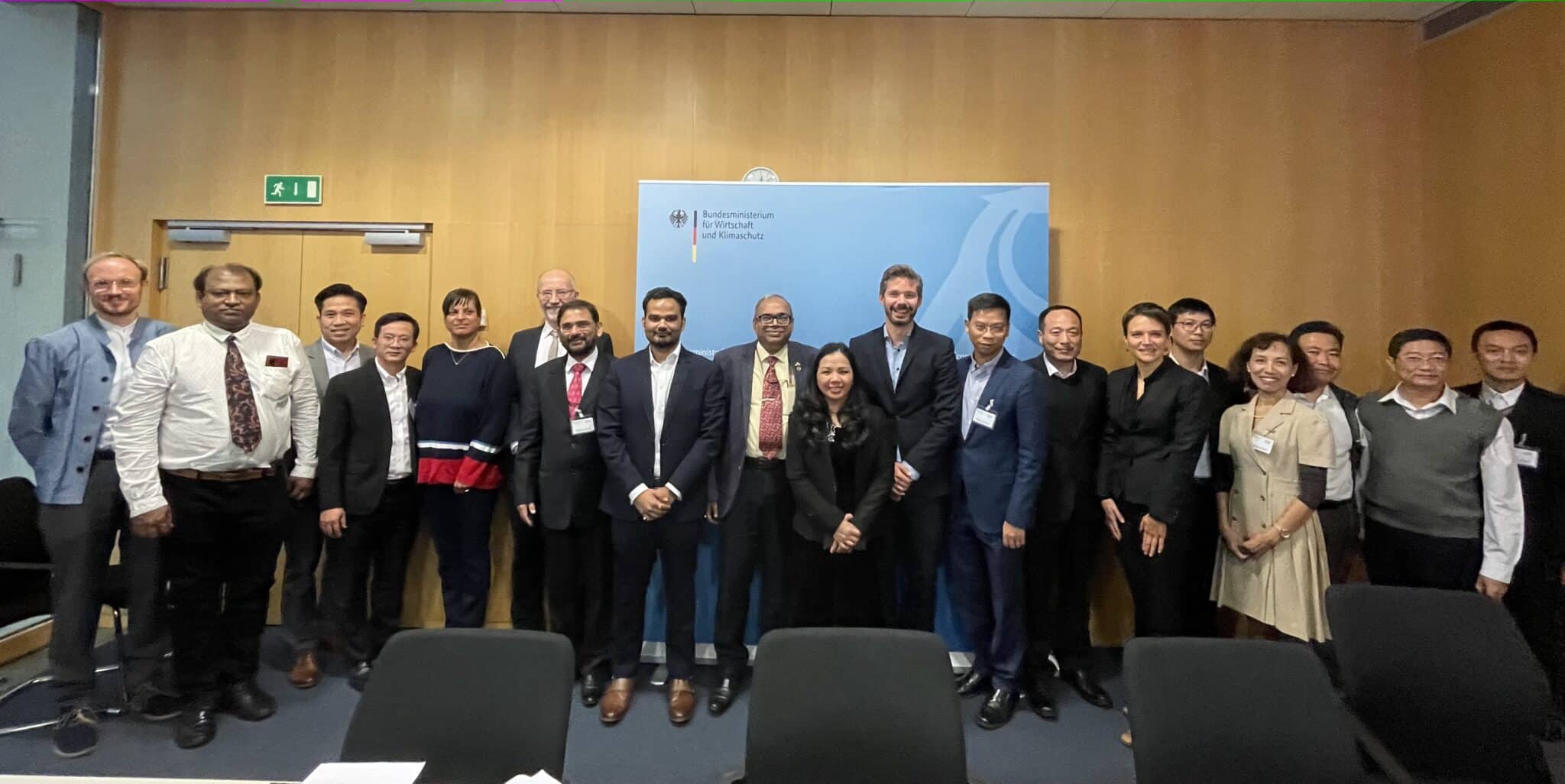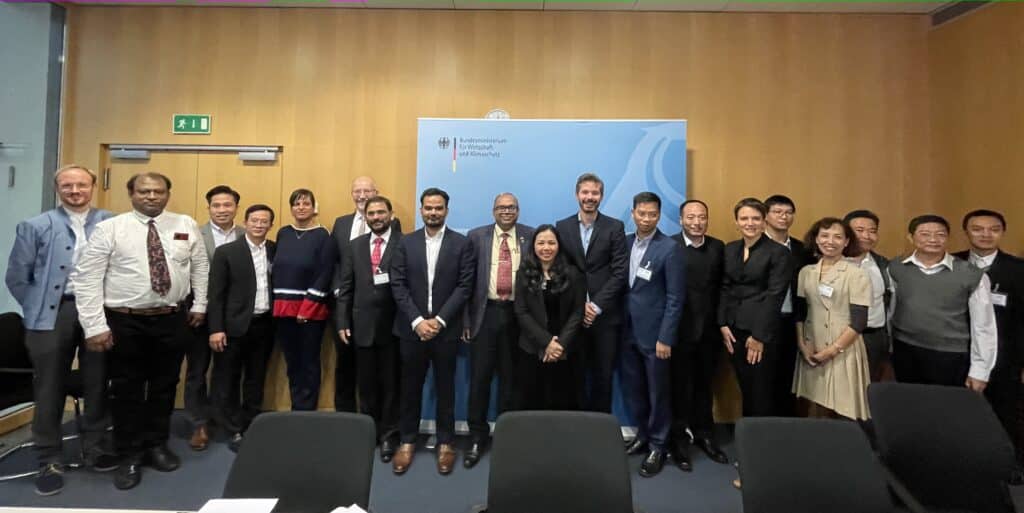 ---
Commissioned by the International Climate Initiative (IKI) of the BMWK, the NDC – Transport Initiative for Asia (NDC-TIA) is a joint programme of seven organisations and three partner countries, India, Viet Nam, and China, working to decarbonise mobility.
How to plan on a metropolitan scale – the Story of Mexico
This article is part of our #StoriesofChange where we profile the work of our partner countries in developing climate actions in transport. Read more #StoriesOfChange and follow the Hashtag on Twitter.
How to transform urban mobility in the second largest metropolis in the country? In 2018, the Guadalajara Metropolitan Area (AMG) started with an ambitious goal: to improve mobility planning towards sustainable modes in its 9 municipalities, each with quite different characteristics in terms of size, population density, urban development, access to services, among others.
The Metropolitan Planning Institute (IMEPLAN) embraced this goal to contribute to Mexico's national climate change strategy to reduce mobile pollutant emissions. This was tangigle in 2 projects approved by the EUROCLIMA+ programme "Strengthening of the Sustainable Urban Mobility Plan" and pilot project "Metropolitan Travel Analysis (Periplo)".
After four years of implementation, I would like to tell you a little bit about this wonderful journey through the lessons learned and preliminary results we have achieved so far.