Summary analysis​
In order to achieve the goals of the Paris Agreement, deep decarbonisation of the transport sector is necessary. This analysis looks at the commitments and goals countries are setting to decarbonise the sector within their Nationally Determined Contributions (NDCs) and long-term low greenhouse gas emission development strategies (LTS) submitted to the United Nations Framework Convention on Climate Change (UNFCCC). It is based on the documents included in this Tracker of Climate Strategies for Transport, as of 1 May 2021. This analysis will be updated regularly with the most recent submissions.
In January, a preliminary analysis was released here. The main focus of this analysis are the newly-submitted NDCs, consisting of updated first and second NDCs. We recommend reading about transport in the first generation of NDCs in SLOCAT Partnership's NDCs Offering Opportunities for Ambitious Climate Action report of 2016, GIZ's 2017 Transport in NDCs report and SLOCAT Partnership's Transport and Climate Change Global Status Report 2018. In addition, GIZ's Six Action Recommendations to enhance climate ambition in transport and the Ten Recommendations to raise ambition for transport in NDCs by the SLOCAT Partnership will help to better understand the context of transport action for climate.
Please download here the internal Excel file which contains all information of this database and analysis charts (last updated 1 May).
For information on the background of this project, please refer to this page. We encourage you to use the database for your own work and research. Find relevant instructions in this how-to use guide. The key insights and good practices of this analysis can be retrieved here.
This analysis is structured along the following questions:
Where do we stand?
Parties to the UNFCCC have been requested to submit updated or second NDCs 8-12 months before the 26th UN Climate Change Conference of the Parties (COP26), which will take place 1-12 November 2021. Parties have been encouraged to reflect increased ambition in tackling climate change in these new NDCs. By 1 May 2021, 54 new or updated NDC have been submitted. Out of these new submissions, 10 are officially titled as second NDCs, while the remaining 44 have been submitted as updates to their first NDC. Countries whose first NDC spanned a timeframe of up to 2025 had to submit their second NDC, while NDCs with a timeframe of up to 2030 had to be updated. These 54 new NDCs currently represent around 59% of global transport CO2 emissions.
Some of the largest transport CO2 emitting countries that submitted new NDCs include Australia, Brazil, the EU, Japan, Mexico and the US. However, after the US, which is the biggest transport emitting country, the second- and third-largest transport emitting countries, China and India have yet to submit a new NDC. The European Union has already submitted its updated NDC representing all EU member states. In addition, 15 Latin American countries and 14 Asian countries have submitted second generation NDCs. 6 African countries have submitted new NDCs to the UNFCCC to date. 62% of new NDCs are from middle-income countries and 26% from high-income countries. Only 9% of new NDCs are from low-income countries.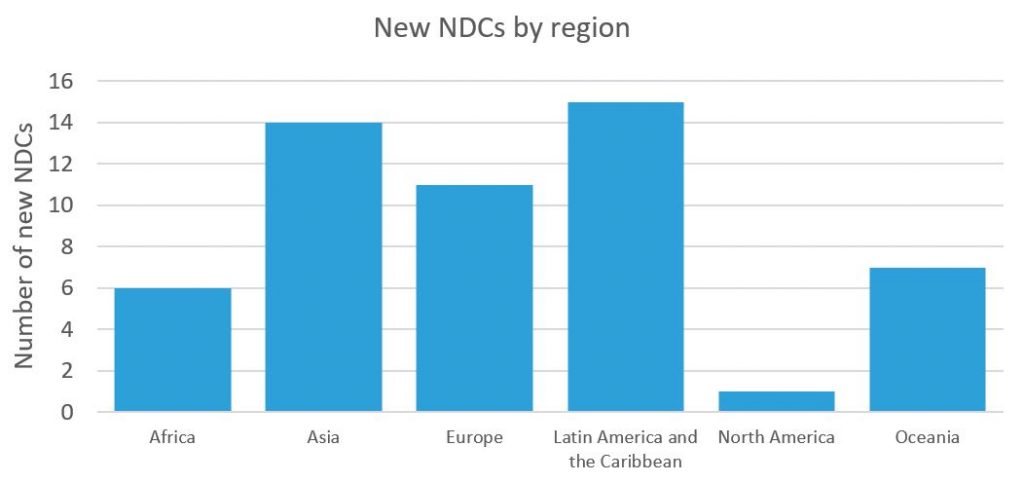 Limiting global warming to 2°C will require ambitious NDCs that facilitate large-scale carbon reductions over an extended timeframe. The emission mitigation target year for nearly every second generation NDC is 2030. In support of more sustained, long-term planning, the UNFCCC also requires the submission of long term strategies (LTS). As of May 2021, there have been 29 official LTS submitted to the UNFCCC, most with strategies and targets set for 2050, a good number of which aim for net zero emissions. Overall, according to the Climate Action Tracker, 127 countries, accounting for 63% of global economy-wide emissions, are considering or have adopted net zero targets.
Do we see an increase in ambition to mitigate transport emissions?
Transport was highlighted as a major area for emission reductions in 75% of first-generation NDCs, with transport measures included in 80%. However, just 8% of first generation NDCs included specific transport emission mitigation targets and 20 NDCs included other indirect targets for transport.
8 of the 53 new submissions include a specific emissions reduction target for transport. 15% of new NDCs include a transport emission mitigation target, significantly more than the 8% which included transport targets in the first generation of NDCs.
The first country with a specific transport target was Andorra, expressing the intention to reduce road transport GHG emissions by 50% by 2030. Cuba's first-generation NDC did not include anything on transport, but the country's updated NDC now includes a clear objective of reducing ground transport fossil fuel usage 50% by 2030. Bangladesh, Grenada and Japan repeated their transport targets from their first generation NDCs. Here you can find a list of all the second generation NDC transport emission mitigation targets: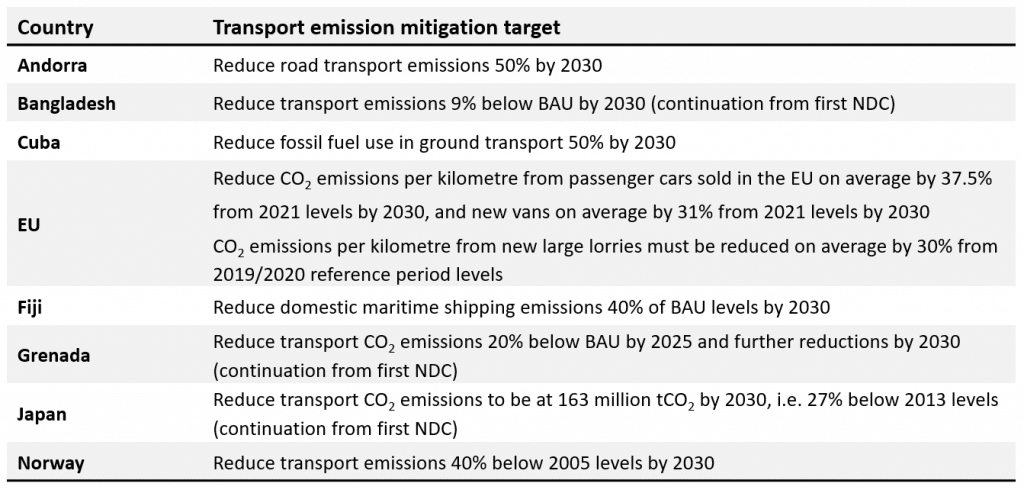 The second generation of NDCs support transport action with additional targets not directly related to emissions. There are 16 indirect targets in the new NDCs (30% of all new NDCs). The table shows all other indirect targets (except for e-mobility targets, which you can find in section on e-mobility):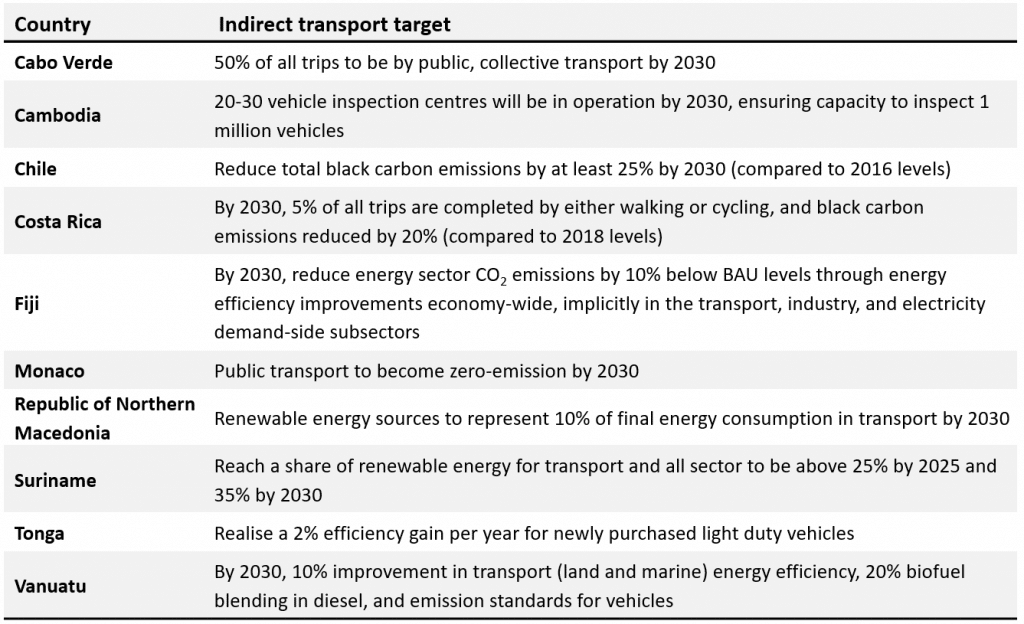 The second generation of NDCs make better linkages to long-term decarbonisation visions. 20 new NDCs make references to long-term visions, such as carbon neutrality by 2050. Colombia commits to a peak of emissions between 2027 and 2030. Chile aims for emissions to peak even earlier – by 2025. The United Kingdom as successor to the Chilean COP Presidency in 2021 increased its ambition in comparison to the previous EU NDC, and commits to a 68% emission reduction by 2030 as well as carbon neutrality by mid-century.
What kind of mobility actions are planned to reduce emissions?
As of May 2021, 39 new NDCs (72%) highlight transport by including transport mitigation actions, with more than 230 mitigation measures referenced in NDCs. However, the majority of these measures do not aim to reduce unnecessary motorised travel overall, with only 8% of all measures aiming to achieve this goal. Instead, 53% of transport measures in the new NDCs strive to improve the vehicle and operational efficiency of transport. 19% of mitigation actions intend to induce a shift towards more environmentally friendly mobility modes, such as public transport, rail, walking, cycling and shared mobility.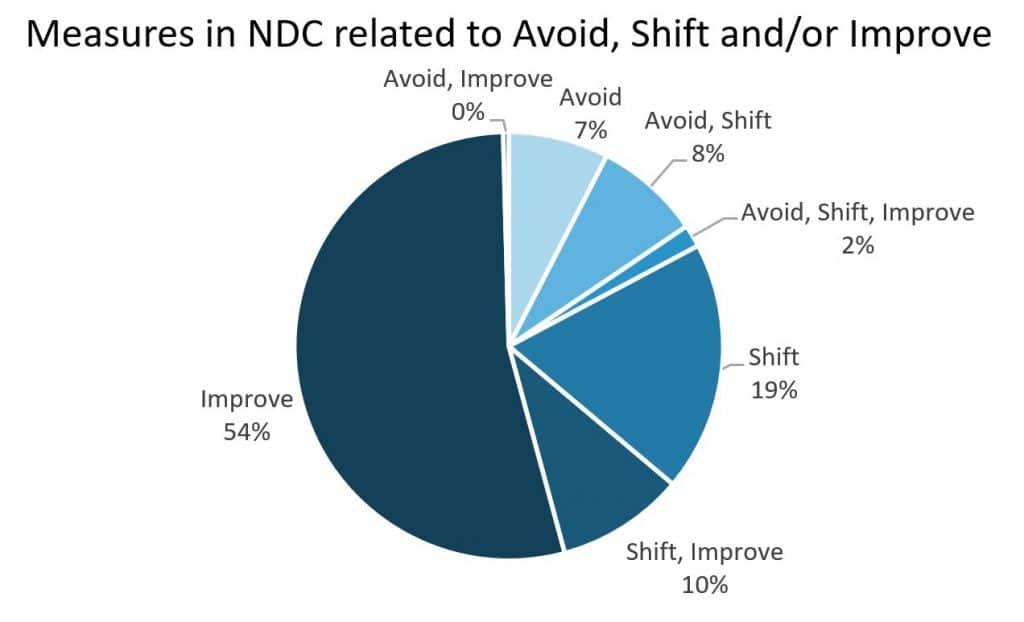 The database follows the approach of ITF's Transport Climate Action Directory and classifies transport mitigation measures in one of the following five high-level categories:
It confirms that transport measures in NDCs focus mainly on fuel and efficiency improvements. In this category, the most popular themes are vehicle improvements (34 actions) and alternative fuels (30 actions). Countries also included a strong focus on infrastructure improvements (17 actions) in the category 'Transport system improvements'. E-mobility is the most popular theme.
Are countries starting to include transport adaptation and resilience in climate commitments?
Transport is highly vulnerable to the impacts of climate change, with transport systems threatened by extreme weather events and slow onset impacts, such as sea level rise. Yet, only three countries have adopted specific transport adaptation targets in their new NDCs:
● Cambodia aims to develop climate-proofing road standards by 2022 and implement them on all roads by 2030.
● Kenya aims to climate-proof at least 4,500 km of roads by 2030.
● Papua New Guinea has committed to making 1.2 billion USD in transport infrastructure assets climate resilient.
While the first generation of NDCs did not include much content on adaptation , the new generation of NDCs includes many more measures focusing specifically on adaptation. Moldova's new NDC even focuses entirely on adaptation and includes several activities on transport adaptation.
65 adaptation measures for transport have been identified in the new generation of NDCs, originating from 15 countries (28%). In comparison to the first generation of NDCs, these policies are now more detailed and varied. Colombia, for example, has adopted a comprehensive package of adaptation measures, from climate risk and adaptation monitoring systems to climate-sensitive transport planning. Rwanda also aims to establish early warning systems, disaster risk monitoring and improve transport infrastructure and services' resilience.
The most common transport adaptation measures in the new generation of NDCs are transport infrastructure resilience improvements (20 actions), followed by design standards (8 actions) and disaster information systems (7 actions).
What role does freight play?
Freight currently accounts for 40% of transport GHG emissions, and emissions are continuing to increase. Therefore, reducing emissions from freight is pivotal for meeting the goals of the Paris Agreement. Yet, only 21% of first generation NDCs refer to freight, and just 25% of new generation NDCs explicitly mention freight in their transport activities.
Sustainable freight measures can range from logistics improvements to avoid unnecessary good transport, shifts to more efficient freight modes (such as rail and sea or inland shipping) and increasing freight efficiency (for example, improved truck fuel consumption and increased vehicle loads). Argentina, Cambodia, Colombia, Mongolia, South Korea and Thailand intend to shift freight transport from road to rail or water transport. Colombia and Cabo Verde mention activities to optimise logistics to reduce the number of freight trips.
Are shipping and aviation included in transport climate commitments?
Aviation and maritime transport emissions have grown 59% since 2000, and currently account for more than 4% of global CO2 emissions, making strong and comprehensive national policies essential for bringing these sectors in alignment with the Paris Agreement. However, international aviation and maritime transport are often neglected in national transport and climate policies. Accordingly, there is a clear need for countries to elaborate measures to reduce emissions in their NDCs and long-term planning, ideally based on the Avoid-Shift-Improve framework. Coherence between countries' national climate objectives and their positions in international deliberations (e.g. as part of the ICAO or IMO) can help achieve the necessary decarbonisation of this sector of transport
Fiji provides a great example by setting an ambitious target to reduce emissions from domestic maritime shipping 40% by 2030. The Maldives follows suit and intends to promote sustainable fisheries through cleaner vessels. Norway intends to electrify a third of their vessels by 2022, as mentioned in their LTS.
Is the future of mobility electric – and sustainable?
Policies to promote electric vehicles are the most common transport mitigation measure, mentioned in 21 of the new generation NDCs. The goal of promoting electric vehicles is similarly shared by countries in the Global North and South.
However, measures to promote electric vehicles are not always backed by sufficient efforts to augment clean power grids. Hence, the emphasis on electric vehicles in NDCs will not inherently lead to lower emissions. With a few exceptions (such as Cabo Verde and Suriname), most countries do not directly link renewable energy to electric mobility targets.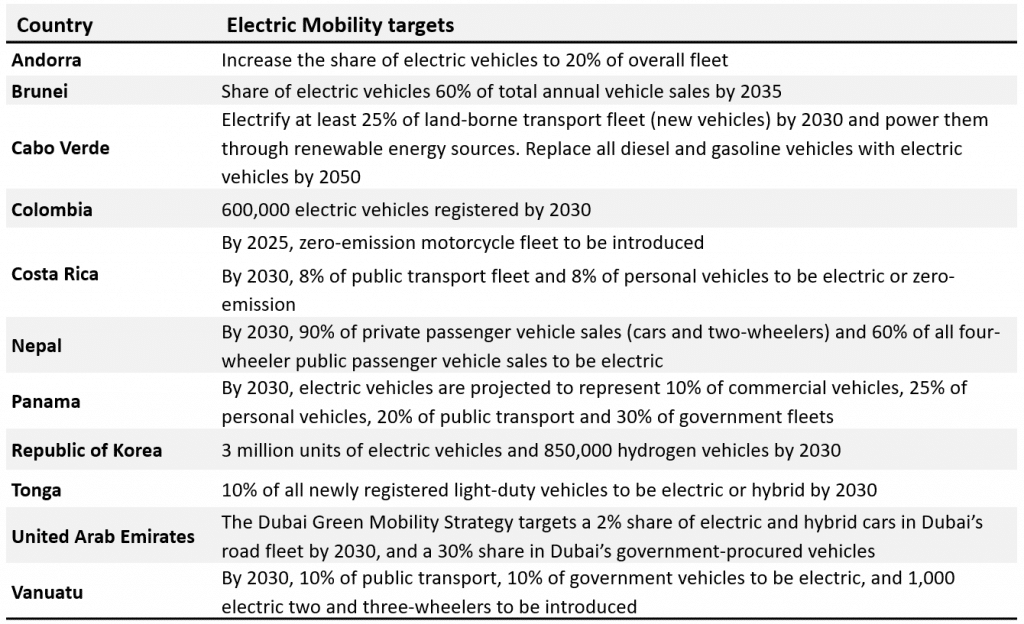 Globally, there is a trend towards the phase-out of vehicles with internal combustion engines at the national and local levels, however new NDCs are not reflecting this trend. Only Cabo Verde (full replacement by 2050) and Singapore (mentioned but without a specific time-frame) make references to the phase-out of fossil fuel-powered vehicles.
Six of the 53 new generation NDCs mention the use of hydrogen in transport. Chile, for example, is considering green hydrogen for freight, while Korea wants to have 850,000 hydrogen vehicles by 2030. Australia also aims to develop the first regional hydrogen export hub.
Do the NDCs encourage climate-friendly transport in cities?
The majority of adaptation and mitigation measures do not make references to the geographic scale of activities. Just 18% explicitly specify urban transport, (while only 3% specify rural transport). Panama is the only example of an NDC which references implementation through sustainable urban mobility plans (SUMPs). Measures related to urban planning, such as comprehensive planning tools, references to increases in density, and the promotion of mix-used development, are envisioned by Argentina, Cabo Verde, Mexico, Nicaragua, Papua New Guinea and Suriname.
References to active mobility are particularly common in the new generation of NDCs, especially in developing countries. Walking and cycling in combination with new mobility services (such as shared mobility) offer viable alternatives to private vehicle ownership and other inefficient transport modes. Nepal intends to expand paved roads with bike lanes and footpaths in all metropolitan cities. Rwanda intends to develop infrastructure for public transport, walking and cycling in urban areas.
What are the investment needs for transport?
Global investment requirements in infrastructure are estimated at USD $6 trillion per year up to 2030, according to the IMF. Just 15 of the new generation NDCs include references of any kind to investments and financing of climate action. 8 NDCs list transport-relevant investments, focusing on flood protection, resiliency upgrades or other adaptation activities. The investment requirements for sustainable transport outlined in the NDCs add up to USD $70.4 billion, of which at least USD $4.3 billion will need to come through international assistance.
Several developing countries express the need for financing support from industrialised countries, but without quantifying the amount of support required. NDCs from the Domincan Republic, Rwanda, South Sudan, Suriname and Tonga also mention the need for capacity building and technology transfer to implement solutions for sustainable transport.
---
This analysis shows you some examples of the kind of insights this database can help provide. Please feel free to download the data and utilise it for your interests and needs. If you have any questions, or would like to share how you used the data, please contact Nikola Medimorec at email hidden; JavaScript is required.