GIZ TRANSPORT AT COP28
In 2023, the 28th session of the Conference of the Parties (COP28) to the UNFCCC will be held at Expo City, Dubai in the United Arab Emirates. COP28 will take place from 30 November until 12 December 2023. Pre-sessional take place from 24 to 29 November.
To achieve the goals of the Paris Agreement, a phase-out from fossil fuels , especially oil, is imperative, particularly in the transport sector, which remains heavily dependent on oil for about 91% of its final energy consumption. The Council of the EU's stance for COP28 includes an explicit call for an 'unabated' fossil fuel phase-out which would be an essential step towards a net-zero world and a net-zero transport sector.
In the realm of the Global Stocktake (GST), the assessment allowed to put emphasis on the identified gaps for increased climate action. This means that more ambitious mitigation targets in Nationally Determined Contributions (NDCs) are needed and underlines the pivotal role of enhanced transparency in monitoring progress. The GST underscores the significance of sectoral quantitative mitigation targets, advocating for a comprehensive transformation across all sectors. With a look to transport which has exhibited the highest increase in global emissions from 2010 to 2019, specific attention should be paid to this sector.
COP28 serves as a crucial opportunity to bridge the gap between technical insights from the GST and their political integration into both international negotiations and national NDCs.
Read below for an overview of GIZ Transport's presence during COP28.
---
18th Session of Global Forum on Human Settlements (GFHS); Session 2A: Environmentally sustainable transport accelerates the climate goal and the SDGs
3 December | 03:10 – 04:40 pm (UTC+4)
Organised by: WMO, UNCTAD, UNCRD and IUCN
Venue: Radisson Blu Hotel, Dubai Canal View (Address: Marasi Drive, P.O. Box 16021, Business Bay)
GIZ focal point: Urda Eichhorst as Speaker
CLIMATE COMPATIBLE GROWTH – TRANSPORT DAY AT COP28
4 December | 01:00 – 06:30 pm (UTC+4)
Organised by: CCG, FCDO, ADB, SLOCAT, WRI
Venue: Voco(r) Bonnington Dubai (Address: Jumeirah Lakes Towers, Cluster J PO Box 37246)
GIZ focal point: Urda Eichhorst
Event details: Hybrid event, see session details, register here for on-site participation
>> Join online here
E-bus: a blueprint for a global deployment
4 December | 04:15 – 06:00 pm (UTC+4)
Organised by: CCTF/WBCSD
Venue: Green Zone
GIZ focal Point: Jens Giersdorf
Event Details: Panel
Transport Community Reception
4 December | 07:00 – 09:00 pm (UTC+4)
Organised by: CCG, FCDO, ADB, SLOCAT, WRI
Venue: Voco(r) Bonnington Dubai (Address: Jumeirah Lakes Towers, Cluster J PO Box 37246.)
GIZ focal point: Urda Eichhorst
Event details: By invitation only.
Visioning to implementation – National transport decarbonization policies that match climate targets in China, India, and Vietnam
5 December | 03:30 – 04:30 pm (UTC+4)
Organised by: WRI (GIZ, SLOCAT, ICCT, REN21, Agora Verkehrswende)
Venue: NDC Partnership Pavilion
GIZ focal point: Urda Eichhorst
Event details: Hybrid event, see session details, Launch of the new NDC-TIA Report
>> Watch the livestream here
The pathway to decarbonization and climate resilient transport
6 December | 11:00 am – 12:30 pm (UTC+4)
Organised by: ADB
Venue: ADB Pavilion
GIZ focal point: Urda Eichhorst
Event details: tbc
Sustainable low carbon mobility
6 December | 11:00 am – 01:00 pm (UTC+4)
Organised by: UNDESA, UNECE, UNESCAP, SLOCAT, UIC and UITP
Venue: UN DESA / SDG Pavilion, Blue Zone
GIZ focal Point: Urda Eichhorst
Event details: tbc
Are Transport Planners Paying Enough Attention to Adaptation?
In just the past few weeks, we have seen severe flooding in Greece, Turkey and South Africa that has destroyed lives, livelihoods and infrastructure; flash floods that have affected the New York subway and airport; Typhoon Koinu in Taiwan; and drought that has led to record low water levels in rivers in Brazil, isolating communities from trade, medicine and food. These events come on top of the slower, more continuous effects of climate change, such as rising temperatures and sea levels. So, we ask – is the transport sector prepared for the changes that are already happening and those that are yet to come?
Although Nationally Determined Contributions (NDCs) and Low-emission Long-Term Strategies (LTS) do not provide the full picture, the NDC Transport Tracker from GIZ and the SLOCAT Partnership makes it possible to analyse what these documents say about transport and can serve as an indicator on priorities for countries. We took a look at what countries are planning to enhance resilience in the sector.
The fact that an increasing number of countries have included some form of adaptation action in their updated NDC or in LTS shows growing awareness. However, the sector is far from ensuring resilience of the system under a changing climate.
Limited focus on adaptation and resilience in transport
It is clear that NDCs and LTS focus mainly on mitigation. However, from the very beginning, developing countries have emphasised the need to include information on adaptation to ensure that the topic does not fall off the agenda. This concern is reflected in the submissions: All NDCs and two thirds of LTS that include adaptation measures for transport come from developing countries.
Considering insufficient mitigation ambition, adaptation becomes even more important. Despite this, less than half of second-generation NDCs (43%) and only one fifth of LTSs (21%) address transport resilience. The largest share of NDCs that include transport resilience measures are from low-income countries, with more than half of low-income countries including adaptation measures, compared to only 17% of high-income countries. We can only hope that the topic is not covered so much in those countries due to a lower need for international financing and not because of a lack of awareness and action.
Even fewer countries have set adaptation goals. Only eight countries have set quantitative or qualitative adaptation targets for the transport sector. These include setting target years for the implementation of relevant activities, specifying the number of ports or other infrastructure to be built or renovated in a climate-resilient manner, and the amount of funding to be allocated to climate-proofing infrastructure.
Adaptation in Kenya's forthcoming Long-Term Strategy (LTS)
Expected climate impacts and planned adaptation responses are a key element in the Kenya's forthcoming LTS, which was presented at the Africa Climate Week. The country calculated that investments in adaptation in the transport sector will average around USD 51 million per year over the next 30 years but will prevent a staggering USD 477 million per year in damages. This seems to be a pretty good return on investment! Priority actions include the mainstreaming of climate change in the next 20-year Roads Master Plan, development of a 50-year Transport Master Plan in line with climate targets, as well as climate proofing of new and existing transport infrastructure across modes.
Adaptation needs greater mainstreaming in planning and policy
Consideration of climate change at all planning levels is essential, if governments are to design resilient systems that have lower long-term costs but remain reliable. The assessment of climate change risk and vulnerability needs to become an integral part of transport system planning and should be legally required. Adapting to expected impacts can mean using alternative materials, changing designs, adding protective elements, including ecosystem based measures or choosing different sites in infrastructure projects. Existing systems need to be evaluated and, whenever possible, modernised.
The adoption of design standards and technical norms at the national level can support stakeholders in this process. International standards such as the ISO 14090[1] Adaptation to Climate Change standard can provide guidance. To ensure climate change adaptation works in practice, policies, plans and building codes must take into account local conditions and vulnerabilities.
Nevertheless, measures in NDCs focus on structural and technical solutions, such as flood protection and improved maintenance and we see the same trend in LTS. Despite the importance of frameworks that make adapting to climate change an integral part of the process, only 26% of measures aim to mainstream climate considerations in their institutions and regulatory frameworks (see figure).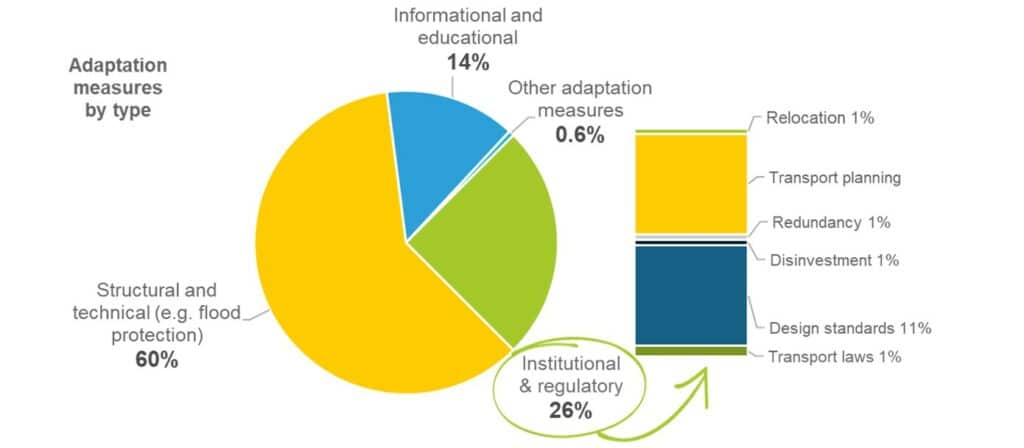 Awareness and capacity are key – as is better climate information
Resilient transport infrastructure and mobility services will only be possible if transport actors at all levels of government are aware of the threats posed by climate change to the systems entrusted to them and possess tools and knowledge for addressing these challenges. This requires salient information to be collected and distributed and for stakeholders to receive training on how to select the best solutions. Raising awareness and building capacity will also support the integration of climate change in every-day decision making. 14% of measures in second generation NDCs are aimed at enhancing this capacity. The Sourcebook 'Adapting Urban Transport to Climate Change' is a great tool to help policy-makers to raise awareness and understand possible adaptation measures for urban transport.
At the same time, disaster risk management and contingency planning, including early warning systems, can minimise the negative effects of extreme climate events. Such plans and systems ensure that emergency responses take place to restore critical infrastructure and maintain transport availability. To ensure the optimal implementation of such policies, coordination at various levels and between sectors is needed as well as innovative financial solutions. However, only around 3% of NDCs and 4% of LTS contain measures related to early warning systems or emergency planning. If this is any indication for the preparedness of countries, then we should worry.
Awareness activities should extend to the private sector. Not only logistics companies are directly affected by climate-induced disruptions to transport systems. Most companies and businesses rely on the delivery of input materials for production and transport of final products to customers. Retailers require goods to sell and that customers can get there to buy. As businesses may be significantly impacted, harnessing their ability to contribute to the solution will help to prioritise activities, secure necessary financing and tap into the vast experience and knowledge of local stakeholders.
Reporting on planned and implemented adaptation activities can support provide inspiration to others. But international funding will be required to implement measures at scale to significantly enhance resilience in the sector. Information provided in NDCs and LTS can help inform funders and those providing technical assistance and clarify country priorities.
Browse NDCs and LTS' yourself: The NDC Transport Tracker
The NDC Transport Tracker, developed by GIZ and SLOCAT, is a tool to track the ambition of transport targets around the world. It provides insights into what other countries are aiming to achieve, i.e. what transport actions they have included in their NDCs and LTS, and how this is evolving over time. Results based on the tool have, for example, been used in the latest SLOCAT Transport, Climate and Sustainability Global Status Report – 3rd Edition. The tool also enables peer learning. Countries can check what others have already implemented or are planning to implement and contact their counterparts to discuss and learn from their experiences.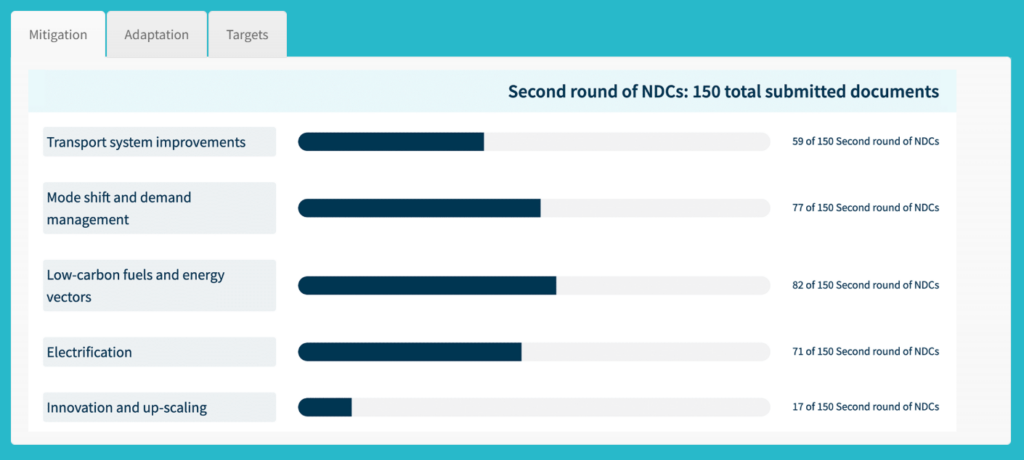 ---
[1] More information about the standard is available at: https://www.iso.org/standard/68507.html
Free online course Transport Data: From MRV to Action
"Transport Data: From MRV to Action" is an innovative and entertaining online course about the Measurement, Reporting and Verification (MRV) of greenhouse gas (GHG) emissions in the transport sector. The course empowers participants to design and implement MRV systems for transport sector. It also imparts knowledge on data collection and transparency, and the importance of MRV systems for Nationally Determined Contributions (NDCs). Packed with a wealth of information, our self-paced online course can be completed according to your individual schedule.
Why should you take this course?
Gaining knowledge and enhancing skills for your profession is critical and a hard job – attending trainings require time, you must follow a strict schedule and the work emails are piling up in parallel. The exchange with peers about similar challenges and learn from their solutions is crucial, but due to time zone differences and other obligations it becomes hardly possible. So, what is crucial to build a global community of experts?
Especially as urgent scale up of NDCs and implementation of a robust MRV system in this critical decade is needed to keep global warming below 1.5 Celsius degrees.
Building upon long-standing experience and collaboration with UNFCCC
Therefore, the changing-transport team created a free online course on MRV for Transport, also called "Transport Data: From MRV to Action". Building upon our experience from several in-person and online trainings on MRV in Africa, Asia and Latin America since 2017, we created this self-paced course for those who are new to the job in implementing the NDC measures in transport, but also for those how are technical advanced and want to re-fresh their knowledge on international requirements and want learn from their peers in over 14 case studies and 6 lectures from our network and partner countries. You can check out the online course playlist here.
Who is this course for?
The course is designed for government officials working in transport or climate policy, including in particular individuals concerned with emissions reporting. However, the course is also available to all interested parties. Whether you're an environmental enthusiast, a sustainability professional, a transportation planner, a government official, a student, or simply curious about the impact of transport on climate change, this course is for you!
What will you learn?
While working through the modules, you will
learn about the causes of climate change and gain insight into the estimation and calculation of greenhouse gas emissions from the transport sector;
explore the history and development of international climate talks, including MRV, Enhanced Transparency Framework (ETF) and Nationally Determined Contributions (NDCs);
and become acquainted with the most important data needs for estimating emission mitigation measures and how to develop baseline scenarios.
Completing this course will empower you to calculate GHG emissions and prioritise policy measures for decarbonising transport systems. The course is approved by the UNFCCC and the certificate will help you to demonstrate your skills within and outside of your organisation.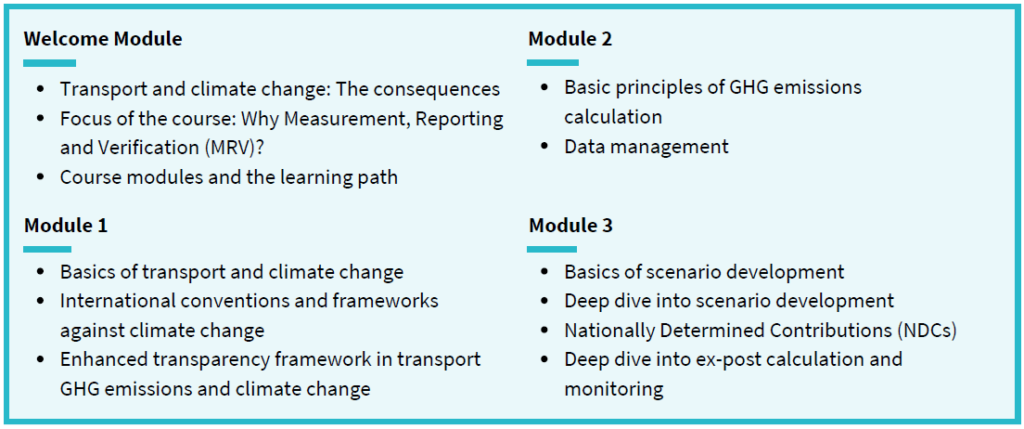 And learners are not alone: the two fictional characters Ms. Taraji Noor, a senior transport expert, and Mr. Tuan Đặng, Ministry of Transport Official, supporting through the course, highlighting important information and guide through the exercises and games. With passing the final exam learners can get a certificate in the end of the course.
Meet the experts
In the first roll-out of the online course, we gave the opportunity to meet the course instructors in a live online event. Read more about it here.
Be part of the learning community
The online course is on atingi, a free learning platform financed by the German ministry for Deveelopment Cooperation. Discover more about the online course here. For more information download the course flyer here, and a content overview and course calender here. The course calendar can be used to schedule your e-learning.
You can find more tools and guidance in the Transparency Toolkit and additional information below:
Unveiling Knowledge and Experience: E-mobility and Fuel Economy Development in China
China has set policies to shift from traditional to eco-friendly vehicles due to rising emissions. Multiple ministries, including the State Capital Supervision and Management Committee, Ministry of Transport, and Ministry of Construction, are involved in crafting and promoting these policies, similar to Viet Nam's approach. They've outlined goals for e-mobility from 2021 to 2030, supported by new regulations for charging infrastructure planning, investment, and location requirements, with emphasis on fast, high-capacity stations and integrating new technology in construction. The country is also prioritising the digitalisation of electric transport and a dedicated charging station search application. Infrastructure development for accessible charging stations is a prime focus, backed by government evaluation of investment efforts. China is also curbing internal combustion engine use, limiting vehicle circulation to one day a week, and implementing a "lottery" system for new purchases.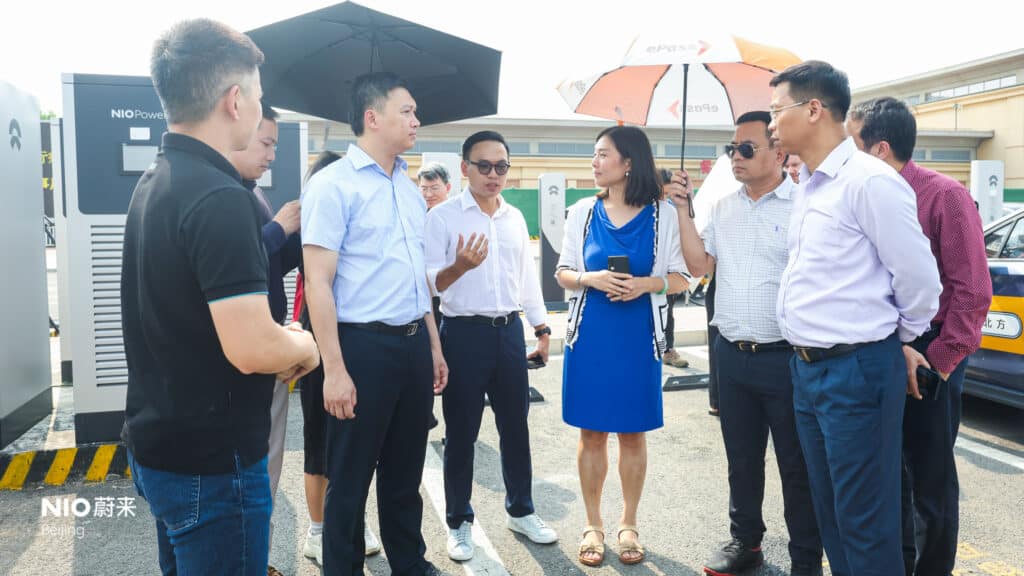 From 24-27 July 2023, the delegation of the Viet Nam Road Administration, the Viet Nam Register and the Department of Transport of Ho Chi Minh City, with the support of Deutsche Gesellschaft für Internationale Zusammenarbeit (GIZ) GmbH, within the framework of the project "Transport Initiative in Nationally Determined Contribution for Asia" (NDC-TIA), conducted a visit to China to learn and work with the Ministry of Transport of China, Centres and Research Institutes in the country on the topic of electric mobility (e-mobility) development and fuel economy standards in China. This activity contributes practical support for the Viet Nam Ministry of Transport in the process of revising the Road Traffic Law, as well as formulating and enacting policies and regulations to promote the use of fuel-efficient vehicles and renewable energy.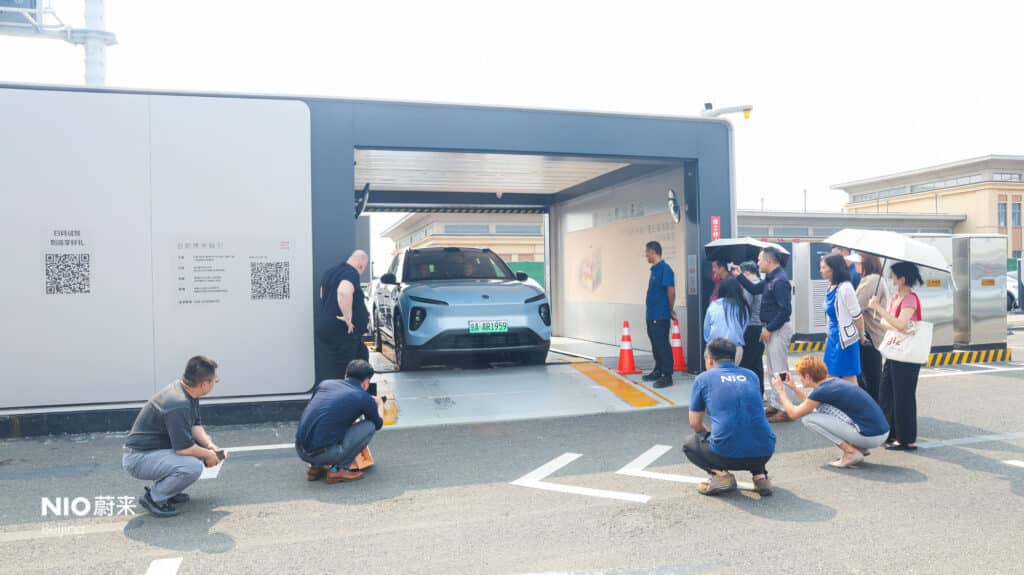 E-Mobility Infrastructure Development: Vietnamese delegation witnessed a collaborative effort between various entities, including Beijing Traffic Development and Investment Company, Beijing Energy Company, and NIO in China to create a unified, interoperable charging infrastructure for electric vehicles. This model, allowing multiple brands to use the same charging stations, highlights the potential for collaborative development and inter-brand compatibility. It's a valuable blueprint for Vietnam to consider when establishing its electric vehicle infrastructure, emphasising the importance of cooperation among stakeholders and ensuring compatibility for all vehicles.
Fuel Economy Standard Setting: Learning from the China Emission Control Centre, the delegation explored the phased approach to setting standards. China's strategy began with the Minimum Energy Performance Standard (MEPS) to aid manufacturers, encouraging the adoption of advanced technology and updated production models. As vehicle production diversified, they integrated the Corporate Average Fuel Economy (CAFE) standard, maintaining MEPS to phase out outdated technologies. This staged approach allows for flexibility while progressively eliminating obsolete technologies.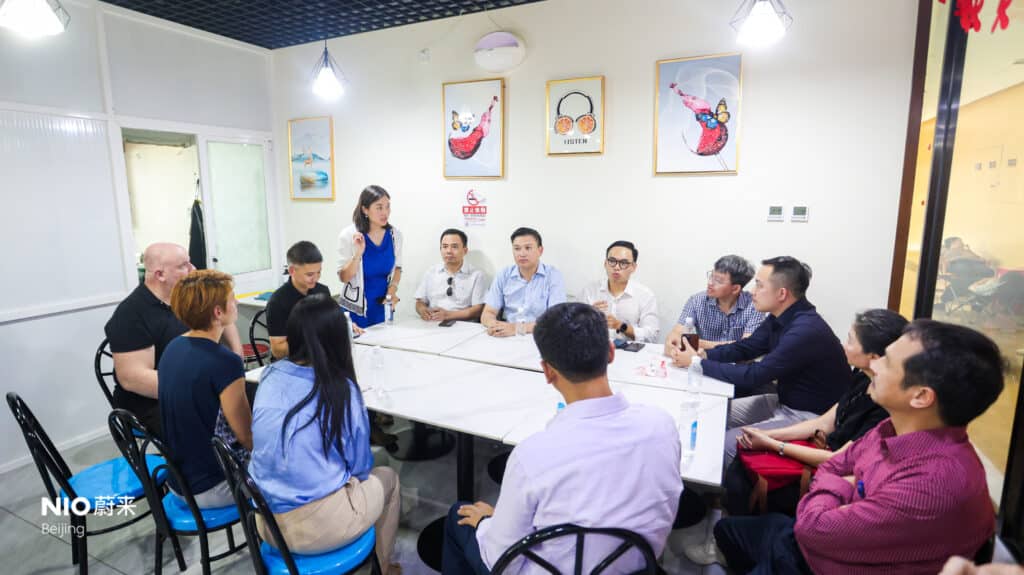 Both aspects highlight the significance of collaboration, adaptability, and phased implementation when developing e-mobility infrastructure and fuel economy standards. Viet Nam can leverage these insights to formulate comprehensive and adaptable strategies with a priority of charging infrastructure investment for sustainable transport development.
---
NDC-TIA is part of the International Climate Initiative (IKI). IKI is working under the leadership of the Federal Ministry for Economic Affairs and Climate Action (BMWK), in close cooperation with its founder, the Federal Ministry of Environment and the Federal Foreign Office. In Viet Nam, the project's implementing organisations are GIZ and partner institutions including World Resource Institute (WRI) and International Council on Clean Transportation (ICCT).
Walkway to Sustainable Mobility – Walk21 Conference in Kigali
Celebrating Champions of Walkability
Once being called a place of no hope, Rwanda's capital Kigali has become a thriving metropolis with ambitious plans for green and sustainable urban development. Thus, it's a fitting choice that the first Walk21 conference on the African continent was hosted at the University of Rwanda in Kigali, the "city of a thousand hills". In practice, the 4-day conference on walking took place across several areas of the city. Participants had the opportunity to experience Kigali's high level of walkability during numerous 'walkshops', e.g. in the two car-free zones of the city and during the bi-weekly car-free day held on October 15. Thanks to the broad support of the City of Kigali and international organizations such as UNEP, TUMI, and more, the event provided a well-designed agenda with free-of-charge access for its participants.
Kigali's urban mobility paints an intriguing picture with a modal split of 52% walking (including a minor share of cycling), 31% private motorised vehicles (including cars, motos, taxi services), and 17% public transport (buses). Surprisingly, despite the city's hilly terrain, cycling plays a vital role, especially in urban logistics.
Recent photo collections by Sepa Sama and Carlos Pardo give a glimse into mobility in Kigali.
A conference for the majority of African road users
The Walk21 conference in Kigali placed a well-deserved spotlight on the significance of walking as a mode of transport. With statistics revealing that over one billion Africans walk for at least an hour each day, it is evident that walking is not just a choice but a necessity for many. It's a fundamental part of daily life, providing access to schools, markets, healthcare, and jobs, particularly in areas with limited access to motorized transport.

At the same time, lack of infrastructure, road safety and negative externalities of motorised transport such as air and noise pollution pose severe challenges to pedestrians. As the Walk21 conference highlighted, it is imperative that urban planners and policymakers recognize the importance of investing in pedestrian-friendly infrastructure and policies. This recognition goes beyond merely acknowledging the existing role of walking in African cities; it means actively promoting the safety, convenience, and dignity of pedestrians, recognizing them as 'valuable' road users (traditionally referred to as 'vulnerable' road users). In line with efforts to promote active mobility, providing safe and enjoyable walking environments is a cost-effective way to drive forward the sustainable mobility agenda.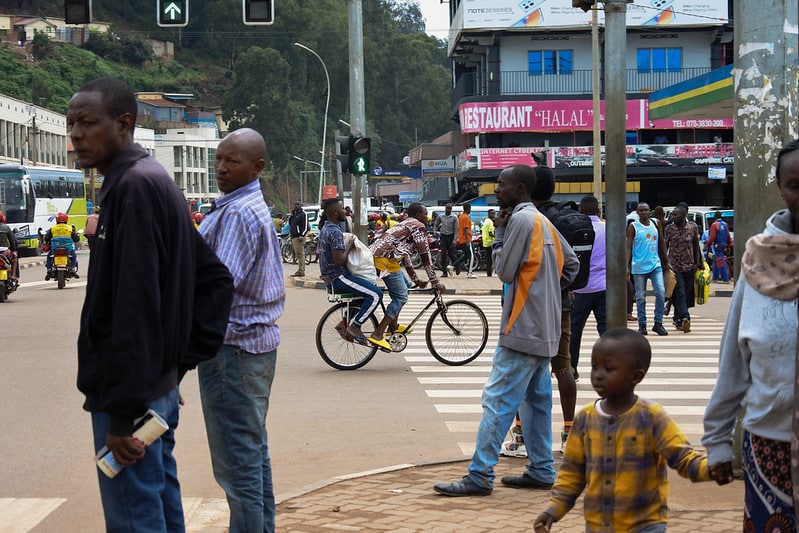 Understanding the variety of walking experiences
Perception of satefy and strategies employed to ensure safe trips vary greatly among road users and are highly gendered. A study (Istat 2018) revealed that 36.6% of women in Italy refrain from going out at night due to fear, underscoring a critical issue that needs attention. In the session "Gender Dynamics of Wakability, researchers and practitioners shared insights from their work in social movements, initiatives and field studies that aim to create more inclusive, safe, and empowering walking environments.

Speakers underlined the need for context-specific solutions that are co-created with citizens to meet the demands of different groups of people. Shining examples of women-led interventions are "Women Walk at Midnight" in Cape Town, South Africa, and the project "Walking Together" by Instituto Caminhabilidade in São Paulo, Brazil. The former aims at naturalizing the presence of women in public space and empowering women to reclaim the streets in the face of prevailing violence. This is realized by the simple, yet political, act of walking different neighborhoods at night, providing a sense of safety and comraderie to one another. The Walkability Institute is dedicated to spotlight citizens as protagonists of change, engaging women in identifying issues of accessibility and safety and co-creating solutions in participative workshops.

Although men are often perceived as less vulnerable, a recent research project from Durham University reveals that this notion doesn't align with their real walking experiences. Bringing men's experiences into the debate is crucial for creating comprehensive and inclusive strategies for urban planning and to encourage active mobility.

The article Gender Dynamics of Walkability by Women Mobilize Women provides more gender-responsive approaches to walking.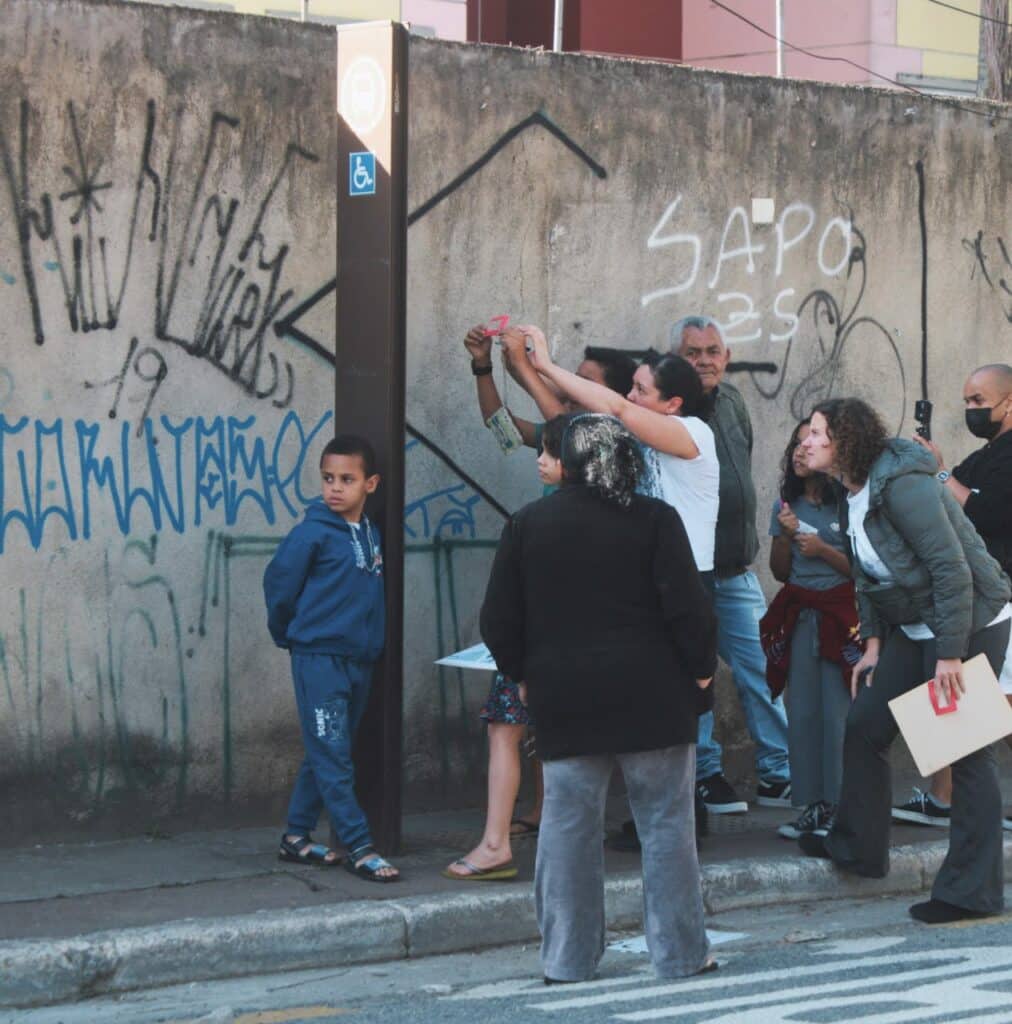 Policy & Funding for Active Mobility – the Cornerstones of Walkability
With statistics revealing that 40% of road crash victims on the African continent are pedestrians, the need for investment and policy attention is pressing. Right now, 21 out of 54 African countries do have a walking strategy in place. The United Nations' Share the Road Programme aims at strengthening policy initiatives and implementation action through the Pan African Action Plan for Active Mobility (PAPAAM), set to launch in early 2024. It aims to incorporate the contributions of development partners in its implementation plan to support existing and yet to come African policy and implementation initiatives on walking and cycling.
Complementing policies with the required funding will further be crucial to advancing active mobility. Walk21 for instance recommend allocating at least 20% of transport budgets to walking and cycling. Walking, an often-overlooked cost-effective solution, can significantly improve the economic viability of high-capacity public transport systems if made attractive and enjoyable. More than that, cities can explore a whole set of funding strategies like land-value capture, parking fees, congestion charges, and dedicated sustainable urban transport funds. Walk21 conference delegates shared diverse perspectives on the crucial topic of financing active mobility. GIZ and UNEP actively participated in these discussions and have a forthcoming publication on the funding of active mobility.
The article Unlocking Funding Opportunities for Walking and Cycling presents a variety of financing opportunities based on key insights from the conference.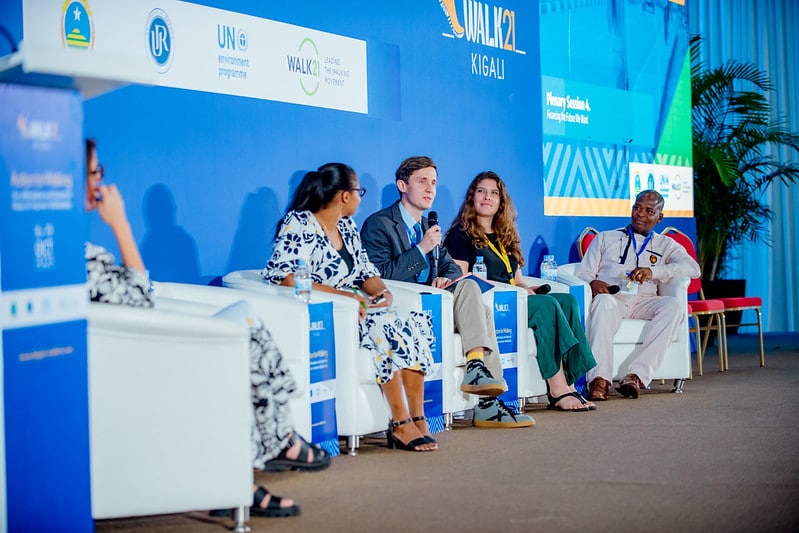 A Lobby for Pedestrians – The Relevance of Networking and Capacity Development
Prioritizing walking and cycling requires strong partnerships for shifting the status quo. Notably, all efforts rely on up-to-date research insights and capacity development. At Walk21, three initiatives stood out in moving these aspects forward on the African continent.
The Africa Network for Walking and Cycling (ANWAC) serves as a platform for experts and organizations united by a common mission: to enhance the safety and comfort of pedestrians and cyclists in African countries. Chaired by Walk21 in collaboration with UNEP, ANWAC already boasts 200 members from 122 organizations.
The University of Rwanda recently established the African Centre for Excellence in Transport & Logistics (ACETL). ACETL aimed at further strengthen multi-disciplinary education in the academic centre. The establishment of ACETL next to other educational initiatives is closely linked to the objectives of the Pan African Action Plan for Active Mobility (PAPAAM).
The EU-funded TRANS-SAFE project brings together road safety agencies and experts from Europe and Africa to drive policy solutions for road safety in Africa. In coopeation with relevant actors, the project consortium will test different types of innovative and integrated safe system solutions, complemented by a comprehensive toolbox, capacity development, policy support, and replication activities.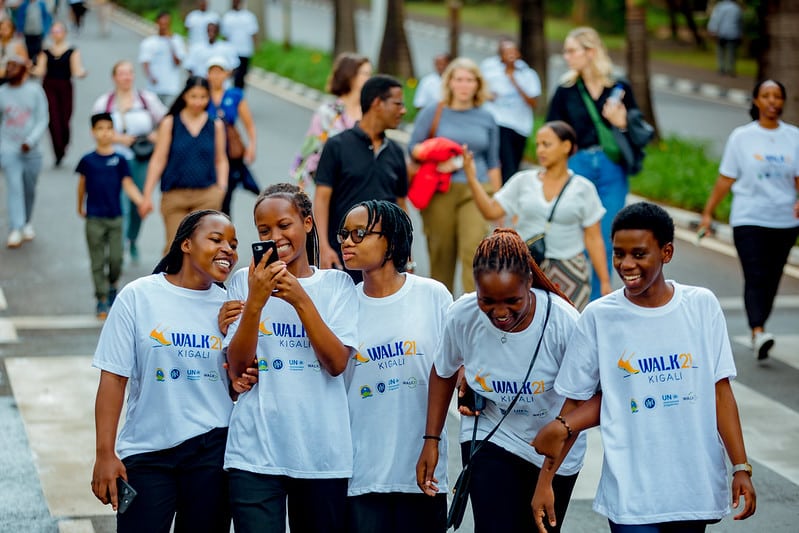 What is next?
The Walk21 conference in Kigali illuminated the path towards a high level of walkability in cities across the globe, particulary on the African continent. Next year, Walk21 is planned to take place in Lisbon, Portugal. If you are interested in learning more about walking in the African context, we recommend having a look at the UNEP publication "Walking and Cycling in Africa" and to share our call for participants for the Rethinking Transport Lab "Just Mobility in Urban and Rural Areas" (Application deadline: Nov. 19th 2023).
---
This article is co-authored by colleagues from the projects Rethinking Transport and TUMI.
Rethinking Transport is a GIZ self-financed initiative, implemented by GIZ and Agora Verkehrswende.
With the Transformartive Urban Mobility Initiative (TUMI, the German Federal Ministry for Economic Cooperation and Development (BMZ) is supporting climate-friendly, inclusive, safe and affordable mobilty in cities.
The +CargaRápida Programme in Chile: 14 New Fast Charging Stations to Boost Electromobility
Rancagua was the first of the 14 cities with this public infrastructure that allows fully charging an electric vehicle between 10 and 20 minutes.
The electrification of public transport proposed by Chile in its National Electromobility Strategy involves not only the technological transformation of fleets but also the deployment of public and private infrastructure that enables the proper operation of buses and cars and encourages the adoption of this technology.
Thus, the +CargaRápida (More Fast Charge) programme is implementing fourteen fast charging stations in cities outside Santiago. The first was inaugurated by the Minister of Transport and Telecommunications, Juan Carlos Muñoz, and the Undersecretary of Energy, Luis Felipe Ramos, in the city of Rancagua.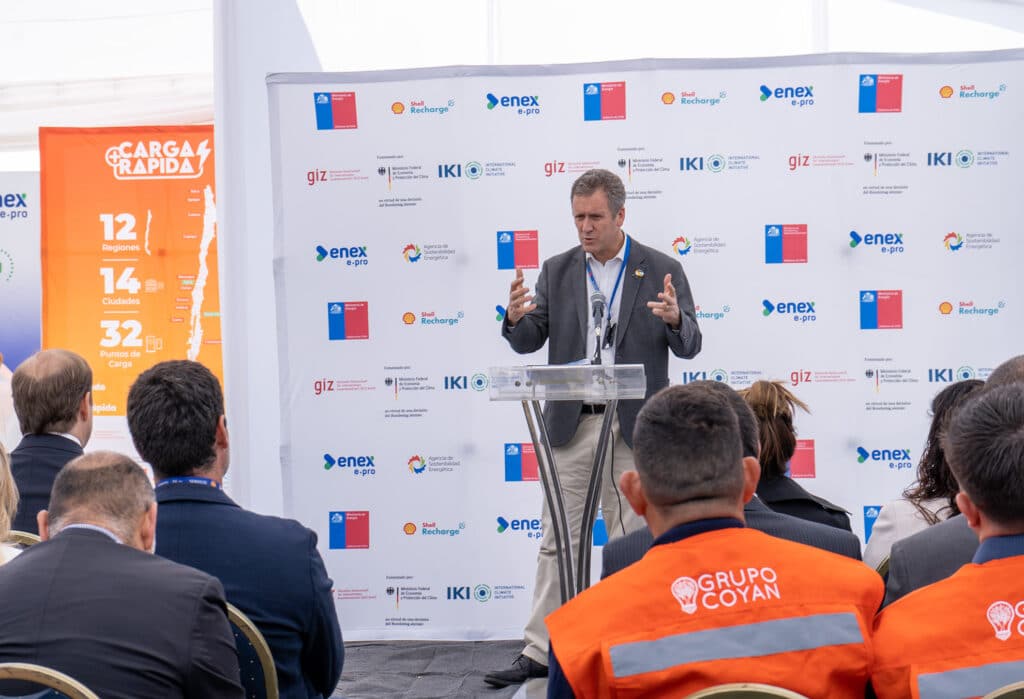 This programme seeks to accelerate the adoption of electromobility in light-vehicle public transport by fostering public-private partnerships for the implementation of the infrastructure.
Through a public tender process by the Energy Sustainability Agency, the private sector applied for a co-financing of 25% of the implementation costs and the commitment to invest in and maintain these charging points.
Enex, (from the Shell group) was awarded the implementation of eight cities corresponding to 20 charging points (in the northern and central macro-zones). COPEC, Chilean fuel distribution company, was awarded the implementation of four cities and twelve charging points in the southern and southern zones.
Among the fast chargers installed, it can be highlighted the first on the large island of Chiloé and the southmost of the world, in the city of Punta Arenas.

In direct linkage with the My Electric Taxi programme from the country's Ministry of Energy, which supports financing up until 50% of the electric taxis, this charging infrastructure will reduce drivers' dependence on home charging and avoid the interruption of their journeys due to lack of energy.
Enex is delighted to be part of this important milestone for electromobility in our country […] Initiatives like this, which seek to bring electromobility to all regions of the country, are in line with our commitment to decentralize access to achieve coverage that reaches all of Chile. We hope that these instances of public-private collaboration will continue to be generated, bringing users benefits and promoting electromobility growth in the country. – Nicolás Correa, General Manager ENEX
Strengthening the electromobility environment outside the capital city
73.6% of public access chargers are in the Metropolitan Region, where the country's capital is located, and this concentration is repeated with public access fast chargers, where it has 52.8% of them. Moreover, before the launch of the +Carga Rápida programme, six of Chile's sixteen regions had no public access to fast chargers. Moreover, most of the existing public chargers only allow slow charging and are in periphery areas of the cities. The 14 chargers from the programme are deployed in centric areas, to facilitate the access of the users.
In particular, fast charging is vital to enable the operation of electric taxis and other vehicles using this technology, facilitating inter-city travel, provide charging options in emergencies, and ensure the correct operation of long-distance fleets within the urban radius (e.g., public transport fleets, delivery, taxis).
Thus, the newly implemented chargers will allow drivers to fully charge an electric vehicle in a time-varying between 10 and 20 minutes.
The implementation of the +CargaRápida programme was developed in the framework of the Moving Chile project, implemented by the German Cooperation through the Deutsche Gesellschaft für Internationale Zusammenarbeit (GIZ) GmbH and financed through the International Climate Initiative (IKI) of the German Federal Ministry of Economics and Climate Action (BMWK) in cooperation with the Ministries of Transport and Telecommunications, Energy and Environment and implemented by the Energy Sustainability Agency.
The remaining chargers in the network are being connected and built, with all 14 points planned to be operational by the beginning of 2024.
Connecting Women to Global Opportunities
Third check-in session of the Women on the Move Mentorship Program
Connections and networking are essential for the development of sustainable transport, especially when it comes to showcasing the remarkable work of women in the field as a source of inspiration. The Women on the Move sessions aim to connect women worldwide for this purpose. During the last session on 20 August 2023, two initiatives were presented, offering a variety of opportunities for women in the professional sphere. We began with an icebreaker session to help participants warm up before the main session started. Following that, we had the privilege of inviting two speakers, Urda Eichhorst from NDC TIA-GIZ and Julia Remmers from Women Mobilize Women, to share their initiatives with us.
GIZ's Women Experts Database: Empowering Women in Asia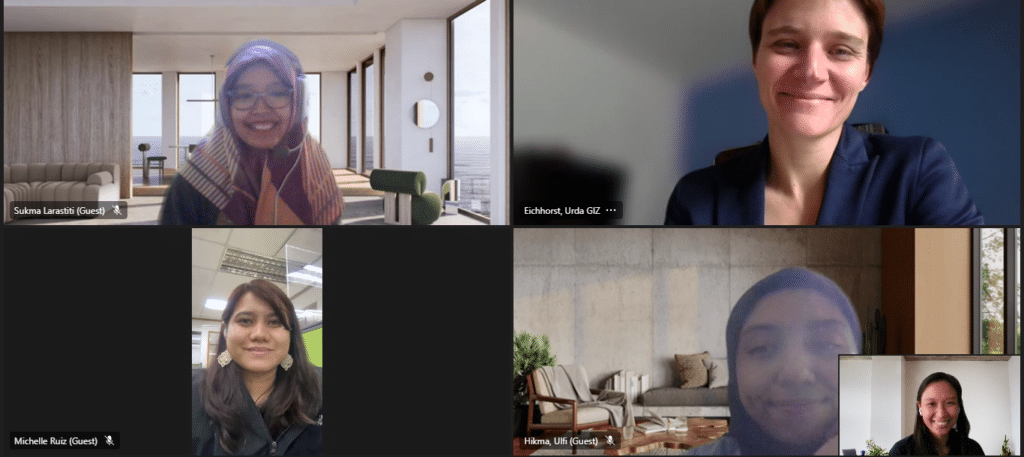 Urda Eichhorst, the director of the NDC Transport Initiative for Asia of GIZ, unveiled an innovative project aimed at empowering women in the fields of transport, environment, energy, and water sectors in Asia. This initiative, set to launch in late 2023, revolves around creating a comprehensive database of women experts. Inspired by Women in Green Hydrogen, the primary goal of this project is to increase the visibility of women experts in these sectors in order to achieve equal opportunities for all gender. By highlighting the wealth of talent among women professionals, GIZ's database promises to pave the way for a more inclusive and equitable future in these critical fields.
Women Mobilize Women: Driving Sustainable Mobility Globally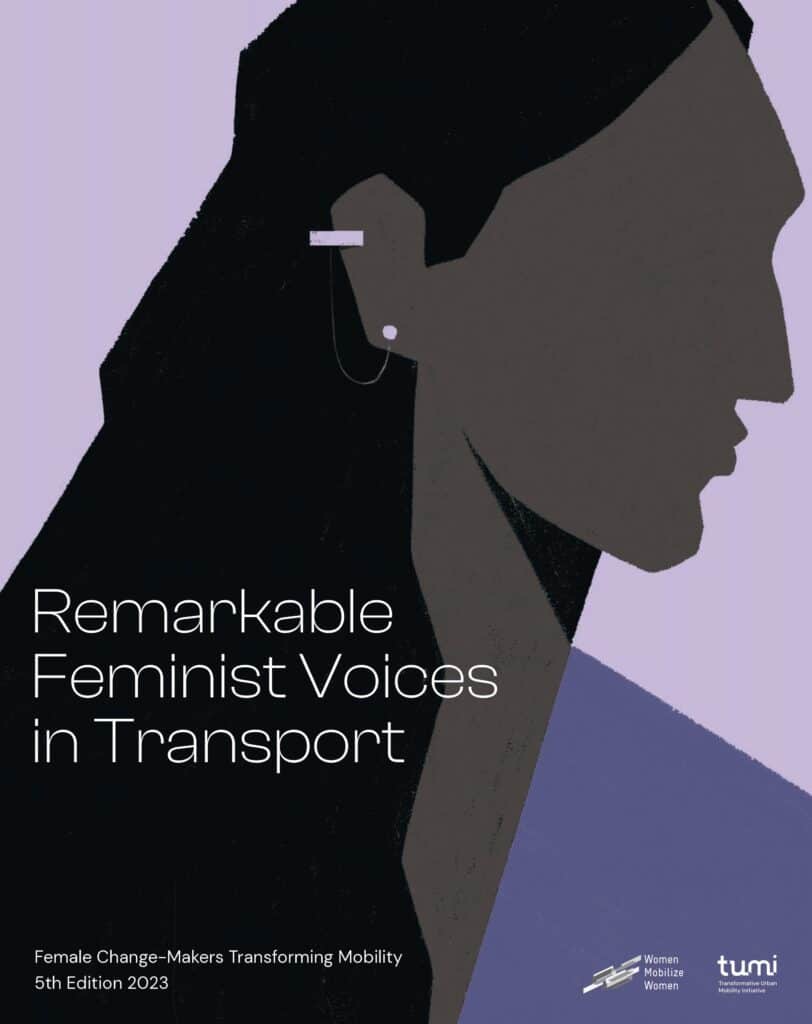 Julia Remmers, representative of Women Mobilize Women, introduced the network as the initiative promoting feminist transport planning and the empowerment of women in the sector globally. With the believe of "Transport planning is not gender neutral", the network's mission is to promote inclusive and sustainable mobility. Founded in 2018, this network has made significant strides in the past five years through a range of activities such as conferences, publications, and leadership programs. In 2023, Women Mobilize Women organised Study Tour and award ceromny with "Feminist Voices in Transport" as the theme, bringing together women from over 30 countries to celebrate and learn from each other's effort towards a more equitable future.
The session also featured an interactive Q&A, providing participants with the opportunity to engage with the presenters and ask questions about the initiatives. Some of the topics covered included inquiries about the expert database, potential funding opportunities for women in these sectors, and ways to connect with other networks that share similar goals. This open exchange of ideas and information underscored the dedication of Women on The Move and its partners to support women professionals and innovators in the transport sector.
The Ideas for the Development of Women on the Move
Before concluding the session, participants were informed about the upcoming final session of the mentorship program on the 20 November 2023, which will provide an opportunity to discuss the progress, lessons learned, and success stories from the past year, and about the TUEWAS Women Expert Database, which will be launch on the 15 November 2023.
In conclusion, the Women on The Move Mentorship Program's third check-in session exemplified the power of collaboration and innovation in advancing gender equality and inclusivity. The initiatives presented by GIZ and Women Mobilize Women hold the potential to be transformative in these sectors, equipping women with the tools and resources needed for global success. Through opportunities for connection, learning, and growth, these initiatives are driving positive change and propelling women forward in the world of transport and mobility. As these projects unfold and the Women on The Move Mentorship Programme continues its vital work, we can look forward to a future where women are truly on the move in these industries, breaking barriers and driving change on a global scale.
NDC Transport Initiative for Asia (NDC-TIA) is part of the International Climate Initiative (IKI). The German Federal Ministry for Economic Affairs and Climate Action (BMWK) supports this initiative on the basis of a decision adopted by the German Bundestag. It supports China, India, and Viet Nam as well as regional and global decarbonisation strategies to increase the ambition around low-carbon transport. 
Africa's Journey Towards Sustainable Mobility
In an era where the global consensus increasingly gravitates towards cleaner and more sustainable transport solutions, Africa stands at a crucial juncture. The continent must decide whether it will continue to grapple with outdated fossil-fuel-based mobility or leapfrog into a future aligned with the Sustainable Development Goals (SDGs) and the Paris Agreement. The choices made today will determine both Africa's and the world's trajectories, as the transport sector plays a central role in global emissions.
The first ever Africa Climate Summit (ACS), which took place in Nairobi from September 4th to 6th, 2023, marked a historic milestone for showcasing the continent's climate leadership and potential. The primary goal of the summit was to address the challenges and opportunities associated with green growth and climate finance in Africa and on a global scale. It also sought to amplify Africa's voice and influence in the imminent global climate negotiations.
Can we consider the ACS a resounding success that lived up to its promises and lofty expectations, or did it fall short of its potential impact? To evaluate the summit's outcomes, we need to examine its relevance to one of the most pressing concerns on the African climate action agenda: sustainable transport. How did the ACS contribute to advancing the sustainable transport ambition in Africa, and what implications does it hold for the continent's future in this crucial area?
The Nairobi Declaration: A blueprint for a green Africa
A significant outcome of the ACS was the unanimous adoption of the "Nairobi Declaration" by African and global leaders, reflecting a commitment to addressing climate change challenges while harnessing Africa's potential as a green powerhouse. The declaration has a robust focus on both mitigation and adaptation strategies, acknowledging the dual imperative of reducing greenhouse gas emissions and strengthening Africa's resilience to a changing climate. Within this comprehensive framework, discussions towards mitigation efforts emphasize the acceleration of decarbonization in key sectors, with a particular spotlight on transport. Simultaneously, the declaration places a strong emphasis on leveraging smart, digital, and highly efficient technologies, and systems. Such a focus is also pivotal to enhance the efficiency and sustainability of transport systems in Africa.
The transport insights unveiled at side events
The ACS served as a platform for a multitude of transport-focused side events, each drawing significant interest. Events such as "Co-investing in Leapfrogging to Sustainable Transport, including E-Mobility," hosted by the Kenyan Ministry of Roads and Transport in collaboration with GIZ and other partners, and "Investing in Green Transport in Africa," hosted by ITDP, were brimming with valuable ideas and key learnings that could advance Africa's transition agenda.
These high-level events brought together diverse panels of experts and stakeholders. It was particularly noteworthy how the insights and perspectives shared during these discussions closely mirrored the discussions points articulated in the paper "Leapfrogging to sustainable transport in Africa". As highlighted by the Managing Director of GIZ, this thought provoking publication greatly inspired the "Rethinking Transport" initiative, with strong expectations for the project's transformative impact in Africa.
Africa recognizes e-mobility as the most effective way to reduce its reliance on fossil fuels and attain net-zero mobility
Kenya set an inspiring precedent by organizing a captivating electric mobility parade just before the summit, showcasing the vibrant evolution in the electric mobility sector. Fleet electrification is the priority for the new government as part of its strategy to leapfrog into sustainable transport. Kenya's strategic advantage lies in harnessing its sustainable green energy grid, currently exceeding 92% sustainability. Moreover, the growing interest in e-mobility emerged as a central theme for transport- related events during the ACS.
However, while e-mobility holds tremendous promise in reducing carbon emissions and mitigating the impacts of climate change, it was clear from the discussions that it alone cannot fully address transport challenges. Instead, a holistic approach, combining e-mobility with a broader transformation of the transport sector, was advocated. Such a comprehensive strategy requires multiple points of actions, as highlighted throughout the discussions : policy reform, technology adoption, capacity building and a concerted effort to promote sustainable transport in all its dimensions.
Social justice as basic precondition and policy priority for sustainable transport
The summit emphasized that for transport to genuinely contribute to sustainable development, it must prioritize social justice as a foundational principle. Transportation systems often intersect with broader societal challenges, disproportionately affecting marginalized communities and exacerbating existing inequalities. To date, transport systems are not adequately planned for women. The persistent gender bias in transport planning limits women's access to education, basic services, and economic opportunities.
Greater safety in the sector is needed, with a focus on addressing the disproportionate impact on women.

Ahunna Eziakonwa, UNDP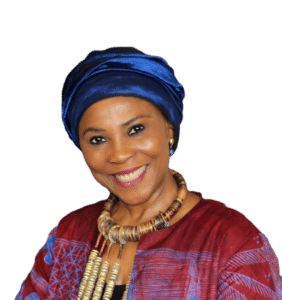 In response to these challenges, there is a need for concerted efforts to improve safety and inclusivity within the transport sector, while exploring further opportunities to help women play their part in this revolution. This includes ensuring female representation and participation in transport-related decision-making processes and providing more training and awareness programs to address safety concerns.
Data-driven policy insights for an equitable transition in the sector
As Africa faces mounting climate challenges, there is a need to rely on evidence-based decisions more than ever. At the summit, the call for data-driven approaches resonated strongly, advocating for a meticulous examination of data to better understand how transportation changes affect individuals and systems, and further develop policies that ensure inclusivity and efficiency throughout the transformation process.
The significance of data for policy-making raises questions around data collection, access, and utilization, as well as building the necessary capacity to turn data into actionable insights. The next steps involve forging partnerships, investing in technological infrastructure, and nurturing a culture of data literacy across the continent.
Leveraging digital tools and data-driven solutions can enhance the efficiency, safety, and sustainability of transport systems in Africa.

H.E. Amani Abou-Zeid, African Union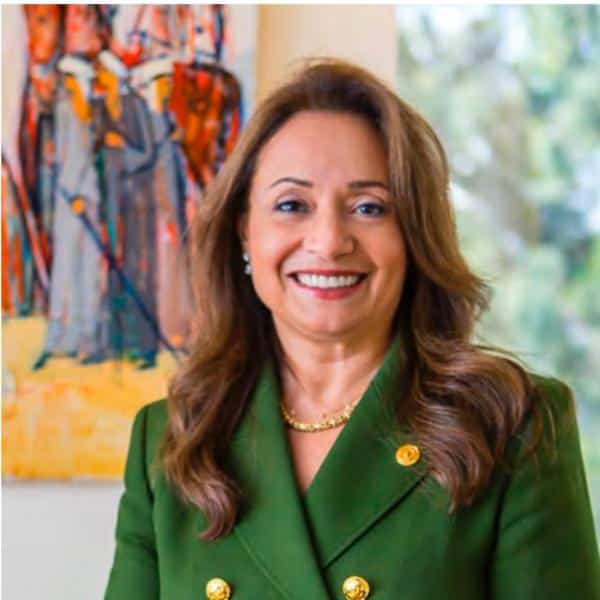 Meeting the investment imperative for sustainable transport in Africa
More collaborative investments in the transport sector are needed for a sustainable future for all. The continent expects its population to double by 2050, accompanied by rapid urbanization. The need has emerged to embark on a sustainable transport strategy that avoids repeating the mistakes of the global North, while meeting the diverse and dynamic needs of the continent's population. This ambitious goal requires considerable financial resources. It is therefore imperative to identify and adopt various sources of financing capable of supporting the considerable investments required to transform transport in Africa.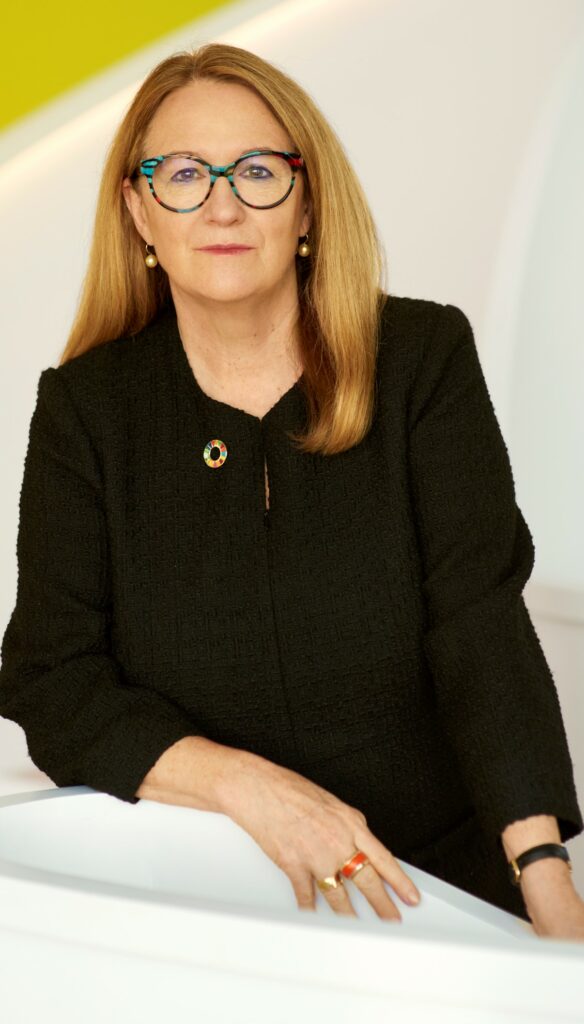 More partnerships will be important in advancing sustainable transport in Africa; the approach should be country-driven and people-centered.

Ingrid-Gabriela Hoven, GIZ
The continent is increasingly interested in strategic partnerships between governments, private sector entities and development partners. During the summit, governments, banks and private investors committed a total of $23 billion to finance projects to support natural resources conservation and the development of renewable energy infrastructure across Africa. Future efforts should therefore involve facilitating cross-sector collaboration and promoting innovative financing mechanisms tailored to Africa's unique context.
What could be the message of Africa to COP28?
The Africa Climate Summit marked an important milestone in the resolution of the African continent's environmental problems, with numerous commitments made in the "Nairobi Declaration". Over the coming months, the challenge will be to translate formal commitments into tangible results, while all eyes are already on the next global event: COP28 in Dubai. Consequently, the success or failure of the summit will depend on how its results are followed up and implemented in the future. From various discussions at side events, the transport message for COP28 could read as follows:
More investments in Africa: Africa stands as a continent with immense potential for sustainable transport development. COP28 could be an opportunity to recognize the importance of increased investment in African transport systems, by encouraging nations, organizations, and stakeholders to come together in collaborative efforts.
Empowering women in the transport revolution: efforts to prioritize the empowerment of women in the transition towards sustainable transport will harness the full spectrum of talent and ideas.
Making transport people-centered: Many African countries envision a transport system that revolves around people, emphasizing public transportation, active mobility, and community well-being. This shift in urban planning prioritizes the needs of individuals and communities over car-centric approaches.
Leveraging the power of data and analytics for inclusive transitions: During periods of transformation, it is often the most vulnerable who are left behind. Therefore, harnessing the power of data and analytics will help to ensure that the transition towards sustainable transport is equitable, and that the impacts on both people and the broader systems are well-understood.
Rethinking Transport is a GIZ self-financed initiative, implemented by GIZ and Agora Verkehrswende.
Join a Network of Data and MRV Experts
Our experts from Colombia, Uganda, Indonesia, Thailand and the UNFCCC are expirienced with the practical challenges that arise when setting up a robust Measurement, Reporting and Verification (MRV) system for the transport sector. In this webinar series they shared insights of their different transport projects. You can learn more from them in the free Transport Data: From MRV to Action online course and sign up for our newsletter.
Dr. Mónica Espinosa (Hill Consulting) on MRV for the E-Bus Project and Colombia's NDC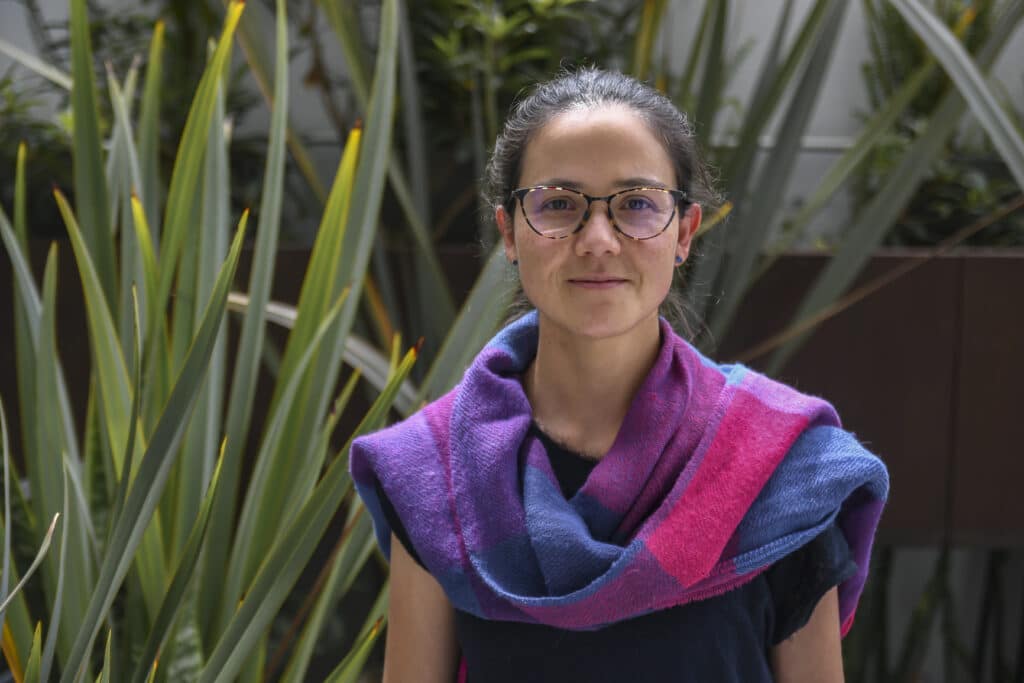 Dr. Mónica Espinosa is an environmental engineer and has a PhD in Engineering, with particular expertise in modelling the environmental externalities of transport. She is responsible for the technical analysis of local and global pollution emission reduction scenarios, the analysis of marginal abatement costs, the definition of monitoring and reporting schemes, and the quantification of co-benefits of mitigation scenarios. She is also a member of the Bogotá Citizen Technical Committee on Air Quality. Through her work she is experienced in the application of a MRV system to the Colombian electric bus programme. As Colombian transport is responsible for 12% of total country emissions and 40% of fossil fuel consumption, transport must make a key contribution to fulfilling the ambitious national pledge of achieving a 51% reduction in emissions by 2030, as formulated by the Colombian government in its revised NDC. Among the targeted measures, electric mobility has the largest reduction potential, accounting for 65% of projected emissions savings.
Grace Mukunzi (MEIR Research & Engineering) on Data Collection in Uganda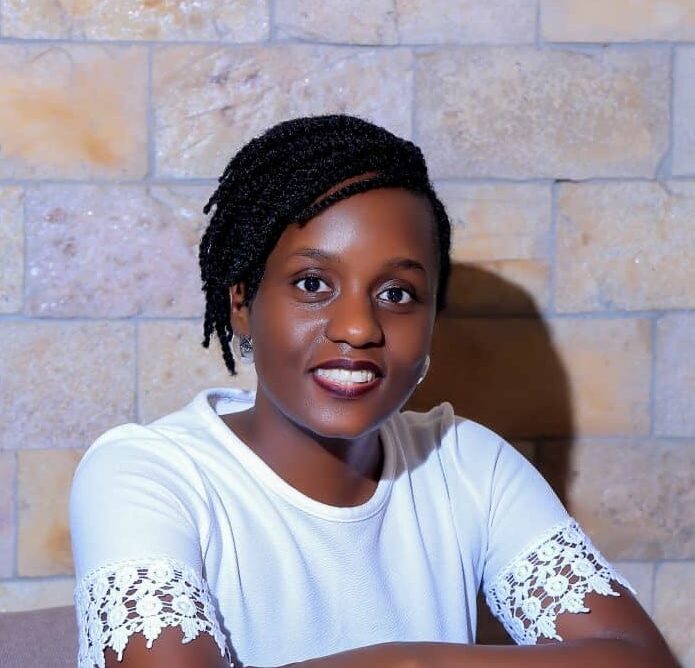 Grace Mukunzi, is currently a PhD student at Lund University in Sweden. As a former Transportation Engineer at MEIR Research & Engineering, she assisted with data collection to assess the climate change mitigation potential of Uganda's transport sector. Through her work she became an expert on the data collection process for the transport sector and the assessment of mitigation potential. The activity in Uganda aimed to support the Government in systematically assessing the country's greenhouse gas (GHG) emissions in transport, analysing the sector's emission reduction potentials and optimising its contribution to NDC mitigation targets. Based on the gathered data, an analysis of mitigation potentials was conducted that has empowered policymakers to make evidence-based decisions about the future of climate policy in Uganda's transport sector.
Gemma Burhanudin (GIZ Indonesia) on Bus Rapid Transit and Mitigation in Indonesia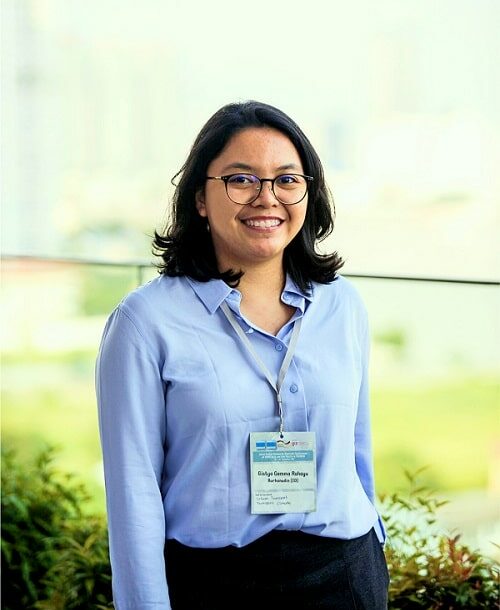 Gemma Burhanudin is an advisor for SUTRI NAMA and INDOBUS implemented by GIZ Indonesia. She is responsible for urban transport policy and its profound impact on climate change. She plays a key role in the programme's effort to calculate the potential emission reduction from the proposed Bus Rapid Transit (BRT) plan in the programme's five pilot cities: Pekanbaru, Batam, Bandung, Semarang and Makassar. The MRV system is tailor-made for the project and adheres to international standards. In addition, she led the development of BRT Indonesia GHG Emissions Calculator, a tool produced by the programme to calculate GHG emission reduction from BRT implementation using a standardised methodology and data from the pilot cities.
Find the recording of our session here.
Papondhanai Nanthachatchavankul (GIZ Thailand) and Marlan Pillay (UNFCCC) on the Role of MRV for NDCs in Transport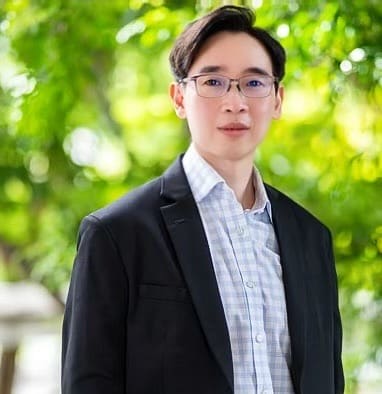 Papondhanai Nanthachatchavankul and Marlan Pillay gained experience implementing the MRV system for Thailand's NDC. They are experts on international MRV requirements, why a robust MRV system for NDCs is so important, future requirements and support for the international transparency system.
Papondhanai Nanthachatchavankul joined GIZ in 2012 and has since been working on the development of sustainable transport policies in the ASEAN region, with a focus on Thailand and Vietnam. He is the mastermind behind the first MRV for Transport course, developed in 2017 and conducted in Thailand as a regional activity.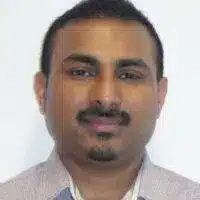 Marlan Pillay is a Program Officer at UNFCCC in Bonn. He has worked at UNFCCC for the past 13 years, providing technical advice for climate change mitigation and supporting transparency in climate action. He is also a co-author of the "Compendium on GHG Baselines and Monitoring: Passenger and Freight Transport Volume" and co-organiser of the latest MRV for Transport Regional Workshop in Ha Long, Viet Nam.
Read an introduction to transparency here and more about Training on MRV for Sustainable Transport here.
Find the recording of our session here.
Be part of the learning community
The online course Transport Data: From MRV to Action is on atingi, a free learning platform financed by the German ministry for Development Cooperation. Discover more about the online course here. For more information download the course flyer here, and a content overview and course calender here. The course calendar can be used to schedule your e-learning.
Featured information about MRV
Building a Global Network to Achieve Net-zero Transport
In recent years, much of GIZ's work has focused on building the frameworks and capacities needed to respond to the climate crisis. Working with countries from different regions through bilateral, regional and global projects, there are many lessons to be learned about policy frameworks that enable a long-term perspective, MRV systems that are accountable, business models that engage in a sustainable transition, and more. The complexity of the transport transformation calls for a multi-sectoral perspective where all contributions are needed. To be ambitious and achieve full decarbonisation of the sector, collaborative frameworks are increasingly needed.
Our countries (Chile and Morocco) are similar on several levels, we will have a lot to learn from each other!

Karim Ben Amara, Head of sustainable mobility service, Ministry of transport and Logistics Morocco
Breaking down thought silos by collaborative training
At this year's Transport and Climate Change Week delegates received in-depth training. Designing policies to enable vehicle efficiency at the country level provided knowledge on different policy options to improve vehicle efficiency and promote electrification, such as fuel economy standards, energy efficiency labels and vehicle taxes (feebates). Delivering e-mobility through effective decision-making enabled governments to interact with leading experts, private sector representatives and peers to identify the best approaches and solutions available to make e-mobility a reality in their own countries. Developing long-term urban planning for safe and sustainable mobility – Provided practical experience in formulating urban mobility plans, identifying needs and challenges from a territorial approach. Structuring sustainable and bankable mobility projects gave a better understanding of different financial options (or a combination of options) to consider when implementing sustainable mobility projects at city level.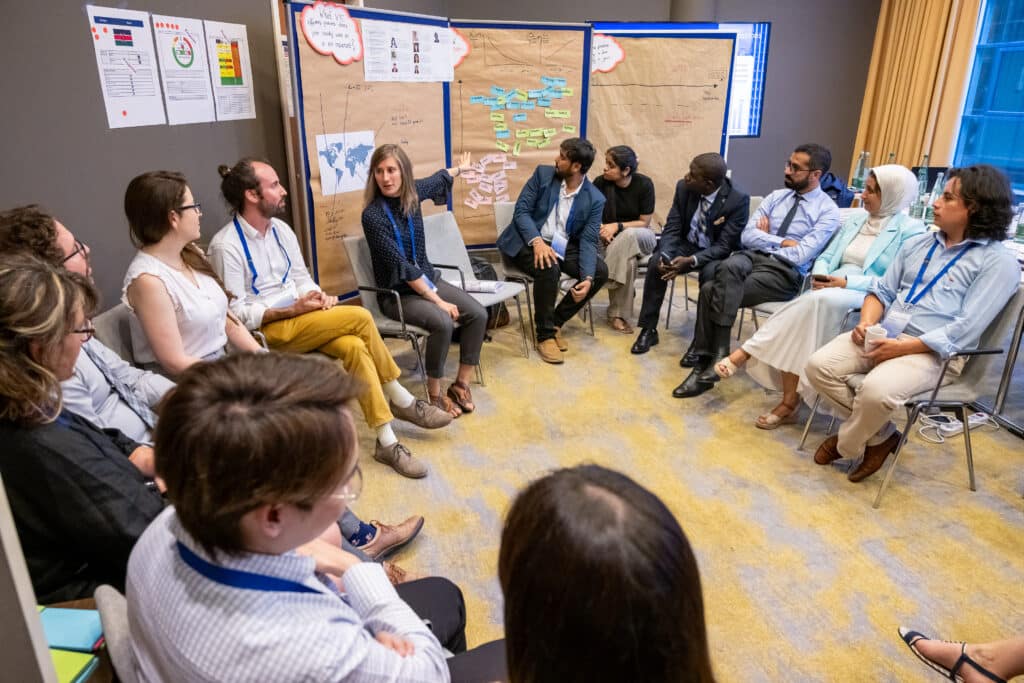 Climate solutions in energy and transport were thought together by exploring the potential of Power-to-X to reduce emissions from shipping. Power-to-X in Shipping provided a solid introduction to the concept of power-to-x and the importance of sustainability criteria for a just transition in the shipping industry, with a focus on maritime transport. The transport sector is an opportunity to make the application of the energy transition tangible, calling on ministries to collaborate and align their agendas, for example by visualising the life cycle of critical aspects of the transition, such as the treatment of raw materials like batteries used in EV solutions.
Steering the process as a network
At Transport Week 2023, we promoted two aspects that contribute to the challenge of managing uncertainty and improving collaboration. First, by strengthening a community of experts and decision-makers who can guide the process and steer sustainable change towards a common focus that allows for sufficient diversity in response. Second, by creating collegial spaces to share and learn from each other.
It was great to learn from different experiences and share our challenges and commitment to improve our cities and lives of citizens.

Cynthia Chávez Ríos, Director General of Mobility at the Municipality of León, Mexico
Taking advantage of face-to-face opportunities, alongside in-depth training, connections and opportunities for delegates to share their experiences and open questions where fundamental. By fostering professional acquaintances, delegates went deeper in creating opportunities for further exchange and collaboration. For example, the exchange between delegates from Chile and Morocco is shaping a cross-regional exchange of experiences. Some delegates came with very specific needs for exchange. For example, Oaxaca-Mexico is building an intelligent and integrated transport system for the city and has sought advice from peers during training sessions.
Time for meaningful conversations
When we understand that climate change affects our lives, we must invest all we have to find solutions.

H.E Doreen De Brum, Ambassador of the Marshall Island in Geneva
With a focus on empowering leaders of change and complementing the knowledge imparted through training, the programme included spaces for open discussion, thematic sessions to connect peers with each other and with partners from expert institutions and donors. The challenge is complex and climate change knows no borders. That is why the core of this year's Transport Week was to facilitate conversations that strengthen our capacity to innovate. It can seem very simple, but we do not always have the time and space for deeper sharing of experiences and feedback on specific challenges.
Innovation happens when obvious ideas are shared and become an enlightening path for someone else. The rich diversity of contexts and approaches allows ideas to be applied in new ways, linking policy to action and theory to practice. Recognising years of building expertise and trying out integrated solutions on the ground, it's time to create safe spaces to share what's working and what paths need time or should not be replicated. During the regional exchanges, delegates had the opportunity to reflect on the week and consider next steps. By participating in possible further networks, priorities for communities of practice will be established.
I am happy to see so many countries I would not have the opportunity to meet if it was not here.

Cecile Danica Gotamco, Undersecretary, Department of Transportation (DOTr) in the Philippines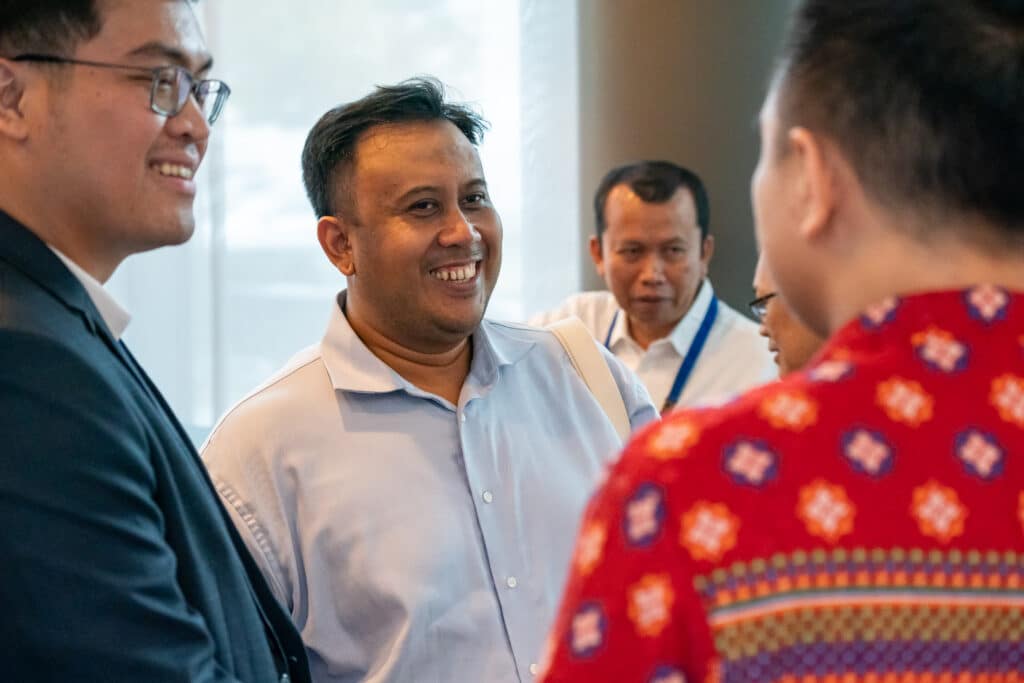 Confidence in our gained experience
Multisectoral work is underway at country level, and delegates are familiar with and informed about the impacts of transport. It's time to take the lessons learned from years of international cooperation and prepare to go beyond. Transport and Climate Change Week is a community of experts ready to take risks and go beyond borders.
We need to be ready for bold and revolutionary actions.

Juan Carlos Muñoz, Minister of Transport and Telecommunication in Chile
This year's goal is to accelerate the race to net-zero transport. Let's not take this opportunity for granted, and let's keep building together. We have the knowledge, we have the opportunity to pull together and be ambitious. Let's keep the momentum going. It's time to go beyond!
The Mobilize Net Zero project team is organising the annual Transport and Climate Change Week, alternating between a virtual and face-to-face format. The project is implemented by the Deutsche Gesellschaft für Internationale Zusammenarbeit (GIZ) GmbH and is funded through the International Climate Initiative (IKI) of the German Federal Ministry for Economic Affairs and Climate Action (BMWK).
Sustainable Mobility with Renewable Energies in Morocco
Transportation plays a pivotal role in shaping societies worldwide, facilitating connections among people, and fostering economic growth. However, the global transport sector's significance comes with a considerable drawback, as it contributes approximately 22% of global CO2 emissions, making it a significant driver of climate change. Specific breakdowns show that ground transportation is a leader contributing 17.9%, while international aviation and shipping make up 3.1%, and domestic aviation contributes 0.9% of global emissions (see Figure 1). The below graphic represents global CO2 emissions evolution from 1970 to 2022 dissected per sector.

Figure 1: Global CO2 emissions 1970–2022 per sector.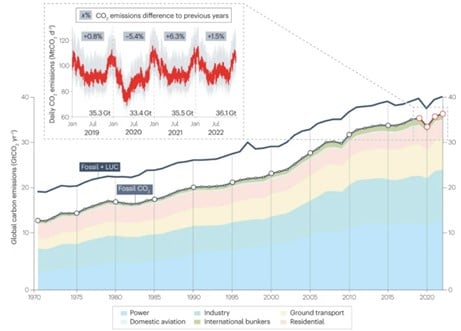 This environmental impact holds true for Morocco as well, as is the case in many other countries, where the transport sector plays a major role in emissions, presenting challenges to achieving sustainable development goals. In Morocco, a 99% dependency on fossil fuels characterises the transport sector, making it the leading consumer of final energy at 38% and the second-largest emitter of CO2 in the country, accounting for 31% of total CO2 emissions (IEA 2019).
Morocco's ambition for sustainable mobility
Recognising the urgent need for change, Morocco has embarked on an ambitious journey towards a sustainable, climate-friendly, and innovative transportation system, which is rooted in a comprehensive policy framework for the transport sector. The country's policy system outlines priority fields such as inclusivity and accessibility, multimodality, digitalisation, and safety while taking into account multiple aspects surrounding mobility including the integration with energy and the digital sectors to ensure a holistic approach to sustainable mobility.
The policy landscape outlines ambitious goals and objectives, such as reducing energy consumption in the transportation sector by 24% between 2017 and 2030, as set forth by the National Energy Efficiency Strategy 2030, and developing integrated public transportation systems in all Moroccan cities by 2030, also in accordance with the National Urban Mobility Strategy. In addition, Morocco has set ambitious goals to promote electromobility (aiming to become a leading country with regard to fully decarbonised automotive supply chains as part of a comprehensive industrial transformation) hand in hand with the country's energy transition – the country has set targets to increase the renewable energy (RE) capacity in its electricity mix to reach 52% of the total by 2030 (Morocco – Updated NDC 2021), and 80% by 2050 (Long-Term Low-Carbon Strategy Morocco 2021). In 2022 installed RE capacity share was about 37.5% and RE accounted for 17.7% of Morocco's energy mix by 2022 (ONEE 2022). Noteworthy achievements include the construction of the Al Boraq high-speed rail, operating at speeds of up to 320 km/h, which connects the cities of Tanger and Casablanca, with further plans to extend this network to encompass additional cities including Marrakesh and Agadir. Tramway systems have been successfully established in Rabat and Casablanca, while a Bus Rapid Transit (BRT) system is being implemented in Agadir. Furthermore, the country has made significant strides in enhancing cycling infrastructure. These projects align with the objectives set forth in the policy system, enabling Morocco to address emerging trends, unlock opportunities, and effectively tackle challenges within the transportation domain.
German-Moroccan cooperation on sustainable mobility
In line with the country's sustainable transport and mobility vision, the Deutsche Gesellschaft für Internationale Zusammenarbeit (GIZ) GmbH is implementing the cooperation project "Sustainable Mobility with Renewable Energies in Morocco". The project is commissioned by the German Federal Ministry for Economic Cooperation and Development (BMZ) and implemented in partnership with the Moroccan Ministry of Energy Transition and Sustainable Development (MTEDD), the city of Agadir, and a variety of Moroccan and international stakeholders.
Over the next four years, the project aims to improve the conditions for sustainable, low-carbon mobility in Morocco at national level and in the pilot city of Agadir by advancing policy dialogues, collaborative research, pilot project implementation, training initiatives, and event coordination in partnership with an extensive array of stakeholders from the realms of politics, academia, and civil society. The project will prioritise a holistic planning that would work on different aspects of sustainable mobility:
Multimodality: Focusing on the seamless integration of multiple transportation modes, including tramways, BRT and bus lines, walking and cycling, as well as taxi and innovative mobility services, the project aims to advance interconnected and efficient transport networks. These networks will ensure smooth transitions between modes, drive a shift away from car-centric trips towards more environmentally conscious options, alleviate congestion, cut emissions, and promote sustainable commuting choices.
Electromobility: Recognising the importance of transitioning from fossil fuel-based vehicles, the project will support the switch towards electric mobility. This involves incentivising measures, the establishment of charging infrastructure, and fostering an ecosystem that encourages electric mobility adoption. This also includes the question of how public transport and forms of shared mobility can promote electrification and vice versa.
Digitalisation and Artificial Intelligence (AI): Leveraging the power of technology, the project will support the digitisation of transportation systems, enabling e.g., real-time data exchange, improved traffic management, and better passenger experiences through mobile applications and smart services. The project further seeks to harness AI's potential to optimise transport operations and enhance road safety.
Inclusivity: Ensuring that transportation systems cater to the needs of all individuals, the project will prioritise inclusive mobility solutions for all. This involves improving accessibility for persons with disabilities, addressing the needs of marginalised communities, and promoting equitable access to transportation services for everyone, ultimately creating a transportation network that is truly inclusive and serves the entire population.
The four thematic pillars were carefully selected together with the project partners to align not only with Morocco's policy landscape but also harmonise with its Nationally Determined Contributions (NDCs) set forth under the Paris Agreement. In doing so, these actions actively promote sustainability in accordance with the United Nations Sustainable Development Goals (SDGs). Guided by the overarching philosophy of the "Avoid-Shift-Improve" framework, the project integrates these principles into its core framework (Figure 2).
Figure 2: Avoid-Shift-Improve Framework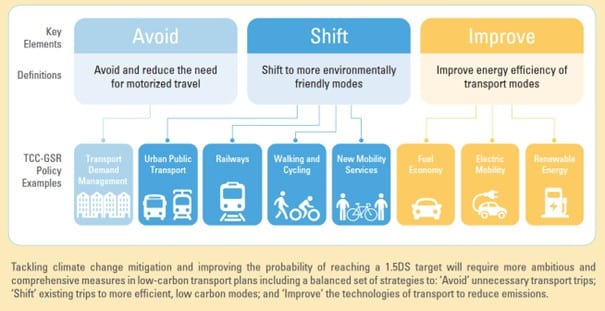 While the project envisions a nationwide impact in mobility patterns, the significance of tangible on-ground actions and local implementations cannot be understated. Agadir, located in the Souss Massa region, has been chosen as the local scope for the project due to its significant urban and mobility development potential and ongoing commitment to sustainable development.
Figure 3: View over the city of Agadir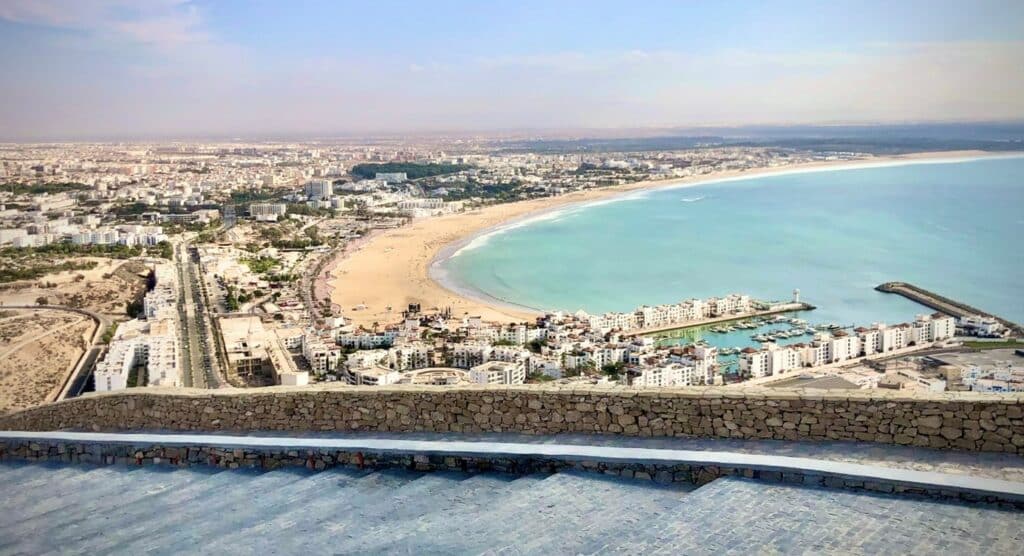 The city has already made considerable progress in promoting sustainable mobility with the implementation of its Urban Development Plan (PDU) and plans to continue this progress with its forthcoming Sustainable Urban Mobility Plan (PMUD). These strategic plans outline a vision for Agadir's urban growth, with a specific focus on creating a mobility system that is efficient, eco-friendly, and inclusive. Moreover, Agadir's Sustainable & Smart City Plan reinforces its dedication to foster change, with specific aspects dedicated to enhancing transportation through digitalisation, smart mobility solutions, and the integration of innovative technologies. Illustrations of Agadir's ambitious progress encompass initiatives like BRT Line 1, slated to launch as one of three planned BRT lines in 2024, and the construction of urban cycling infrastructure. By building upon these existing initiatives, the project can assist Agadir's strong foundation to further enhance and transform its transportation landscape, making it a blueprint for sustainable and smart mobility that can be upscaled, adapted, and replicated elsewhere in Morocco and globally.
Figure 4: Agadir cycling infrastructure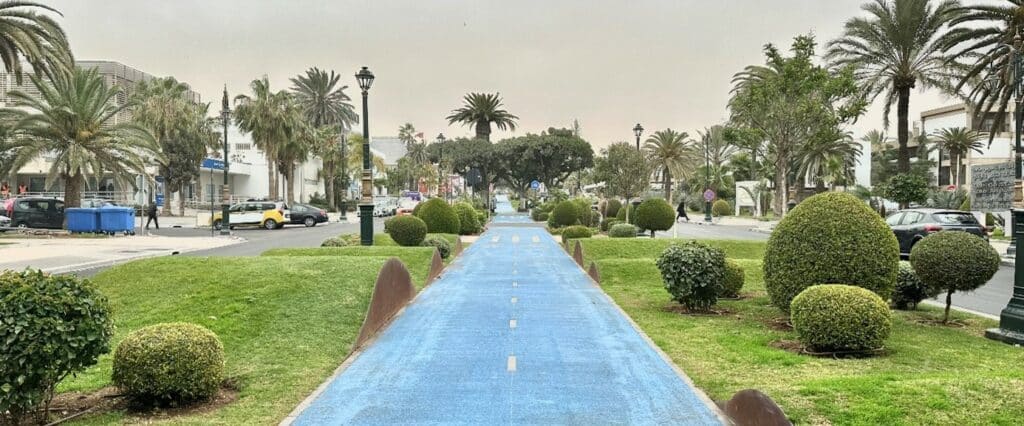 A significant milestone in the project's journey was the workshop with Dr. Leila Benali, Minister of Energy Transition and Sustainable Development on 19th May 2023. The workshop fostered the discussion and exchange as well as feedback on the strategic orientation and activity planning of the project. Discussions covered the effective integration of mobility and energy sectors and shaping the future of mobility with innovation, inclusivity, replicability, and economic sustainability in mind.
Figure 5: Project workshop with Dr. Leila Benali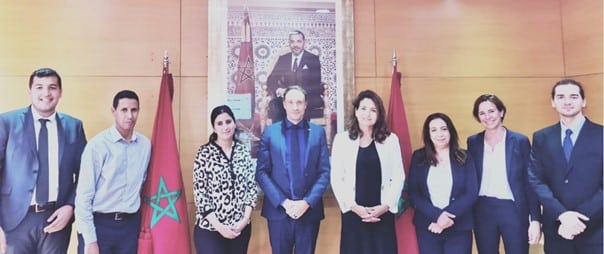 Furthermore, the first steering structure meeting that took place on 11th July 2023, chaired by Mme Farah Bouqartacha, the Secretary-General par intérim of the Ministry of Energy Transition and Sustainable Development, marked a crucial step in our collaborative efforts. Representatives from Moroccan ministries, regional authorities, the city of Agadir, and key institutions attended the meeting. The meeting underscored, among various aspects, that addressing climate change demands bold strategies for reimagining mobility systems and urban environments as a whole. The inquiry into what constitutes climate change-resilient solutions, addressing challenges such as escalating temperatures, heat islands, and the ensuing health hazards, emerged as a concern.
Figure 6: Steering Structure meeting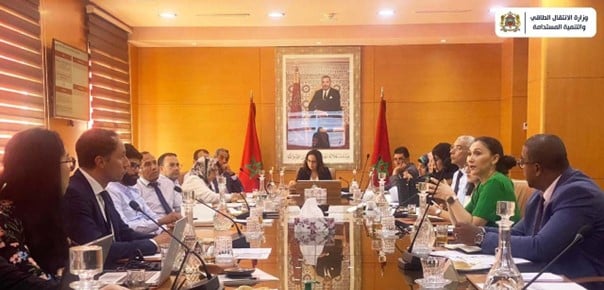 On July 26, 2023, a coordination meeting was held in the city of Agadir to plan local-level activities for the project. Chaired by Ms. Khadija Sami, Head of the Environmental Directorate of the Souss Massa region, the meeting saw the participation of representatives from various entities, including the Wilaya Souss Massa, Agadir Municipality, SDL Grand Agadir for Mobility and Urban Transport, Ibn Zohr University, and the Chamber of Commerce, Industry, and Services of Souss Massa. The meeting hosted a discussion on the upcoming steps for implementing specific activities under the cooperation project in Agadir.
Figure 7: Local-level coordination meeting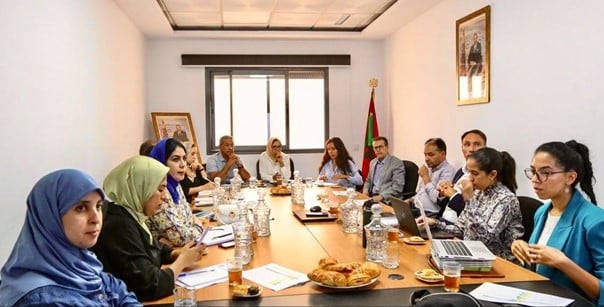 The "Sustainable Mobility with Renewable Energies in Morocco" project will leverage the accomplishments and progress achieved through the collaboration on the Advancing Transport Climate Strategies (TraCS) project, and will work closely with the Introducing Measures, Pathways and Roadmaps for Optimizing Vehicle Efficiency and Electrification (IMPROVE) project. These initiatives are being executed in partnership with the Moroccan Ministry for Transport and Logistics (MTL).
Together with our partners, we are embarking on an exciting journey that hopes to not only contribute to Morocco's sustainable mobility goals but also to foster knowledge exchange and mutual learning for the future of mobility.
For further information, please contact Mr. Sebastian Ibold (email hidden; JavaScript is required).
The Sustainable Mobility with Renewable Energies in Morocco project is implemented by the Deutsche Gesellschaft für Internationale Zusammenarbeit (GIZ) GmbH and is commissioned by the German Federal Ministry for Economic Cooperation and Development (BMZ). It is implemented in partnership with the Moroccan Ministry of Energy Transition and Sustainable Development (MTEDD), the city of Agadir, and a variety of Moroccan and international stakeholders.
Do net zero targets drive ambitious climate action in the transport sector?
A growing number of economy-wide net zero targets have been announced in recent years. Together they cover 94% of global CO2 emissions. What does this mean for the transport sector? And are sectoral commitments in NDCs in line with these long-term goals? A few weeks before the next COP in Dubai, a high-level panel discussion during the 6th Transport and Climate Change Week discussed how to set sufficient ambition to deliver bold new climate action and trigger transformative change?
The ocean is made out of drops – we all are drops in the ocean. If we all take care of our drop, we can save the world.

H.E. Ms. Doreen de Brum, Ambassador, Republic of the Marshall Islands
Based on numbers from the NDC Transport Tracker, this article takes a closer look at where we are today, refers to what has been discussed in Berlin and draws conclusions about the future needs. The NDC Transport Tracker from GIZ and the SLOCAT Partnership makes it possible to analyse what the NDCs say about transport.
Browse NDCs and LTS' yourself: The NDC Transport Tracker
The NDC Transport Tracker, developed by GIZ and SLOCAT, is a tool to track the ambition of transport targets around the world. It provides insights into what other countries are aiming to achieve, i.e. what transport actions they have included in their NDCs and LTS, and how this is evolving over time. Results based on the tool have, for example, been used in the latest SLOCAT Transport, Climate and Sustainability Global Status Report – 3rd Edition. The tool also enables peer learning. Countries can check what others have already implemented or are planning to implement and contact their counterparts to discuss and learn from their experiences.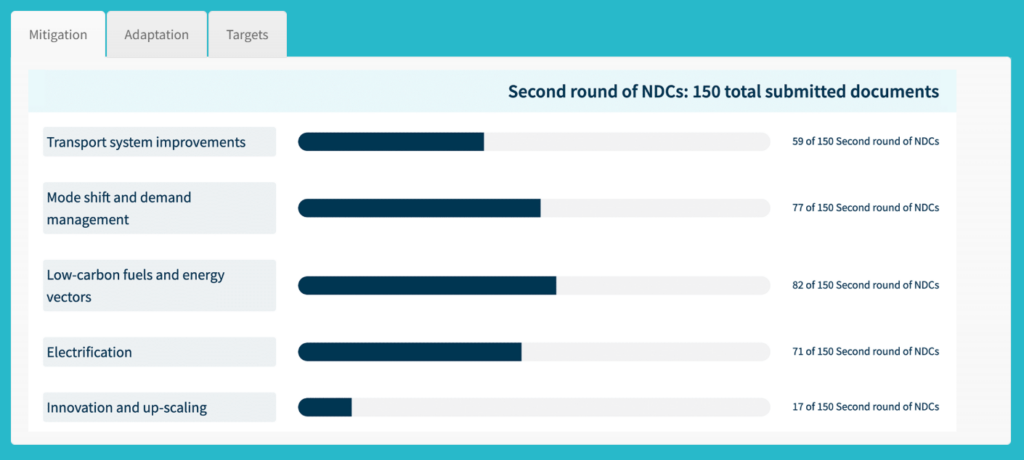 The fact that 101 countries, representing 80% of global CO2 emissions, have announced some form of net zero target shows growing awareness of the threat of global warming and political leadership. However, the NDCs do not yet show the necessary commitment to decarbonise transport.
Net-zero commitments show growing leadership
The nature of net zero targets varies dramatically. Some are simply political announcements, while others have been translated into national legislation. In view of the long-term nature of the targets, making them legally binding is important for stability and continuity of political commitment.
Of the countries that have set a target year for going net zero, 61 have set it at 2050 or beyond. This is a long way off in terms of political election cycles and leaves plenty of room for 'later' action. But there is no room for late action, particularly in the transport sector.
Complete decarbonisation of the sector is not possible with a simple technology fix. It requires deep structural and transformative changes in the way people and goods move. Working on the avoid and shift elements is crucial to transform our cities into truly sustainable cities, as Minister Muñoz of Chile's Ministry of Transport and Telecommunications stressed.
This means investing heavily in infrastructure, often taking many years to complete. But it also requires behavioural changes across the transport industry and among individuals. Efforts are needed to reduce travel and shift to more efficient modes, not only for cities and road transport, but also for maritime and air transport, according to Sergio Oliete Josa from the European Commission's Directorate-General for International Partnerships (DG-INTPA).
Few countries have set 2030 emission targets for transport
Interim targets can increase ambition and facilitate the identification of effective policy options for the sector. They give direct responsibility to transport ministries. Climate change in general is often dealt with by environment ministries or specific climate change ministries, which do not have a decision-making mandate for transport policies.
However, responsibilities in the sector are often fragmented and fall under several ministries. It is important that those line ministries that make key decisions on transport policy and infrastructure have clear targets to work towards. Who these ministries are will depend on the national institutional set-up. This may mean that, in addition to general targets for the sector as a whole, specific targets are needed for individual sub-sectors. For example, if there is a separate ministry for rail transport.
So far, only 20 countries with net zero targets have also set a national greenhouse gas emission target for the transport sector and only 13 have set intermediate targets. Together, they cover only 9% of global and 12% of transport CO2 emissions. Once more, we see leadership from smaller, highly vulnerable countries such as Fiji, Sri Lanka and the Seychelles. Of the larger emitters, only Japan, the UK and Australia have set GHG targets for the sector.
A further 16 countries have set non-GHG targets for the transport sector. Most of these relate to the introduction of zero-emission vehicles and vehicle efficiency. Such targets can be useful tools to operationalise the more abstract GHG targets and help track progress. However, to ensure that they contribute adequately to the stated long-term goals, it is helpful to embed such non-GHG targets in a clear GHG reduction pathways with intermediate targets.
Clear goals and commitment are needed, but implementation is key
What ultimately matters is the actual implementation of policies and measures on the ground. Targets, both GHG and non-GHG, are tools to support this implementation, provide direction and enable progress to be monitored. So far, we see a lot of good will, but the implementation of policies and investments for transformation is lagging in most countries. However, it is encouraging that in the second round of NDCs 80 % include at least one mitigation action from the transport sector, which is a clear increase from the 67% in the first round.
The panellists at the Symposium 'A Glimpse into the Future of Transport' during Transport Week (transportweek.org) identified three critical points for implementing bold action in the transport sector:
Scaling up sustainable transport efforts: Panellists stressed the importance of clear government leadership and increased ambition in transport policy. International and public infrastructure investment and deeper public-private partnerships are key levers for achieving sustainable transport at scale.
Equity in the transition: Stakeholder engagement and the local value creation were highlighted as essential elements in creating a more sustainable and inclusive transport sector within each country. Panellists stressed that electrification must be seen as an opportunity to modernise transport systems. Minister Muñoz shared his experience of introducing electric buses in Santiago de Chile, where residents are now proud of their bus system.
Dialogue and collaboration: Panellists discussed two dimensions of equity – within countries and between countries. Ideas such as a green shipping levy were proposed to fund industry transformation and support smaller, less affluent countries to ensure an equitable transition. Mr Chupanit from the Thai Office for Transport and Traffic Policy and Planning stressed the importance of involving the public in this transition.
Thailand is also a good example of how an NDC action plan can help to generate the necessary commitment from implementing bodies. Although not yet formally published, a draft was presented and discussed at the Asia regional exchange during Transport Week. Such action plans are essential to move from commitment to implementation and, once in place, will also help countries to develop concrete policies and measures and to better document climate actions in their NDCs.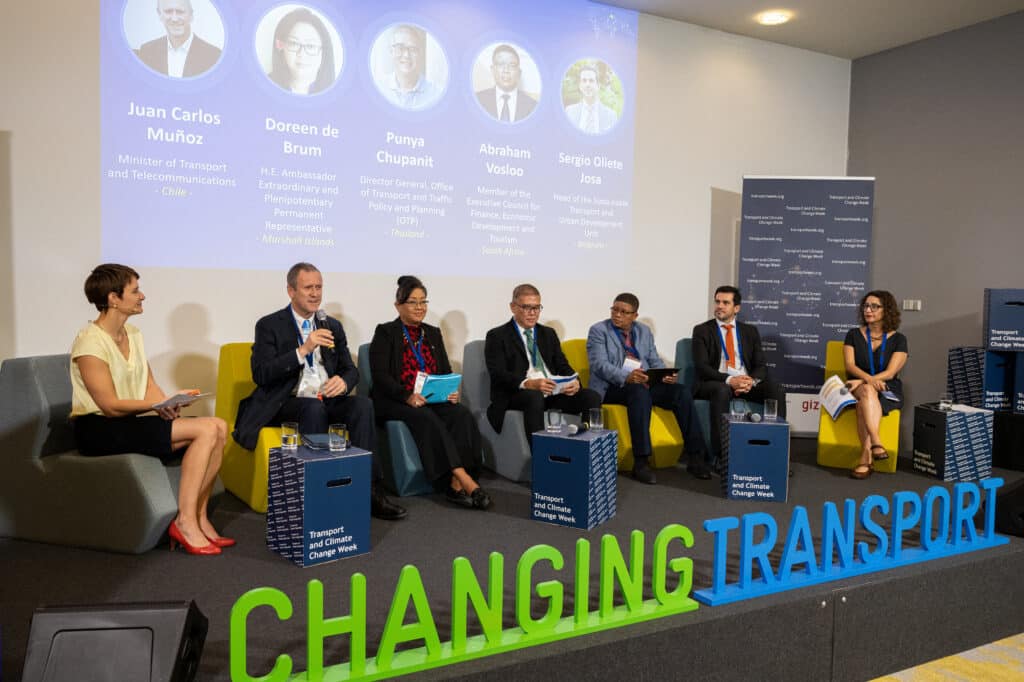 We need to change behaviour… It is about being able to take action that is not necessarily good for me, but for mother earth – when you give a present to your mother you probably don't do a cost-benefit-analysis of the present

Minister Juan Carlos Muñoz, Ministry of Transport and Telecommunications Chile
Tools such as the NDC Transport Tracker can inform this exchange and provide inspiration. But international partnerships are needed to create the confidence that implementation will be supported and that everybody is doing their homework. Transport and Climate Change Week 2023 was delivering peer networks for sustainable mobility (changing-transport.org) and created the confidence, that changing transport is feasible.
---
The Mobilize Net Zero project team is organising the Transport and Climate Change Week, alternating between a virtual and face-to-face format. It further maintains and updates the NDC Transport Tracker. The project is implemented by the Deutsche Gesellschaft für Internationale Zusammenarbeit (GIZ) GmbH and is funded through the International Climate Initiative (IKI) of the German Federal Ministry for Economic Affairs and Climate Action (BMWK).
Delivering Peer Networks for Sustainable Mobility
Transport Week 2023
From 11 to the 15 September, the 6th edition of the Transport and Climate Change Week took place in the German capital Berlin. Once again, the GIZ team has brought forward the Transport Week as a central meeting point and platform for counterparts and partners of GIZ projects from the five continents. Exchanging ideas and working together to address the challenges of sustainable transport is urgently needed to build confidence in the transformation of transport.
After two years of virtual and hybrid formats due to the pandemic, Transport Week 2023 returned to its original face-to-face format, facilitating meaningful networking and peer learning among delegates. With about 250 participants in 5 days, coming from 32 different countries, 30 sessions and more than 50 speakers, this year's event marked a significant milestone for enhancing collaboration and establishing partnerships on sustainable mobility.
A collective effort to target net-zero emissions
The event brought together experts and practitioners from the Global South from government departments and cities cooperating with Germany. Several GIZ projects funded by the German government's International Climate Initiative (BMWK and BMUV), but also other donors such as the German Federal Ministry for Economic Cooperation and Development (BMZ), the Mitigation Action Facility, Switzerland and the European Union (DG INTPA) contributed to its success.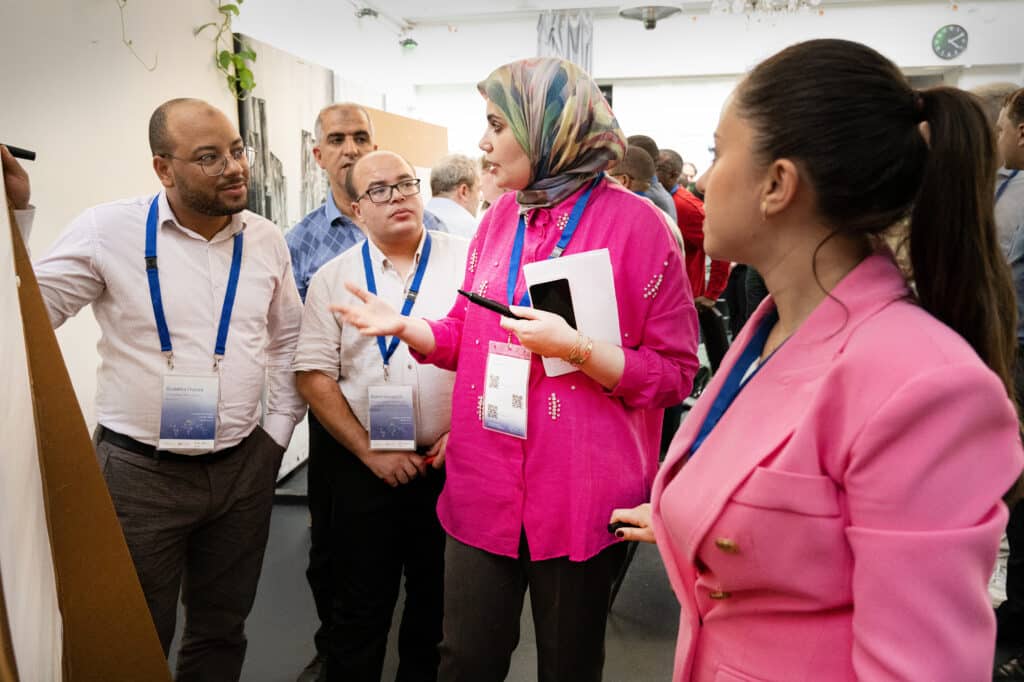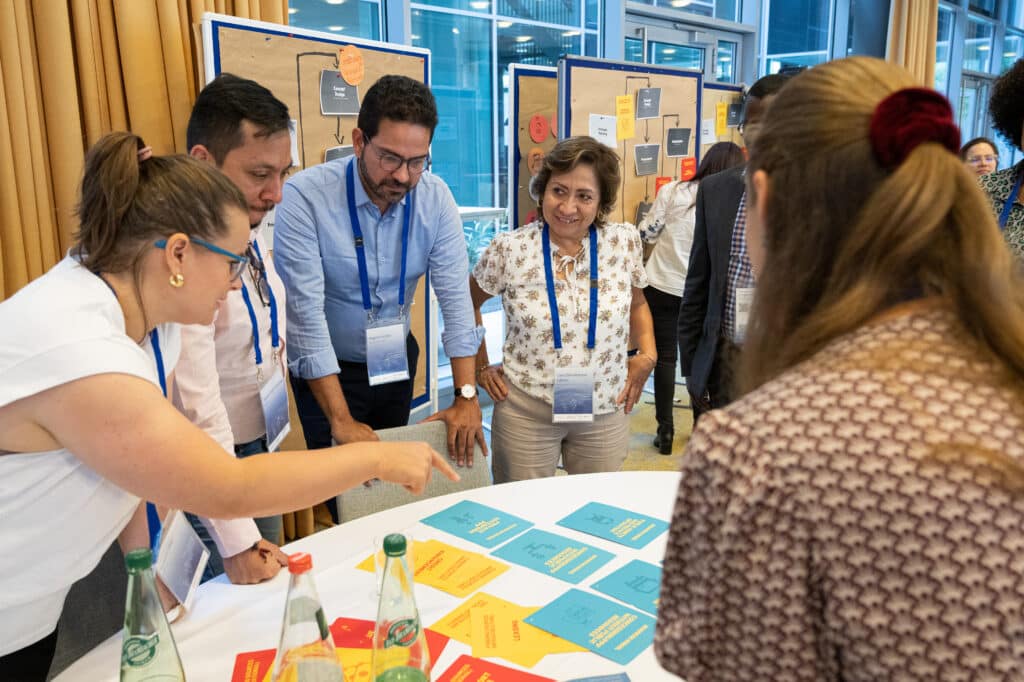 With a renewed focus on face-to-face interaction, the heart of Transport Week 2023 revolved around five key objectives, each of which shaped the daily agenda and discussions.
Monday: The week began by visualising #StoriesOfChange, experiences and innovative solutions with the potential to revolutionise transport. For example, the Philippines shared its programme to modernise its iconic jeepneys, resulting not only in lower emissions but also in consolidated services, better working conditions for drivers and less pollution.
On Tuesday, in-depth thematic training sessions allowed participants to dive deep into future actions: vehicle efficiency regulations, e-mobility, sustainable urban mobility planning, designing bankable projects and achieving energy transition in maritime transport. Equipped with the necessary knowledge and skills, we will be able to take concrete action towards sustainable mobility.
Wednesday shifted the focus to the future of transport and the common goals to be achieved. From urban mobility to climate action plans, artificial intelligence to carbon-neutral fuels for maritime transport, participants sought to work out of silos. The sense of urgency created led to discussions on scaling up investment, cross-sector collaboration and improving data.
On Thursday, it was time to deliver, to bring ideas to life through global collaboration: Participants discussed how global networks between countries, international partners and experts can accelerate the race. Regional cooperation can drive change and deliver sustainable transport solutions through strong communities of practice and sustained collaboration.
Friday empowered action through experience: The event culminated with first-hand experiences from Berlin, Hamburg and Copenhagen that provided a practical understanding of the challenges and opportunities of sustainable transport.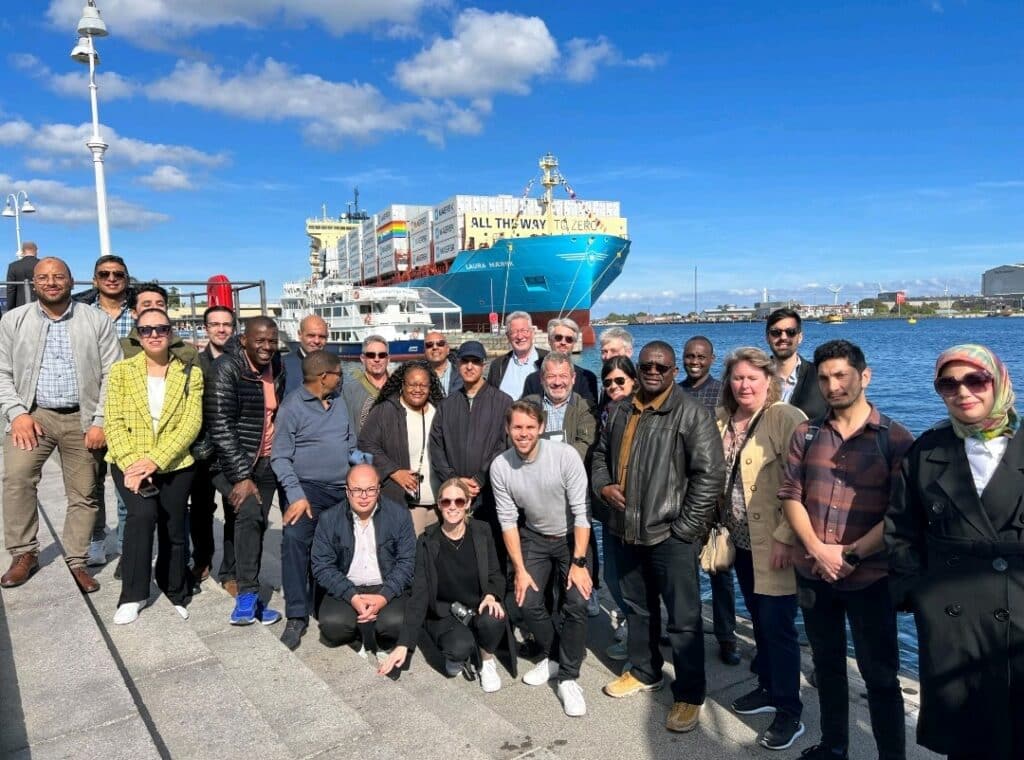 ———————————–
The Highlights of the 6th edition
In the middle of the week, a symposium opened by Stefan Wenzel, Parliamentary Secretary of State at the German Federal Ministry for Economic Affairs and Climate Action, and Ingrid-Gabriela Hoven, Managing Director of GIZ, convened a panel of distinguished guests, including Juan Carlos Muñoz, Chile's Minister of Transport, and Doreen de Brum, Ambassador of the Marshall Islands to the EU. They were joined by panellists from Thailand, South Africa and the European Commission. The symposium provided a platform to discuss the critical role of international cooperation in achieving net-zero emissions.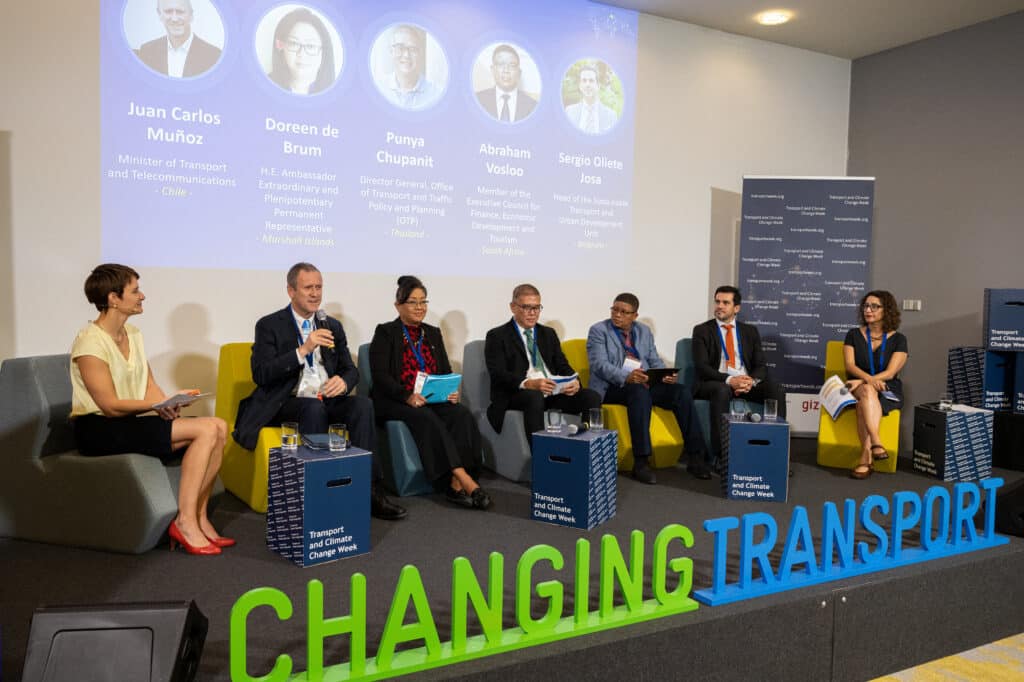 Transport and Climate Change Week 2023 was not just an expert conference; it was a peer learning event that embodied the spirit of collaboration and innovation. All participants emphasised the importance of personal connections, fostering networking and inspiring transformative change.
Demonstrating how to integrate multiple projects and stakeholders was key to success. One of the concrete outcomes was the signing of Letters of Intent between Peru, Mexico and Colombia to strengthen cooperation. African countries built a strong foundation for a community of practice, and Asia used peer coaching to discuss specific challenges and jointly identify opportunities to transform transport.
Looking ahead to 2024 and 2025
Transport Week 2023 was part of a longer journey. Participants will use what they learn to work together and continue to transform transport. Regional conferences in Latin America and Asia, as well as a virtual Transport Week in September/October 2024, will keep participants in touch. The next face-to-face Transport Week in Berlin is planned for the end of September 2025. With climate targets and NDCs due to be updated in 2025, there will be plenty of new experiences to share and international partnerships to build on.
---
The Mobilize Net Zero project team is organising the Transport and Climate Change Week, alternating between a virtual and face-to-face format. The project is implemented by the Deutsche Gesellschaft für Internationale Zusammenarbeit (GIZ) GmbH and is funded through the International Climate Initiative (IKI) of the German Federal Ministry for Economic Affairs and Climate Action (BMWK).
Safer Routes to School Encourage Use of Sustainable Mobility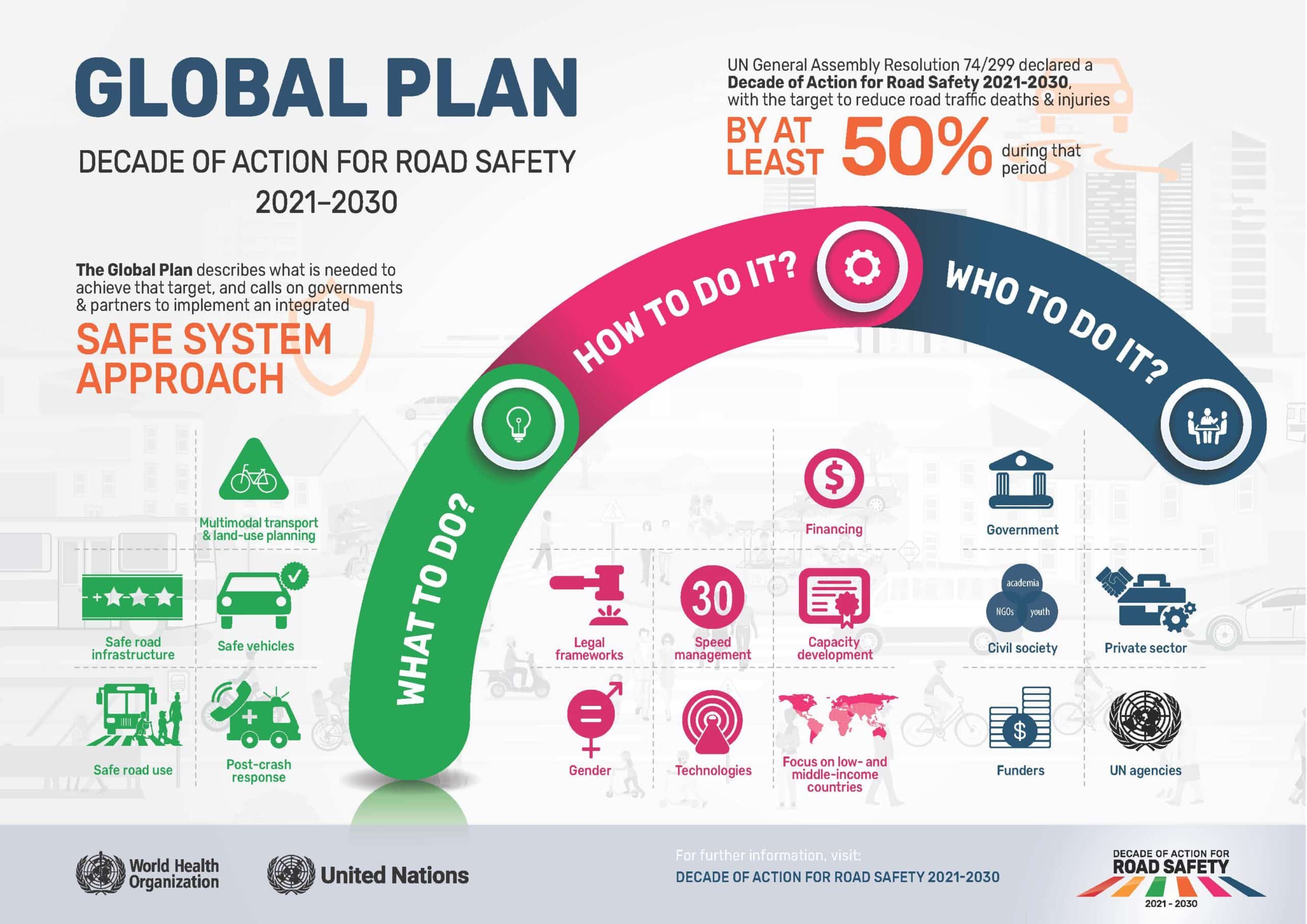 Every year, 1.35 million people die in entirely preventable traffic accidents, with children and young adults most affected, making road traffic injuries the leading cause of death for those aged 5 to 29 (World Health Organization 2018). In response, the World Health Organization (WHO) initiated the Decade of Action for Road Safety 2021-2030, aiming to reduce road traffic fatalities and injuries by at least 50% from 2021 to 2030 (UN General Assembly 2020). To attain this goal, WHO, alongside UN regional commissions and partners in the UN Road Safety Cooperation, has devised a comprehensive global plan emphasizing a holistic approach to road safety, improved road and vehicle design, stronger laws and enforcement, and timely emergency care (World Health Organization 2021). Additionally, the plan encourages the promotion of walking, cycling, and public transportation as healthier and more environmentally sustainable modes of transport (Figure 1).
Safer routes to school – what does it mean in theory?
Implementing the Global Plan's holistic approach requires special attention to ensuring a just transition in the transport sector, with a focus on equitable access, as identified by TUMI (2022). Children's right to safe mobility and secure routes to school should be prioritized, recognizing them as equal users of public spaces and transportation. Achieving a just transition in the transport sector, especially concerning children's safety on the way to school, involves addressing challenges related to transforming urban areas, streets, public transport, and promoting gender and social equity. The interconnectedness of Just Mobility and road safety for children necessitates a blend of infrastructure enhancements, education, policy adjustments, and community engagement.
Tool to analyse children's road safety
Star Rating for Schools (SR4S) is the first evidence-based tool for measuring, managing, and communicating the risk children are exposed to on a journey to school. It supports quick interventions that save lives and prevent serious injuries from day one. SR4S allows an easy assessment of each of these features and using evidence-based research of their impact on safety, a star rating can be calculated at spot locations, where 1-star is the least safe and 5-star is the safest. (Baumann et al. 2021)
Measures to increase road safety for children
Road safety measures for children can be categorized into four main groups (Figure 2):
General measures for overall road safety improvement;
Specific measures within the transportation system;
Specific measures for traffic calming and
Measures directly enhancing children's safety on their way to school.
Common measures, as indicated in existing literature, involve reducing speed for individual motorized traffic and utilizing ground markings. These measures are typically implemented in proximity to schools and are most effective when integrated with other safety measures, such as signage, traffic signals, and physical barriers, to establish a comprehensive road safety environment. Additionally, promoting awareness among all road users and imparting traffic education to children are crucial.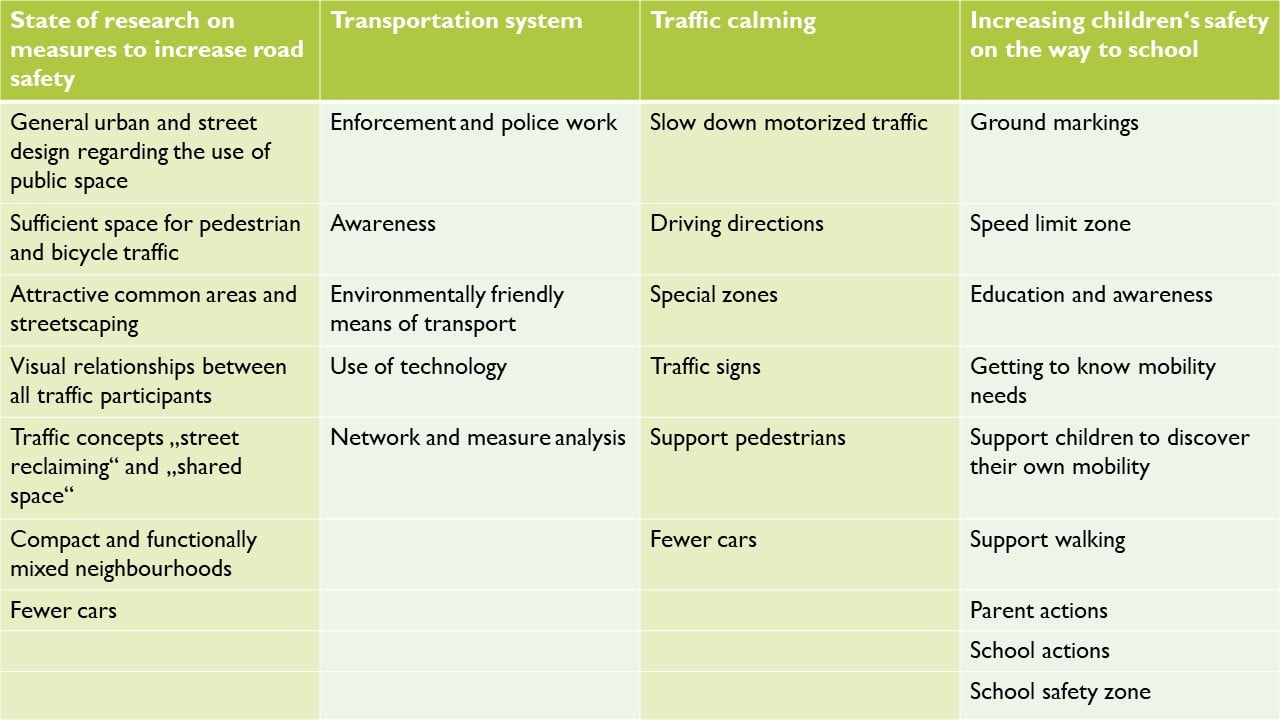 Tirana, Albania sets up School Street Block to improve school route safety
Within the framework of the "Streets for Kids" program, an entire city block encompassing two primary schools, a kindergarten, and a crèche underwent a redesign in partnership with Qendra Marrëdhënie, the Municipality of Tirana, and GIZ Albania. The primary issue addressed by this initiative was the need to create safer and more enjoyable environments for schoolchildren and the local community around educational institutions.
The programm is dedicated to transforming spaces surrounding schools into secure and pleasant areas for students and the neighbourhood. This approach is exemplified by the successful transformation of the street in front of Edith Durham middle school into a permanent school street, demonstrating the program's potential.
What has been done – Impact of the School Street Block
As a result of this initiative, a comprehensive redesign of an entire city block has taken place, benefiting approximately 1600 children who spend a significant part of their day in these educational institutions. The block now features:
Enhanced safety measures
Wider walkways
Reduced vehicle speed limits (capped at 20 km/h)
Elimination of car parking lots
Integration of Street Furniture, including benches, lights, and plants
Creation of a new lane for non-motorized transportation (standard width: 2.8 meters)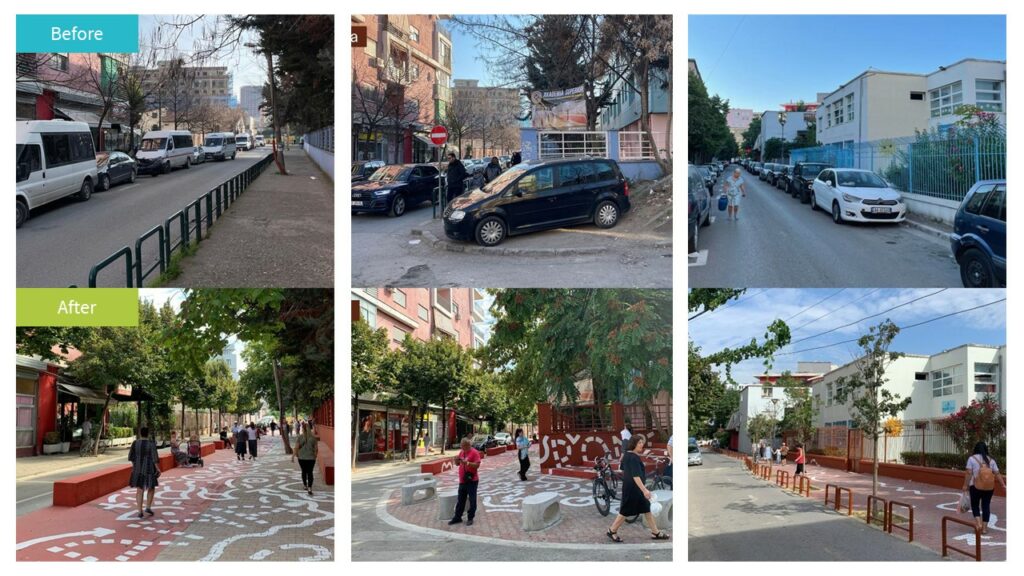 Next steps and expectations
Building upon the success of Edith Durham middle school's transformation, the Municipality of Tirana is committed to expanding the "Streets for Kids" program. By the end of 2023, they plan to create 12 more school streets. Completing school streets for all educational institutions covered by the program is crucial to sustaining this positive momentum and further enhancing safety and well-being for all Tirana's children.
GIZ projects on school route safety
In addition to the case study shown above, which is being implemented as part of the Sustainable Urban Transport in Tirana (SUTi) project, there are already a number of GIZ projects on the topic of school route safety that have been successfully completed:
In conclusion, prioritising safer routes to school is pivotal in reducing preventable traffic accidents, especially among children and young adults. The World Health Organization's Decade of Action for Road Safety underscores the need for a comprehensive approach that embraces sustainable and healthier transportation modes. Safer routes encompass infrastructure enhancements, education, policy adjustments, and community involvement, as exemplified by initiatives like "Streets for Kids" in Tirana, Albania. By creating environments that encourage walking and cycling, we not only enhance safety but also foster more sustainable modes of transportation. These efforts reflect a positive change towards a more sustainable future, one where cleaner, greener, and safer transportation options are not just a possibility but a reality. Such endeavors remind us that by investing in our children's safety, we also invest in the well-being of our planet and future generations.
Empowering Change
China, as one of the prominent rising economies in Asia, faces many challenges in its process of advancing its society using sustainable solutions. These challenges contain a surging need to develop mobility, the imperative shift towards decarbonising transportation, and the simultaneous necessity to combat air pollution and manage overpopulation within a rapidly expanding economy. Despite these obstacles, China has set ambitious targets, including the dual carbon goals of capping carbon dioxide emissions by 2030 and attaining carbon neutrality by 2060. Achieving these objectives requires the implementation of various measures aimed at mitigating emissions.
The path toward designating a sustainable transport system relies on a diverse and committed group of people who has the potential to generate positive change within the sector. Lulu Xue, a member of the NDC Transport Initiative for Asia (NDC-TIA) team, is a transport expert and representative woman with extensive experience in developing technical solutions for decarbonising transportation, particularly in urban mobility.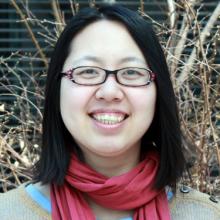 Believing strongly that the transport sector holds the key to effecting positive change, she chose to work in this field, highlighting its immense potential. In her own words:
I want to make an impact, and the transport sector is where I see that potential.

Lulu Xue, Urban Mobility Manager at WRI China
This commitment is evident in her work with the NDC-TIA project and the World Resources Institute (WRI), where she and her team support the development of a strategy to address transport-related greenhouse gases (GHG) and air pollutants. Within this project, the team strives to create a robust statistical data system, a crucial element in transportation planning within China. Despite the persistent challenges, Lulu remains unwavering in her belief that this undertaking is pivotal in unlocking transformative solutions within the sector.
Lulu's track in the transportation sector has been challenging, as she faced numerous obstacles being a woman in a predominantly male-dominated sector. Nevertheless, Lulu stands as an inspiring person who encourages other women to embrace their distinctive talents and abilities, dispelling stereotypes that may underestimate their potential in engineering and science.
Drawing from her own experiences, she emphasizes the significance of encouraging a growth mindset. She underscores the huge potential for women to impact the transportation sector and across various fields. Her story serves as a testament to the resilience and capability of women who break through barriers and shatter limitations to make a lasting impact on their chosen professions and society as a whole.
We, as women, can evolve and excel not only in the transportation sector but in various fields.

Lulu Xue, Urban Mobility Manager at WRI China
Lulu's career in the transport sector has been dedicated to developing sustainable solutions, focusing on her contributions China's National Transit Metropolis Demonstration program. This nationwide initiative aimed to prioritise transit systems and elevate public transportation standards in Chinese cities. For the past four years, Lulu and her team have been providing technical support to pilot cities, contributing to the success of this ambitious project and continuing to develop new skills to create a positive impact in the sector while motivating other women to be part of it.
What is happening on Sustainable Transport at the Africa Climate Summit & Africa Climate Week 2023?
The upcoming Africa Climate Summit 2023 is set to be a decisive gathering that will take place from the 4th to the 6th of September in Nairobi, Kenya. This event will bring together leaders from diverse backgrounds, including representatives from governments, businesses, international organizations, and dedicated members of civil society, to underline the importance of a singular message: the urgent need to advance green growth and climate finance solutions for Africa and the global community.
Are you planning to join the Africa Climate Summit? Meet our team there on Sept. 4th!
GIZ will be co-hosting the side event "Co-Investing in Leapfrogging to Sustainable Transport, including E-Mobility" together with the Kenyan Ministry of Roads and Transport, UNDP, and Agora Verkehrswende. This joint event aims to serve as a catalyst for a much-needed dialogue that seeks to engage African leaders and influential changemakers on financial mechanisms and opportunities for advancing sustainable transport in Africa.
Date: 4 September 2023
Time: 2:00 PM – 3:00 PM (East African Time)
Location: Kenya House, Africa Climate Summit, Nairobi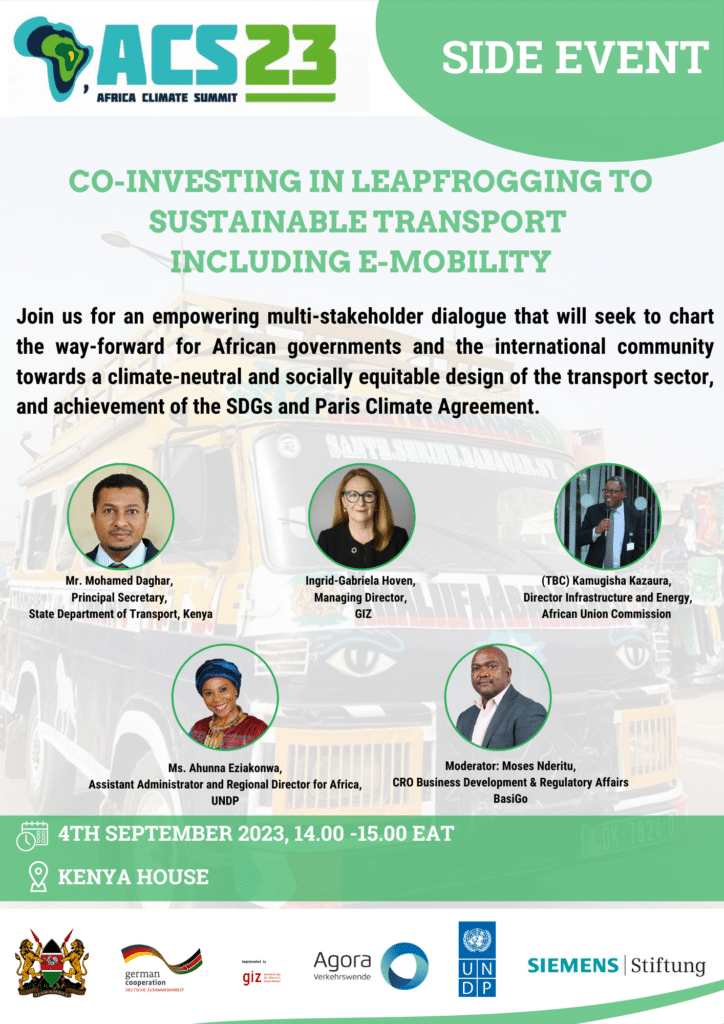 Other Sustainable Transport Events at the Summit
Below, we present an overview of the various events scheduled as part of the African Climate Summit 2023 related to the theme of sustainable transportation.
Event
Informations (all times in EAT)
E-mobility Parade

Organizer: Electric Mobility Association of Kenya

More information here
Date: 3 September 2023
Time: 8:00am -12:00pm
Venue: City Hall – KICC – Langata rd – Nairobi National Park gate – Langata Link road – Ngong rd – Green Park terminus

Climate and Mobility *
Date: 4 September 2023
Time: 11:30 -12:30 PM
Venue: SE 1
Electric Mobility Industry Roundtable (Emobility 1)

Organizer: Africa E-Mobility Alliance
Date: 4 September 2023
Time: 12:30 -2:30 PM
Venue: SE 3 (132)
Co-investing in Leapfrogging to Sustainable Transport including E-Mobility (Emobility 2)

Organizer: Kenyan Ministry of Roads and Transport, GIZ, UNDP, Agora Verkehrswende, Siemens Stiftung

More information here
Date: 4 September
Time 2:00 – 3:00 PM
Venue: Kenya House

Integrated Liveable African Cities
Panel 2: Financing and Investing in Green Transport

Organizer: ITDP
Date: 4 September 2023
Time: 3: 45- 5:15 PM

Ministerial Sesion: Investing in Green Transport in Africa (Parallel 5c)

Organizer: ITDP

More information here
Date: 4 September 2023
Time: 4:30- 6:00 PM
Venue: Lenana Room, KICC
Leaders Breakfast: Green Infrastructure Investment for Corridor Development in Africa

Organizer: AUDA-NEPAD
Date: 5 September 2023
Time: 7. 00- 8: 00 AM
Venue: SE 1
Accelerating Decarbonization in African Logistics: The role of the provate sector in collaboration

Organizer: Smart Freight Center
Date: 5 September 2023
Time: 8:00- 9:00 AM
Venue: SE 2

Ensuring universal access to mobility as African countries embrace E-Mobility

Organizer: Movin´On
Date: 5 September 2023
Time: 12:00- 1:00 PM
Venue: SE 4

Financing Climate resilient infrastructure and Green Transition in Africa: PIDA

Organizer: AUDA-NEPAD
Date: 5 September 2023
Time: 14:00-15:00 PM
Venue: AU Pavilion
Designing and enabling environment for Green Transport in Africa (E-Mobility 3 & 4)

Organizer: Africa E-Mobility Alliance
Date: 6 September 2023
Time: 8:00- 10:00 AM
Venue: SE 4 (132)
Accelerating Emobility: Empowering Sustainable Urban Transportation in Kenya with smart Bicycle Infrastructure

Organizer: Bike is best Kenya Entreprise
Date: 6 September 2023
Time: 11:00- 11-30 AM
Venue: SE 5
Your transport related event is not mentioned? Send an e-mail to

email hidden; JavaScript is required

and we will add it to the list! (* at the time of publication, no additional information was available)
Some of the events at the summit will be available via the livestream here! You will find more information on the Africa Climate Summit website.
More sustainable transport events – The Africa Climate Week
This years Africa Climate Week is organized in parallel to the Africa Climate Summit. Taking place from 4-8 September 2023 in Nairobi, the Regional Climate Week for the African continent presents a rich prpgramme. Sustainable transport is very well represented with events about railway development, freight, e-mobility, informal transport and more.
Event
Informations (all times in EAT)
Electric railway development in Africa – an opportunity for climate finance
Date: 4 September
Time 12:30 – 13:00 PM
Venue: Climate Activation
Livestream
Green Rail Corridors: the role of railways in protecting and enhancing biodiversity in Africa

Organizer: UIC, KRC, TRC, SETRAG
Date: 5 September 2023
Time: 13:15-13:45 PM
Venue: Climate Activation

Livestream
Driving Electric Mobility in Africa: Lessons Learned and Future Challenges

Organizer: Mazi Mobility, Electric Mobility Association of Kenya
Date: 6 September 2023
Time: 17:00-17:30 PM
Venue: Climate Activation

Livestream
Connecting Informal Transport to the Climate Agenda

Organizer: WRI, SLOCAT, GNPT, TUMI, Climate Champions Team
Date: 7 September 2023
Time: 10:30 – 11:30 AM
Venue: Amphi Caucus 2

Livestream
Mobilizing climate finance through innovative business and financing models for e-mobility shift in Ghana

Organizer: UNEP, Government of Ghana
Date: 7 September 2023
Time: 10:30 – 11:30 AM
Venue: Atlas Mountain

Livestream
Transforming Mobility in Africa: Collective transport as the Climate solution

Organizer: UIC, UITP, SLOCAT, WALK21, KRC
Date: 7 September 2023
Time: 12:00 – 13:00 AM
Venue: Atlas Mountain

Livestream
Enabling innovative solutions for clean mobility in African cities

Organizer: Uber, Uber Utopia
Date: 7 September 2023
Time: 14:45 – 15:15 PM
Venue: Climate Activation

Livestream
Decoupling growing freight transport from CO2 emissions – a regional perspective

Organizer: Kühne Foundation, CCTTFA, NCTTCA, Trade Mark Africa, UNEP, GIZ
Date: 8 September 2023
Time: 10:30 – 11:30 AM
Venue: Mount Nimba

Livestream
Sustainable Green Transport Initiatives in Africa

Organizer: African Development Bank
Date: 8 September 2023
Time: 12:00 – 13:00 AM
Venue: Atlas Mountain

Livestream
Achieving a decarbonized and resilient infrastructure system in Africa: the role of transport

Organizer: UNFCCC, UNEP, SLOCAT, ITF
Date: 8 September 2023
Time: 13:30 – 15:00 PM
Venue: Aberdares Hall

Livestream
Your transport related event is not mentioned? Send an e-mail to

email hidden; JavaScript is required

and we will add it to the list!
---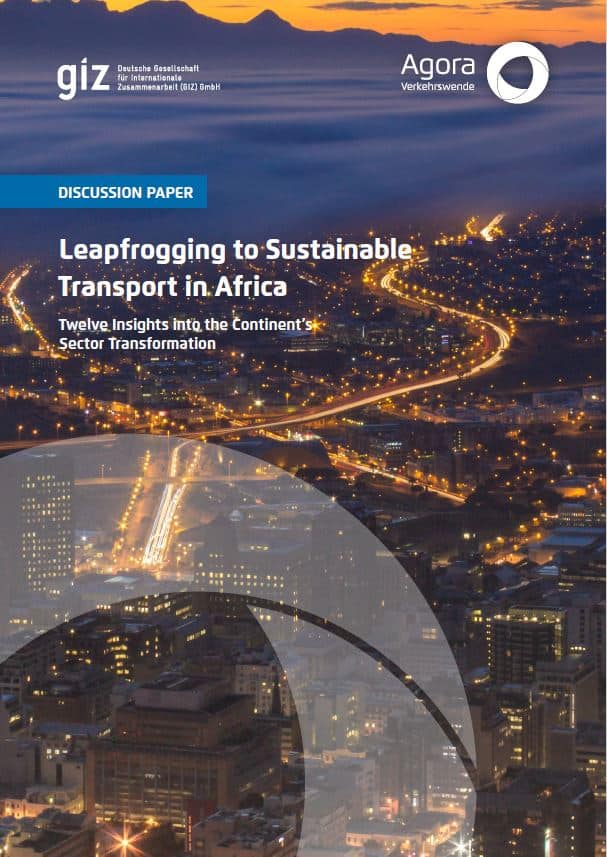 If you are interested in learning more about sustainable transport in Africa, have a look at our latest publication "Leapfrogging into Sustainable Transport in Africa. Twelve Insights into the Continent's Sector Transformation" and check out the activities planned for the Rethinking Transport project.
Transforming Africa's transport sector through networking: a catalyst for progress
GIZ is currently running a call for a first "Rethinking Transport Lab", an exciting initiative designed to promote creativity, innovation and collaboration between transport stakeholders in Africa. These Labs, along with other related activities under the Rethinking Transport initiative, represents a new approach for GIZ, focusing on strengthening personal and professional networks rather than just institutional capacity building. Discover how networking could serve as a driving force for progress in Africa's transport sector.
Africa's development needs are becoming more urgent owing to the effects of climate change, rapid population growth and lifestyle changes. These factors are placing heightened financial demands on the continent, exacerbating the challenges faced by African nations that are still in the process of recovering from the recent global pandemic. While aid continues to play a crucial role in building capacity, leveraging resources, and achieving targeted outcomes, it is evident that African leaders must explore alternative approaches to traditional development strategies. This includes engaging actively with private sector investments, promoting domestic resource mobilization, as well as exploring debt relief and restructuring options. These strategies, in conjunction with robust partnerships and collaborations, will be vital in leveraging resources, sharing knowledge, and implementing effective solutions to meet the increasing financial demands and drive progress across the continent.
Transport plays a vital role in driving economic growth, facilitating trade, and fostering community connections. However, it is a key contributor to raising CO2 emissions: 29 % of total CO2 emissions from the combustion of coal, crude oil, and natural gas are attributable to the transport sector, and most of that comes from road vehicles[i].  Although Africa's contribution is smaller, emission trends on the continent call for immediate action. Greening the sector will therefore play a significant role in combating climate change and boosting Africa's development [ii].
The influential Kofi Annan emphasizes that "partnerships can lead to sustainable structural change" on the continent. As such partnerships often emerge from networking, it is crucial to explore the immense potential that networking among African transport practitioners and organizations could offer to revolutionize and greening the transport and mobility sector in Africa.
The power of networking: a scientific perspective
Scientific evidence and principles firmly support the potential benefits of networking among individuals and organizations. The field of social network analysis offers a comprehensive framework for understanding how relationships and interactions between entities can foster innovation, knowledge sharing, and collaborative problem-solving.
Strong ties within a network enable individuals to tap into their contacts' resources, while weak ties bridge different networks, expanding the pool of resources available[iii].
Networks influence individual and collective decision-making processes as well-connected individuals exert greater influence and possess diverse information, leading to enhanced decision-making and innovative outcomes[iiii].
Additionally, diverse networks, encompassing connections across different domains, facilitate knowledge sharing and stimulate creativity[iiiii].
The importance of networking in the transport sector
Numerous challenges, including inadequate infrastructure, limited access to transport services, and inefficient systems, hinder progress in the transport sector[iiiii], which is vital fro Africa's economic and social development. For instance, studies have shown that poor road, rail and port facilities add 30% to 40% to the costs of goods traded among African countries, thus adversely affecting the private sector development and the flow of foreign direct investment (FDI).
Furthermore, traffic congestion is a prevalent issue in many African cities, hampering economic productivity, causing tremendous air pollution and increasing greenhouse gas emissions. Networking among African transport practitioners could offer a promising avenue to overcome these obstacles and unlock the full potential of Africa's transport and mobility landscape.
Sharing knowledge and best practices: Networking will enable the exchange of knowledge, experience and best practice between transport practitioners, helping to identify successful strategies and innovative solutions. This sharing of knowledge can help accelerate development, avoiding redundant efforts and enabling the adoption of proven approaches.
Collaboration and resource mobilisation: Through partnerships and alliances, stakeholders can pool their expertise, financial resources, and technical capacities to tackle common mobility challenges. The COVID-19 pandemic highlighted the critical role of networking in addressing socio-economic challenges. For example, a study conducted in South Africa during the pandemic highlights that organizations working in silos were limited in reaching vulnerable individuals, leading to a lower impact. By coordinating efforts in the transport sector in Africa, the collective impact can be amplified, facilitating the implementation of large-scale projects and initiatives.
Catalysing innovation: By fostering interdisciplinary collaboration and bringing together diverse perspectives, networking can spark creativity and catalyse the development of ground-breaking solutions. Innovations in areas such as smart transportation systems, renewable energy integration, and digital connectivity can revolutionize mobility in Africa, ensuring sustainability, efficiency, and inclusivity. A strong network and collaboration in the transport sector are therefore essential to build sustainable transport systems and catalyse innovation in promoting gender equality in transport.
Policy advocacy and influence: Networking is a political strategy to deal with repression and opposition, which will provide support, protection and solidarity. It could therefore play a crucial role in policy advocacy and influence within the transport sector in Africa. By bringing together various stakeholders, networks will create a unified voice for driving policy reforms and promoting sustainable practices. Collective advocacy efforts can then shape transport policies, regulations, and investments, fostering an enabling environment for the sector's growth and development.
Linking networking initiatives with donor activities in Africa
To maximize the impact of networking in the transport sector, it is essential to establish synergies with donor activities. This linkage can forge a mutually beneficial relationship, leading to enhanced impact and effectiveness in addressing the transport sector's challenges. Donors have long played a crucial role in providing financial support, technical expertise, and policy guidance to advance development goals in Africa.
For instance, the Rethinking Transport in Africa project actively supports the development of positions and strategies for the sustainable transformation of the transport sector on the African continent. The project aims to bring together stakeholders from academia, civil society, and the private sector, to foster an inclusive and collaborative environment for knowledge sharing and networking. Such initiatives therefore contribute to aligning efforts, pooling resources, and leveraging expertise to address the challenges faced by the transport sector. Here are some key approaches to integrating networking with donor initiatives:
Funding mechanisms for collaborative projects: Donors can establish funding mechanisms that incentivize collaborative projects among transport practitioners. They can encourage partnerships and consortiums by supporting initiatives that address shared challenges and deliver transformative outcomes. For instance, funding opportunities can be designed to prioritize projects with cross-border relevance, innovation potential, and a focus on sustainability and inclusivity.
Knowledge exchange and capacity building: Donors can support knowledge exchange programs and capacity-building initiatives within the networking framework. This includes organizing and supporting workshops, seminars, and training sessions that promote the sharing of expertise, enhance technical skills, and foster a culture of continuous learning. They can also facilitate access to relevant research, data, and tools to strengthen the evidence base for decision-making and policy formulation.
Establishment of think tanks: Think tanks serve as independent research institutions that generate valuable insights, conduct policy analysis, and offer evidence-based recommendations. They can therefore play a crucial role in bridging the gap between research and policy, providing a platform for stakeholders to access reliable information, exchange knowledge, and collaborate on sustainable transport solutions for Africa. Donors will then create greater impact on the continent if they can provide financial resources and technical expertise to help set up these think tanks, enabling them to conduct in-depth research, engage in policy dialogue and contribute to informed decision-making on transport.
In a nutshell, networking appears to be an essential tool for reshaping Africa's transport sector, unlocking new opportunities, driving innovation, and paving the way for sustainable and inclusive mobility. Financial support will be vital in harnessing its full potential, with initiatives that facilitate collaboration, resource mobilization, and knowledge exchange. As we move forward, it is imperative to prioritize funding mechanisms that incentivize collaboration, support knowledge exchange, and enhance capacity building.
Let's embrace the power of networking, cultivate strong partnerships, and work collectively to build a transport ecosystem that serves the needs of the people, fosters economic growth, and enhances the quality of life for all Africans.

Daniel Bongardt
Interested to become part of a network of African transport practitioners to engage in the sustainable future of transport across the continent? Check out the Rethinking Transport Labs, that aim to bring together 30 African practitioners to exchange and connect about key topics for sustainable transport. If you are looking for like-minded people, this LinkedIn Group provides opportunities to get in touch online with practitioners from across Africa.
---
[i] Granovetter M. (1973). The strength of weak ties. American Journal of Sociology, 78(6), 1360–1380. https://doi.org/10.1086/225469
[ii] Agora Verkehrswende and GIZ (2023): Leapfrogging to Sustainable Transport in Africa. Twelve Insights into the Continent's Sector Transformation.
[iii] Burt RS (2004) Structural holes and good ideas. Am J Sociol. https://doi.org/10.1086/421787
[iiii] Uzzi B, Spiro J (2005) Collaboration and creativity: the small world problem. Am J Sociol 111(2):447–504
[iiiii] World Bank. (2020). Africa's Pulse, No. 21: An Analysis of Issues Shaping Africa's Economic Future. http://hdl.handle.net/10986/33541  License: CC BY 3.0 IGO
---
The "Rethinking Transport – Connecting for African Solutions" project is funded the Deutsche Gesellschaft für Internationale Zusammenarbeit (GIZ) GmbH own ressources. The project is implemented by GIZ in cooperation with the German think tank Agora Verkehrswende.
Capacity Building to Advance Electromobility in Chile
Celebrating a momentous achievement, the Metropolitan Region of Santiago recently welcomed its 2,000th electric bus into the Metropolitan Public Transport Network. This landmark accomplishment not only signifies progress in adopting cleaner technology but also underscores Chile's commitment to transforming its transport sector and tackling emissions head-on.
While Santiago's electrification efforts shine brightly, the broader national landscape reveals disparities that need attention. Extending the benefits of electromobility beyond the capital remains a challenge, with critical gaps yet to be addressed in other cities.
Levelling the Playing Field
Chile has set an ambitious goal of electrifying 100% of its urban public transport fleets by 2040, aligning with its National Electromobility Strategy. This commitment holds promise, as electric transport promises safer, more comfortable, and environmentally friendly journeys. Santiago has pioneered electromobility strategies, fostering partnerships between public and private entities to create a sustainable framework that involves diverse stakeholders.
Electric buses comprise 31% of the capital's public transport fleet, with an ongoing tender set to increase this number significantly. However, the situation beyond Santiago's borders contrasts starkly – currently, electric buses make up 0% of public transport in other regions. While tenders are underway to introduce electric fleets to multiple cities, substantial progress lies ahead.
Customized Learning
In collaboration with the Chilean Ministry of Transport and Telecommunications, Public Transport Directorate (DTPR for its name in Spanish), and Energy Sustainability Agency, GIZ developed a capacity-building initiative for regional public transport operators. This comprehensive program imparted crucial technical and operational insights, facilitating a smooth transition to electric transport systems and fostering design and technology implementation adaptation.
Over 170 operators and 37 officials from regional transport secretariats engaged in the ten workshops across Chile. Four modules covered technical aspects, charging management, operational insights, and electromobility business models. The curriculum was crafted following insightful diagnostics involving stakeholders from various sectors, ensuring the training aligns with practical needs.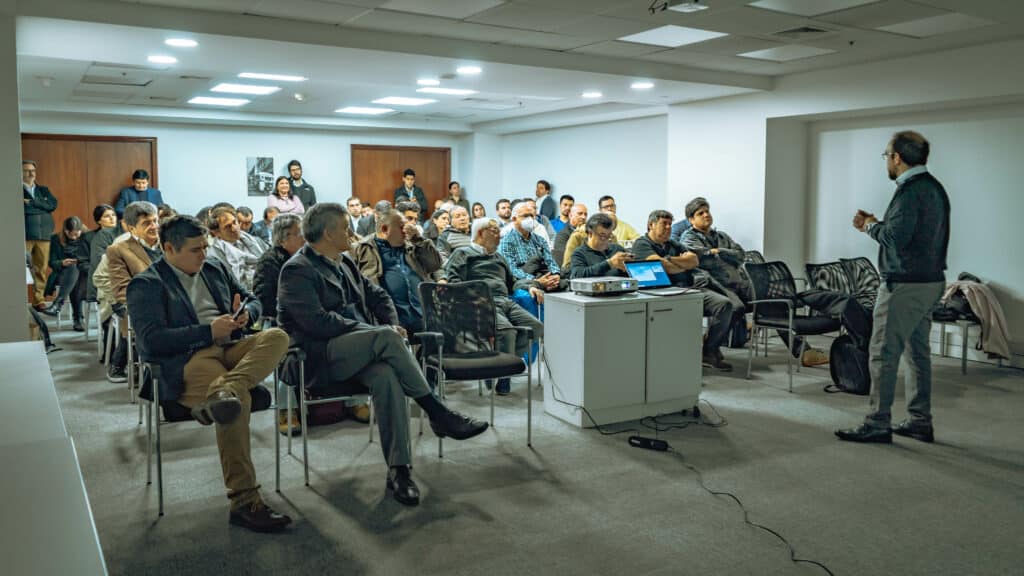 In addition to local training, 28 operators embarked on an Electromobility Tour to Santiago. This two-day event featured training sessions and networking opportunities with key players in the electromobility ecosystem, including energy suppliers, bus manufacturers, and financiers.
The tour included visits to two electro terminals – Metbus and STP from the Metropolitan Network. This allowed operators to engage with professionals managing the services, explore facilities, and gain an in-depth understanding of operations.
As Chile advances towards a sustainable future, initiatives like these illuminate the path to a cleaner, more efficient transport landscape.
The Moving Chile project is implemented by the Deutsche Gesellschaft für Internationale Zusammenarbeit (GIZ) GmbH and is funded through the International Climate Initiative (IKI) of the German Federal Ministry for Economic Affairs and Climate Action (BMWK).
Know Better to Fight Better: Assessing Land Transport Emissions in Morocco
Emissions from the transport sector are a major challenge for Morocco, as they are for many countries around the world. With almost 30% of total CO2 emissions and 38% of final energy consumption, transport is one of the main areas where decisive action is needed. As part of Moroccan climate strategy, the Ministry of Transport and Logistics, with the support of GIZ, has engaged since 2020 in a process of data analysis related to land transport, gaining thereby a more accurate knowledge of its CO2 emissions. The main results will be useful to shape Morocco's future policies.
A local working group has been working for months on collecting, treating and analysing the relevant transport data. As huge databases (mainly vehicle registrations and inspection) with millions of lines were obtained, an open-source code on python for the automatic cleaning and treatment of the data was programmed during the project. The code was handed over to the Ministry of Transport and the National Road Safety Authority (NARSA).
The process:

To share and discuss the results, the Ministry of Transport and Logistics organised a workshop in Rabat. More than 30 stakeholders from the transport Moroccan community attended the event, including the relevant ministries and agencies, as well as various data providers and users.
Setting up a bottom-up approach: Analysing transport activities in detail to refine the results of GHG calculations
During the workshop, participants were able to familiarise themselves with the bottom-up approach, which consists of assessing GHG emissions based on transport activity. Unlike the top-down approach, which calculates emissions on the basis of national energy consumption, this methodology provides information on the emissions of each category of vehicle, depending on their number, fuel consumption, distances travelled and fuel type.
Top-down v. bottom-up approach:

Data collection, sorting and analysis: Main results
After a long process of data collection and processing, the IFEU experts commissioned by GIZ to carry out the bottom-up inventory and provide technical training to the Moroccan experts presented the main results of this work.
The analysis showed that total emissions from Moroccan road and rail transport represented 22.9 million tonnes of CO2 from "well to wheel" and 19.7 million tonnes of CO2 from "tank to wheel". On a per capita basis, this is equivalent to 0.6 tonnes per inhabitant.
Almost half of the emissions are generated by private cars (48.9%) and 35% from trucks.
The analysis also showed that public transport is more energy-efficient: between 20 and 27g CO2e/pkm for buses and trains, compared with 120.6 g CO2e/pkm for cars.
Finally, comparing results between bottom-up and top-down methods revealed a difference in values of 4 to 10% greater for the bottom-up approach.
Preparing the future: setting up a solid and integrated MRV system
After fruitful discussions on the results, the participants engaged in an interactive and reflective exchange on the future of the MRV (monitoring, reporting and verification) system with the purpose of empowering stakeholders and creating functional working relationships.
It emerged that most of the participants were interested in continuing the inventory and would be willing to take part in it either as data provider and/or user. They also worked on a possible timeline for the next inventory, stressing the need to feed the results into the national GHG inventory system.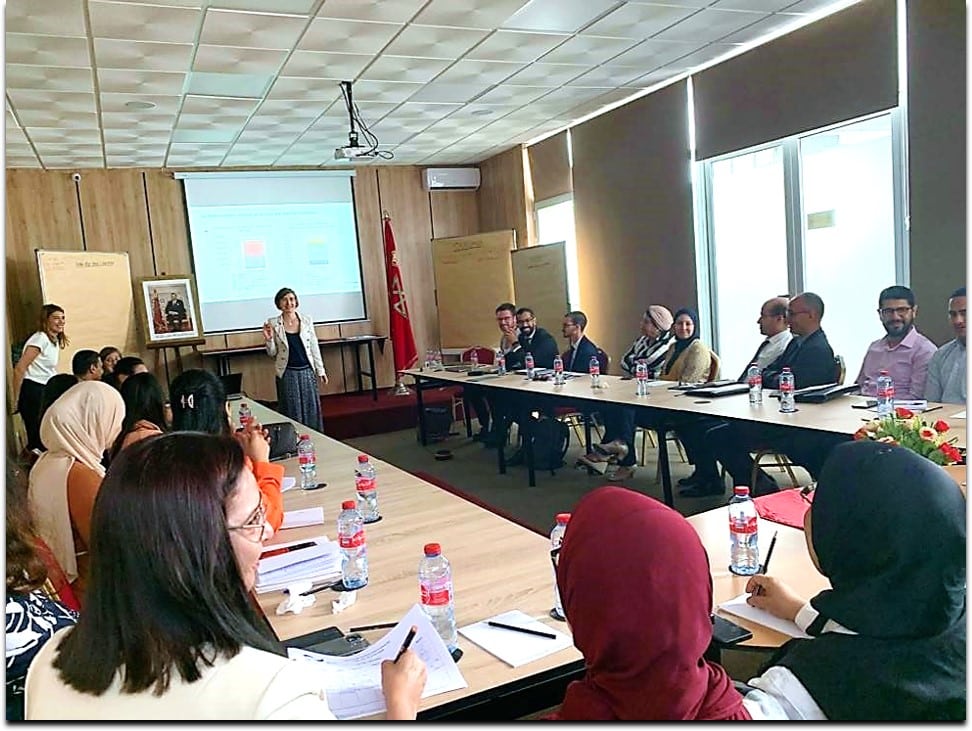 The Advancing Transport Climate Strategies (TraCS) project is implemented by the Deutsche Gesellschaft für Internationale Zusammenarbeit (GIZ) GmbH and funded by the International Climate Initiative (IKI) of the German Federal Ministry for Economic Affairs and Climate Action (BMWK).